Too Old to Take Up Climbing? At 59, Alex Honnold's Mom Went Into the Gym Alone
Is timidity keeping you from one of life's most rewarding experiences?
Heading out the door? Read this article on the new Outside+ app available now on iOS devices for members! Download the app.
This article originally appeared on gymclimber.com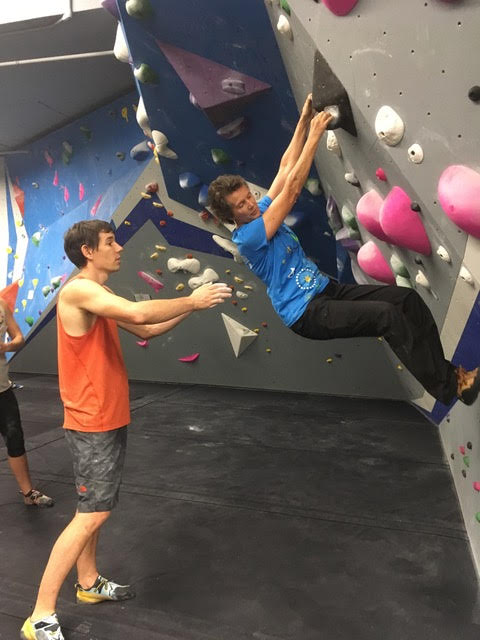 Firsts are always hard. First time on a bike. First date. First time at a climbing gym. And it's even harder if you're alone.
I was 59 the first time I tried gym climbing. I knew no one there, had no skill, no information — nothing but the desire to try what my son, Alex Honnold, always talked about with such passion.
For him, it was more than just a sport; it was his whole life. And I wanted to share his life. So I knew I had to try it.
Ten years ago, while he couldn't climb because of an injured arm, Alex took me to Pipeworks, the gym where he trains in Sacramento. He showed me how to put on the harness (how can a simple bunch of straps be so hard?), how to tie in (not intuitive, at least for me), how the holds were arranged and what to do with them (back when colored tape was affixed under each hold, with things scribbled on them that my old eyes could barely make out).
It was a lot to process for a brain that had arrived at the gym with so many misgivings.
After our brief intro session that day, he left on another climbing expedition. I was on my own.
It took me more than a month to gather the courage to go back to the gym alone. (He was still off on expeditions.)
The harness was trickier than I'd remembered. I couldn't tell whether the rental shoes really fit (if my street shoes were that tight, I'd get rid of them). The figure-8 knot eluded me for quite a few tries. But I had decided to try this, I'd given up my evening after a long, long teaching day; I was invested. And when my son got back from this trip, I wanted to be able to come here with him and climb. …