The Himalayan Tragedy That Rocked the Mountaineering World
In 1976, Nanda Devi Unsoeld, the daughter of legendary alpinist Willi Unsoeld, died while climbing the massive Indian peak for which she was named. Decades later, friends, family, and surviving expedition members offer new insights into what went wrong during this controversial adventure, shedding light on an enigmatic young woman who lived without limits.
---
Join Climbing
Create a personalized feed and bookmark your favorites.
Join Climbing
Create a personalized feed and bookmark your favorites.
Join for free
Heading out the door? Read this article on the new Outside+ app available now on iOS devices for members! Download the app.
Willi Unsoeld was not yet an American climbing legend when he first saw the Himalayan peak called Nanda Devi. Known to locals as the mountain of the bliss-giving goddess, it rises to 25,645 feet, forbiddingly guarded by a ring of lesser peaks in the northeastern corner of India, near the border with Nepal. Reaching the foot of Nanda Devi involves a steep journey up the gorge of the Rishi Ganga River and then a trip through treacherous terrain at 14,000 feet. Unsoeld couldn't see those obstacles as he gazed at the summit from far away, but for the rest of his life he would recall his thought at that moment: "I was so struck by its beauty that I realized I needed to get married to have a daughter that I hoped would be beautiful enough to name after Nanda Devi." The year was 1949. Unsoeld was a 22-year-old college student, traipsing through India on the first of what would be many lengthy explorations abroad.
By 1974, the daughter he'd dreamed of that day, the second-oldest of four children, was a 20-year-old with plenty of international travel under her own belt. She'd been named after the mountain, and she decided she was going to go climb it.
Nanda Devi Unsoeld was all that her father had hoped she'd be, a dreamy and vibrant girl who went by Devi. That year, on her way back from Nepal to her parents' home in Olympia, Washington, she and her younger brother, Krag, had stopped in Milton, Massachusetts, to visit the mountaineer Ad Carter, an Unsoeld family friend.
Carter had been on the British-American expedition that put the first climbers atop Nanda Devi, in 1936. He taught foreign languages at Milton Academy, an exclusive private school outside Boston, and he often took students on climbing trips in the nearby White Mountains of New Hampshire, where he and his wife, Ann, had a second home in Jefferson. It was there, on a November night in 1974, after a day of climbing with some Milton students, that Devi and Krag talked Carter into planning what would become the joint Indo-American Nanda Devi Expedition of 1976. The three pored over a new photograph of Nanda Devi's north face. Ultimately, they decided that taking on this side of the mountain, which no one had tried yet, would be a grand way to mark the 40th anniversary of its first ascent. The siblings would be part of the climbing team, which they wanted their father to co-lead with Carter.
Willi said yes without hesitation. As Krag recalls, he and Devi envisioned "a family-based pilgrimage to a holy place," but Carter, he says, "wanted to make sure that we had a 'real' expedition," with substantial experience, which would require recruiting fresh blood. He invited a handful of Americans who had recently undertaken a successful climb of another difficult Himalayan peak, 26,795-foot Dhaulagiri, to join them.
In late September of 1975, at the Unsoeld home in Olympia, Willi met with 26-year-old John Roskelley, another very accomplished American alpinist, putting plans in motion. They were of different minds about leadership and climbing, and women, too—namely, whether they belonged on major expeditions with men. Roskelley tried to convince Willi not to invite a female climber named Marty Hoey to join the group. He believed that the presence of women could complicate things; he worried that emotions could get out of hand when the two sexes were put together in high-stakes, high-altitude situations.
It didn't help that Hoey had been dating Peter Lev, another veteran of the Dhaulagiri expedition who they wanted on the team; Roskelley hated the idea of a couple's quarrels bleeding into the team's daily demands. He also assumed the climb would be a traditional, equipment-heavy effort, relying on multiple camps and fixed ropes, while Willi and Lev seemed intent on an alpine-style ascent, lighter on ropes and happening fast.
As they wrangled over the climb's fundamentals, Devi herself burst in, glowing with sweat. She'd just biked seven miles home from a soccer game. Roskelley would later recall his first impression in his 1987 book, Nanda Devi: The Tragic Expedition, saying that Devi "swept in like a small tornado after an obviously brutal game of soccer."
In public speaking engagements for the next few years, Willi would sometimes describe this moment, too, including an extra detail about some of the first words out of Devi's mouth that evening: "You're Roskelley," she said. "I understand you have trouble with women."
"And old John had a little trouble getting over that one," Willi would add with a laugh.
Roskelley knew that Devi was the instigator of this expedition—Louis Reichardt, his summit partner on Dhaulagiri and another recruit for the upcoming climb, had explained as much—but not until meeting her did he realize how much influence she exerted over those in her orbit. Devi had a captivating smile and a warm, inviting personality. She also had a calm, confident way of articulating her ideas that Roskelley found convincing, despite his sense that many of her opinions were based on emotions rather than experience.
That day in Olympia, Roskelley began to understand the optimism of this young woman, whose opinions would go on to dominate the expedition. He also got used to the idea of Hoey joining the team. Later that night, he phoned Hoey to assure her that, despite what she might have heard, she was welcome and wanted.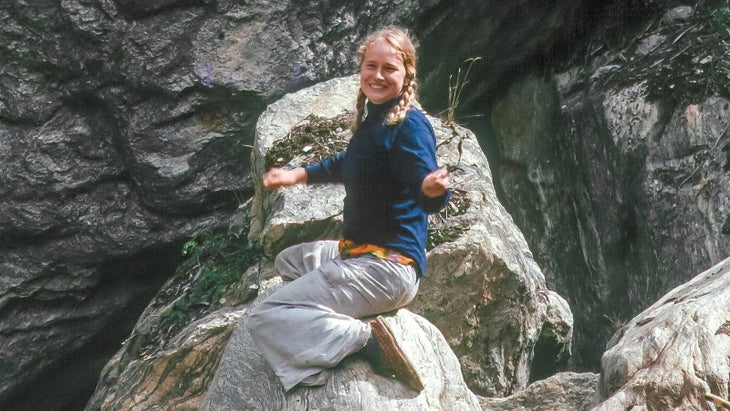 While Hoey was officially in, 19-year-old Krag Unsoeld decided he was out. Meeting Roskelley at the house that day had provoked such an intense negative reaction that Krag suddenly had no interest in climbing Nanda Devi with his dad and sister anymore—not if Roskelley was involved.
Roskelley had accomplished great things in the mountains—like being part of the first all-American ascent of the north face of the Eiger, in Switzerland, in 1974—by being single-minded and extremely practical. (In 2003, the Spokane Spokesman-Review offered this assessment: "While he was considered blunt and uncompromising and even the John McEnroe of mountaineering, his competency was never questioned.") He wasn't known for being particularly compassionate. He valued teammates based on the skills they brought to an expedition, not personal relationships.
In his 1987 book, Roskelley touched on Krag's negative reaction to him, writing that "my interest in going only to reach the summit must have irritated [Krag] because neither of us said more than a few words to the other again." Asked about it now, Roskelley says that he only remembers being told by others that he was the reason Krag had bowed out. "When they were angry with me, they'd say, 'Krag didn't come because of you,' " he says. "Krag never came to me and said anything."
For his part, Krag didn't say much about it at the time. Some 45 years later, during an interview at the family's house, he firmly shook his head when the subject arose. "I just told them, 'No way I'm sharing a tent with him,' " he said.
A new photograph of Nanda Devi's north face inspired a decision: taking on this side of the mountain, which no one had tried yet, would be a grand way to mark the 40th anniversary of its first ascent.
After Krag's departure, the family-style expedition that Devi and Krag had envisioned morphed into an assemblage of some of America's best mountaineers, plus a few wild cards. Unsoeld and Carter, 49 and 62, respectively, were the old hands, with decades of high-altitude leadership experience between them. Roskelley, 36-year-old Lev, 25-year-old Hoey, and 38-year-old John Evans—who'd made first ascents on Antarctica's Mount Vinson and Mount Tyree—were brawny mountaineers. As were Reichardt, 34, a neuroscientist, and a 30-year-old doctor named Jim States, both known as fuss-free workhorses. Andy Harvard, a 27-year-old Dartmouth graduate, had proven himself on Dhaulagiri. Less experienced were Elliott Fisher, a 23-year-old who had climbed with Carter in South America and was a close friend of Devi's; and Devi, who had climbed all over the Tetons and Cascades—and had carried loads on a previously unclimbed 20,000-foot peak in Pakistan called Toshain III—with her dad and Krag.
Devi was born in 1954. Willi and Jolene Unsoeld—who called each other Bill and Jo—married in 1951, and in the coming years they achieved the unusual goal of having one boy, one girl, another boy, and then another girl, two years apart from each other, and all born in May, a lineup they thought was optimal for annual summers in the Tetons.
The first child, Regon—"Oregon" without the first o, so named because his parents met there and loved the state—was born in 1952. Then came Nanda Devi, followed by Krag—named after Krag the Kootenay Ram, a character in a book of nature stories beloved by Willi—in 1956. Terres, born in 1958, was named after solid ground ("terra firma").
Regon tells the story of a day when Willi tried to teach him how to rappel, and it illustrates a classic Unsoeld family dynamic: in outdoor settings, Devi often showed up her older brother. Regon was six, roped in at the top of a small cliff, paralyzed by a fear of heights. Devi, who was four, told their dad to let her go first, "if Regon's going to chicken out." Regon reluctantly went ahead, but recalls "the trauma of doing it under duress," and never developed the same passion for climbing that Devi and Krag did. Devi spent several formative years in the shadow of the Himalayas, learning to speak Nepali in Kathmandu, where her dad worked as a deputy director, then director, of the Peace Corps from 1962 to 1965, taking a leave of absence in 1963 for an Everest expedition in which he and Tom Hornbein made the first ascent of the mountain's West Ridge.
They went up what was then the hardest route, alpine-style, and had to bivouac at around 28,000 feet on their way down the other side. This death-defying feat, still considered one of the most audacious high-altitude climbs ever, made them legends in the mountaineering world. It also cost Willi nine toes, lost to frostbite, which were kept in a jar at the family home in Olympia.
The Unsoelds moved back to the States in 1967, settling in Andover, Massachusetts, where Willi served as an executive for Outward Bound. A central tenet of this experiential-educational group has been the importance of risk-taking. Willi used to tell parents whose sons were enrolled—girls weren't allowed back then—that he could not guarantee their children's safety during an Outward Bound trip. "We guarantee you the genuine chance of his death," he'd say. "If we could guarantee his safety, the program would not be worth running."
In 1970, Willi was hired as a founding faculty member of the newly established Evergreen State College in Olympia. Jolene wrote in her 2016 memoir, Wild Adventures We Have Known: My Life with Willi Unsoeld, that "the all-male, all Ph.D.-holding planning faculty … needed to hash out what kind of innovative college Evergreen was going to be. They started by deciding that there would be no departments, no classes, no grades, and that they would innovate from there." Willi taught philosophy and religion; outdoor education was a centerpiece of the program, so he made sure that every student under his tutelage spent at least a week on the trails of Mount Rainier.
That year Devi entered Olympia High School as a junior, where by all accounts she made a strong impression on her classmates. "Devi was like a walking smile," says Greg Youtz, a family friend who was a year behind her. "I think everybody was kind of in awe, quite frankly. There was something about her, sitting there in her long, zippy dress, with her tennis shoes and her unshaven legs and her blond ponytail hanging down, and maybe a scarf over her head. Just sitting there on a bench in the middle of the high school, kind of holding court."
Youtz, now a music professor at Pacific Lutheran University, lived across the street from the Unsoelds and was drawn into their circle. "Hiking and outdoor stuff was just what the family did, and I found this thrilling," he says. "All of my interests were amplified by meeting them. They were the ones who took me out on all of my first serious wilderness expeditions."
Words like "willful" and "stubborn" tend to come up when people describe Devi. In 1974, she was trekking in Nepal one day with Krag and Youtz when she began struggling on the trail and lagging behind both. Krag asked whether something was wrong, and she mentioned blisters. Krag put his pack down and began digging around for moleskin, telling Devi to take off her boots. She said, "Oh no, my feet are fine." Krag said, "Devi." The boots came off, and there was blood everywhere.
That was classic "Devi stubbornness," says Youtz. "Krag really chewed her out," reminding her of "the other side of the family's philosophy, which is that, when you're in trouble, you tell the team, and the team will take care of you. Devi wasn't holding up her end of the bargain."
Devi, like her dad, was used to accomplishing whatever she set her mind to. Physically imaginative stunts were a signature, such as the time she decided to swim across the inlet in front of her family's house on Puget Sound. The crossing was nearly a mile long, and Devi wasn't a competitive swimmer. But she wanted to challenge herself and see how strong she was. "You know, it would never have occurred to me to do that," says Youtz. "But Devi, it occurred to Devi! And so she did it."
The Unsoelds lived on a peninsula about 11 miles from the high school. There was a bus, but one day Devi and Krag decided they would start biking it each way. Their friends, including Youtz, were skeptical. "We all thought, 11 miles? That's 22 miles a day. But Devi did it and announced that it was great." Within a week, Youtz started going along for the ride as well. "It turned into kind of a bicycle gang," he says. Eventually Devi and Krag were leading groups of about a dozen students on bike rides to and from school every day.
The Unsoelds, like almost everyone associated with Evergreen State College, were a socially conscious clan. Youtz describes them as "joyously adventurous" and also "incredibly thoughtful, really philosophical about everything." Biking to school hadn't been just a physical test for Devi but also a way to produce less pollution, something she was eager to do after participating in America's first Earth Day, in 1970. When she wasn't devoting her time to social issues such as protesting the war in Vietnam or working to end world hunger, Devi was hiking or climbing with her dad. She graduated early to travel abroad, and her affection for the mountains made her very much her father's daughter, brought closer to him by their time outdoors together.
But Devi also called climbing "a form of escapism" in an interview during the 1976 Nanda Devi expedition, upon arrival telling the Times of India newspaper: "It is easy to turn your eyes away from the social problems of the world and concentrate on yourself in the mountains. It is good for a short period, but if you feel involved with the social problems, you cannot like that kind of thing for long."
Krag and Devi were both students at Evergreen in 1976, as was Youtz, who believes that the family's commitment to social justice played a role in Krag's decision not to go on the Nanda Devi trip. The Unsoelds had long recognized that climbing expeditions were "big, expensive, first-world, colonial" endeavors, he says. "At that point," Youtz adds, "Krag was beginning to wonder whether he could justify doing selfish things like climbing mountains when the world required his energy in other ways." Devi's take, he remembers, was more like: "OK, Krag, you do the socially responsible thing and don't go. I'm going to do this thing, which I think would really be important to Dad. And it'll maybe be the last time."
A Himalayan expedition requires thousands of pounds of gear: ropes, ice axes, tents, clothing, food, fuel, cooking stoves, and more—usually far too much for climbers to carry on their own. Then as now, the solution is to hire local porters and pack animals for the trek to base camp.
The porters on Devi's expedition started calling her Didi ("sister") during the first week of the long hike toward the Nanda Devi sanctuary, a basin at the foot of the mountain surrounded by massive peaks. Lev believes the porters took her connection to the peak very seriously. "They considered Devi kind of a goddess," he says. "There was concern that she was not going to come back from the mountain. And, of course, Willi and Devi pooh-poohed all that."
There may have been another reason for those concerns. When Harshwanti Bisht, an Indian woman, traveled to Nanda Devi to climb it in 1981, local villagers told her that the mountain was ruled by the goddess Nanda, who would never allow a woman to stand on its summit.
Many of the climbers made an effort to respect regional customs, but not in every case. For one thing, the Americans had brought beef jerky, a violation of Hindu beliefs about the sanctity of cattle. Well into the trek, one of the porters told Lev how uncomfortable they were about it. "They felt that it was going to hex the trip," he says. "It was a very bad thing."
Recalling the issue more than 40 years later, Lev still gets agitated. "I thought, No problem. I don't need to eat beef," he says. "I liked the food the porters prepared. It was vegetarian and it was delicious. So I went back to Willi and Devi's tent and explained what they told me, and they laughed. I could not believe it. They thought, 'Oh, it's just superstition.' " Devi could barely control herself when she relayed that message on the radio to her teammates at another camp.
Before the expedition began, Willi Unsoeld had tried to convince John Roskelley that the team had a chance "to show that women and men can do this sort of thing together, without problems."
Roskelley wasn't as keen as the others on the Indian food prepared by the porters, which everyone ate on the trek in. At higher elevations, the expedition mostly relied on the freeze-dried provisions that Roskelley preferred. This provoked eye-rolling from Harvard, who thought the Unsoelds were appropriately curious about the local culture but felt that Roskelley was being disrespectful. Meanwhile, Roskelley was frustrated by minor inefficiencies and what he perceived as laziness, inexperience, and lack of focus among others in the group. He had started keeping to himself and spending more time with States, who he knew to be "steady."
At this point in mid-July, the team was still waiting for Evans—who had stayed in the U.S. for the birth of his and his wife's second child—to join them on the trail or at base camp. In a worrying turn, Hoey had become extremely ill. She was one of several members of the team who'd suffered food poisoning on one of their first nights on the trail, and her condition kept getting worse. As the team trekked from 12,000 to 14,000 feet, Hoey wasn't able to drink, speak coherently, or even walk without assistance. As of July 17, she was nearly comatose.
Roskelley had always respected Hoey's climbing, believing her exceptionally strong and capable, but he'd also anticipated that her presence on the expedition would be a problem—partly because she and Lev had recently broken up, and partly because, in Roskelley's words, "Marty was one of those gals that just attracted men." He saw her as a significant emotional distraction.
Before the expedition began, Willi had tried to convince Roskelley that the team had a chance "to show that women and men can do this sort of thing together, without problems." Roskelley wasn't alone in his concerns about coed expeditions; in the 1970s, the mountaineering world was grappling with the increasing presence of women adventuring at high altitudes.
"The seventies were a particularly fraught period for gender issues in American mountaineering history," says Katie Ives, the former editor in chief of Alpinist. "There were more women going on Himalayan expeditions than ever"—including women who'd completed climbs of Manaslu and Everest. In the U.S., the 1972 passage of Title IX, which prohibited sex-based discrimination in schools that received federal funding, helped open the door for females who wanted to compete in high school and college sports. By the mid-1970s, Ives says, "You had a lot of really strong female athletes who weren't necessarily present before."
In mountaineering, currents of individualism and new ways of thinking were bumping against the traditional siege style of Himalayan expeditions. "The goal had been to set up a pyramid of supplies to support two climbers to get to the summit," Ives says. "In the 1970s, suddenly everybody wanted to go to the summit, and you had climbers who wanted more of a consensus style of leadership" than had been the custom before.
On the Nanda Devi expedition, both issues cropped up with Hoey, whose illness divided the team. Once she'd lost the ability to walk and talk, States and Roskelley insisted that she descend to a lower altitude to recover. Willi agreed, and the team mobilized to help carry her 2,000 feet down to an alpine meadow known as Dibrugheta. After receiving supplemental oxygen there, Hoey started feeling better, but Roskelley and States were convinced she'd suffered cerebral edema, a swelling of the brain that can be fatal. States recommended that Hoey be evacuated. The other team members, and Hoey herself, did not immediately agree.
A second option was for Hoey to stay in Dibrugheta for a few days or weeks before reuniting with the team at higher altitude. The third was to move her even farther down the trail. Several team members offered to escort her, Roskelley recalls, adding that, in his view, their thinking was clouded because she was an attractive and likable person.
Ultimately, Willi, Lev, and Harvard said they wanted to leave the decision to Hoey. "And that's when the whole thing blew up," Roskelley says.
Willi was a persuasive debater, and he kept throwing out reasons why States's professional medical opinion wasn't necessarily right. Today, States compares bickering with Willi to debating a climate-change denier. "It's like, if people don't believe in the science, then you really can't argue with them."
States and Hoey ended up in tears, and Hoey finally told everyone she wanted to be evacuated; she felt guilty about the storm swirling around her and understood her health was at risk. She was taken away by helicopter on July 21. (Hoey would die on Mount Everest in 1982, very close to becoming the first American woman to reach the summit.)
The intensity of the episode cast a pall over the expedition, and then another medical issue arose: Devi had developed a protruding hernia on her groin. This is caused when tissue, such as part of the intestine, bulges through a weak spot in abdominal muscle.
States didn't examine Devi, but he did express concern when he heard about it. "States was pretty adamant that this is a high-risk thing, having that protruding hernia and going to altitude," Lev says. Everyone was exhausted from dealing with the decision about Hoey, and Devi was Willi's daughter, meaning she was going to do exactly what she wanted.
Devi remained in high spirits. In addition to having mothered Hoey for several days, she moved around the campsite at night, helping the porters set up tents, using her rudimentary Hindi and her Nepali to communicate. Before turning in, she'd occasionally join Willi for a duet of camp songs on flute and harmonica.
Roskelley found himself alternately infuriated and impressed with Devi. In his book, he recalled feeling tenderness as he watched her working in camp one afternoon, cooking a special cheese sauce that had become everyone's dinnertime favorite. "I had been listening to her contribute good judgment and compassion to the group discussions," he wrote. "My impressions of her as stubborn and single-minded were certainly changing, although I still had the feeling that Devi considered me a male chauvinist."
Though Devi had mostly stayed out of the Hoey debate, she was the only person capable of serving as a mediator for Roskelley, Carter, and Willi, who were jostling to make big decisions after the argument, occasionally stepping in to tell her dad he was being unreasonable. When Willi wouldn't listen to anyone else, he'd listen to her.
Two weeks into the expedition, just before reaching the inner circle of the Nanda Devi sanctuary, the climbers reconsidered the plan for their ascent. The Unsoelds, Carter, Lev, and Harvard had all wanted to climb alpine-style, skipping the painstaking installation of thousands of yards of rope up the steepest sections leading to the summit. The reason? Efficiency. Mountaineering with fixed ropes may be less adventurous than alpine-style, but it makes reaching the top easier.
For Roskelley, who prized practicality, for a team this large it was unthinkable to attempt the northwest face of Nanda Devi without fixing. Not until the team had trekked almost all the way to the base of the mountain did some of the others come around to his view. Lev had lobbied for the group to leave its extra rope in storage in New Delhi, because he hoped they would ascend the 1936 route. After seeing the sheer verticals up close, however, and understanding that the team wouldn't take his preferred route, he conceded that they would need all the rope they could get. Devi, who had also been attached to the idea of an alpine-style climb, changed her tune as well. She compelled her father to send orders down to have the equipment brought up.
By now, expedition members had sorted themselves into what some called an "A team and a B team." Roskelley, States, and Reichardt were the A team, which meant they would lead and, generally, everyone else would follow. The division had as much to do with who liked whose company as it did with strength and skill.
Harvard was taken by the Unsoelds. He admired Willi's spirit and philosophy—a tree-hugging, transcendentalist outlook that involved an ability to see a mountain climb as a religious experience. Harvard was also attracted to Devi, a feeling that was mutual, and by August the two were inseparable. Fisher, the only team member who had never been to the Himalayas before, seemed particularly sensitive to the possibility of dying on the mountain. He had been voicing his own desire to go home.
Toward the end of July, the climbers had established base camp at around 14,000 feet, in a semi-flat area in Nanda Devi's inner sanctuary, where sheep and flowers dotted meadows surrounded by glacial debris. Carrying loads up to what they called Ridge Camp, at nearly 18,000 feet, was thrilling, with steep cliffs, a scramble up a blind gully, and steps often obscured by fog. The next section of climbing was downright dicey, due to unpredictable yet frequent avalanches that slid down an overhanging glacier.
Another major breakdown in team morale occurred here. The avalanches were terrifying, but most of the team ultimately accepted the risk and carried loads from Ridge Camp to advance base camp as fast as they could. Lev, who had worked as an avalanche forecaster in Utah, opposed carrying loads through the avalanche path during the day. He told Willi and others that the best time to cross the area would be in the middle of the night, when the snow was at its most stable.
At these words, Willi laughed in Lev's face again. Then, says Lev, "just to show everybody, right in the middle of the day he marches across that thing."
It was a dangerous stunt, like playing Russian roulette. Still, everyone found their own way across, and before long the team had arrived at advance base camp. Everyone except for Evans, that is, but he was soon to be on his way, accompanying the extra ropes up from New Delhi.
When the Indo-American Nanda Devi Expedition of 1976 arrived in New Delhi at the beginning of July, the Indian media mostly wanted to talk about the girl named after the bliss-giving goddess.
The slopes of Nanda Devi are unstable during the summer monsoon, and on August 1, an avalanche from high on the northwest face roared down past advance base camp, bringing a blast of wind and snow that destroyed three tents and swept a cache of supplies over a ridge. Nerves frayed; snow kept falling.
Then the group took another hit. Carter, who was supposed to co-lead with Willi, said he was going home. The group was surprised and dismayed, but failed at convincing him to stay. Carter never addressed this publicly, but Fisher speculates that he likely didn't feel needed. Fisher also decided to leave, and made his way back to base camp in time to walk out with Carter.
On August 10, Evans met Carter and Fisher on their way out. Evans later published his journal entries from the expedition, writing in one post hoc note: "The departure of Ad and Elliot [sic] was a complete surprise to me, and I never fully understood their reasons. Apparently they had safety concerns about the route, and I heard later that a heated disagreement with Roskelley may have been a major factor."
The rest of August was taken up by the classic start-stop, up and down movements of a large expedition. The team fixed ropes up to camps one, two, and three, with Roskelley, States, and Reichardt leading the way much of the time. On September 1, those three summited.
On September 2, the trio descended from camp four to camp three, at around 22,900 feet. The men were supposed to trade places with Devi, Harvard, and Lev, who'd planned to ascend to camp four that day. But they thought the weather looked bad, and Devi wasn't feeling well. She and Harvard, at different points, had each been suffering from upset stomachs and coughs that periodically stalled their progress up the mountain.
Most of the team had become sick early in the trip, likely a result of eating goat meat that they suspected contained parasites. Hoey's health had declined rapidly after that, but Devi's condition varied—she was fine for a few days, then set back by nausea, then fine, then sick again.
While States and Roskelley were adamant about washing their hands and not sharing utensils, the Unsoelds were less concerned with hygiene. Early in the expedition, Devi had stuck her hand into a communal jar of peanut butter—prompting States to admonish everyone to use clean spoons or crackers, not fingers, as scoops. Devi began following this rule at base camp, but States says that her general habits made her a prime candidate for a stomach bug, perhaps amoebic dysentery.
"She was having constant stomach problems," says Roskelley. "Diarrhea and nausea. There were days she just couldn't climb, couldn't carry a load." And yet, as Roskelley noted repeatedly in his book, Devi consistently displayed a joyful energy when he saw her, and "would push herself to perform above the standards of some of the healthier [climbers]."
Other problems were her cough and, of course, the hernia that the team had learned about in the Dibrugheta meadow. All things considered, Roskelley thought she should rule out trying to reach camp four. On September 2, at camp three, he told both Devi and Harvard that they had "no business" ascending farther and should head down.
On another expedition, this conversation might have transpired earlier. But Roskelley says that, after the heated argument about Hoey, "nobody was going to approach any subject concerning Devi going down." Only after he had summited and felt that he had nothing to lose did Roskelley voice his opinion about Devi's health. But, he says, "I had no credibility at that point." After weeks of disagreement, there was little respect left between Roskelley and the Unsoelds.
Nobody said anything immediately after Roskelley's "no business" comment. Devi finally broke the silence by asking someone to hand her the jar of peanut butter. She unscrewed the lid, looked at Roskelley, and stuck her fingers in. Then she waved a scoop of peanut butter in the air and said, "This is the way we do it at camp three." Devi liked to joke around, but in this instance she was clearly angry.
That afternoon, States examined Devi's hernia for the first time. He remembers being surprised. "It was huge," he says. "I would say like half the size of an ostrich egg." Today, States says he saw a major risk. Although Devi felt fine, something, likely her intestine, was coming through the ligaments in her groin; using her abs while climbing was apt to put more pressure on it, which could cut off the blood supply to her intestines, and that might be fatal.
States expressed his concerns to Devi and Willi. That evening he told Roskelley he didn't believe Willi or Devi were likely to take his advice, so he had given his opinions in less dramatic fashion than he had with Hoey.
"I just said, 'I don't think you should go up,' but I couldn't prevent it. She wasn't going to listen to me about that. And I get that. I mean, I think when you're an expedition climber, you put a lot of energy into getting there. And then you got there and it's like, well, I'm just going to do it."
On September 3, Devi and Harvard set out with Lev for the most technical section of the climb, using a technique called jumaring on the fixed ropes up a steep, thousand-foot buttress. Willi watched the trio's progress from below, and it was not an inspiring sight. Devi, who had swarmed up similarly arduous climbs before, was moving slowly.
States said that if Devi couldn't climb the buttress before dark, Willi should order her to come down instead of bivouacking there. "Yeah, Jim," Willi said, "she'll probably tell you to stick it in your left ear."
Lev made it to camp four before sunset. At around 11 P.M., Lev radioed camp three to say that Harvard had arrived, but the two were still waiting for Devi. About an hour later, Harvard looked over the edge of the final cornice and saw that she was stalled just below the crest. He reached down to help her up, and with that they were safe at 24,000 feet.
For the next two days, Devi and Harvard rested, while Willi tried to help Kumar and Singh advance from camp three to camp four. On September 5, Lev made an unsuccessful solo attempt at the summit. On September 6, Devi and Harvard tried to climb a short distance to scout the terrain above camp four, but they turned back after a few minutes. Devi insisted that she was not in any pain, just weak. All she needed was another rest day; she'd be fine by the time Willi arrived with Kumar and Singh. That afternoon, though, after consulting with Lev and talking to States on the radio, Devi and Harvard decided they should plan on descending to camp three so Devi could regain her strength. They would wait for Willi to come up the next day and take it from there.
Down at camp three, Willi wrote Jolene, still full of optimism:
It has turned out to be a gorgeous, dangerous climb. … I am ready for it to be over now and only hope most fervently that Devi pulls herself together sufficiently to go to the top. (Either tomorrow or the next day!) She has carried loads like a navvy (look it up) and impressed all expedition members tremendously. Of course, the [boys] still say she shouldn't be allowed on the ropes and should come down immediately (for no good reason), so it would be doubly sweet for her to pull it off.
Lev saw things differently and was relieved that Devi would be descending soon. The day before, walking past the hole they had all been using as a toilet at camp four, he'd seen "an extremely bloody mess" of diarrhea that Devi had left behind.
"I wanted to bury my head in the sand," he says. "I don't remember if I said anything or not. But Devi didn't look good."
Willi arrived that night without Kumar or Singh, who had been unable to complete the buttress. Stormy weather rolled in at the same time, making it impossible for Devi to descend the following morning. Despite the weather and Devi's travails, the next 36 hours were relatively cheerful. Willi's presence lifted everyone's spirits. Harvard would later remember this as one of the greatest times of his life. He was near the top of one of the most beautiful mountains in the world, drinking tea, cracking jokes with the Unsoelds, and reminiscing with Lev about past climbs.
"That Devi might die seems not to have been one of the options they considered. … Almost up to the last moment she seemed cheerful and about to rouse herself. There was something inextinguishable about her."
Harvard was also looking forward to the future. He and Devi had decided, with Willi's blessing, to get married. After this expedition, the couple planned to travel through Asia together. They had taken solace in each other that summer as tempers flared around them. Huddled in the tent at camp four, Harvard basked in the glow of the Unsoelds' charisma, sure that they were about to become family.
But Devi was still feeling weak.
Before the four of them went to sleep on September 7, she told the men that if the weather was clear in the morning, they should go to the summit—less than 2,000 feet away—while she waited in the tent. Then they would all go down to camp three together.
In the morning, Devi's face appeared bloated and blue. With a blizzard outside the tent, there would be no summit attempt; everybody needed to descend as soon as they could. The four took their time packing in hopes of getting a break in the storm. They were aware how dangerous going down that buttress was going to be, especially given Devi's condition. Even the slightest improvement in the weather would help.
Just before noon, Lev, Harvard, and Devi sat in the tent, shoulder to shoulder, putting on their boots and getting ready to leave. Devi was next to Lev, sipping hot cocoa. Suddenly, she asked him to take her pulse. Then she said, "I'm going to die."
"And then," Lev recalls, "the next second, she pitches forward and throws up what looks like a huge volume of coffee grounds."
Harvard rushed to Devi's side. Willi came running from outside the tent.
"It was pandemonium," Lev says. "I tried to shrink in the corner to get out of the way, but there was nothing to be done."
Devi showed no signs of fear, but Harvard and Willi were frantic. Their efforts at CPR and mouth-to-mouth resuscitation did no good. Willi felt her lips turn cold under his own no more than 15 minutes after she collapsed, but they continued trying to revive her for more than half an hour.
"She's dead, just like that. Boom," Lev recalls. The three men knelt beside her body in utter shock.
As Robert Roper would write in Fatal Mountaineer, an unauthorized biography of Willi published 26 years later: "That Devi might die seems not to have been one of the options they considered. … Almost up to the last moment she seemed cheerful and about to rouse herself. There was something inextinguishable about her."
There was no question in Willi's mind about what to do next. He announced to the men that they would commit Devi to the mountain, as if conducting a burial at sea. Willi and Harvard put Devi in her sleeping bag. In the snow outside the tent, they knelt beside her and said a prayer. Then they heaved her over the ledge just beside the tent door, and her body tumbled down the north side of the mountain.
Willi mustered a yodel, a sound he'd used to communicate with Devi in the mountains so many times before. Only silence followed.
Devi's body may never turn up, and because there was no autopsy, Devi's cause of death will always be a mystery. Willi told his family that he was sure it was not anything related to altitude, but rather "something massive and abdominal."
As for the mountain she loved, there have been no ascents of the northwest face of Nanda Devi since the Indo-American Expedition of 1976. A group of Czechoslovakian climbers summited via the north-northeast side in 1981, the last year any ascents were made other than during a 1993 cleanup mission led by the Indian army. The mountain has been closed to climbers since 1982, in part due to the environmental impact of large expeditions.
Days later, from base camp, Willi wired messages to his family and to the Indian Mountaineering Foundation. "Devi died 8 Sept Camp IV Acute Mountain Sickness," he wrote. "Body committed to mountain. From beauty into beauty." In New Delhi, shortly before boarding a plane back to the States, he told reporters: "Nanda Devi died doing the thing she loved best. She died fulfilling her dreams, out of her enormous love for the high Himalayas."
When asked at the time if he had regrets, Willi said, "No regrets." He added, "To do so would be denying reality. Nanda Devi died fulfilling her dream. There are worse ways of dying."
In one of the first public statements back home, Devi's mother echoed that sentiment. "Devi felt very much in tune with that mountain," she told a reporter. "There are a lot worse ways to go."
Media outlets in the U.S. had not been particularly attentive to the expedition until Devi's death turned it into a story with emotional and dramatic appeal. Suddenly, it was everywhere, with coverage in outlets that included The New York Times, the Los Angeles Times, and the Chicago Tribune. That October, People ran a piece under the headline: " 'I Am Going to Die,' Whispered Nanda Devi on the Mountain She Regarded as Her Own." None of these accounts sought to assign blame or criticize Willi's leadership—that would come later.
A major theme in the aftermath of the tragedy was a fascination with Devi's connection to the mountain. In 1977, Carter published an article in the American Alpine Journal in which he analyzed the spiritual significance of the goddess Nanda. According to one expert, Vasudha Rajgopalan, whose account is appended to Carter's piece, Nanda Devi the mountain is a manifestation of the Hindu goddess Parvati, who can be both benevolent and vicious. Rajgopalan suggested two possible interpretations of Devi's death: that the goddess either kept Nanda Devi Unsoeld as her own to protect and love or because she was threatened by her in some way.
Carter also wrote that one of the Indian members of the expedition had offered him a different explanation: that Devi was a physical reincarnation of the goddess Nanda and had orchestrated her return "home" without knowing exactly who she was at the time. "Devi lives, she has not died," the Indian climber wrote to Carter. "She was the goddess personified."
Meanwhile, what States, Reichardt, and Roskelley had achieved in reaching the mountain's summit was of relatively little interest. Roskelley felt angry. He'd been frustrated by Willi's philosophical bent throughout the whole trip, and wrote in his book that he thought Devi understood mountains to be "more to feel from the heart and touch with the eyes than to tread with the feet." That didn't square with Roskelley's approach to such high peaks.
When it came time to fly out of Delhi and return to the U.S., Andy Harvard was unable to step onto the plane, weighed down by an unbearable grief and a desire for closure. After saying goodbye to Willi and the others at the airport, he went to the house of Kiran Kumar. He stayed with Kumar's family for months, waking up every morning to walk the city alone, barely speaking. Harvard died in 2019 from complications of early-onset Alzheimer's.
Krag was working at Denali National Park in Alaska when the news started coming out of India. Someone told him he needed to be by a telephone at 7 P.M. for a call from Jolene, and he braced himself for bad news about his father. He wasn't alone in assuming that whatever was coming involved Willi. Regon remembers that the last thing he'd said to Devi was, "Look out for Dad." He had a strong feeling that Willi might not come back from the mountain.
But they hadn't worried about Devi in that way.
"I think a lot of people responded like I did," Greg Youtz says of her death. "I was stunned. Like, you gotta be kidding. That person? Taken by this sort of bizarrely ironic circumstance? It was just surreal. It was like something out of a bad movie."
Krag remembers being shocked. He knew he was supposed to be devastated, but his nerves didn't respond. "I felt nothing," he says. He attributes the void to a traumatic brain injury caused by a bicycle crash that put him into a coma just before Devi and Willi left for India. He'd been able to say a proper goodbye to Willi but not to Devi.
"What if we had raised my daughter just a little differently?" Willi said in the aftermath. "Not quite so stubborn, not quite so stoic, a little more aware of her own limitations… In the first place, to have been different, she wouldn't have been Devi."
Krag headed home from Alaska and picked Roskelley up from the airport in Seattle shortly after. He's still stung by a comment Roskelley made in the car that day: "It's a shame about your sister. Ruined the whole expedition." All these years later, Roskelley doesn't remember making the comment or being picked up by Krag at the airport, but he freely acknowledges that he "said some things" back in 1976.
Jolene Unsoeld, who died in 2021, wrote about her reaction to Devi's death in her memoir. "There was no time to talk. There was no time to process," she wrote, because she had to deliver the news of Devi's death to Regon, Krag, and Terres, and then she had to pick up Willi at the airport with everyone watching and reporters asking questions. The Unsoelds quickly planned Devi's memorial service so they could provide answers and a sense of closure to their community. "Our family jumped into action rather than introspection," she wrote. "I was in a blur."
Jolene added that it was frustrating not to know Devi's cause of death, especially since the family had a number of doctor friends, and she expected at least some informed theories. "I wanted discussion in the climbing community so that lessons could be learned," she wrote. "I didn't want it to just be a wasted death. But nobody wanted to touch it. They couldn't be sure, so they said nothing."
Officially, the cause of death remains unknown.
A memorial service was held for Devi at Evergreen State College on October 2, 1976. The Unsoelds had spent hours hashing out the details, finally settling on what Krag called a "participatory format where everyone could share thoughts together." Willi went first.
He talked about Everest in 1963, when he'd seen a Himalayan blackbird circling over him on the mountain shortly after the death of his teammate Jake Breitenbach, who was killed early in the expedition by collapsing terrain in the Khumbu Icefall. Willi said he had sensed Breitenbach's spirit in the bird. On Nanda Devi, the day after his daughter died, he saw another one. The elevation was 22,000 feet, he said, and climbers had not seen this species of bird there before. It flew overhead and croaked at Willi in a way that made him feel Devi was there. It made him smile.
Willi also said something that he would repeat in public lectures for the next few years, until his own death in 1979: that asking "what if" and "why" questions about Devi's death was "forbidden." He didn't mean this as an order to others, but as a philosophical truth he had arrived at for himself.
These were "the two fatal questions," Willi said. "What if we had raised my daughter just a little differently? Not quite so stubborn, not quite so stoic, a little more aware of her own limitations… In the first place, to have been different, she wouldn't have been Devi." He listed other questions that came up—such as "What if we had descended earlier?"—and said that they, too, were off-limits. "[Those] I simply label illicit," he said. "You don't ask them. You don't allow them. You shut them off at the source because there are no answers—and that way madness lies."
Soon after the service, Willi gave his first slideshow presentation about the expedition, at the Seattle Mountaineers club. For the rest of his life, he would deliver lectures around the country as he had in his Outward Bound days, preaching about the spiritual values of wilderness. Over and over, he would tell audiences how he and his companions committed Devi's body to the mountain—something he echoed in his account of the journey published in the American Alpine Journal:
We agreed that it would be most fitting for Devi's body to be committed to the snows of the mountain for which she had come to feel such a deep attachment. Andy, Peter and I knelt in a circle in the snow and grasped hands while each chanted a broken farewell to the comrade who had so recently filled such a vivid place in our lives. My final prayer was one of thanksgiving for a world filled with the sublimity of the high places, for the sheer beauty of the mountains and for the surpassing miracle that we should be so formed as to respond with ecstasy to such beauty, and for the constant element of danger without which the mountain experience would not exercise such a grip on our sensibilities. We then laid the body to rest in its icy tomb, at rest on the breast of the Bliss-Giving Goddess Nanda.
Jolene said Willi received a lot of positive feedback from his presentations, and that the responses helped both of them. At one event, an elderly woman approached Willi after his talk, clutching a paper napkin on which she had scrawled, "Death is not too high a price to pay for a life fully lived." Jolene held on to the words as a mantra ever after.
On March 4, 1979, Willi was killed by an avalanche on Mount Rainier while leading a group of Evergreen students. One of the students—a 21-year-old named Janie Diepenbrock—also died, leading to questions and judgment from those who wondered if Willi took too many risks and was to blame.
The Unsoeld family was hounded by journalists, book authors, and movie producers for several years after Willi's death. In 1982, Laurence Leamer published the first unauthorized biography of Willi, Ascent: The Spiritual and Physical Quest of Willi Unsoeld. A Kirkus review described Leamer's portrait of Willi as "part Ahab, part Odysseus."
Bob Bates, a fellow mountaineer who worked closely with Willi in the Peace Corps and at Outward Bound, derided the book for "contort[ing] an outgoing, outspoken, generous man into an egoist with a sick mind whose thoughts focus only on Everest and a death-wish so strong that he doesn't care who dies with him. In a similar manner, Unsoeld's devotion to his close-knit family is questioned and his home life is treated with smug contempt."
Leamer's book upset Jolene greatly. But it found its way to Robert Redford, who was intent on making a feature film about Willi. In 1985, Redford's production company enlisted the playwright John Pielmeier to adapt the book into a screenplay. The Unsoelds cooperated with Pielmeier, not knowing initially about his main source material. Pielmeier tried to appease both the family—whose narrative he came to rely on over Leamer's—and the producers, but ultimately the project fell apart.
Back in September 1976, before any slideshow presentations, before anyone could fully process the tragedy, the Unsoelds created a flyer to send to friends of the family in Devi's memory. On four oversize pages, they included beautiful pictures of Devi in the mountains, her long blond hair often braided, her face and eyes crinkled with smiles. There were excerpts of notes that Devi wrote home from India during the expedition. On August 6, she had said:
I am feeling very well, and happy. Too many emotions to put here but let me say that I sit here on the slopes of Nanda Devi grinning foolishly because I love you all so very much and because I feel so very much at home here. It has been a very good summer and will be even better.
A few of Devi's favorite poems were also included, written carefully by hand, among them "First Fig," by Edna St. Vincent Millay, which says: "My candle burns at both ends;/ It will not last the night; / But ah, my foes, and oh, my friends, / It gives a lovely light."