Turbo Charged: The Remarkable Energy and Drive of Michaela Kiersch
Heading out the door? Read this article on the new Outside+ app available now on iOS devices for members! Download the app.
Graduate early from DePaul University with a degree in bio-science, coach a youth climbing team 20 hours a week, drive 14 hours round-trip to the Red River Gorge each weekend to send 5.14c—most people would be crushed. But not Michaela Kiersch, 23, of Chicago, who in January 2018 made the first female ascent of the fiendishly thin Necessary Evil (5.14c) in the Virgin River Gorge, Arizona.
Kiersch grew up in Bridgeport, a working-class community in Chicago, surrounded by her nuclear family in a two-flat house: her mother, Joanne, who over 15 years transitioned from receptionist to CFO at a nonprofit; her father, Bil, a former Chicago elementary-school science teacher and now credit manager; and her twin sister, Kristina. Meanwhile, her grandmother, Dorothy, a trucking-company secretary who'd been a single mom in the 1960s, lived on the ground-floor unit.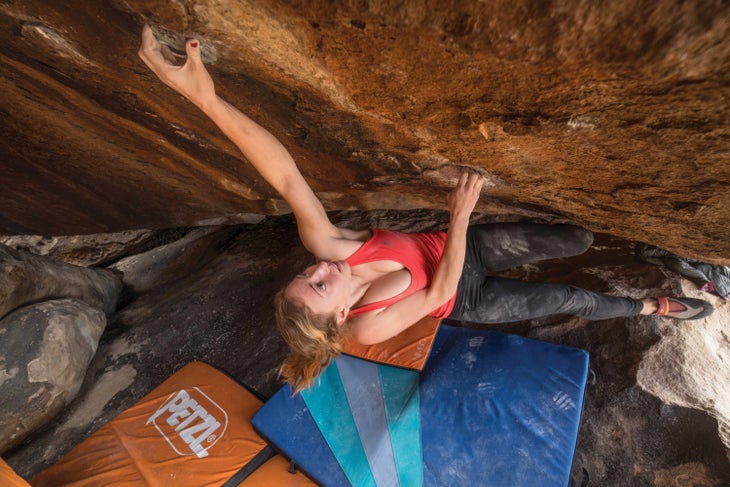 Kiersch was drawn to the vertical from an early age, recalling, "I was the type of kid who climbed up anything I could get my hands on"—whether it was trees, playground equipment, or buildings. (Kristina, meanwhile, pursued her own passion for horses.) In 2002, her parents found an outlet for Kiersch at the Climb On gym in Homewood, in the Chicago suburbs. At 9, Kiersch entered her first competition and placed second, just behind the only other girl who entered. At 10, she moved to Hidden Peak Climbing Gym to work with Dave Hudson's youth team, climbing with other strong Chicago kids like Isabelle Faus and Michael O'Rourke. At 12, she began coaching other youth climbers in recreational classes and slowly transitioned this into a paid position. She stayed with coaching until she graduated from college, reinforcing the skills she'd learned by teaching others.
In 2010, when Kiersch was 15, her mother died from lung cancer. Though Kiersch competed in the world championships only two weeks later, her climbing slumped. She soon found support in the tight-knit Chicago climbing community—workers and "real people with real jobs," who offered her rides to the gym, lent her chalk, and provided a stable environment after school. As time passed and Kiersch processed her grief, she resumed climbing with vigor.
As a comp climber, Kiersch has entered 30 national championships, making the US team in all three disciplines (lead, bouldering, and speed) and placing fourth at bouldering nationals in 2016 and 2017 as well as third at the USAC Sport Open National Championship in 2012 and 2016. Her outdoor achievements speak well of her ability to translate plastic to rock, from her first 5.13 in 2009—Hell in American Fork, Utah—to 2017, when she sent three 5.14c's at the Red: Fifty Words for Pump, Southern Smoke, and 24 Karats. She's also pursued hard bouldering. In December 2017 at Hueco Tanks, Texas, she sent Crown of Aragorn (V13) and flashed Diaphanous Sea (V11). In February 2018 in Bishop, California, she met her friend Nina Williams and dispatched Maze of Death (V12) in five tries and completed the long Haroun and the Sea of Stories (V11). With so many big ticks already and her superhuman energy and drive, Kiersch, it seems, is just warming up.
Q & A
How has it been having more freedom after you graduated from college?
Michaela Kiersch: Initially, it was difficult. I was agitated and stressed over things I didn't need to stress over because I didn't know what to do with all the extra time and energy. Now I've refocused it into training and climbing outside. I've been writing training plans and goals, and doing double sessions a lot of the time.
Has it paid off?
Since I've graduated, I've ticked three life goals: a hard first ascent at the RRG (Goldilocks [5.14b] at the Gold Coast), V13 (Crown of Aragorn in the East Spur at Hueco), and Necessary Evil [5.14c]—so that's awesome.
You plan on returning to school to obtain a doctorate in occupational therapy. What attracted you to the profession?
My mom and grandma worked with occupational therapists. Occupational therapy is helping people with fundamental tasks like cooking if they've lost function in some part of their body. It's a lot of one-on-one time. I want to be able to help people improve their lives—to impact their lives in a positive way. And I love working with people.
5 Things You Didn't Know About Michaela Kiersch
She loves Chicago-style hot dogs with Vienna beef and poppy-seed buns.
She knows all the choreography to the 2008 Wing Chun martial-arts film Ip Man.
One of the best days of her life was sitting with her grandma, eating pancakes and watching Shark Tank.
After watching Sister Act 1 and 2 with her mom as a kid, she knows all the words to "Oh Maria," which she'll proudly belt out if the volume is high enough to drown out her voice.
Her fellow climbers at Hidden Peak call her "Big Mic" due to her ability to climb tall despite having never surpassed the 5'1" height she reached at 13.
Related: