Undiscovered: The Isabelle Faus Profile
Isabelle Faus has ticked V14 and established double-digit boulder problems, yet the world's most industrious female first ascensionist remains relatively unknown.
Heading out the door? Read this article on the new Outside+ app available now on iOS devices for members! Download the app.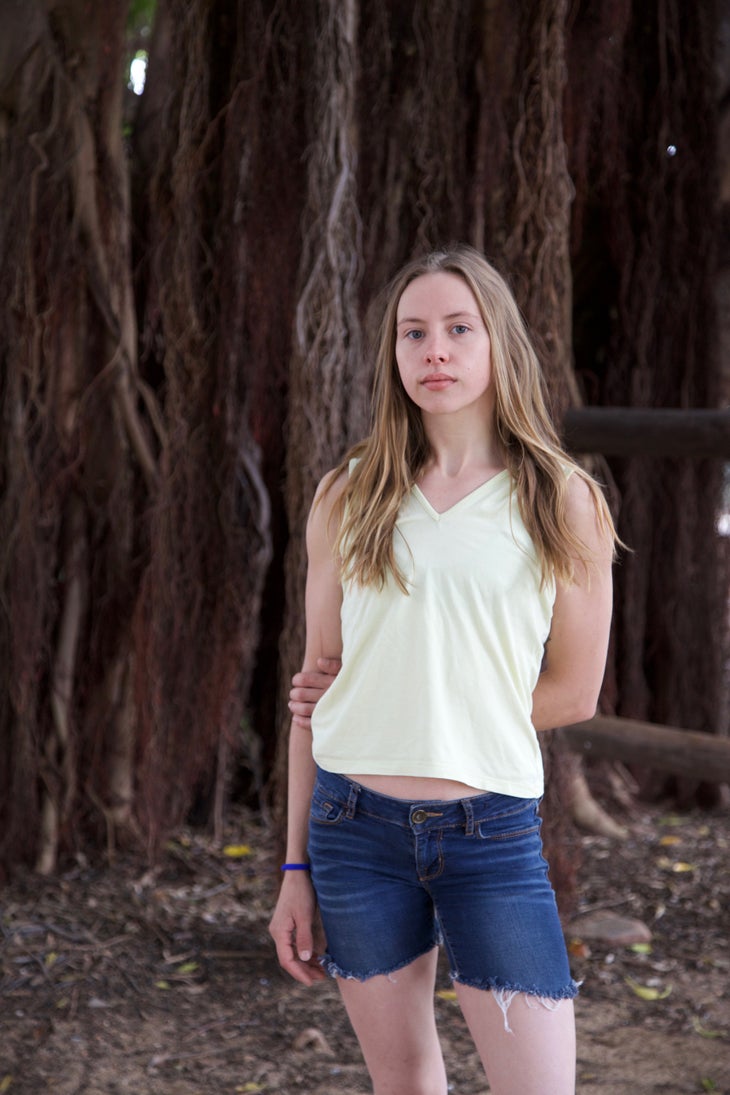 In December 2009, only a handful of women were climbing V11. Not many of them skipped the V10 grade completely, much less in three days of effort, and none of them were 16-year-old girls. But Isabelle Faus has never fit the mold. A year after dropping out of high school, Faus cranked her way through the hard, low-percentage moves of her first V11—Fred Nicole's steep, techy, power testpiece Chablanke in Hueco Tanks, Texas. Impressive as it was, the ascent didn't cause much of a ripple in the climbing world.
In the seven years since, Faus has ticked V14, becoming the fifth woman in the world to do so, and established first ascents up to V12, possibly even V13. In South Africa's Rocklands in 2014, she put up a pocketed traverse into a powerful arête—Dreadnoughtus, named after a dinosaur, meaning "fear nothing"—saying it was the hardest thing she had climbed, but she was hesitant to grade it V13 since it would have been her first.
"I'm not into faking it on the internet to make a name for myself," Faus said. Despite her standout climbing accomplishments, it's this purist attitude that has kept her off sponsors' radars. "Most companies care more about Instagram stats than real stats." Ethically it was a strong move, as taking a potentially inflated first ascent grade is a common way to make internet headlines for a few days and get noticed by prospective sponsors.
On Christmas Eve 2014, Faus sent her first "official" V13 with a tick of Epochalypse near Boulder, Colorado. The following summer, Faus completed Nuthin' but Sunshine (V13), a technical crimp line in Rocky Mountain National Park (RMNP). It took her less than an hour of effort. A few months later, she joined the ranks of Tomoko Ogawa, Ashima Shiraishi, Shauna Coxsey, and Alex Puccio when she climbed her first V14: Amandla, a Fred Nicole problem in Rocklands.
Since then, she's been on a first ascent rampage, with several new problems in the double digits in Colorado's Front Range and South Africa. To recap: She's established V12, possibly V13. She's climbed V14. And there's still a good chance you've never heard of her. So why isn't one of the world's best boulderers traveling the world on her sponsors' dime?
"I know I'm one of the best and anyone who really likes climbing knows that too," she said, "but when it comes down to it, sponsorship companies would rather put money into cookie-cutter Barbies and CrossFitters. I'm a rock climber and I don't fit into their box, so they simply aren't interested."
Faus has spent her whole life not quite fitting in. She grew up in a split family, with her dad, her brother William, and stepfamily in Seattle, and her fraternal twin sister and mom in Chicago. Her mom, a lawyer-turned–biographical novelist, travels the U.S. with no permanent home, working as a freelance writer. Isabelle's twin, Emma, is four inches taller with green eyes and dark hair to Isabelle's bluish-gray eyes and auburn-blonde hair. Emma lives in Montana and spends her time doing ballet and working as a diesel mechanic for farming equipment.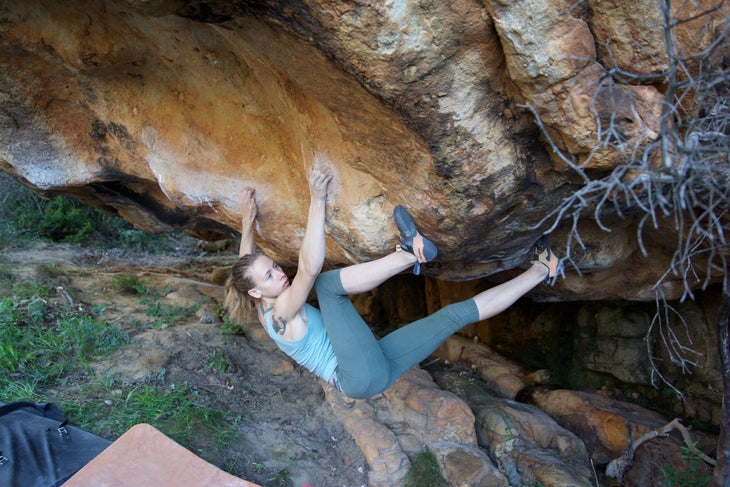 "I probably traveled more in the first 15 years of my life than I ever have for climbing," said Faus. "We were all over the place, then my mom took us to Ireland for four months when we were in 8th grade. When we got back, I went to a private high school for a year, but I didn't get a scholarship for the next year and the public school options in Chicago are terrible so I kinda dropped out." She continued her education by home schooling and spent the majority of the next two years climbing in Chattanooga with Kasia Pietras and Jimmy Webb.
"[I have] no test scores, no high school diploma, no GED," she said. "It's just a piece of paper that doesn't really do anything besides tell people you're generally intelligent."
Despite having little interest in organized education, Faus wanted the social experiences common to her age group, so at 19, she applied to Hampshire College in Massachusetts. This unique liberal arts school is known for accepting students based on special skills and diverse interests. Faus focused her essay on her passion for climbing. Not only did she get accepted, she was awarded a scholarship. After three semesters, it was time for her to declare a major, but another three-plus years without good climbing access nearby was not what she wanted. She dropped out and moved to Colorado to pursue climbing fully, and now a few years later, she has no regrets.
"It was a great experience and I loved Hampshire. It was beautiful there. If there were more climbing, I might have declared a major in art and stayed," she said. "It was the perfect amount of time for me. I learned a lot, and with the scholarship I wasn't in debt."
"I had more fun in that gym growing up than I feel like I'll ever have again. It was impossible to go there and not laugh," Faus said of her childhood spent climbing at Hidden Peak, a gym in Chicago. She first visited the wall that she describes as "20 feet square" in 2003 and met Dave Hudson, the manager of the gym who eventually became her coach. "He was dedicated to training and learning about training to get us stronger while making sure we had a good time," she said.
Hudson currently works as the head coach of the First Ascent gyms in Chicago, but looking back, he thinks that the small size of Hidden Peaks and a team that maxed out at 15 was advantageous in many ways. It allowed for super-attentive coaching and forced creativity.
"I had to set multiple versions of every problem and circuit to accommodate height and strength differences, and I had to come up with new problems and exercises every single day so neither the kids nor I would get bored," he said. "I set a full regional onsight comp—three sets of four problems—every Friday. Our team onsighted hundreds of problems and circuits every season."
Faus recalls that every second of practice was dictated and written down, with the interval-based exercises, sheer volume of climbing during the three-hour practices, and overall intensity greatly benefitting the young climbers.
"The kids knew where they should be and what they should be doing every minute, every five to 10 seconds in many cases," said Hudson. "We did lots of exercises other than just climbing: systems board, hangboard, campus board, lots of rings, circuit strength (calisthenic) training, climbing PVC pipes in forearm-exploding obstacle courses, Bachar ladder variations, yoga as active rest between sets, core work—we also had a lot of FUN."
Hudson described Faus as not being a prodigy but having solid strength and talent that helped her progress through the grades. "One thing was clear early…she was very scrappy—feisty, tough, determined, sassy, and not easily denied by her past actions, performance, or anyone else," he said. "She also had an intuitive understanding of technique."
Faus never became a national champion, but she took silver in the USA Climbing ABS Youth National Championships in 2011 and got third place in 2013 ABS Open Bouldering Nationals. For the most part, though, her focus was outdoor climbing.
"I remember her coming home from a trip to the Gunks having ticked off multiple V8s. I was in awe! Shortly after that, she left for Hueco and came back with her first V11," former teammate and accomplished competition climber Michaela Kiersch said. "Isabelle is one of the strongest women I have known, both mentally and physically. When she decides there is something she wants to accomplish, absolutely nothing will stand in her way."
While Isabelle's transition from the comfort of a climbing gym to outdoor bouldering came easily, she credits her circle of friends in Colorado with helping her find a vision for first ascents.
"My true gains came once I got out on the rock full time," she said. "I learned an invaluable amount about executing [existing] climbs, exploring and finding new climbs, experimenting with beta, and always keeping it fun and low stress from Chad Greedy, Dave Graham, Diego Lopez Montull, and Nick Duttle." Greedy, a 40-years-young climber obsessed with finding and putting up new problems, also happens to be her boyfriend. At the core of her motivation is a pure appreciation for climbing as a mentally stimulating, physically challenging, and ever-changing activity.
"Learning moves of a climb never gets old to me. It's always interesting and fun and mind-opening," she said. "It never really goes how you expect, and I like the constant surprises and little obstacles."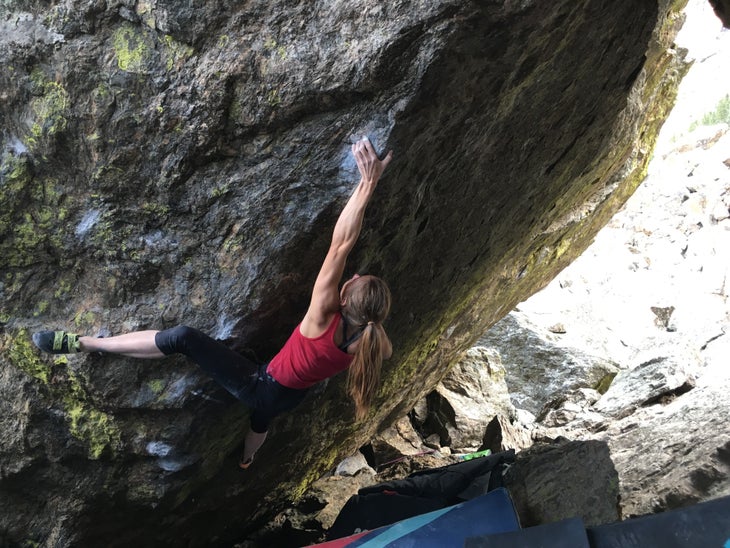 Now 23, Faus lives in Boulder with a handful of cats and some friends. She cleans houses to make ends meet, and climbs as much as she can, focusing on finding and putting up first ascents in the Front Range, a place that many climbers might say is tapped out. Her rest days are spent hiking around looking for new boulders, cleaning up projects, and turning them into established problems. Beyond first ascents, she repeats classics and projects climbs she thinks are above her ability. Then she sends them. She trains and cross-trains, with at least four days a week of climbing and some other activity almost every single day—usually cardio, yoga, or opposition exercises. Before climbing, she warms up with dynamic stretching, easy climbing, or, if there's no easy climbing around, just pulling moves on the rock and engaging a little more each go. Sometimes she'll warm up for an hour before she can try her hardest.
A common joke in the Colorado climbing scene is that the approach—usually an hour or longer—is the warm-up. It's not uncommon for boulderers in the area to jump on their project with no warm-up at all. Faus' dedication to warming up helps her perform consistently at the top of her game.
"Gotta keep my body as healthy as possible," she explained. "I think it's a huge step most people miss these days."
Faus, Greedy, and their friends travel together, with yearly trips to Rocklands, Fontainebleau in France, and both in some years. For Faus, spending months on the road feels normal.
At press time, she was on her annual Rocklands trip and has been focusing on development, including a handful of V11-ish problems, none of which have names yet. Already in 2016, she has ticked several V13s, including Don't Get Too Greedy, The Automator, and Evil Backwards, and last year in Upper Upper Chaos Canyon of RMNP, she repeated Jimmy Webb's highball V13 The Shining. Over the span of her 13-year climbing career she has climbed 20 V12s, more than 30 V11s, and flashed a handful of V10s. Although she rarely climbs on a rope, she has sent 5.14b. Faus is third behind Ashima Shiraishi and Alex Puccio for all-time female bouldering achievements in the world on 8a.nu. While some might assume Faus is just naturally talented, she disagrees. "I work really hard, and I try really hard when I'm climbing."
Faus has goals, and although she's young, she knows what she wants in life, and how to go for it. That clear sight and dedication is something people twice her age struggle to find, and something most people go to college to seek out. For Faus, it's all about figuring out a way to support herself so she can spend her time—all her time—climbing. "The opportunity for adventure and accomplishment keeps me addicted."