Unsent: Sendhaus™ Is a Premier Indoor Climbing Facility —and Birthday-Party Center
Please peruse our Kinder-Klimberz party packages
Heading out the door? Read this article on the new Outside+ app available now on iOS devices for members! Download the app.
Unsent /un-sent/ 1. To have failed so badly on a route you had previously climbed that you negate your redpoint. 2. A humor column.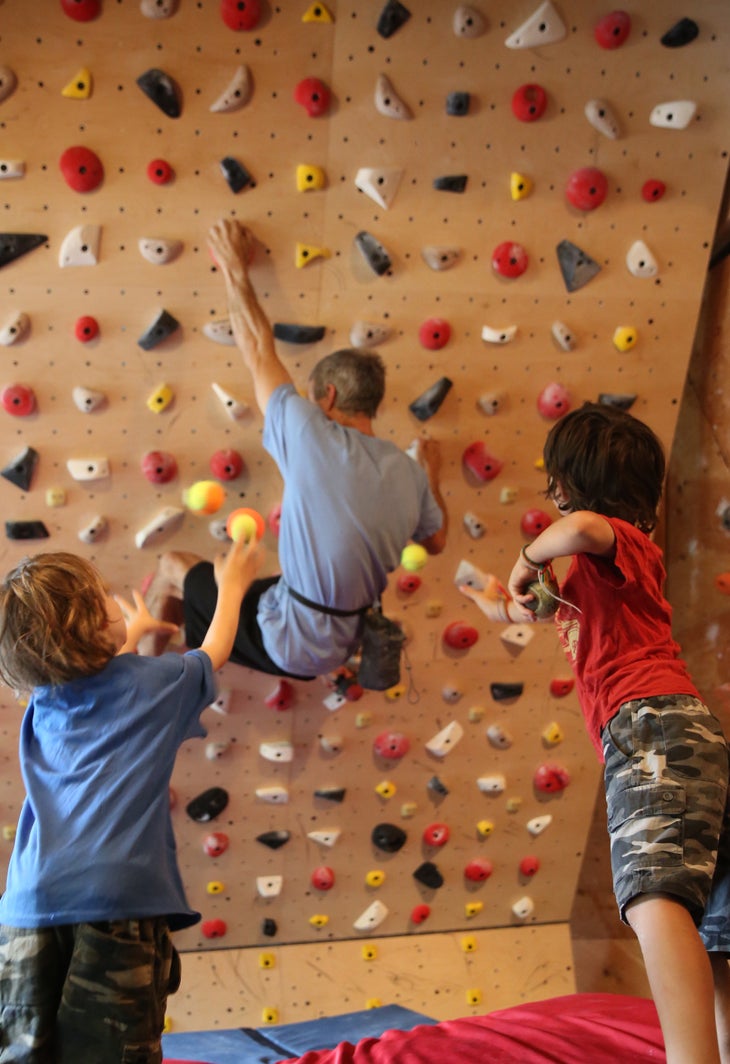 Sendhaus™ Fitness, Lifestyle, and Climbing Center is an elite, nationally franchised climbing-training facility. We invite the best of the best to hone their skills on the most challenging indoor terrain, with epic bouldering zones, lead walls extending for 100 feet at an angle of 60 degrees, and the most comprehensive climbing-strength training facilities on Earth. Our Pain Cäv™ includes every hangboard available on the market (plus some that aren't), a 27-rung campus board, 10 pegboards, and hundreds of other tools, widgets, and electronic devices to torture your muscle fibers and hone your forearms into rock-crushing pistons. We also offer birthday parties.
Is your lil' kiddo ready to have a fun and exciting rock-climbing birthday adventure? Then check out our Kinder-Klimberz party options below.
Kinder-Klimberz Standard Party Package ($300)
For $300, your special little birthday crusher and up to nine friends can enjoy climbing on our Kinder Wällen children's climbing wall, with holds shaped like animals and dinosaurs, followed by pizza and cake in the Eaten-Cáken party room. This is our most basic package. Add-ons are available below (each is priced per Kinder-Klimber).
Röamen Funen ($20)
Party attendees will not be restricted to the children's areas and will be free to explore the gym unattended. No area is off limits—not even the locker rooms! For an additional $25, you can tack on our Fällen Scólden—we will berate any adult member on the bouldering wall under whom the children wander, and will revoke his membership should he dare to tell a child why this is hazardous.
Näppen Sleépen ($1)
For a pleasant intermission, we dim the lights and play soothing music while the children nap on the big, comfy pads in the bouldering cave. (Only available during peak hours.)
Wallen Hângin ($35)
Our lil' party-goers will be tied in on topropes and hoisted three feet off the ground below our most popular walls. They will then swing around for as long as they desire, just hang there in space, or climb up five feet and then ask to be lowered over and over and over again.
Scrëamen Loüden ($5)
Shout! Shout! Let it all out! A cathartic exercise for the children. We encourage our Kinder-Klimberz to release negative feelings by screaming at the top of their lungs. We will do this in the main room of the gym so the kids can show our adult members how good they are at screaming.
Easen Rôuten ($75)
We reset every route in the gym to be a kid-friendly jug haul for your special little sport's party, with the holds spaced closely together so little arms can reach them. The ladder-like climbs will give your child a self-esteem boost—Wow, great send, champ!—and for an additional $100, we'll keep the gym like this for the next month so the kids can come back and "work their proj."
Cáken Trainen ($15)
After tearing into the birthday cake (without utensils—because they're beasts!) in our Eaten-Cáken party room, our Kinder-Klimberz head to the Pain Cäv™ where they will be lifted up to the various hangboards and campus rungs so they can grasp the edges with their frosting-covered fingers and pretend to train like real über-crushers. So küte! So ströng!
Ballen Thröwen ($100)
Watch out climbers, you're under attack! The children will be released in the main room with a tub of tennis balls to throw at climbers on the wall—see if you can make them fall! Whoever causes the biggest fall gets a special prize: a big bag of "climber confetti" (aka loose chalk).
Powér Pôinten (free)
For any adult members unhappy with the presence of rowdy children, we'll perform a PowerPoint presentation explaining that, without birthday-party revenue, the gym would go out of business in a month.
Read more Unsent. For Kevin's non-humor columns, see Noon Patrol.