"Who the F#$% bolted this?": The Five Stages of a Sandbag
Sandbag: (noun) A route of substantially elevated difficulty in comparison to others of the same grade. (verb) To suggest a route of such character to a friend.
Heading out the door? Read this article on the new Outside+ app available now on iOS devices for members! Download the app.
The only easy thing about climbing in Suesca is the approach, facilitated by a seldom-used railway. Flat and inviting, the tracks carve their way through verdant farmland, passing another renowned icon of the crag: the shining white effigy of the Virgin Mary.
A statue to some sort of deity or saint is useful in a place such as this. If you're hoping to send anything even close to your normal onsight grade, you'd better offer a prayer. Suesca is often considered the birthplace of rock climbing in Colombia, an old school crag with grades to match. Don't expect any ice cream ticks here. This is where your ego comes to die… or does it?
My first Suescan route was a real eye-opener. The compact sandstone had been polished to a fine sheen, the result of decades of graceless ascents by unsuspecting chumps like myself. Only after plugging my third No. 3 Camalot did I feel in control of the route, at which point I had time to reflect that the steep and slippery handcrack was a very tough customer at 5.9. You can imagine my dismay when I later discovered I had been told the wrong grade. I've never worked so hard for a 5.6.
As you well know, the term "sandbag" can be a noun or a verb, either objective or subjective. To wit:
Sandbag
(noun) A route of substantially elevated difficulty in comparison to others of the same grade.
(verb) To suggest a route of such character to a friend.
Sometimes, as I had just experienced, it can be both. Regardless, of the grammatical implications, the psychological response is identical. The Kübler-Ross Theory regarding the Five Stages of Grief aptly describes the phenomenon:
1. Denial
Upon inspection of the route, it becomes obvious that it is harder than watching your parents make out. But the guidebook says 5.8… so it can't be that tough, right? That big thin-fingers roof must climb easier than it looks.
Common Phrases
"I'll just run up this one to warm up."
"I'm pretty sure that's a jug up there."
"It's basically slab."
2. Anger
Before long, you're engaged in mortal combat. You encounter diabolical moves with marginal protection above potential ledge falls. Your ego searches for a scapegoat, because this couldn't possibly be your own fault.
Common Phrases
"Who fucking graded this?"
"Who fucking bolted this?"
"Who the fuck is Layton Kor?"
3. Bargaining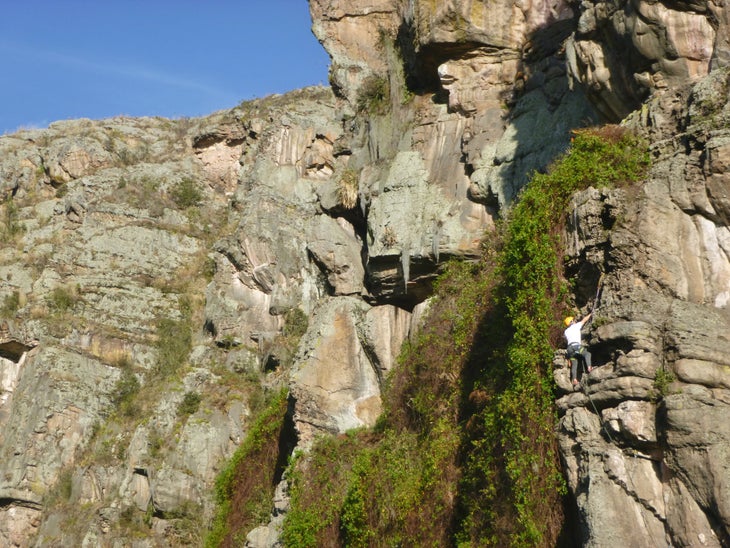 At some point, you'll realize that culpability has little relevance to your current situation or the structural integrity of your ankles. You begin to seek solutions, including but not limited to lofty promises to various gods.
Common Phrases
"Please don't be a sloper. Anything but a sloper."
"If I live through this, I swear I'll never climb again."
"Help me, Buddha and Baby Jesus."
4. Depression
This generally follows the descent and can occur regardless of success or failure. Your ego is now receiving its PhD from the School of Hard Knocks. You're obviously not as good as you thought you were.
Common Phrases
"Man, I suck."
"Gee, thanks for the route suggestion, asshole."
"Well, I guess I might as well take up skiing."
5. Acceptance
Now, hold up a moment… Who could possibly be asked to accept, and perhaps even enjoy, such a demoralizing and shameful experience? Is that even possible?
There are two ways you can accept sandbags into your life. The first is with humility. When the grade won't do much for your Mountain Project profile, it reverts to the spirit in which it was intended—as a humble yardstick with which to measure the relative difficulty of routes at that crag, and that crag alone. With a positive mindset, the perception of injustice and outrageous difficulty disappears into the ether. Pure zen.
The second way is with hubris. Here, you'll appease your ego by teaching it a new trick. The true sandbag artist sees every send as a monumental triumph and a personal badge of honor, because they recognize one shining truth: sandbags are pure, and everything else is worthless.
Common Phrases
"Sure, Epinephrine might get 5.9 at Red Rocks, but it ain't the Steck-Salathe."
"Ondra himself couldn't onsight 5.8 at Vedawoo."
"People say that the grades at J-Tree are stiff, but we invented the grade. So it's not hard, everything else is soft."
Ah, the ego is alive and well it seems. One day, I hope we might find a weapon potent enough to slay that wily bastard, but for now, he lives to fight another day.
As for myself, I must admit that I fall somewhere in the middle. Later that week, after coming to terms with my reduced potential in the face of such stiff opposition, I tackled a classic Suescan 5.9. By classic, I mean that it is more sandbagged than a First World War fighting trench and has destroyed more confidence than acne. I cruised the slippery corner crack which I had been told was the crux, only to find myself at an imposing roof. Mere feet above, the shining chains beckoned, but they were guarded by what I believe to be the single hardest move I have ever pulled on gear…
But I did pull it, and I felt like a goddamn champion. But then I remembered it was only 5.9, so I lowered from the route, changed my underwear and quietly returned home.
Related: