When Climbing Really Isn't the Most Important Thing (We Know, Hard to Imagine)
He was going to go climbing, but disaster got in the way.
Heading out the door? Read this article on the new Outside+ app available now on iOS devices for members! Download the app.
July 2, 2018. Jose Miranda took off his hat, carefully laid it next to the tire, kneeled and eyed the muffler hanging in the gravel. "Fino," he said in an accented baritone. "Chevre, mi pana. We got this. This is easy."
~~~~~~~~
He lay supine and squeezed under the old Rav, outsized beard crawling across the oily chassis like a glistening, many-tentacled sea monster. I crouched and watched, swallowing mild revulsion. That beard had a life of its own and Jose was crammed under my car with it, alone. It seemed dangerous.
"Hand me the alambre," he said, and I passed him a six-inch strip of baling wire.
The rusty muffler had fallen off after I'd dropped my son Isaac (7 at the time) at the Rec Center in Carbondale for bike camp. Hannah, my wife, was on the East Coast for a conference and Kai, my oldest son, was at a Lakota Sun Dance with his grandmother. I was on summer break from teaching. I had pictured myself climbing pretty much nonstop, but somehow it didn't quite work out that way.
After my muffler fell off, I drove five miles to my house—metal shrieking as it drug along the highway, car sputtering like a vegan after eating a raw-cabbage burrito—and called the one person I knew would be able to get me up and running with a minimum of expense or fuss.
For years, Jose had been the foreman of the Tybar Ranch, and like most journeyman cowboys he could fix any conveyance from a Ford Jubilee tractor to a Bell helicopter with whatever junk he found lying around the pasture. For this particular mechanical emergency, he'd showed up with six strips of bailing wire and a roll of aluminum foil. Over the course of a couple of hours, he painstakingly reattached and patched the muffler.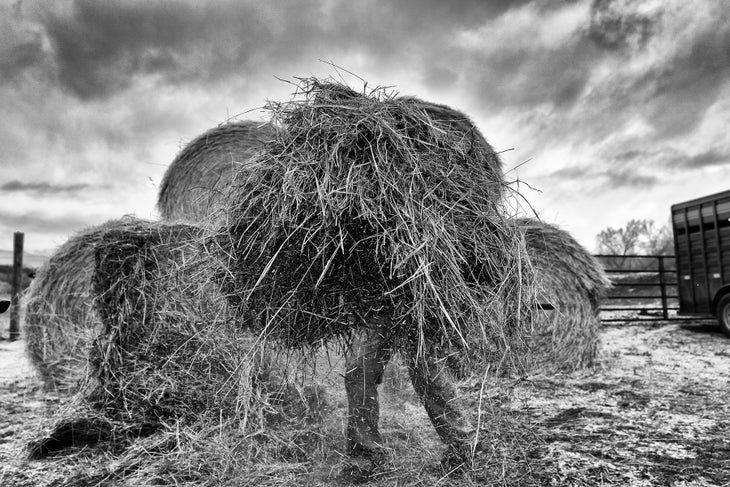 "Thank you," I said, helping him up and giving him an abrazo while trying to keep my ear out of his beard. (I'd seen things disappear in the dreads—crumbs, beer foam, insects—and they never reemerged.)
"Por nada," he said. "We're partners. I always got your back, Jefe. Now, when are we going climbing? Let's take the kids and camp."
Every summer we made plans to climb. Sometimes we actually got out, like the summer we did the first ascent of the Crystal Tower,  a remote quartzite spire that will probably never again see climbers, but more often life threw up insurmountable obstacles. Recently, Jose's world had turned completely upside down. He'd split with Kami, his wife of 17 years, and lost his job as foreman of the Tybar.
Most people would be cruxing, but Jose had walked a crooked path to arrive at this waypoint and he seemed remarkably unfazed. A Venezuelan by birth, he'd scored a scholarship from a La Victoria rum maker to study animal and range science at Montana State. In 2007, Jose, Kami and their kids, Kawak and Paz, moved back to Venezuela trying to start a farm. By 2013, the government was corrupt and the country bankrupt. Times were hard and one afternoon a group of six or seven bandits showed up at the farm. They tied up Jose and held guns on Kawak and Kami—Paz hid under a couch.
The thieves loaded a pickup with all the tools, the kids' bikes, a stalk of bananas; they even took the unicycle.
"The reality caught up with us," Jose said. That day they packed up a few things and left Venezuela for good.
Now Jose was in a fix again: unemployed, divorced, soon-to-be homeless. It was Tuesday and he had to be off the ranch by Thursday.
"How's the move going?" I asked.
"It's going."
"Let me know how I can help you," I said. "I know you're in a tight spot."
"Pue," he said in that soft-mouthed Venezuelan Spanish that drops the S's at the end of words. "Maybe you can give me a hand tomorrow? We can move some things and then climb in the afternoon. Bueno?"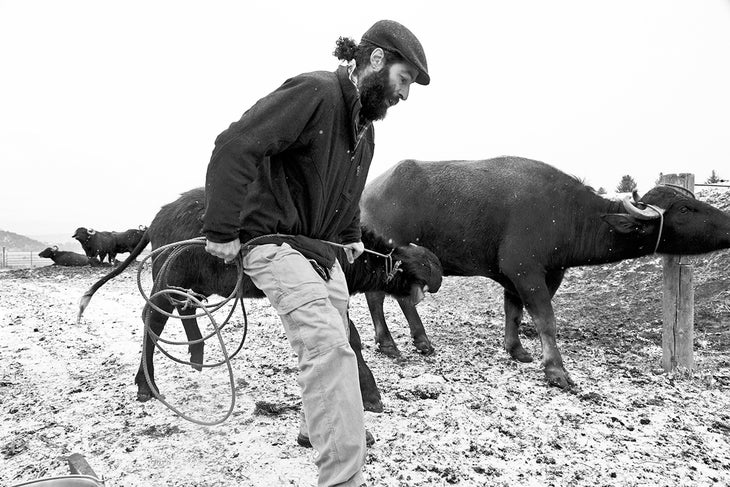 •  •  •
July 3. The next day I dropped Isaac at bike camp, drove up Prince Creek to Jose's place and sucked a lungful of air through my teeth. Rain pattered on the loads of furniture stacked under a cottonwood tree. The flagstone patio was crowded with all sorts of mattresses and bed frames, side tables and love seats, a foosball table, car tires for cars Jose probably no longer owned.
I parked between Jose's 1964 Land Rover and his 2004 Ford F250 pickup, and walked through the house, passing shelves crammed with canned beans and peaches, baskets of playing cards and toys, boxes of tools. A thought settled onto my shoulders like a heavy cloak: There will be no climbing today.
Jose was in the kitchen, patting out masa, frying it, slicing the steaming cornbread and filling the pocket with chimichurri and chunks of Black Angus steak.
He handed me a cup of strong coffee and splashed some cream, still warm from that morning's milking, across the top. We ate a dozen arepas before speaking again.
"Looks like we have some moving to do," I said.
"Yes," he said, thoughtfully. "You can say that again."
"I'll start loading your truck."
"First we need to get in the garden."
"The garden?"
"I have garlic in there. And strawberry plants. And we have to dig up the apple trees and the pear and plum. And then we'll disassemble the strawbale chicken coop. I want those bales."
"The straw?"
"Hell yeah," he said.
•  •  •
I was pulling up garlic and dividing the stalks into piles for Jose to braid when I noticed a young woman walking through the field. Tan and strong with dark eyes and smooth skin, she looked like a vision in an army-green T-shirt, khaki shorts and ankle-high boots.
"Who's that?" I asked.
"That, my good man, is Erin."
Jose explained that Erin Cuseo and her two kids, Ayla (8 at the time) and Archer (6), were living with him. They'd met at a local farmer's group that winter a few months after Kami moved out. Erin was a farmer, and a model for Blundstone boots. She'd left her husband around the same time Jose and Kami broke up. The two farmers bonded, and things moved fast.
•  •  •
July 4. Somehow the garden, eight head of Black Angus, two Guernsey milk cows, eight water buffaloes, 12 pigs, three horses, two dogs, a cubic ton of rocks from Jose's rock collection, a massive stack of antlers, loads of furniture and gewgaws, plants, trees, canned goods, tools, trailers, extra cars, tack, saddles, windows, three years of chicken shit "for fertilizer" and several bales of straw found their way to various ranches, sheds and storage units around Carbondale, El Jebel and Basalt, Colorado.
Jose and I sat on the stone steps just outside the ranch house, sipping beers and watching the alpenglow on the summit of Mount Sopris. Isaac, tuckered from bike camp and stuffed with arepas and homemade raw-milk ice cream, was sleeping in my lap. It was Independence Day, but there'd be no fireworks. The valley, suffering from a drought, was under Stage 2 fire restrictions.
It seemed appropriate—the quiet gloaming. The house was hollowed out behind us. Jose's family once filled it with life and laughter. Now he was gonna be bathing in a creek, living in a trailer with his beautiful girlfriend and her kids. It was Shakespearean, but was it a comedy or a tragedy?
I asked Jose.
"Things changed after Venezuela," he said. "I started thinking about the future, not dwelling on the past. Stuff you see coming, stuff that's not a surprise, it helps me stay focused. The kids keep doing good, growing. Meeting Erin, that helps. It's something you don't think is possible—an even better fit. Now, I just focus on the kids and my herd. My bank account is that herd."
I nodded, listening, thinking that Jose's optimism was like a superpower.
"Let's climb tomorrow," he said.
"Really?" I asked. "Don't you have things you need to do?"
He slapped his thigh. "I'm a farmer," he said. "I've always got things to do, amigo."
"Venga," I said.
"We're climbing," Jose said. "Tomorrow is Friday. We been working all week. Besides, what else could go wrong?"
•  •  •
July 5. Usually sounds wake me. They sneak back into my ears like ants walking across the skin of a drum, then worries follow, but that morning the first sense to reappear was smell. Smoke hung in the darkness, thick and alarming.
A wildfire had been burning for a couple of days. Two gun nuts, popping off rounds at a firing range up by Lake Christine, 11 miles away, started it when one of their illegal tracer bullets landed in the kindling-dry brush, setting off a conflagration that would keep firefighters busy for just under three months, prompt the evacuation of 500 households, destroy three homes and burn 20 square miles of national forest.
I rolled out of bed and rummaged in the pile of clothes on the floor, looking for my phone. The first thing I saw was a text from Jose: Amigo, I'm sorry. I can't climb today. They're evacuating Cattle Creek Road where we took the cows. I need somebody who can ride.
•  •  •
Flames flickered in the cloud of smoke draping Basalt Mountain—red and orange like a sunset. The stiff breeze quaked the aspens along the creek and smoke eddied through the cedars. Slips of ash drifted down and hung in the branches, burning out in sooty puffs. Two helicopters circled above, dipped catch basins in the reservoir and dumped water on the leading edge of the fire less than a mile away.
Jose, Erin and I urged our horses—Hank, Strider and Chief—through the oak brush and willows, searching for eight Angus and two Guernsey. Jose whistled, calling their names.
"Ruby! Paprika! They'll want to be milked," he said, turning in his saddle. "Damn, man. This is worse than I expected. The fire is close."
In fact, a Garfield County sheriff had stopped us on the way up. He tried to turn us around, told us the road was closed.
"I got animals up there," Jose had said, gravely, and the sheriff reluctantly waved us through.
There's something atavistic about wildfire. It provokes an instinctual dread, ancient and basic, like the fear of heights. The horses' ears pivoted as they snuffed the charred air. I could tell Jose was gripped, too. The herd was in danger and the herd was everything.
It was go-time, but when we came to a section of busted fence, Jose decided to stop and fix it.
"It's not even your land," I said, frightened and annoyed. "Let's keep moving."
"But, Jefe," Jose said. "The cows are getting through here." Clearly, there was some rancher's code I didn't understand.
Honestly, there was a lot I didn't understand about Jose and his choices, but when the wildfires are burning—both literal and metaphorical—you don't need understanding. What you need is somebody to show up. Jose always showed up when it counted—whether it was for a rusted muffler or a backcountry spire. He was a brother of the rope—and that was a code I understood.
I helped Jose pull the barbwire tight; then we used 8-gauge staples to secure it. He didn't look like a cowboy in his Ray Bans and orange Crocs, but as I watched him patiently mending fence in a smoke cloud thicker than his beard, I knew I was watching a bona fide top hand—ciento por ciento.
•  •  •
It took a long time but eventually we rounded up the Angus and Paprika and Ruby. It was almost dark by the time we turned them loose at Sunfire Ranch down in Carbondale. I called and checked on Isaac, who was happy to be up late, playing with the neighbor's boys.
"You want to get some food?" I asked Jose and Erin. We hadn't really eaten since that morning.
But Jose still had to park the trailer, milk the cows and buffaloes, feed and water the pigs, and prepare for an early morning. Erin had to get her kids, so I settled for a warm abrazo.
"Climb tomorrow?" I asked.
"For sure, my good man," Jose said. But we never did get out climbing that summer.
•  •  •
Today, Jose is a few steps closer to realizing his dream of starting a creamery. He sold his Angus and now has a herd of 30 water buffaloes. He's got a side job as a consultant to other farmers around the United States, propounding a new model for the dairy industry based on rotational grazing and humane treatment of the animals.
"Better environment and happier cows mean better milk," Jose said. "All my buffaloes have names. And they all come when I whistle."
He and Erin continue to farm just outside  Carbondale. Their son, Wekta, was born last April. When I visited last summer, I held the fat baby while his mother bundled cilantro and his father weeded the onion patch. The shadows grew long, and it was almost dark by the time I said goodbye.
"Let's get up to Crystal and climb on the tower," Jose said, pulling my ear into his beard.
"Claro que si," I said. "Always down to climb with you, brother."
But, somehow, yet another summer slipped past us.
Jeff Jackson is At-Large Editor for Climbing.