Wild Times: Chasing Dreams (and weather) When Patagonia Was Untamed
In the early 1990s in Patagonia you were on your own. You lived by the weather, chasing brief clear windows hoping you could get up, and down, before storm slammed the door shut ... or spelled disaster.
This article appeared in Climbing's 2021 issue of Ascent.
In December 1993, after five long days of travel from the States, Topher Donahue and I rode a bus across the Patagonian plains, covered then in an endless, high-summer quilt of pastel-green grasses and shrubs. The tantalizingly clear weather fired our psyches, so we disembarked, packed an alpine kit, and hustled past the climber basecamp of Rio Blanco, where we would spend most of our time over the next month. An hour later we bivied next to a tarn at the terminus of a glacial tongue sweeping down from Paso Superior, the advance basecamp below the east face of Mount Fitz Roy. From our bivy sacks, we could see the dramatic skyline of our objective, the peak's 4,500-foot North Pillar (VI 5.11 A2). The next morning dawned wet and windy, with Fitz Roy's pyramidal summit anchoring a 10,000-foot-high, V-shaped plume of roiling clouds. We now understood why the native Tehuelche people long thought the peak to be a volcano.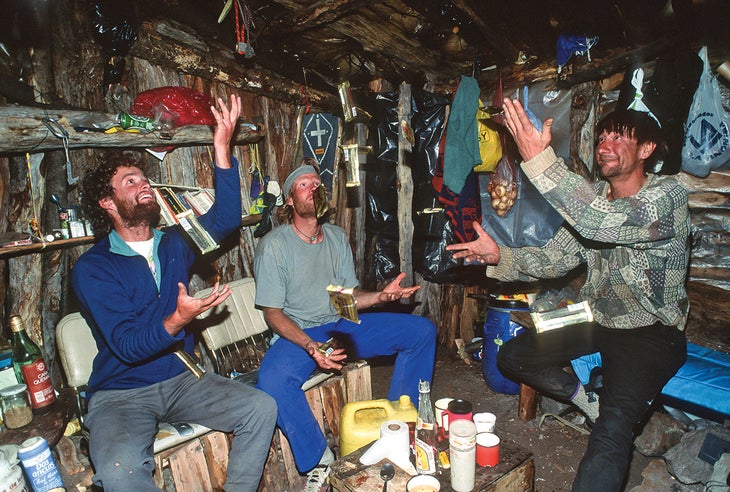 Patagonia was a different animal back in the early 1990s. We sheltered in flapping Megamids or gathered in crude stick huts at basecamp, drank gallons of bitter black tea with lumpy powdered milk to stay amped during the endless days of waiting for a weather window, and structured our existence around miniscule changes in barometric pressure. "In some ways, Patagonia doesn't even exist anymore," Topher says, "and we got some before it was gone." He notes how even gauchos, the iconic, independent horsemen of these windswept lands, can no longer ride peacefully below the magnificent skyline in their own backyard. Catering to the influx of climbers and trekkers, these horsemen created a thriving horse-packing business that eventually created water-quality issues—and the subsequent banning of all equine services in Los Glaciares National Park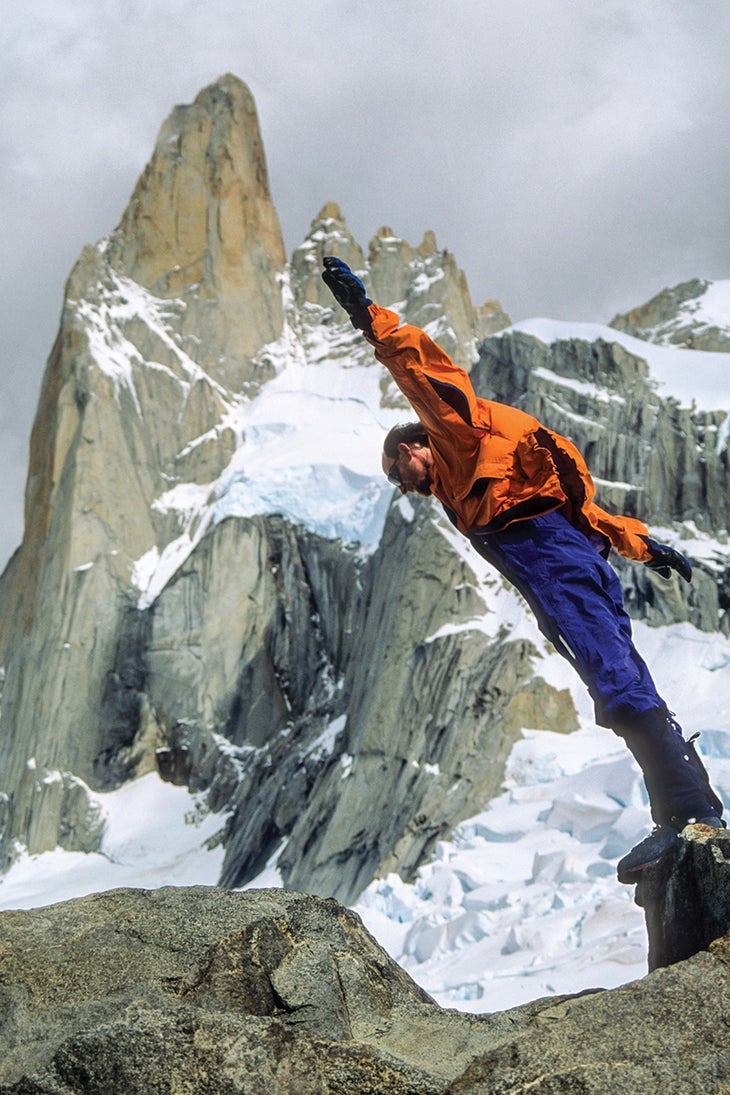 The local climbing expert and guidebook author Rolando Garibotti says that although climber visitation has increased only eight- or ninefold since the mid-1990s (800 climbers registered with the park in 2018), overall visitation has grown from 1,000 people a year to 120,000. "These are not trekkers—they are tourists with suitcases, city folk, and retirees," Garibotti says. Today, the stick-hut basecamps—Campo Bridwell below Cerro Torre and Rio Blanco for Fitz Roy—have been dismantled. Climbers sleep instead in El Chalten (1,000 people strong, instead of 50), access pinpoint satellite weather forecasts, and sport-climb in shorts to stay fit while waiting out the storms. Things have certainly changed for the better, but it's hard not to reminisce about the way we were.
Our trip marked Topher's first visit to Patagonia. He was the first climbing prodigy I'd known. Mike Donahue, Topher's dad, owned the Colorado Mountain School in Estes Park, Colorado, and we met there when guiding together in 1989. At 17, Topher would float up 5.12, and I remember climbing Dark Star, a Grade 5 ice climb in a shaded cleft on Mount Meeker, together. It was June, and the ice had mostly melted away. As I followed Topher's lead, I couldn't even see his pick holes he'd climbed so delicately.
With a thick head of curly hair, a chiseled, triangular climber's torso, and a welcoming grin, Topher loved "taking the piss." Once, in a dingy Australian bar, he challenged a drunk cowboy: "You know, a man can outrun a horse." Several drinks later, in the face of an increasingly belligerent cowboy, we elbowed Topher out the door, barely suppressing our amusement.
THE VINO TRIANGLE
Rio Blanco, Campo Bridwell, and El Chalten, spaced six miles apart, as if three points of an imaginary triangle, are protected in comparison to the high peaks. After we'd spent a few stormy days cooped up inside huts and tents, the weather often abated, and we would head out for a town resupply.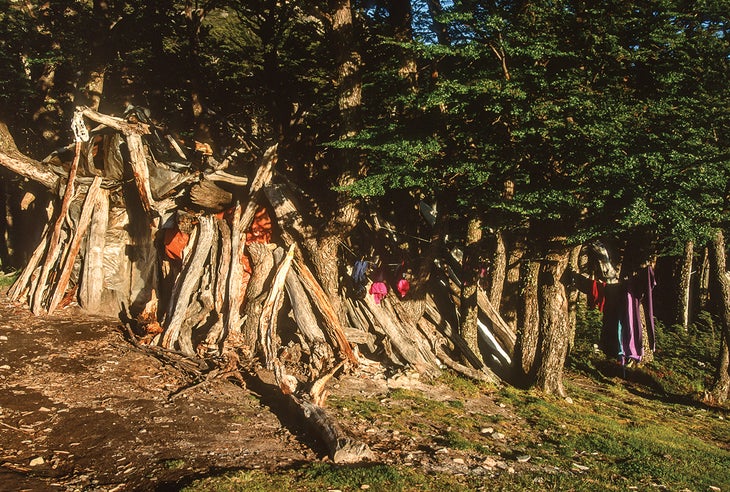 While El Chalten comprised a handful of A-frame houses built quickly on a flood plain by the Argentine military during border disputes with Chile in the 1960s, you could find most necessities here. Fresh bread arrived daily on the bus or from gaucho Don Guerra's wife. The butcher even let us run up a $70 tab and then leave town to cash our traveler's checks to pay him. Meanwhile, a liter of wine was only $1 so we'd load packs with bread and wine and head to Campo Bridwell for some revelry.
Heading "home" the next morning, we explored the granite boulders jumbled throughout the swampy foothills. One day we bouldered at Lago Capri, a 200-foot overhanging traverse on tiny holds, with fourteen climbers from five different countries. Inyaki, a wiry Spaniard, had quarter-sized holes in his climbing shoes and climbed with wild, monkey-like movements. His girlfriend, "Rat," had lived in England long enough to swear better than a British sailor. As she tried to locate her footholds while swaddled in billowing layers of Gore-Tex, she exclaimed, "Bloody hell, I am foot-hobbled like Inyaki—bollocks and batshit, this is not climbing!"
Just when the waiting became too much, the weather would clear and everyone would hike up stocked and ready to snow caves, hoping that the weather would hold. Up and down, up and down, rabid desire seeking opportunity.
THE WAYS OF WAITING
Imagine having your morning flight to an exciting destination canceled, and then waiting 24 hours in the airport only to have it canceled again—over and over. This is what climbing in Patagonia was like. "There is no love hate like the love hate that exists among mountaineers," John McPhee observed in Encounters with the Archdruid—months of idleness in proximity to such elegant summits being a perfect example.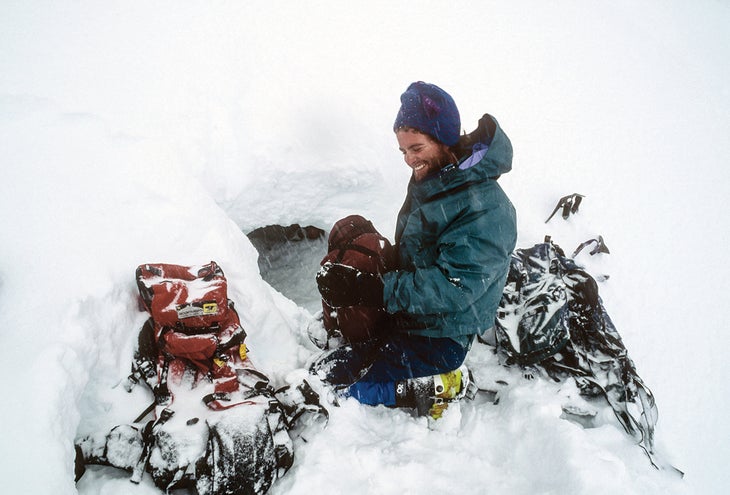 Patagonia's "pop-up" climber community provided a lifeline through the interminable days and weeks. At Campo Bridwell, the Italian Ermanno Salvaterra spent six months building a hut, crafting the walls from shaved vertical poles, adding a concrete oven for bread and cakes, and carving comfy couches from hollow logs. A Patagonia master, he had climbed all of the major summits. Conrad Anker and John Middendorf were also based at Bridwell that season. John recalls "Ermanno's deluxe, weatherproof hostel, and then wandering over to our available lean-to by the river, dripping inside with rain … "
If purgatory is the place between heaven and hell, in Patagonia it is the time between sleeping and summits. The huts were our central orbit for meals and socializing. I prepared potatoes 20 different ways and baked a cake with mayonnaise instead of eggs. Ducking inside a hut from another unclimbable day, I was eager for a refuge from our flapping tent and the wind-vaporized moisture dripping off the lengas, or beech trees. The huts all had a particular odor: acrid smoke, unwashed polypro underlayers, and damp, earthen floor. Inside were hobbit-like alcoves containing abandoned spices, intricate carvings, and mountainscape paintings.
One day, after three weeks of camping with us while trying to climb Poincenot, Peter and Andrew, the American "longhairs," were playing another game of cribbage. "15-2, 15-4, and a pair for 6," Peter said as he pegged his red token six holes farther along his board. Elbowing Topher aside, I sank onto the well-worn bench, polished by the rumps of countless inmates.
THE BAROMETER BROTHERS
Then there was the wind—that damnable wind—fueled by Antarctica and the Pacific, set free over 30 miles of continental ice, channeled into a ferocious gale by ridges of mountain granite.
As the British climber Don Whillans wrote in the U.K.'s Alpine Journal after his 1962 ascent of Poincenot, "It was impossible to throw the abseil rope down because of the wind. When the rope was pulled down, it refused to drop and stood vertical, lashing like a mad thing in the air." When I was in Patagonia the year before Topher's and my trip, an Austrian alpinist described to me how a gust lifted him from the rock and his lead rope held him from falling upward on the Amy-Vidailhet on Aguja Guillaumet. And as Jim Bridwell, source of the name for Campo Bridwell after his alpine-style ascent of the Compressor Route on Cerro Torre, wrote in the 1980 American Alpine Journal, describing the horrific 20- and 30-day storms and winds over 100 mph, "I questioned from the beginning whether we weren't playing a form of Russian Roulette with four chambers loaded."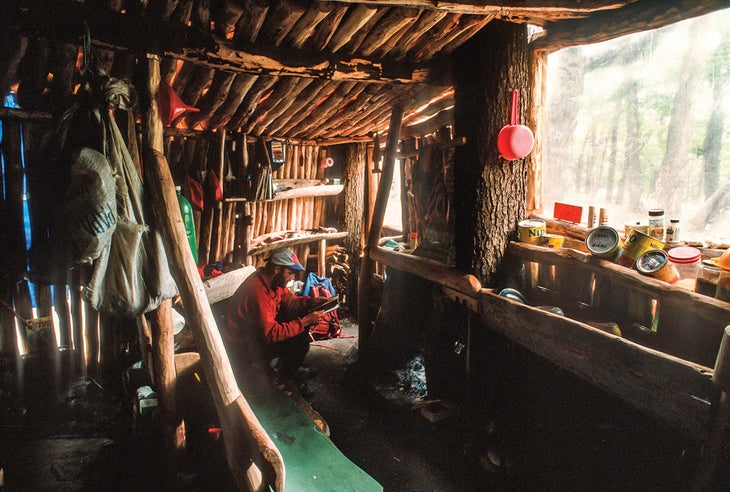 The mornings were often clear, and too many times I shouted at 6 a.m., "Topher, wake up!" Sprinting like firefighters, we'd stuff our packs and gobble food while watching puffy clouds stretch over the summits and spread over the plains. Invariably, within the hour, the peaks were obscured, the wind was howling, and everyone had retreated to basecamp.
Patagonian weather prediction was nonexistent in the 1990s, and so we remained extra cautious. Conrad and John knew it was time to join us bouldering—and give up on larger objectives—when a river was gusted from its channel and smashed into their hut at 70 mph some 30 feet from the riverbank.
That day, observing their unmistakable, "team long-leg" approach to our bouldering session, we slyly prompted a funny reaction with a shouted, "Hey, Conrad, John—what's the weather?" Simultaneously grabbing the Avocet barometers slung around each of their necks, they noticed their mirrored action and grinned. The Barometer Brothers!
Evolution
On Christmas Eve 1993, the weather changed again so we hiked back up to the bivy caves. I crawled outside on Christmas morning into the wind. It stung my face and knocked me down. I returned to my mole hole, where the wind spiraled into the opening with soft whumping sounds like the detonation of far-off artillery. Merry fucking Christmas!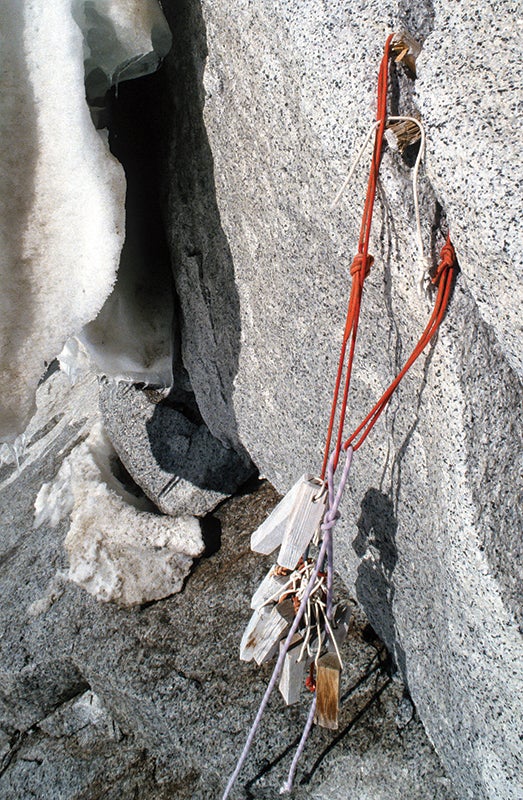 The Germans Kurt Albert and Bernd Arnold were working on a new route on the east face of Fitz Roy that they would name after a perfect gambling hand, Royal Flush. Kurt had invented the term "redpoint" in his home area of the Frankenjura, painting a red circle below a route he was trying to free, then filling in the circle once he'd climbed it. And Bernd had climbed bold, difficult routes onsight and ground-up on the sheer sandstone of Dresden in the 1970s, which influenced Henry Barber to claim, "The perfect climb is an onsight-solo, barefoot and chalkless." With seemingly disparate philosophies, Kurt and Bernd had developed a successful, yin-and-yang partnership.
Topher and I had become enamored with the fast-and-light evolution when climbing Mount Huntington in Alaska a few years earlier. Although most new routes in Patagonia had been sieged at that point, we were not able to endure the thought of ascending icy ropes in whiteout conditions multiple times; alternately, we appreciated the speed of motion similar to kayaking a Class V rapid, where commitment swallows hesitation. Our passion was to see how much we could free-climb with a rope, tag line, small rack, and light packs. It was youthful hubris indeed, but would also become the method of future Patagonian super-climbers: Josh Wharton and Bean Bowers romped up the first free ascent of the North Pillar in 14 hours in 2006, and Alex Honnold and Tommy Caldwell completed the Fitz Roy Traverse alpine-style in 2014.
Running out of time, Kurt and Bernd pulled their ropes and descended into the fog while we festered in our snow cave a few hundred yards away. Minutes later, the lower-angled slopes directly above their route released a killing fusillade of rime and rock. As the gambler knows, "It is always better to be lucky than good."
SUEÑOS DE TIEMPO
Topher and I lingered after Christmas in marginal weather, trying a new route on the east face of the Mermoz. Our goal was a feature we'd dubbed the Red Pillar, 200 feet wide and 800 feet tall, with a singular hand crack slicing through its center.
Our first attempt ended with us wide-eyed and shaky after the bergschrund collapsed under Topher, dropping him 15 feet into soft snow. We turned back again on a second attempt two days later after 500 feet of climbing in a wet snowstorm. Returning yet again on a cold and overcast day, we climbed 1,700 feet before getting stymied 50 feet below easier ridge scrambling. Blocking our way was an ice-filled chimney, and we'd brought neither crampons nor tools.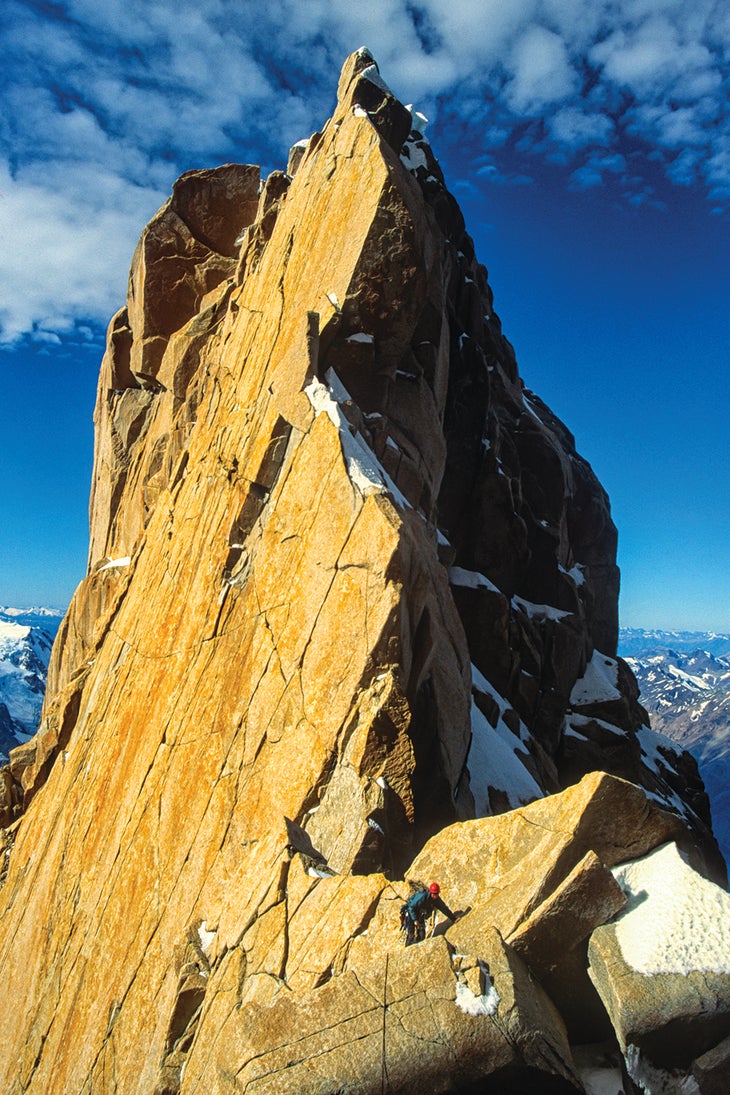 The evening before our third and final attempt on what we'd dubbed Sueños de Tiempo, Topher had seen the flickering light of a campfire on a glacial plateau below our snow cave. Given that we were 4,000 feet above treeline, this made no sense. But sure enough, during our effort the next day, we could just make out a pile of black ash amidst all that whiteness.
The following morning, recovering from our 20-hour push, Topher and I were startled awake by someone forcing himself into our cave, a figure clad in faded fluorescent European garb, with a sunburned bald head and a thin dark mustache. With a knowing grin, he stuck out his hand and said, "I am Ferrari!" Staying in a hostel far below, the Italian alpinist Casimiro Ferrari had come up to scope a new line on the Mermoz. And he'd hauled up a load of firewood for an evening party two nights earlier. Mystery solved.
Ferrari was a legend, with first ascents on the west face of Cerro Torre and the east face of Fitz Roy. He'd spotted us high on the Mermoz the day before, he said, speaking in chain-smoking, animated excitement. Rumor had it that unless Ferrari knew your bona fides, he was egotistical and unfriendly. Apparently, trying a new route in bad weather made us worthy inductees into his kinship of mountain first ascents. Flush with adrenaline from our rude awakening, I found his excitement and cigarette smoke overwhelming.
Fast-forward a bit to early January after Topher and I had succeeded on Fitz Roy: We were to arrive late to Ferrari's twentieth-anniversary celebration in El Chalten for Via dei Ragni on the west face of Cerro Torre. Ferrari jumped up from his crowded table with a hearty welcome, demanding that we be brought reheated lamb from the asado barbeque. He had completed his new route on the Mermoz, the Ferrari-Ceballos, and was all fired up. As we shared success stories, back-slapped, and hugged in macho Argentine style, I felt like I had been granted access to some exclusive explorer's club. For a moment, I definitely exceeded my pay grade! Unbeknownst to us, Ferrari had been incurably sick since 1980, and this would be his last climb—he passed away in 2001.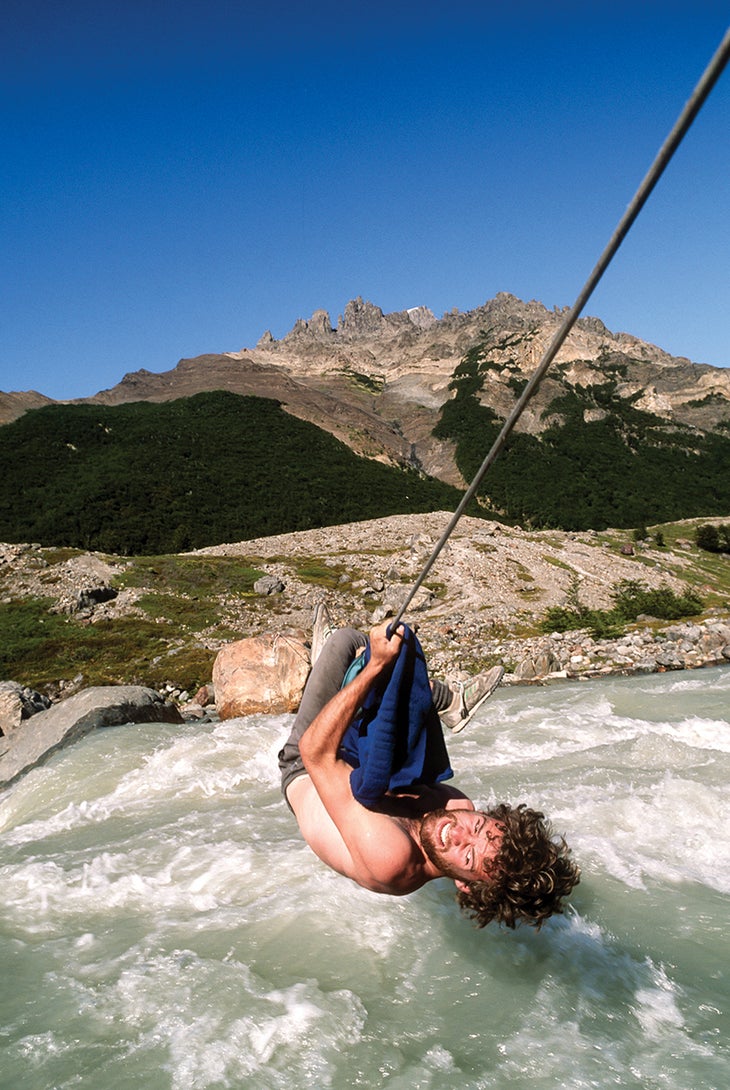 Five years later, Kurt and Bernd laid siege to the line Topher and I had tried, employing a power drill on what they would name Vela y Viento—and producing a documentary for German television. Many Euros argued that, by bolting belays and even the occasional stretch of crack, the pair were making the route more repeatable. But Albert was eventually disparaged enough by the global community to call me to apologize. Describing the route in his Patagonia guidebook, author Garibotti included the comment from Topher, "We sure didn't feel the need for any bolts." As Topher and I had not actually summitted, their methods were certainly fair, but I hung up the phone with Kurt feeling a smidge of righteousness for a future free from bolted cracks.
29 WAYS

     
Exhausted and famished after our trifecta on the Mermoz, we descended to Rio Blanco and prepped a huge pot of chili, just as the weather cleared, settled, and felt right. Still undercooked, the chili disappeared in a carbo-loading frenzy, and the next morning we set off to climb "Fartz Roy." Jet butts on the stone, we gained 6,800 feet that day, including the 4,500-foot approach.
The North Pillar of Fitz Roy was first climbed solo in 1979 by the strongman Renatto Casarotto. After his partners abandoned the attempt, he worked tirelessly for 43 days, fixing rope almost to the summit and leaving behind huge piles of unsightly, albeit historical, garbage: bundles of wooden pitons, five-pound bags of soup packets, wind-shredded tents. The second ascent, with a slight variation, was completed in 1984 by the Americans Bobby Knight and Alan Kearney. Their 45 pitch, alpine-style ascent took six-and-one-half days in marginal weather. Both lost fifteen pounds. No one else had completed the route in 10 years.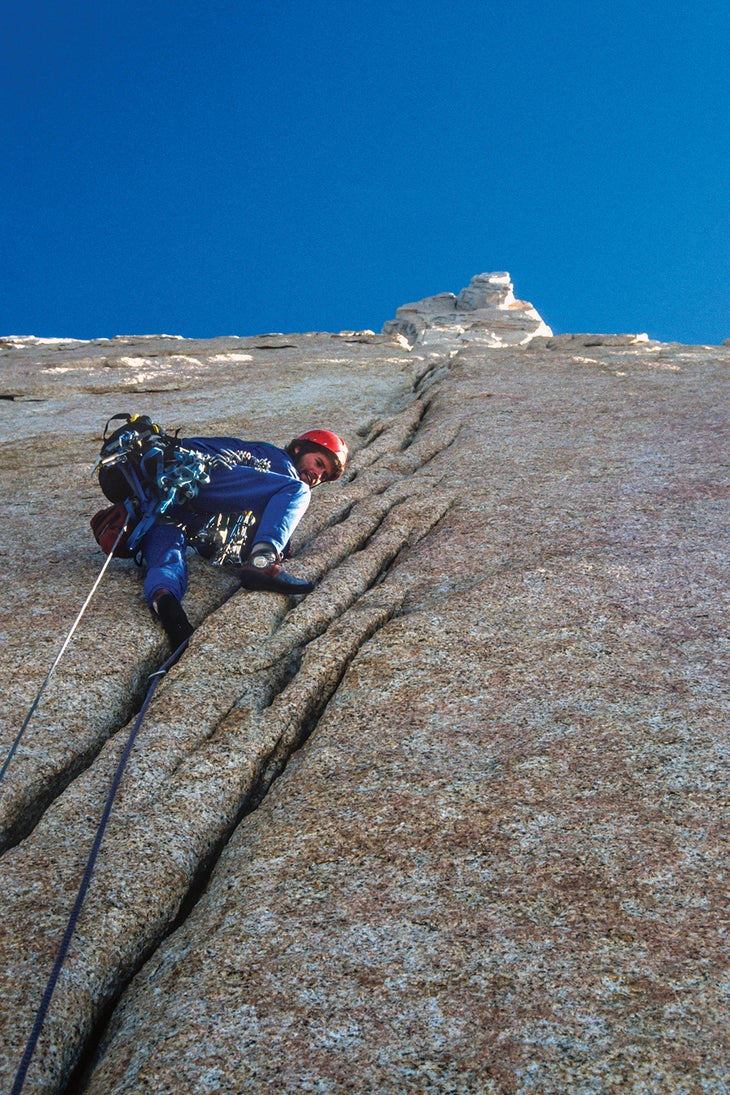 The North Pillar has three sections: an initial 1,000-foot gully of 50- to 60-degree snow and ice that leads to a col; the 2,500-foot pillar proper, directly above the col; and then a knife-edge that swoops downward from the pillar to a second col below the final 1,000 feet. The route resembles an extended Pear Buttress—a 500-foot, lower-angled 5.8 crack at Lumpy Ridge in Estes that Topher and I commonly guided, and which we'd once simul-climbed round-trip in 15 minutes to retrieve a stuck piece. Launching up the icy gully, tiptoeing on crampon points, and moving swiftly with confidence gained during our recent Mermoz attempts, we soon switched to rock shoes and reached half-height on the pillar by nightfall. Although littered with cracks, the granite is so weathered that solid-looking flakes can explode under bodyweight. This was no Pear Buttress.
The crux came early the next day—50 feet of 2.5-inch, ice-coated crack. Topher toiled for two hours, chipping holes for Tri-Cam placements, the only protection I know that holds within a verglas-covered crack. Even so, his friction weight when aiding on the Tri-Cams would cause the pointy tips to melt through the ice, threatening to shear the placements.
Halfway through Topher's endless lead, I meekly offered, "Do you want me to take over?"—knowing I couldn't do any better, but at a loss for how to to be supportive otherwise. By then, Topher was immersed in his improvisation and ignored my overture, bloodying his knuckles on the crack walls while enduring an X-rated situation that most likely melted away by the next day. True grit!
The rest of that day, we climbed with peak focus and unity. Reaching the second col at 6 p.m., we scanned the icecap for lenticular clouds—predictors of bad weather. We took a short break to eat and question each other's resolve.
"Only two more Pear Buttresses," I said. "You still game?" "Game on," Topher said, handing me the rack. After climbing a thousand pitches together, we needed to say nothing more.
I free-climbed past the supposed aid crux up the middle of a waterfall, straightforward except for soaking my feet. Several strenuous 5.10 crack pitches with hanging belays accessed the summit snowfield, which Topher led by slipping ungainly plastic shells with crampons over his rock shoes. Jumaring the fixed rope in my own rock shoes, I reached his belay slipping about "like a duck on a frozen lake," as Topher joked.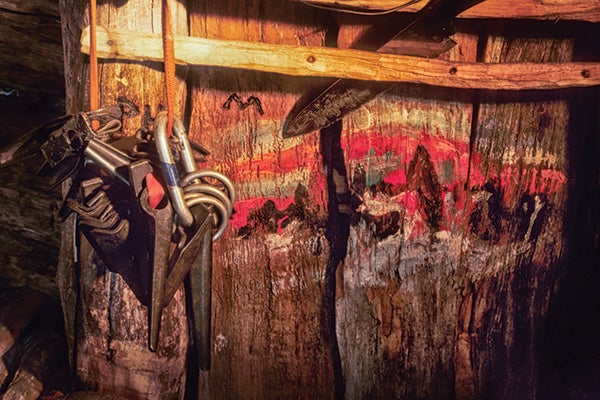 We summitted just as the sun sank behind the Torre Mountains. To the east, the shadow of Fitz Roy cut a massive triangle through the sunset glow. After a powerful hug of partnership, we descended into the darkness. At midnight on New Year's Eve, we had to climb back up to retrieve a stuck rope—our initiation into 1994. Topher and I reached our snow cave after 29 rappels and 50 hours on the go. Conrad and John ascended the Southeast Ridge of Cerro Torre that same day in 20 hours round-trip, starting from a snow cave at the shoulder. John was an early proponent of speed climbing on El Cap, where ascents were reduced from days to hours. Cerro Torre was "like doing the Nose-in-a-day—fun, but just a lark really," he remembers.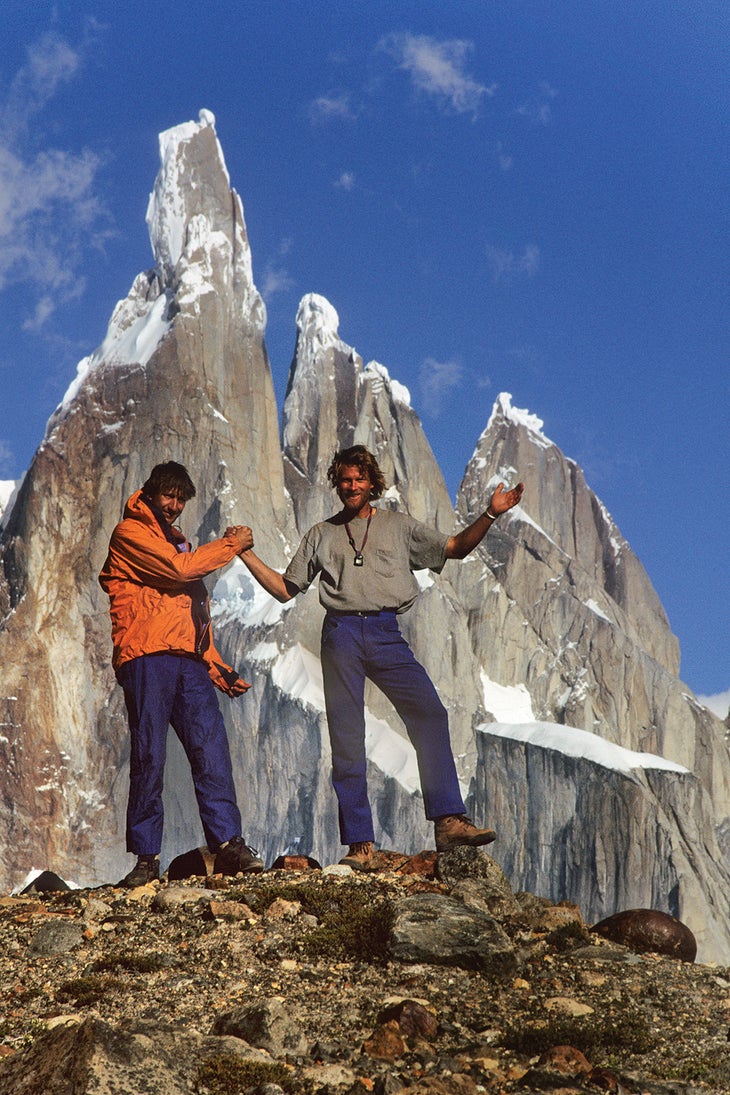 In hindsight, perhaps that season in Patagonia cemented a stylistic shift from fixing to moving faster. The prolific duo of Athol Whimp and Andrew Lindblade climbed the fourth complete ascent of the North Pillar a day behind us, taking two-and-a-half days, and then climbed Cerro Torre as a team before Whimp completed the second solo ascent of Cerro Torre, all within a month. The newbies had arrived!
The weather held for another two days as Topher and I luxuriated in basecamp, our gear draped out to dry, bathing and tending to creekside laundry while nursing inflamed cuts and scrapes. Grinning at each other, we each wolfed down an empanada, a savory Argentine pastry. Nibbling through a second one and stuffing in a third for pure gluttony, we dozed in the sun like rattlesnakes. For once, we were happy to do nothing in the perfect weather.
When the weather inevitably changed, we heard that two climbers perished from exposure on Fitz Roy's Franco-Argentine route after fighting their way down and then falling off walkable terrain. They had arrived during the weather window and hurried onto the mountain without waiting and watching. Climbing in Patagonia is like mating with a female black widow spider—do it quickly and then run away before she eats you.
The Himalayan climber Carlos Buhler lived nearby when I was in college in Bellingham, Washington. He was a large figure in my early climbing awareness. In reference to my youthful eagerness, he'd say, "Don't look to the stars. First face the reality of long expeditions and find enjoyment in the network of logistics and inactivity." Five weeks, four days climbing, five summit minutes. Carlos was right and I am satisfied.   
The Durango, Colorado–based photographer and guide Kennan Harvey continues to expend prodigious effort for momentary success in the hills. He most recently guided the blind climber Lonnie Bedwell to the summit of Aconcagua in January 2020.