The Longest Solo Of All Time
The Ukrainian-born author grew up in the shadow of the Chernobyl disaster. Plagued by childhood sickness he immigrated to the U.S. with his parents where he pulled himself out of poverty, graduated from nursing school and got hooked on climbing, becoming one of the greatest all-around soloists of all time. Alone, he met his match in the High Sierra.
Heading out the door? Read this article on the new Outside+ app available now on iOS devices for members! Download the app.
My fingers sweat as I heel-hook an arête and psych up to mantel onto the summit block of Thunderbolt, a Fourteener on the Palisade Traverse in the High Sierra, California. This move is 5.9; most peak-baggers and guides throw a loop of rope over the 15-foot boulder, and then prusik to the summit to rig a toprope. To "protect" myself, I've tied two ends of 6-mm static line to my waist and pulled out slack—my anchor is a loop of rope around a rock horn. I wear approach shoes, no chalk bag. It's day 5 of a solo marathon on what will become Goliath, a 32-mile concatenation of 60 peaks along the Sierra Crest that I originally tried in 2016 but bailed on halfway through.
If this boulder problem wasn't at 14,000 feet, didn't have a big drop-off over impaler-blocks, and I wasn't so fatigued, the moves wouldn't feel as committing. The night before, hiding from the wind in my bivy a hundred feet below Mount Sill's summit, I pictured myself blowing the summit moves on Thunderbolt, my battered body hanging in space, snapped in half by the static cord. This mantel is the unavoidable crux of the entire traverse—a face move that has to be done, unless you lie about summiting. I rock over and stand up, exhaling with relief, then shoot a summit selfie.
Maybe, just maybe, I'm going to pull this thing off. I relax, picturing the good things waiting for me back in the Bay Area: hugging my mom; kissing my fiancée, Mariah; laughing with friends; chilling with Sierra and Lyell, my two kittens who love to play on top of me at 5 a.m. each morning.
Then, things begin to unravel. I untie the rapline from my waist and thread the anchor, rapping off the back of the block, hoping to save time by avoiding a zigzagging downclimb. But then, the rope gets stuck. I scramble up and then back down a 70-foot vertical crack to recover it. A few minutes later, as I traverse toward a few unnamed Thirteeners on the northwest ridge of Thunderbolt, a block the size of a grizzly bear moves underfoot. I flip upside down and badly bruise my left bicep and leg. A few minutes later, I re-sprain my fragile right ankle.
"For fuck's sake!" I shout into the wind. Anger transitions into sadness—then self-doubt. I sit down and mumble, "Why?" to no one in particular. Surrounded by jumbles of choss and steel-hued gendarmes, I hear rockfall in the distance, a sign that the day is warming. Lancing pain in my ankle returns as soon as I attempt to shift it to the side.
When I dig into my subconscious to figure out the root of attraction to masochistic goals—like something as batshit-crazy as Goliath—I have to remember the limitations of my past, and how they led me to push so hard in the present. When the nuclear reactor in Chernobyl blew up in April 1986, my mother was newly pregnant with my twin brother and me. Invisible rays of radiation polluted Eastern Europe, leading to untold death and destruction, as well as the Ukraine gaining notoriety for the worst nuclear disaster in history. Our temporary home, a town in Belarus where my dad was stationed as a lieutenant in the Soviet military, was 300 miles away. After the explosion, the wind carried most of the nuclear waste north—in our direction. It's certain that my brother and I were exposed in utero. In Vasilli Nesterenko's 2007 book, Chernobyl: Consequences of the Catastrophe for People and the Environment, he concludes that there were 985,000 premature deaths as a consequence of radiation.
My brother was stillborn, part of that dreadful statistic. I wasn't far behind: My health-care issues were so severe that one day, when I was around age nine, I apologized to my mother that she was so burdened. "Sorry that I am alive," I told her, crying.
I spent more time in hospitals than playing soccer with friends, and envied the normal kids playing outside. I couldn't wear a short-sleeved shirt in summer, nor could I let anyone at school see that under my clothing were huge sections of crust-covered skin, often oozing pus. The infected areas required debridement—a fancy way of saying the rotting flesh had to be ripped off, without prophylactic medicine. Losing 26.6 million people during WWII had infused Soviet culture with a certain toughness—boys weren't supposed to cry or show vulnerability, so I had to tolerate the debridement. The torture didn't stop there, as an alcohol-based solution was then immediately poured over the bare meat. Systemic skin infections would cycle until I formed healthy skin. Due to severe eczema, the itch was so agonizing that I would scratch the skin off and the cycle would repeat, over and over and over again.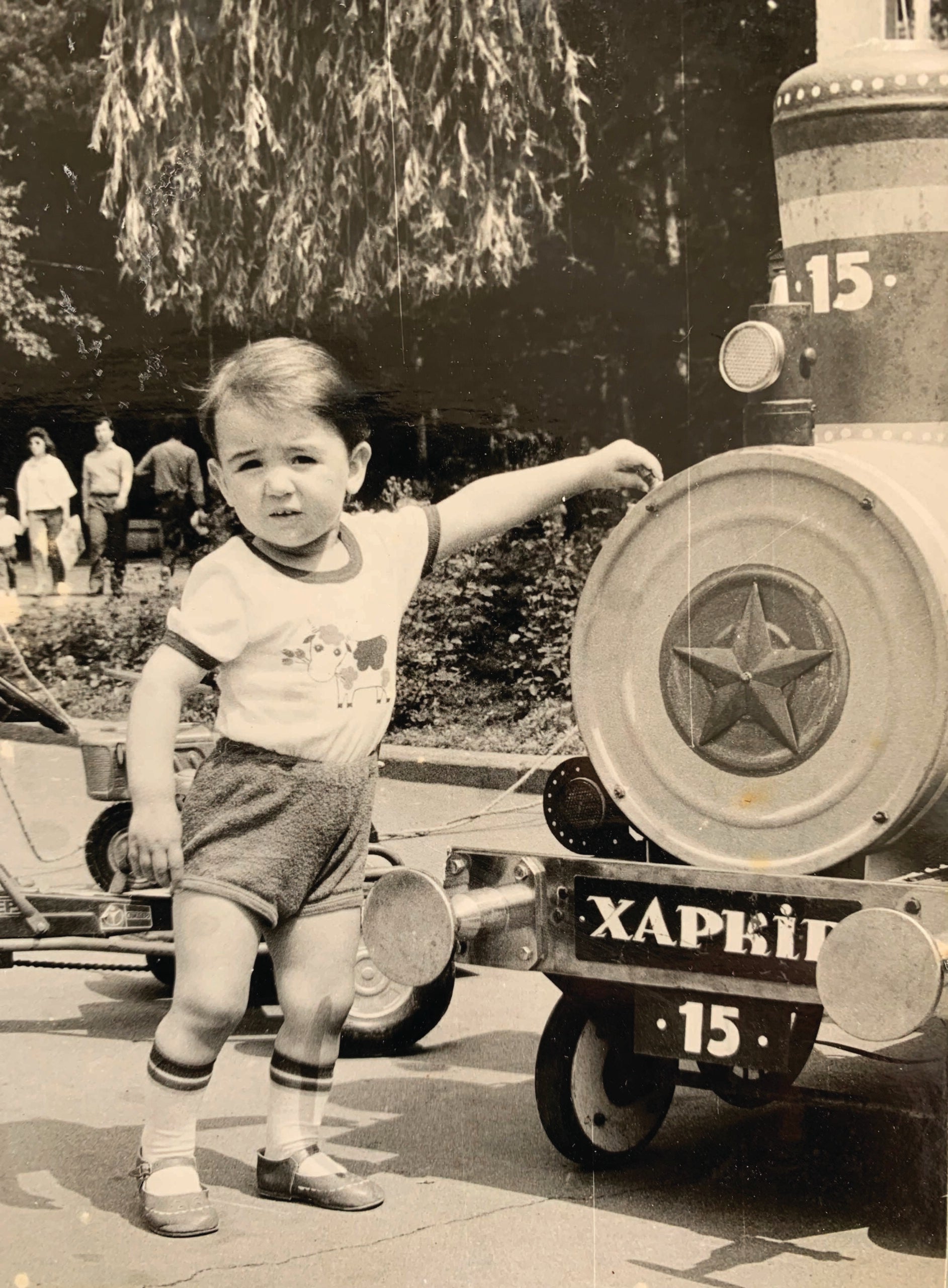 Because I grew up in a poor family that lost its savings with the collapse of the USSR, my mother also served as doctor and nurse—she administered the debridement. She held a degree from a university and a prestigious job in a courthouse. However, the pay was mediocre, and what she did earn we spent on doctors, and on "healers" full of empty promises. She also had to serve as a father figure after she and my dad divorced when I was five. We moved into a one-bedroom flat in the city of Kharkov with my mother's parents, in a crumbling, grey Eastern Bloc apartment building. Stray dogs raided the streets. Trash overflowed the dumpsters or was strewn about the asphalt. When I could hang out with friends, we'd collect beer and vodka bottles—seven bottles earned you enough money for an ice cream.
Each autumn, when people in the neighborhood were burning leaves, I'd end up in the ER due to severe asthma attacks. Memories of being poked with needles in the ambulance haunt me—it was close to impossible to start an IV on a kid whose skin resembled something between an infected wound and a dried steak.
In late 1999, when I was 13, my mother and I moved to the Bay Area. She wanted to give me a chance to mature in a place known for fresh air, in a country known for giving its citizens a fair shot at happiness. The cleaner environment helped my health greatly. Soon, I began attending PE class, though I felt embarrassed by my scarred legs. My mom worked for minimum wage in a Russian store, after splitting from her second, abusive husband. To help a little, I started working early. At age 14, I handed out flyers; when I was 15, I picked up shifts at Domino's Pizza, scarfing free pizza at work. Soon,  the scale pointed to 300 pounds. Meanwhile, my GPA had dropped below 2.0—I was skipping school to hang out with friends.
To change the course of my life, I joined the football team at George Washington High School. For the first several months, I nearly quit at least once a week. Conditioning was a struggle: Every step was painful due to shin splints, and I gasped as I tried to keep pace with a couple of other heavier kids. Every time we ran, I nearly passed out, all while the coach called me a "sack of Ukrainian shit." Still, I was happy to be gasping due to exertion, not asthma. As the pounds melted off, I learned to be disciplined, attended classes regularly, and saw my GPA rise above 3.0. In the end, I even got some playing time, recovered a few fumbles, and lost 40 pounds—and my team became the undefeated San Francisco city champions.
August 2, 2021: I wake up next to Mariah at a hotel room in Mammoth Lakes. It's 4 a.m., and she's volunteered for the car shuttle. She'll follow me to North Lake Trailhead, where I'll park my car so it's waiting. Then she'll drive me to the Taboose Pass Trailhead, where I'll begin. En route, I point out some of the ridge. Mariah is a nurse whom I met working in Kaweah Delta Medical Center several years prior. She is not a climber.
We hug goodbye as bright sun cooks the scrubby desert at 5,000 feet. I'll need to immediately gain 8,000 feet to hike over Taboose Pass and summit Cardinal Mountain, the first of 60 peaks on the ridge. My plan is to follow the most jagged and technically sustained section of the Sierra Crest, all the way to Piute Pass. Doing so, firstly, would accomplish the first complete traverse of the full Palisade subrange. However, instead of stopping there, I'll then continue on the Evolution Crest Traverse, which is about 2.5 times longer than the popular Evolution Traverse. It's hard to wrap my mind around an objective so grandiose, knowing Mariah may be the last person I see for a week. Maybe ever? I do my best to disguise my angst with a display of confidence, much like I did as a child during my horrific skin treatments. 
"Baboon, now that I've seen a fraction of what you're planning, I'm afraid for you—be careful!" Mariah says. She's nearly in tears, so I jokingly reassure her that indeed I will be careful, as we have cats to raise and places to travel. Hours later, standing on the first summit, I trace the sharp ridge connecting Cardinal Mountain to Split Mountain, and wonder if I'll be able to keep my promise. The terrain looks fierce—narrow sections of red kitty litter leading to precarious gendarmes.
Nine hours into day one, as I enter the notch with Split, the rock changes to better granite. Taking my time, I test every hold while downclimbing a chimney above 300 feet of air. Some holds explode, clattering down, releasing a familiar cordite odor. I come to an airy arête—the first solid rock all day. I jam my paws into juggy cracks and slowly move from one large knob to another. After a long series of ups and downs, notches, towers, and difficulties up to 5.8, I reach the summit of Split Mountain 12.5 hours after starting the hike. There, I watch the golden outline of the setting sun gradually disappear below smoke on the horizon. This extension to the Full Palisade Traverse is the brainchild of the legends Peter Croft and Conrad Anker, who attempted the link-up as part of a filmed The North Face expedition. A storm forced them to bail partway through, validating the fact that the "Full Monty" is a massive undertaking. In 2020, with two friends, I confirmed as much—we didn't finish, either. 
I have only 2.5 liters of water saved—I need to divide the precious liquid between tonight's dinner and the following day's traverse over four Thirteeners. One of the main logistical issues on a ridge this long is the fact that, in late summer on a dry year—the ideal time to try the traverse, as the weather is stable and the peaks snow-free—your chances of finding snow to melt or a trickle of water on the ridge are slim. My options are to either drop down to a lake, a 2,000-foot elevation-loss penalty, or carry the extra water required for the following day. I choose the latter, bringing along one three-liter and one single-liter bottle. 
That night, I bivy below the summit of Split Mountain on a flat outcrop. Next to this site, at over 14,000 feet, I am surprised to find bear poop. By the time I organize my bivy set-up, I'm already cold, so before I get into my quilt, wearing all of my clothing, I do pushups and planks. I inspect the mountains for headlamps, craving human connection. I find none, so as I swallow my dinner in a few bites, I gaze toward the stars, many already bright. When I attempt to sleep, it is difficult to calm down from the stress of the day and from uncertainty over what's to come.
In 2009, I found climbing. I'd graduated from nursing school and reached a certain level of mastery in martial arts, but didn't intend to go further with it, as it would involve competition—and possible head injuries from all-out war in the ring. After my boxing coach invited me to climb Mount Shasta, I took to scrambling and peak-bagging in the High Sierra. At first, I was so nervous about having to camp out that I spent the night prior not sleeping. With time, and increased exposure to progressively challenging objectives, I grew more comfortable. Over the years, new friends helped me realize the possibilities climbing can offer—from bouldering in the gym, to long routes in the mountains, to scary aid climbing, to alpinism on hostile walls.
Ridge traverses were particularly attractive. They let me tour a lot of beautiful terrain while executing technical moves on rock, all while tagging multiple summits. You also get a sustained physical challenge that lets you prepare for the Greater Ranges—and that is funner training than, say, hiking a backpack laden with five gallons of water up some sun-blasted hill. Most important to me, endurothons in the mountains satisfy my desire to play all day—a desire that had been stifled as a child.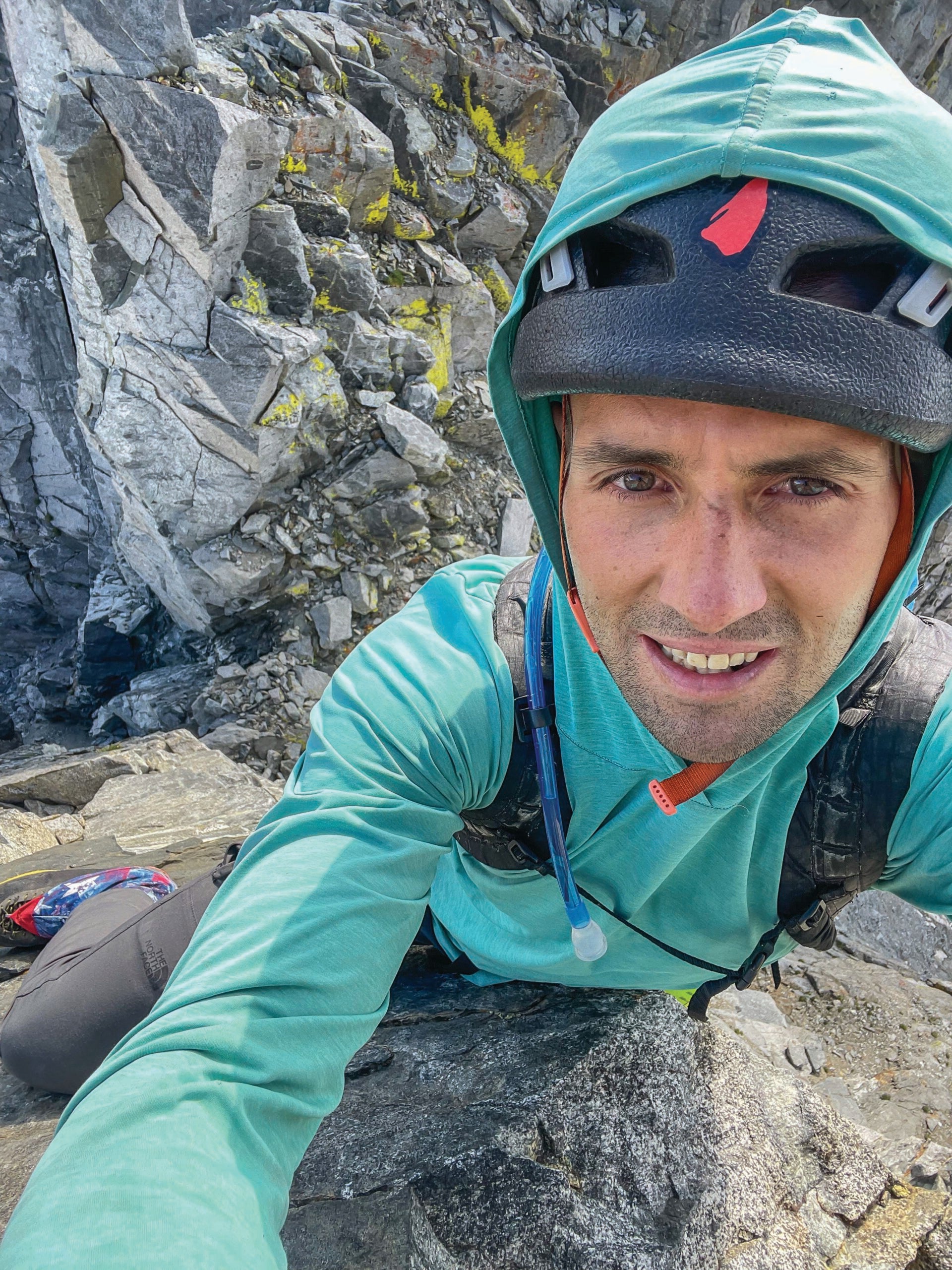 In 2013, I did my first big ridge, an onsight of the Evolution Traverse (VI 5.9) that I dedicated, in my trip report, to my buddy Ben Horne, who'd died in a fall with his partner Gil Weiss in the Cordillera Blanca a year before. With his motto of "Magnificent failure is better than mediocre success," Ben inspired me to push harder. The climb, which I completed car-to-car in 29 hours, was a glimpse into my future. After the bruises healed, I traced the thick red line of the Sierra Crest on the map and was stunned to learn that the two longest, highest, and most sustained technical traverses in the Lower 48—the Full Monty Palisade Traverse and the Evolution Crest Traverse (see sidebar, facing page)—are united by the Sierra Crest to form a 32-mile-long jagged fence. If it were common for climbers to traverse 60 mountains standing 13,000-plus-feet high in a single trip, I could call it a "logical" link-up!
The idea blew my mind. By late summer 2016, I'd been consistently hiking in the backcountry with a heavy pack, and putting up first ascents from 5.10 to 5.12. As preparation for the first attempt, I hiked in to the Incredible Hulk and free-soloed the Red Dihedral, a 1,500-foot 5.10. Though I'd climbed the route four years prior, my solo felt close to onsighting. Moving freely over so many quality pitches, hand-jamming perfect cracks near the top, I felt like a superhero. Perhaps I was ready to try Goliath.
On my 2016 attempt, after climbing the Evolution Crest Traverse south from Piute Pass, I planned to spread the ashes of a dear friend, Edward Lau, from the magnificent spires in the southern Palisades. Physically, with a full pack, an average day's effort seemed comparable to the nine-peak Evolution Traverse. As big as my goal was, I made great time and had finished the Evolution Crest Traverse after downclimbing the 5.8 crux of the Trapezoid-to-Goode traverse after sunset on day 3.
However, the following day, instead of continuing south into the Full Monty, I stopped at sunrise to spread Edward's ashes over Bishop Pass. Then I hiked out. Midway through the third day, about 35 percent into Goliath, I'd had a bad feeling. It wasn't exactly an auditory hallucination, more like an entity telling me that if I kept going, I wouldn't make it out alive. I am neither superstitious nor religious, so I wrote the voice off as the product of my exhausted, hypoglycemic state. It seemed dumb to quit with all this momentum and four days of food still in my pack, but I didn't argue with the voice.
Soon after hiking out, I learned that my friend Julia Mackenzie had died on Mount Haeckel the day before I'd traversed over the same summit. She'd been attempting the Evolution Traverse, and had passed the crux. Though she climbed with a partner, they were unroped, her fall unwitnessed. I also learned that the alpinists Kyle Dempster and Scott Adamson were missing and presumed dead in the mountains of Pakistan. Then, a few days later, my friend Maria Birukova had her young life cut short while ascending the rarely climbed East Arête of Bear Creek Spire. While she was unroped on easy terrain, a car-sized block she was standing on ripped from the crest, taking Maria with it. She was a joy to be around, and an incredibly strong sport climber. As the tragedies mounted, I no longer regretted my decision to bail. The mountains didn't seem welcoming, so out of respect, I stayed clear.
To start the third day, I carefully make my way from Balcony Peak to Disappointment, Excitement, and Middle Palisade. There is plenty of loose fifth class, with moves that are harder because I'm taking a more direct path to save effort; I focus on moving with precision and efficiency. On top of Middle Palisade, I take a break and decide to slow down. It has taken me less than three hours to get here from Balcony, and the following section is considered by many to be the loosest in the Palisades. I need to collect myself. Midday sun reflects off the east side of the knife edge, which drops north into oblivion. It looks improbable, but others have climbed it. I remind myself that I am not here to break speed records, and still have nine hours of daylight left.

Instead of self-belaying, the plan is to free-solo everything, and rappel when I have to. I haven't always been comfortable climbing ropeless, but through practice that's changed. When I first began scrambling, in 2010, I was uncomfortable seeing several hundred feet of air beneath my feet. Six years later, I would make the first free solo of Yosemite's rare-to-form Widow's Tears (WI 5; 1,700 feet). On this onsight, I knew nothing about the conditions. Midway up, I found myself cleaning off hollow cauliflowers of brittle ice. A couple hundred feet higher, on a vertical step, I hit a section of ice thinner than the top of a coffee table; my tools penetrated clear through. As I placed my mono-points onto more secure placements, I glanced at the amphitheater far below. Snow-covered trees, tourists driving the windy road—This could be the last thing I ever see, I thought. As sweat dripped into my eyes and lactic acid pooled in my biceps, I focused on controlling my breath, turning my gaze upward to the ribbon of ice, problem-solving what lay ahead.I move carefully, splaying my limbs cat-like across the loose boulders. Below a pinnacle dubbed Dent du Dent, I stare at the way to Bivouac Peak, horrified. From across a large gap, the rock looks like garbage everywhere, and the terrain is steeper than I care to climb unroped. The only climbing gear I carry is 60 meters of 6-mm static cord, a double-length Dyneema sling that serves as my harness, two CAMP Nano carabiners, an Edelrid Microjul belay/rappel device, and four nuts. Had I brought a dynamic rope, cams, and runners, I'd have more flexibility but also a heavier backpack, slowing me and making difficult moves feel more desperate—a higher chance of my grip failing in a slip.
In 2017, I took a job in the emergency department at a short-staffed Central Valley hospital that serves one of the poorest counties in California. I became part of a team of healthcare workers who performed true miracles, saving the lives of badly sick or acutely injured trauma patients. Yet in the first six months, as I bore witness to scenes so gruesome they seemed as if from wartime, I nearly switched departments many times. I got through by reminding myself that if everyone else around me had adjusted, so could I.
When Angela—a badass trauma nurse who oriented me to the department work for three months—walked me into a room to show me what an emergency thoracotomy looked like, I nearly fainted. There, laid out on a gurney, was the fully naked body of a 20-year-old guy who'd been shot in the chest. For him, there was no miracle. He'd been brought into the ER with no heartbeat, and in a last-ditch effort to save his life the trauma team had performed a procedure during which the chest cavity is cracked open to see the heart and lungs, and hopefully quickly fix the problem, before resuming CPR. Blood was splattered everywhere, thick with an iron-and-meat odor. And though the man's death had been pronounced only minutes earlier, there were already people coming in to package the body, to clear the trauma room for whoever was next. Though I was shocked that day, the next several years would fix that, and soon, with constant exposure, dealing with death became as natural as going backpacking—or soloing a massive ridge.
2020 was a disaster. Hundreds of thousands died due to COVID-19, including several coworkers. Our favorite restaurants, gyms, and trails were closed. After I received the Cutting Edge Grant from the AAC, my spring 2020 trip to Nepal, where I hoped to climb a new route on Nuptse, was canceled. But this was a minor problem compared to life in the ER. The hospital gave us each a single surgical mask with directions to wear this glorified napkin for at least two weeks. If the mask wasn't fixable with a stapler or tape, you had to leave your patients to ask a house supervisor for a replacement. It was borderline degrading, and though New Yorkers applauded as caregivers at their local hospitals made their way to work, in the Central Valley, few of us felt so valued.
As the pandemic raged, the shitshow in the White House reached a whole, new level, then tension in the United States exploded into outrage when a video of George Floyd being suffocated by a police officer was released. I began to wonder, even after so many similar killings of Black men—and subsequent protests—why nothing had changed. Posting a black square on Instagram didn't seem like a meaningful personal contribution, so I went on a travel assignment to Highland Hospital, the biggest trauma center in Oakland. It felt important to have an experience in a place where I would be in the minority, out of my comfort zone; it felt important to share care and kindness in this underprivileged community.
Highland is a level-one trauma center in a major city.  It's well-organized, and felt downright civilized after my chaotic stint in the Central Valley—the average sick person here was far more stable than I'd been used to. At work, I even felt rested enough that during my breaks—two 30-minute breaks and one 15-minute break—I would run nine miles, circling the hospital complex, completing my daily cardio.
A couple of weeks in, I had a patient assignment in a critical-care area of the ER when a "code blue in four minutes" was paged overhead. It was not yet 8 a.m., and I hadn't finished my coffee. I quickly donned a full plastic gown, N95 mask, face shield, and gloves, and entered the bustling code room. There, I saw a male in his mid-forties, suspected of a fentanyl overdose. His girlfriend had found him not breathing sometime after they got high. He was a dialysis patient and had an extensive history of intravenous drug use, which means it's nearly impossible to find a vein; instead, you look for other routes, such as through the bone marrow. The paramedics had administered the opioid antagonist Narcan through his nose while performing CPR.
I wrapped a tourniquet around the man's right arm and moved the probe of an ultrasound up and down, seeking a vein in the form of a dark circle on the small screen. I'd been here before, and knew enough to have the IV kit set up on top of the ultrasound machine. Within two minutes I'd nailed a vein, despite the man bouncing up and down during CPR. The doctors were ecstatic to have access for administering medications, and after handing the blood samples off to another nurse, I took turns administering chest compressions, hot in my plastic gown, sweat dripping on my mask.
With practice, performing my duties has become natural, though it's always difficult to stare into the wide-open eyes of a person who is likely not coming back. After being intubated and shocked several times, this patient had a pulse. Covered in sweat, I left the room to check on my own patients. Though ER work doesn't allow you to see what a patient's long-term prognosis might be, it's rewarding to know you were part of a team that brought someone back from the dead.
Day four brings the best climbing of the traverse, a dozen pinnacles along the Palisade Crest, all named for Tolkien characters: Thorin, Bwalin, Dori, Bifur, Nori, and Gandalf—the main, and only officially named, peak of the traverse. Yet constant wind with strong gusts makes the sustained fifth-class scrambling "exciting." At one point, I'm in a huge stem over an exposed gap, waiting for the wind to calm so I can perform a dynamic step-across. As I adjust my stance, a gust hits so hard that my left foot comes off and I barn-door, saved from a five-hundred-foot plummet only by my right hand curled around a positive hold. I make my way over the last towers, to Potluck Pass, where I fill up from a tiny tarn, climb over Mount Jepson, and continue on to Mount Sill, where the western winds intensify so much that I bivy.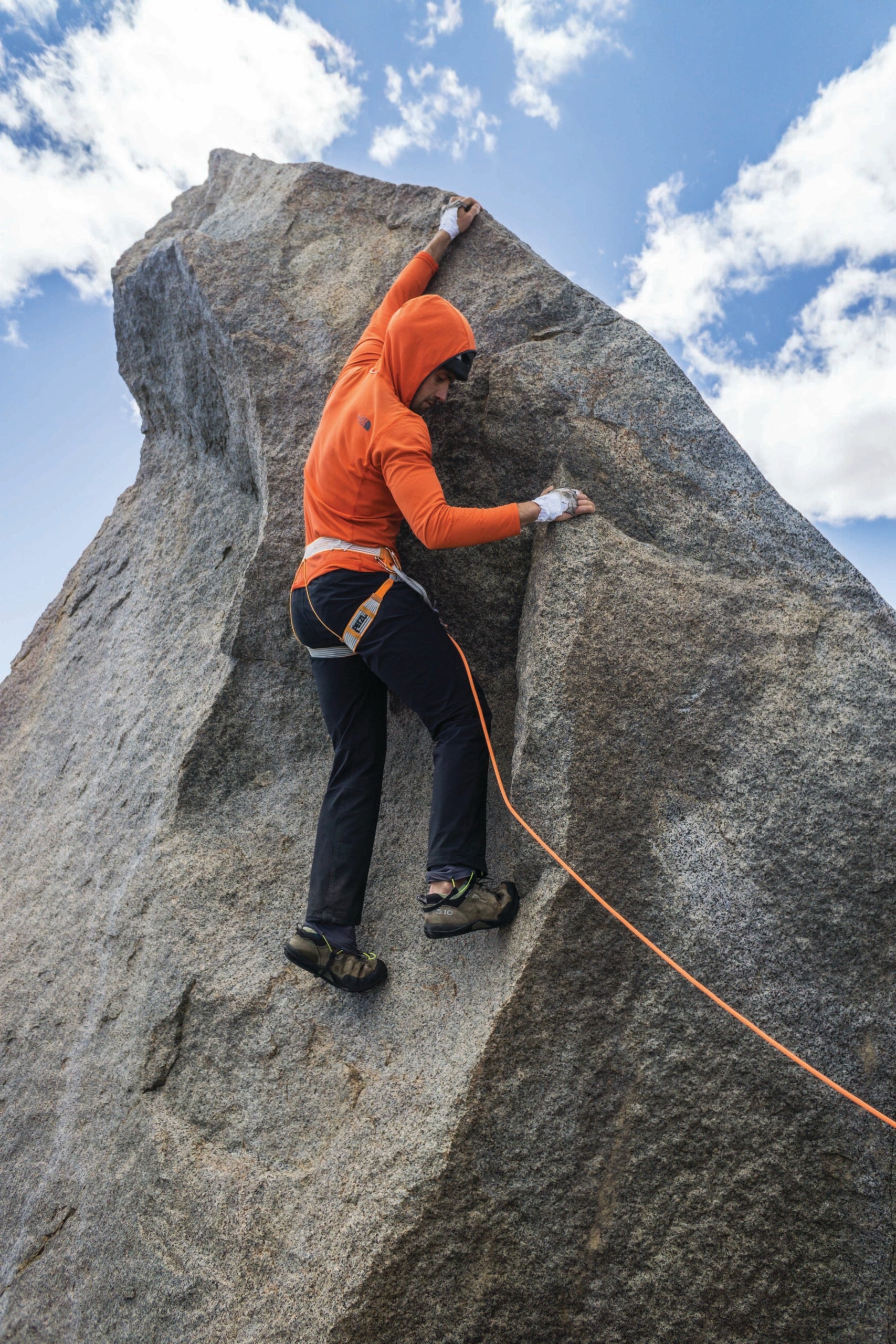 With several hours of daylight left, I'm happy to stretch and start the recovery process early. Though my phone has no reception, I use an InReach Mini to message Mariah as pebbles and dust whizz by, carried by ferocious gusts. I tell her that the scariest rock is likely behind me. I am now on familiar terrain, and I want nothing more than to hug and kiss her. After a couple of hours, the ongoing rage in the atmosphere is getting old. And because I have to bend my knees to squeeze my 6'2" frame onto this tiny ledge, I start to cramp up, rotating between having a bulge of rock pressing into my back or leaning into it with my knees.
On the fifth day, I climb from Mount Sill to Thunderbolt in about three hours, then comes the meltdown after my rappel rope gets stuck and the loose rock dislodges, sending me tumbling. Mike Tyson's "Everyone has a plan until they get punched in the mouth" feels applicable here. I sit on a rock, taking a minute to calm down, reminding myself, "You have many hours before it will be dark, and are close to two hours ahead of schedule. Slow down … " The traverse to Bishop Pass goes more smoothly, and I climb Agassiz—the last peak of the Full Monty—with ample daylight left for the descent. Now all I have left is the Evolution Crest Traverse, which I've climbed before, albeit in the opposite direction.
I returned home to the Central Valley in late June 2021, after six months in Oakland. That year, I'd spent a week soloing the Shortest Straw (VI 5.7 A4) on El Cap and a month in Alaska, where I climbed the Bibler-Klewin (aka Moonflower Buttress) on Mount Hunter, as well as the Denali Diamond, summiting Denali (20,310 feet) three times via three different routes. In California, the monsoon didn't let off for weeks. I grew concerned that I wouldn't be able to try Goliath, that it would keep my soul trapped forever. Originally, my hope was to go for the traverse in mid-July at the latest, while I was still acclimated from Denali, and with enough snow on the ridge to melt for water.
Due to Goliath's long, complicated, dangerous nature, success seemed far from certain. Finishing the 2016 attempt only to hear about two friends passing away while on exactly the same kind of terrain was concerning. However, my worry had been amplified tenfold when, in 2018, I hiked into the Palisades with Cameron Burns. Instead of taking a rest day at camp (the next day we would put up a 15-pitch first ascent), I instead set out to onsight-solo Firebird Ridge (IV 5.9) on Norman Clyde Peak. Midway through, a large jug I was hanging onto with one hand snapped. If I hadn't had my other hand sunk in a jam, I would have cartwheeled over a thousand feet to the glacier. It took me a few years to want to free-solo again.
At Bishop Pass, I'm hit with thoughts of quitting: "You've just climbed the first ascent of the Full Monty Palisade Traverse and you're beat—why risk your life if you already climbed the Evolution Crest Traverse prior?" Both ankles are sprained; my left knee feels more swollen than yesterday; ever since I flipped upside-down on Thunderbolt, it's been tough to pull with the badly bruised left arm; and my hip is cut. To that, I counter that Goliath has been a dream for so long that I can't justify bailing so close to the finish line. If I do, I will hate myself for the rest of my life. For me, existing in self-hatred is the closest thing to hell.
With no more battery left in my wireless headphones and my own fuel low, I resort to praying. After six days on the traverse, I feel so vulnerable that I'm almost hourly asking a spiritual force—I am otherwise a nonbeliever—to watch over my safety and to give me strength. If I make it home, I even promise this force full public credit! Though mountains are the only place of worship I visit—my spiritual connection with the universe—by day six I feel cleansed of sin. I am a saint, a terminator, climbing over obstacles, walking through fire. Or maybe I'm simply bullheaded? I still don't know.
The final three days are humbling. In 2016, soloing the Evolution Crest Traverse had been the hardest thing I'd done—I remember that much—and when the "2021 me" makes it over some of the tough sections I'd soloed prior, I'm surprised to realize how much I've matured as a climber, how much more important self-preservation has become. This time I wear a helmet and carry an inReach Mini, which tracks my progress and gives me the ability to send an SOS signal. More important to me is that it would point to my location, preventing SAR personnel from risking their lives in a massive body search.
On day 7, as I reach the terrain shared with Evolution Traverse, I let my guard down, figuring things will be "easy" from there. But then, in the stifling midday heat and abundant smoke from California's wildfires, I take a laborious 2.5 hours traversing to Mount Darwin. The climbing no longer feels fun. The mountains glow orange all day; my throat and lungs burn as I suck in toxins and particulates. Sweat inflames my sun-battered face like acid. My body is leaner, rawer somehow; pain in previously injured joints and body parts radiates with every step. Yet all my training, plus my conscious decision to keep the intensity of the previous days low, has kept my muscles strong. I leave a brutally honest entry in the Darwin register, something to the effect that all the scrambling, the never-ending ridge, and the unstable talus and gendarmes are getting old.
On my final day, I face some of the more exposed, looser sections. One of them should be dubbed the "Traverse of the Gods," as you're guaranteed to meet them if the loose blocks you must downclimb give way to gravity. From the safety of Keyhole Plateau (13,404 feet), all I have left is a quarter-mile traverse to Peak 12,804, from where gradual slopes lead down to the Piute Pass trail.
As I get closer to the final peak, I opt for a direct path on the crest—trash-rock with broken dikes, choss, and barely standing pillars. I climb a bouldery hand crack up a dark tower on rock I wouldn't dare downclimb. On the other side is a drop-off. I can't see a safe rap anchor, but I do spot a series of horizontal crimps allowing passage down a vertical wall. "If you die here, dumbfuck, will you get the credit for completing the traverse, or will this merely be an attempt?" I wonder as I make the airy moves, sketching, bleary-eyed with fatigue.
On the last summit, my emotions explode. Instead of triumphantly screaming, or feeling the archetypal deflated emptiness described in mountaineering literature, I cry. I'm surrounded by beautiful clouds, lakes, and a friendly slope leading down to Piute Pass. I spot backpackers on the trail, the first humans I've seen in days. I've been alone for so long now, in mortal peril most of that time, that it's a relief to see "normal life" again. Goliath is done; there is nothing left but to descend.   
These are the closing paragraphs, in which the protagonist usually shares their hero's journey. However, I must confess that these paragraphs have been as difficult for me to write as it was to tear the dressings off my childhood memories. The truth is that while you are climbing, especially something as demanding as Goliath, you don't have any bandwidth to dissect your past. In fact, climbing is a great escape for many individuals who suffer from past trauma, depression, and other mental burdens. On the other hand, when I was asked to write this article, I was left with no choice but to reflect on my past. The demons were out; I was forced to sit alone in a room, huddled over my keyboard, my vision blurry with teardrops.
I further realize there are more than physical scars on my body. On all bodies. Over the years, I've hurt people in order to make myself feel better, in order to keep climbing in such an obsessive way. I cared way too much even when I said I didn't. I've ended multiple relationships because I've been too afraid of the commitment required to sustain them. At the same time, I am afraid to hurt others, as the radiation I received courtesy of Chernobyl puts me at a higher risk of cancer: How long will I be here? I've also come to realize that climbing has allowed me to build my own Goliath, an escape, a Herculean wall of accomplishments and distractions that seals off life's problems. But the monster I've created has a glass chin. If in the beginning of the story I came across as the underdog David on his way to tackle Goliath, the truth is that my life isn't so glorious.
If there's a lesson to be learned, it's that running—or climbing—away from your past forever isn't a healthy option. You must instead examine the past, to avoid making choices in the present that you'll regret in the future. When you're clinging to small holds over a thousand-foot drop, the rest of life gets pushed away. You don't have time to appreciate the amazing woman who, for the past five years, has tolerated your endless bullshit and frequent absences, who has provided unflagging support as you conquered the useless, without hearing the most important question a woman might expect after so long. So, before concluding this article, I found the courage to ask. And Mariah said yes.
Based in Visalia, CA, Vitaliy Musiyenko works as an ER nurse. He spends his free time in the Sierra scrambling and climbing, and is writing a comprehensive guidebook to the range (due 2022).
Goliath: An Abbreviated History
Goliath links two 16-mile ridge traverses on the Sierra Crest—the Full Monty Palisade Traverse (VI 5.9), from Taboose Pass to Bishop Pass; and the Evolution Crest Traverse (VI 5.9), from Bishop Pass to Piute Pass—to render what is likely the longest technical, high-altitude ridge traverse in the Western Hemisphere. While certain individual sections had been climbed before—and can be traversed in either direction—none had been linked continuously, as Vitaliy Musiyenko did, solo, from August 2 to August 9, 2021.
1958: First ascent of the Thunderbolt-to-Sill Traverse (IV 5.9), aka the Palisade Traverse. This sustained, mile-long Sierra classic ticks five 14,000-foot summits along its length. The technical crux—if you opt for it—is a 15-foot 5.9 boulder problem, above talus, up the summit block on Thunderbolt. FA: John Ohrenschall and John Mathias
1979: First ascent of the Full Palisade Traverse (VI 5.9). This eight-mile-long ridge runs from Southfork Pass to Bishop Pass, encompassing the standard Palisade Traverse along the way. It ticks six Fourteeners and numerous high Thirteeners, in addition to the famous, castellated 11-summit Palisade Crest. FA: Jerry Adams and John Fischer
1999: First ascent of the Evolution Traverse (VI 5.9). This seesawing, technical, classic eight-mile ridge makes a fishhook around nine granite Thirteeners in the Evolution Basin, starting with peak 13,385 and finishing on Mount Huxley. FA: Peter Croft
2008: First ascent of the Evolution Crest Traverse (VI 5.9). Sixteen miles long, this epic ridge starts at Bishop Pass and runs north along the Sierra Crest to Piute Pass, "unbroken by any major gap and uncrossed by any established trail," as Scott McCook wrote in the 2014 AAJ. The traverse ticks 10 major peaks plus a dozen smaller summits, joining Evolution Traverse for 2.5 miles between mounts Wallace and Darwin.
FA: Scott McCook and Kyle Sox
2011: First attempt at the Full Monty Palisade Traverse (VI 5.9), which runs between Bishop Pass and Taboose Pass, adding eight miles of new terrain to the Full Palisade Traverse. On this effort, Peter Croft and Conrad Anker started at Bishop Pass and made it about a quarter of the way (climbing, recalls Croft, "about seven or eight peaks") before a storm drove them off their objective.
2016: Vitaliy Musiyenko repeats the Evolution Crest Traverse, going north to south, in a bid for the first ascent of Goliath, but cuts his effort short after Bishop Pass due to an intuition that he should not continue. His is the first alpine-style solo of the traverse.
2021: First ascent of Goliath. Running the Sierra Crest from south to north this time, Musiyenko begins with the Full Monty at Taboose Pass and reaches Bishop Pass on day five. On days six through eight, he climbs the Evolution Crest Traverse, reaching his car at 5:10 p.m. on day eight.
The Road to Goliath
To prepare both mentally and physically for Goliath, Musiyenko ramped up his climbing and training. Though he may be a relatively unknown climber, his ticklist is impressive—it includes over 140 grade III–VI first ascents in the Sierra Nevada with difficulties from 5.9 to 5.12, and shows a careful progression to his ultimate goal. Here, a few highlights:
2013
• Chopicalqui (20,846 feet), Cordillera Blanca, Peru—solo
• Chacraraju (20,039 feet), Cordillera Blanca—Jaeger Route
2015–2016
• Mount Whitney: Three FAs—Uncertainty Principle (V 5.11d R), Happy to Be Here
(V 5.11c R), Inyo Face (V 5.11b)
• Moonlight Buttress (V 5.12c), Zion, UT—flash
• Widow's Tears (WI 5; 1,700 feet), Yosemite, CA—onsight free solo
2017
• Arctic Knight (IV 5.11c R), Brooks Range, AK—first ascent
2019
• Winter Chimney (WI 3+ M5; 3,000 feet), Lone Pine Peak, CA—onsight free solo
• California Route (VI 5.10 AI 3), Cerro Fitz Roy, Patagonia
• Xue Way (VI 5.12 A0), Half Dome, Yosemite, CA—first ascent
2020
• Rowell Route (IV 5.12a), Cyclorama Wall, Kings Canyon National Park, CA—first free ascent
• Lunar Eclipse (VI 5.7 A4), El Capitan, Yosemite
2021
• North Arête (IV 5.8), Bear Creek Spire, CA: 13 miles/5,000 feet elevation gain, solo, car-to-car in 4:49
• Saber Ridge Traverse (5.8; 1,500 feet), CA: 34 miles/9,000 feet of elevation gain, solo, car-to-car in 9:41
• Shortest Straw (VI 5.7 A4), El Capitan—solo
• Bibler-Klewin (aka Moonflower Buttress; AK grade 6, WI 6 M7), Mount Hunter, AK—not to summit
• Denali Diamond (AK grade 6 WI 5+ M7+), Denali, AK—second free ascent; on the same trip, also climbed Denali's West Buttress and Upper West Rib (solo, from camp at 14,000 feet, in 5:20 to the summit)
• Northwest Ridge (5.4) of North Peak, North Ridge (5.6) of Mount Conness, Northwest Buttress (5.6) of Tenaya Peak, Full Matthes Crest Traverse (5.8), Southeast Buttress (5.6) of Cathedral Peak, CA—all linked in a day under 10 hours.