Heading out the door? Read this article on the new Outside+ app available now on iOS devices for members! Download the app.
CLIMBING WALLPAPERSSWEET PHOTO RIGHT? WELL NOW YOU CAN HAVE IT! To download the image click on the photo and either right or control click, and "save image as". ENJOY!All images on this page are copyrighted © by the photographer labeled on each image, and are strictly for personal/noncommerical purposes. Any other usage of the material on this page must be negotiated with the photographer.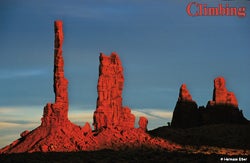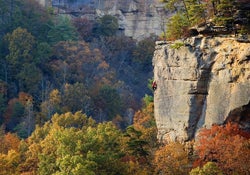 Dave Sanders knows there's No Place Like Home (5.11c), Lady Slipper-Emerald City, Red River Gorge Kentucky. Photo by Andrew Burr / andrewburr.com
Don Anderson charging up his Bicipital Groove (5.12b), named due to the bicep intensive nature of the climbing that's packed with many underclings and general burliness on the first half of the route. The FA. was bolted and sent by Don Anderson in July 2009 at Column of the Giants, California. Photo by Anne Anderson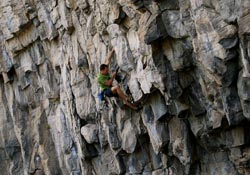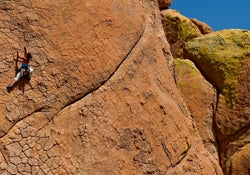 Sarah Watson climbs sure on Uncertainty Principle (5.11), Cochise Stronghold, Arizona. Photo by James Q Martin / JamesQMartin.comTo see more photos by Martin check out the the feature article by Fitz Cahall: COCHISE WHISPERS A domeland wilderness in the Arizona desert that was once a hideout for the Chiricahua Apache — it's Cochise Stronghold, where the ghosts of history and tradmasters of present mingle on some damned fine Southwestern granite.
Caroline George on the three-pitch Storm Mountain Falls (WI4/5), Big Cottonwood Canyon, just above Salt Lake City, Utah. The climb, says the photgrapher Andrew Burr, usually only forms around the winter solstice, and then for mere days. Photo by Andrew Burr / andrewburr.com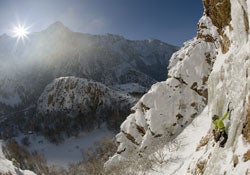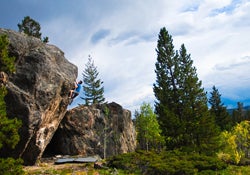 TJ Birchfield climbs Chicken and a 40 (V6), a classic Colorado highball near Meeker Park. Photo by Andy Mann / dropkneeclimbing.blogspot.com
Roof-crack-spelunking hero Rob Pizem campuses though his Army of Darkness (5.13d), a 45-foot ceiling near Moab, Utah, sent last March. Photo by Andrew Burr / andrewburr.com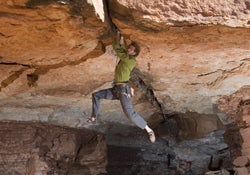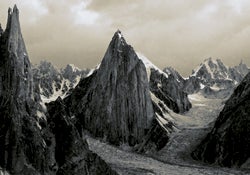 The silent summits of the Trango Valley, Baltoro region, Karakoram Himal, Pakistan. The twin-pointed Cat's Ear Spire is on the left, the massive Shipton Spire is in the center and The Flame is the thin pinnacle on the far right. Photo: Tim Kemple / kemplemedia.com.
Chris Weidner on the trademark Rifle rest — a double-kneebar bat hang — Cracked-Open Sky (5.13d), Rifle Mountain Park, Colorado. For more, read the feature by Matt Samet and Chris Weidner: THE BIG D — How Rifle Mountain Park Became the "Land of 5.13d"Photo by Celin Serbo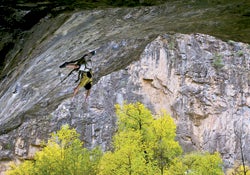 If being an alpine paparazzi is your thing, it's hard to beat hanging out at basecamp on the Southeast fork of the Kahilitna glacier in Alaska. Nobody gets more scrutiny then those attempting the North Buttress of Mount Hunter, a gleaming turret of ice and rock only two miles from basecamp. See Freddie Wilkinson – Pro Blog 7 for morePhoto by Freddie Wilkinson.
Brett Meyers on the high-tech Terrorist (V6), Pawtuckaway State Park, New Hampshire. Check out the rest of the great shots from Pawtuckaway State Park in Climbing No. 267 – July 2008.Photo by Tim Kemple — www.kemplemedia.com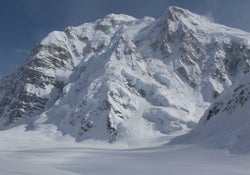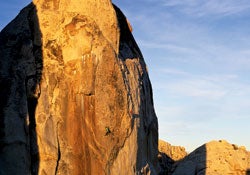 It's a long voyage from Australia to Joshua Tree National Park, California, but when one of the planet's top climbing photographers—the Aussie Simon Carter—tells you he wants to point his glass at the world's best trad-cragging area you don't say no. On the cover of Climbing's April Issue – No. 265 – and in our High-Desert Spring Gallery (p.48), find Joshua Tree revisited and reimagined—sun, cactus, cracks, spires, and boulders—4,000 routes for the taking. Shown here: Joshua Tree's one and only Figures on a Landscape (5.10b), North Astro Dome, Wonderland of Rocks.Photo by Simon Carterwww.onsight.com.au
For a Joshua tree to begin life, a seed must generate, requiring perfectly timed rain in a place — Joshua Tree National Park — that yearly sees four inches pr precip. So while we climbers love the cloudless days, the Joshua trees dotting this surreal high-desert plateau might not. Here, Kurt Smith does a rain dance on the Southwest Aréte (runout 5.7) of Headstone Rck, Ryan Campground.Photo by Michael Clarkmichaelclarkphoto.com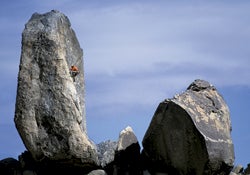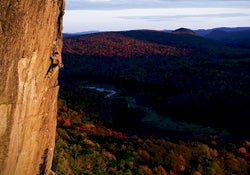 Vasya Vorotnikov, who authored a new 5.15 (Jaws II at Rumney, NH) earlier this year, does it The Hard Way (5.14a), Marshfield, Vermont. This photo is only part of Tim Kemple's Autumn Explosion adieu to the Northeast's crispiest climbing season ever! (FOR MORE: See page 60 of Climbing Magazine's January 2008 Issue — No. 263) BONUS: Watch a video of Vasya Vorotnikov on The Hard Way.Photo by Tim Kemple — www.kemplemedia.com
Stack the pads and rally the crew: Bishop highballing season is on. Here, Lisa Rands makes the mondo lockoff on Golden Shower (V10), a Buttermllk big'un and one of the lines at the Pollen Grains. Rands' was the first female ascent of the climb.Photo by Tim Kemple — www.kemplemedia.com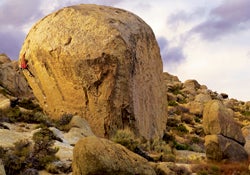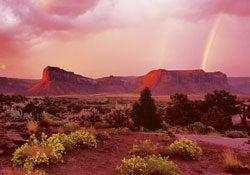 On Labor Day weekend at Indian Creek Canyon, Utah, you'd usually find at least a few shade-seeking locals, but not this time. The weatherman called it hot — Africa hot — so everyone stayed home. Well, everyone but the gods of sunset and sandstone, who smiled on the Wingate in this symphonic display of desert color.Photo by Jay Beyer
Off his training wheels and smack dab in the middle of a 13-pitcher on La Esfinge (aka the Sphinx), a 17,470-foot granite pike in the Cordillera Blanca of Peru, the young Scott Corey edges up the second free ascent (with Steve Schneider) of Welcome to the Slabs of Koricancha (VI 5.13a).Photo by Corey Richcoreyrich.com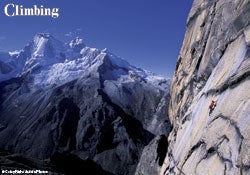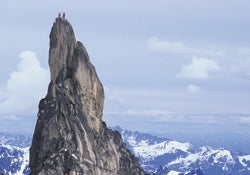 After uncorking the Plunger (ca. 6,300 feet), a prominent pinnacle on the Pika Glacier of Alaska's Little Switzeland, John Mattson and Josh Zimmerman take in a rich alpine vista. Mattson fired the one-pitch line(5.12-) onsight for the tower's FFA.Photo by John Burcham
Bafa, Latmos, Turkey, Kapikiri, Ionia … Rouhling? Yes, Rouhling. Here Mr. Fred takes on the benign Carapeace, on Bafa Lake in Turkey's city of Heraklea. And the bouldering? Otherworldly.Photo by Frédéric Moixfredmoix.com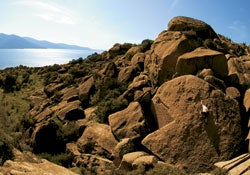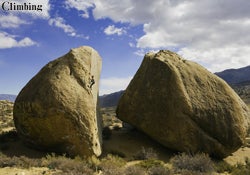 Some call it V0, others call it 5.9+, but no matter how you slice The Southwest Aréte of Grandma Peabody, It's pure Buttermilk-patina money. Here, Natasha Barnes keeps her poise on this grandmother of all cruiser highballs.Photo By John Dickey
Melissa Lacasse stretching for all she's worth on Fluorescent Falcon (5.12c), Shuteye Ridge, California.Photo By Shawn Reeder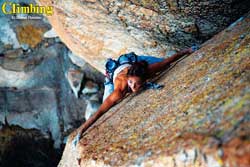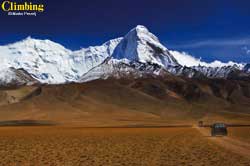 This way to the gold — a crew of Slovenians, including Marko Prezelj, heads toward Chomolhari (23,996 feet), near the Tibet/Bhutan border. Prezelj and fellow countryman Boris Lorencic's first ascent of the peak's striking Northwest Pillar (delineated by the sun/shadow line) earned them a 2006 Global Alpine Golden Piton and a Piolet d'Or.Photo By Marko Prezelj
Where's Crockett and Tubbs? Whit Magro on Miami Ice (WI5+), South Fork Valley, near Cody, Wyoming.Photo By Bobby Model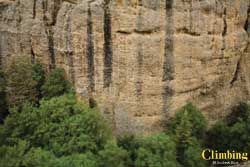 Desiree Cole cruising cobbles on The Emancipation of Dissonance (5.11c), Maple Canyon, Utah.Photo By Andrew Burr
Orem Bandlebush floating a V4 arete at Triassic Park, Utah.Photo By Andrew Burr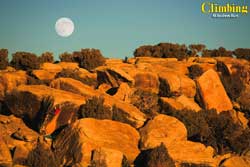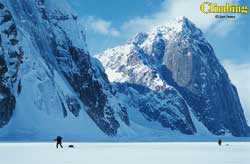 With the sheer faces of Mount Dickey (left) and Mount Barille looming above, Jay Patterson and Michael Gatling head back down the Ruth Glacier after an aborted attempt on the classic Ham and Eggs (V 5.8 AI4) of Moose's Tooth.Photo By Joe Irons
Curtis Suave on Silent Menace (5.14a), Cacodemon Boulders, Squamish, British Columbia.Photo by Jim Thornburg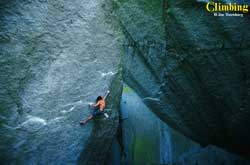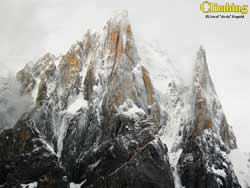 The Hainabrakk Spires of Pakistan's Trango Valley coated in winter gnarliness.Photo By Jozef "dodo" Kopold
Chris Carpenter swinging through on Blinded by the Right (V4), Cibola, New Mexico.Photo By Cody Blair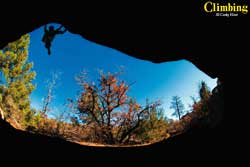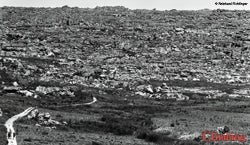 Where to begin? On the road to endless bouldering, Rocklands, South Africa.Photo by Reinhard Fichtinger
Look, but don't touch — the Totem Pole and Yei Bi Chei towers are considered sacred to the Navajo Nation and are currently off limits to climbing.Photo by Hermann Erber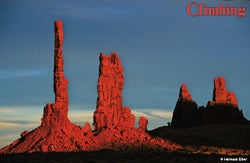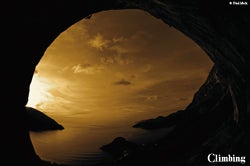 Sam Gerault cruising above the Aegean Sea on Marci Marc (5.12d), Kalymnos, Greece.Photo by Fred Moixfredmoix.com
The beautiful third pitch of Psychedelic Wall. When conditions are good on Ben Nevis, you can climb almost anywhere, as long as you're bold enough. For more about climbing in Scotland Read Rime and Punishment by Dougald MacdonaldPhoto by Des Rubens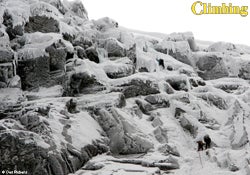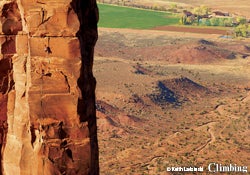 Ines Papert, on lead, and Mike Brumbaugh plug into the stunning third pitch of the Rectory's Fine Jade, likely the most popular 5.11 tower route in the Utah desert. Photo by Keith Ladzinski
The entire country of Spain is one giant chunk of perfect limestone, with endless walls and caves filled with dreamy sport climbing. Example #2,562: Carlos Logroño cranking on Alquezar's Los Quijotes del Montañismo (5.13b).Photo by Bernardo Gimenez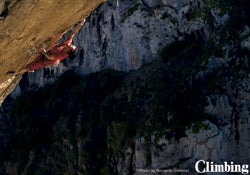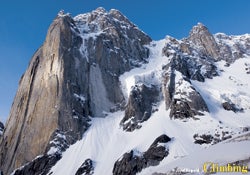 Big, gnarly, and unclimbed, the seldom seen north face of Shipton Spire (19,199 feet) was attempted this past summer by two Slovakians, Gabo Câmárik and Jozef "Dodo" Kopold, via mixed terrain right of the hanging serac. Illness forced them to turn around less than halfway up the line. The pair would later go on to establish a new route up neighboring Uli Biaho (21,053 feet; see Climbing No. 252 for the Hot Flashes report on their ascent). Photo by Jozef "Dodo" Kopold
The fearless Michael Reardon adds another climb (this time it's a J-Tree 5.11b, Uncle Remus) to his amazing free-solo resume. To read Reardon's feature on solists who've hit the ground and lived, please visit climbing.com/exclusive/above/decking/. Photo by Ryan Wedemeyer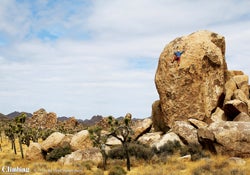 Brody Greer and Dave Littman hanging it out on the third ascent of the Streaked Wall's Tales of the Scorpion (VI 5.10 A3+), Zion National Park, Utah. The only person to have climbed all three routes on the Streaked Wall? Valley big-wall master Ammon McNeely.Photo by Eric Draperericdraper.com
If you look closely you'll find the climber and spotter in this sureal image captured at the limestone paradise of Castle Hill, New Zealand. Photo by Boone Speedweb.mac.com/boonespeed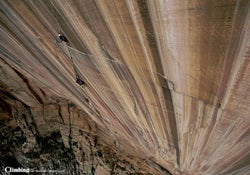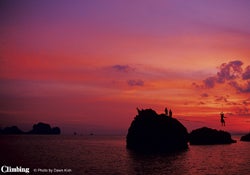 James Wyland slacking off after another stellar day of limestone cragging at Tonsai Beach, Thailand. And yes, there is some perfect deep-water soloing on the rocky island in the background."Photo by Dawn Kishdawnkishphotography.com
In early June Midwestern hardmen Tony Mayse and Clay Frisbie completed Yosemite's infamous link up of the Regular Route on Half Dome and El Cap's Nose in a day. The pair climbed hard, endured exhaustion, got down safe and shared an incredible experience. CLICK HERE for the gallery Photo by Andrew Chasteen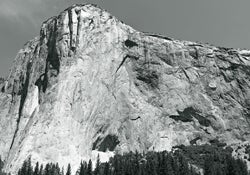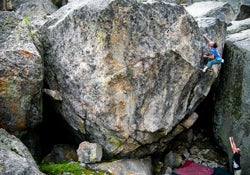 Jason Kehl makes the first ascent of The Last Dance, (V8), Mt. Evans, Colorado. Video still courtesy of Rocky Mountain HighballOn April 27, 2009, Yama Studio, along with The American Alpine Club, presented the world premiere of Rocky Mountain Highball at The Boulder Theater.
What's it take to send V15? Most of us will never know… The high resolution details like the chalk flying between these two crazy slopers and the intensity in Dave Grahams's eyes gives you a taste of The Island (V15) at Fontainebleau. See: Graham Puts Up V15 in Cradle of Bouldering and Dave Graham – Pro Blog 15 for morePhoto by Stéphan Denys, courtesy of Pointbloc.blogspot.com.