Flash: Climbing Photos—Hawaii Bouldering, Niagara Falls Ice, and More
Heading out the door? Read this article on the new Outside+ app available now on iOS devices for members! Download the app.
This story originally appeared in the May 2015 issue of our print edition.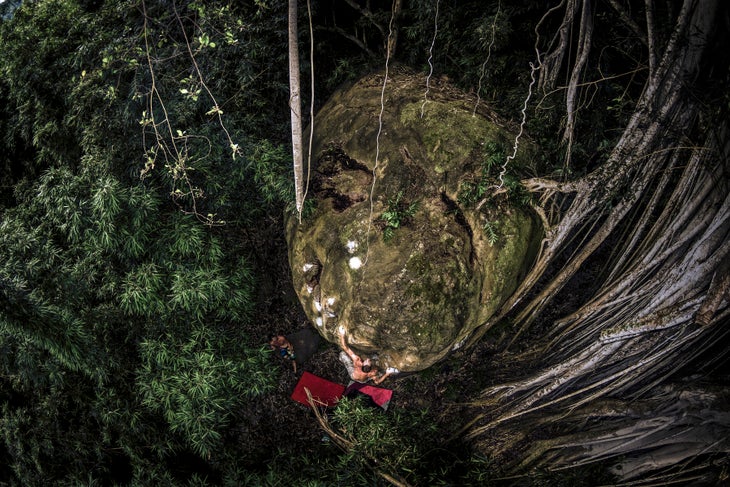 Climber: Justin Ridgely
Route: All Boars Go to Heaven (V6)
Location: Oahu, Hawaii
Even in bright sunlight, this area, known as Boarlomana because of its large population of wild pigs, remains in semi-darkness thanks to heavy jungle foliage, a dense banyan tree canopy, and a surrounding bamboo forest. Local developer, climber, and owner of Volcanic Rock Gym Justin Ridgely is largely responsible for the growth spurt in Hawaiian bouldering, taking the established number of zones from two to more than 40 in less than four years. He credits an amazing bouldering scene, an "aloha spirit that is very present in the climbing community," Google Earth, "relationships with hunters and hikers, long hikes through thick jungle…and conversations with landowners and government employees" for the successful expansion of bouldering in the Aloha State.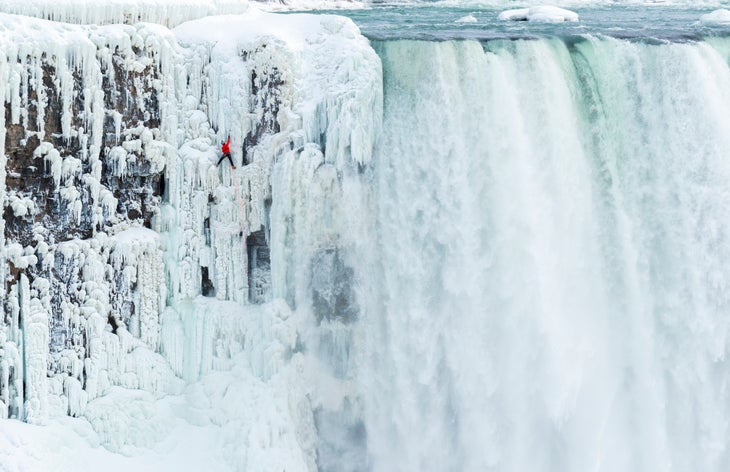 Climber: Will Gadd
Route: Niagara Falls (WI6)
Location: Niagara Falls, New York
With an average of 4 million cubic feet of water flowing over the falls every minute, cold winters, and a magnetic pull for death-defying stunts, it might seem surprising that this international landmark had never been climbed before. But when Canadian climber Will Gadd started to investigate climbing the falls last year after a very cold winter in the Northeast, he found miles of bureaucratic red tape. Thankfully the permit cleared three days before the planned ascent, and Gadd found "legit world-class ice climbing." Because the ice manifests as a result of sideways spray from the falls (as opposed to top-down water ice), it's "formed in shells and repetitive onion skins, and if you hit those in the wrong place, they can fracture very unpredictably."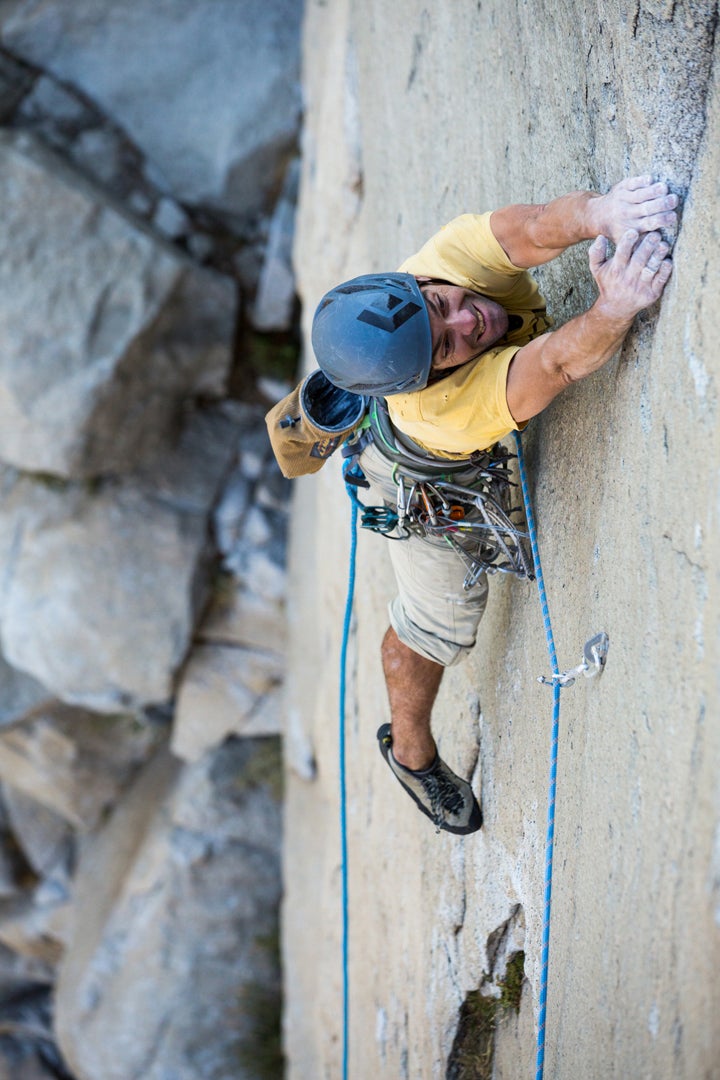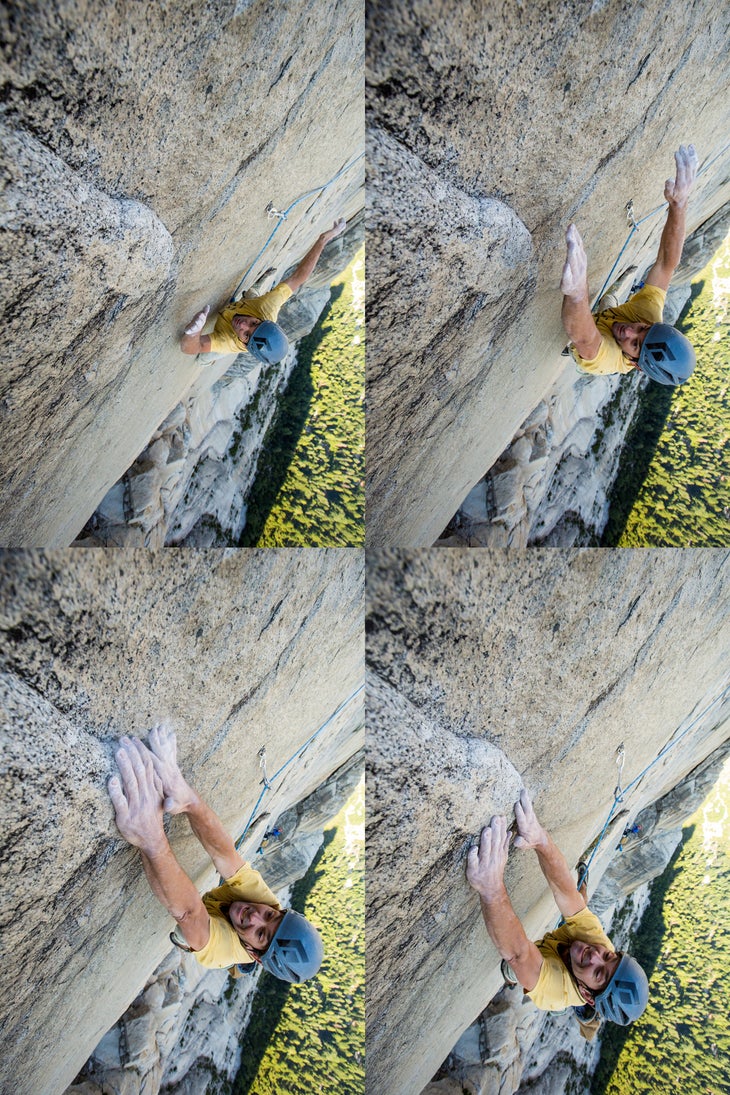 Climber: Jimmy Haden
Route: Soul Garden (5.13b)
Location: Mt. Watkins, Yosemite, California
On June 30, 2014, Jimmy Haden and partner Seth Carter completed the first free ascent of Soul Garden on the 2,000-foot South Face of Mt. Watkins in Yosemite, which included this all-points-off dyno that took Haden about 10 attempts to complete during the send. The late Sean Leary started working on this line in summer 2012, and Haden joined him on the "endless 5.12 pitches and the mid-5.13 crux" in April 2013. Leary was a much-loved figure in the climbing community, and when comforting a friend who'd lost a loved one, he said, "Your grief is this giant, gaping hole, but as you move forward, the edges soften and other beautiful things start to grow around it. It becomes sort of a garden in your soul, a place you can visit when you want to be near your love." After Leary died in a BASE jumping accident in March 2014, Haden's resolve to finish the route grew exponentially. When he finished it, he said, "I had realized Sean's vision and planted the first seed in my own Soul Garden."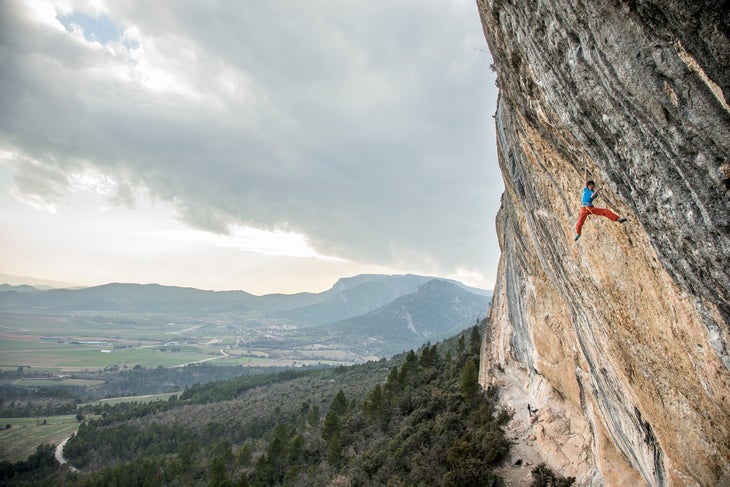 Climber: Sachi Amma
Route: Joe-Cita (5.14d/9a)
Location: Oliana, Spain
When 25-year-old Japanese strongman Sachi Amma sent Seleccio Anal (5.15a/9a+) on February 18, his fourth 5.15 during a three-week trip to Spain, he almost completed his overall goal for 2015, which was to send 10 routes 5.14d or harder. The tick of Seleccio Anal (a linkup of Seleccio Natural and Analogica) marked his seventh route 5.14d or harder for the year—all on this one trip to Spain—including his hardest route yet: Chris Sharma's Fight or Flight (5.15b/9b) at Oliana. Amma made four separate trips from Japan and tried Fight or Flight more than 30 times before nabbing the send. He is a force in the competition world, too, having won the overall Lead World Cup in 2012 and 2013.