Flash: 4 Inspiring Climbing Photos
February 8, 2016 edition
Heading out the door? Read this article on the new Outside+ app available now on iOS devices for members! Download the app.
This article originally appeared in the May 2014 issue of our print edition.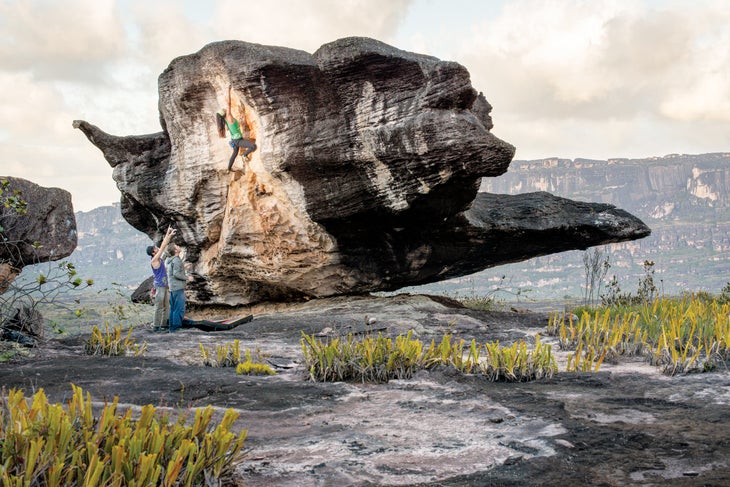 Climber: Carolina Godoy
Problem: Como Un Sueño (V2)
Location: Auyántepui, Venezuela
In late February and early March of this year, seven people trekked 25 miles—three days on steep terrain with scrambling and fixed lines—to get to the top of this tepui ("house of the devil" in the native Pemon language). The plan was to hunt for boulders and put up as many climbs as possible in 18 days. This particular block, the Gandalf Boulder (so named because the feature that comes off the top resembles the famed wizard's hat), was right next to the crew's established basecamp. They walked by it everyday and saw a proud and beautiful line up the prominent orange streak. Photographer Gustavo Moser cleaned the holds and urged fellow climber Gary Sorcher to go for it because Moser knew Sorcher was waiting for an ideal first-ever FA. Sorcher hopped on the rock, and it went first go. "This was my first FA ever, and one of my proudest moments as a climber and as a person," said Sorcher. "I named it Como Un Sueño because this rig climbs like a dream: Every move flows into the next. It has jugs, pinches, pockets, and an airy, exposed mantel topout." Following a striking orange streak and maxing out at 22 feet, this V2 problem is no gimme. Not only did Sorcher call his group "sandbagging sons of bitches," but the commitment factor makes it quite heady. The group went on to make several dozen first ascents all over the tepui. "Realistically, we only saw about one percent of the rock Auyántepui has to offer," said Sorcher. With a summit surface area of 260 square miles, this particular mesa is home to stone aplenty, and the world's highest waterfall: 3,212-foot Angel Falls. Read the full story of their trip at Tepui-Top Bouldering in Venezuela.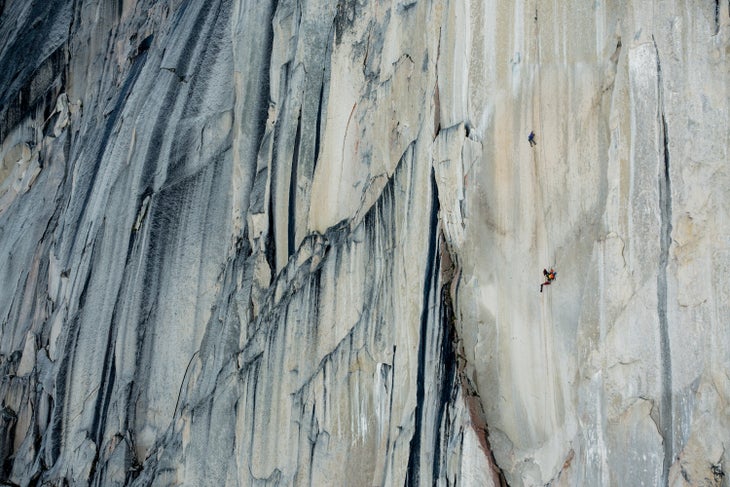 Climbers: Matt Segal and Will Stanhope
Route: Tom Egan Memorial Route (5.14)
Location: Snowpatch Spire, Bugaboos, Canada
For the third consecutive summer alpine season, pro climbers Matt Segal and Canadian Will Stanhope ventured to the rugged, granite-spire paradise of the Bugaboos to try and free an old aid line, the Tom Egan Memorial Route on the East Face of Snowpatch Spire. The duo says it should go at 5.14. The route was originally done by Canadians Daryl Hatten and John Simpson in 1978, and they named it after friend Tom Egan, who died in Yosemite. It caught Segal and Stanhope's attention in 2009, but they didn't return to try in earnest until 2012. With a total of 15 pitches—two of those 5.14 and two 5.13—this photo shows the first splitter finger crack, which they've dubbed the Blood on the Crack pitch. Segal calls it "one of the most painful finger cracks either of us has ever experienced." And it's only the second hardest pitch. The true crux is a bolted face pitch, which they call the Drunken Dawn Wall, that enters another difficult finger crack. Stanhope says a third crux is living in the grueling Bugs backcountry for two months at a time: "We've struggled with recovery and have resorted to hiking up loads of creature comforts to Applebee Camp." This includes lugging up a double-burner propane stove to cook "real-food meals, not gnarly dehydrated food," Kokanee beers (which Stanhope calls "a fine Canadian beer"), and pillows. The climbing doesn't lend itself to a specific style, so the pair trained by climbing as much as possible, including a spring training camp in Zion, where they topped out Moonlight Buttress (5.12d), Touchstone Wall (5.13b), Shune's Buttress (5.11+), and Sheer Lunacy (5.12b). With about 50 days of effort under their collective belt, the team is drawn back again and again because, as Stanhope says, "The line is enthralling. It is beautiful and right at our limit. All of our climbing experience has led up to this."
UPDATE: Stanhope completed the route the following year, earning him our 2015 Golden Piton Award for big-wall free climbing. Photo: Klemen Becan
Route: Water World (9a/5.14d)
Location: Osp, Slovenia
Sometimes the approach to a route can be as much of a crux as the route itself, as Slovenian pro climber Klemen Becan found out in early 2014. He bolted this line more than two years ago, and it finally started to come together in recent months, which happened to coincide with an extremely wet winter in Slovenia. "This cave [Ospo] is in a unique area of Karst [a region in Slovenia and the name for the one-of-a-kind shapes of stone], which means it's connected with cave systems of a much larger region," said Becan. "When we had a lot of rain this winter, water had to go out somewhere, and the cave was flooded." Since his strength and motivation were high, Becan used both a kayak and a Tyrolean traverse to get to the line. He says the crux of this 50-meter mega-pitch (164 feet!) are the first 30 moves, which required "a lot of imagination" to figure out. There's a good rest after the opening section, which he says makes it hard to stay focused, and then there's still 30 meters of 8b/5.13d to get to the top. Becan hasn't allotted for much celebration time, however. Two weeks later, he bolted a 150-meter line next to Water World that he says "looks a bit easier."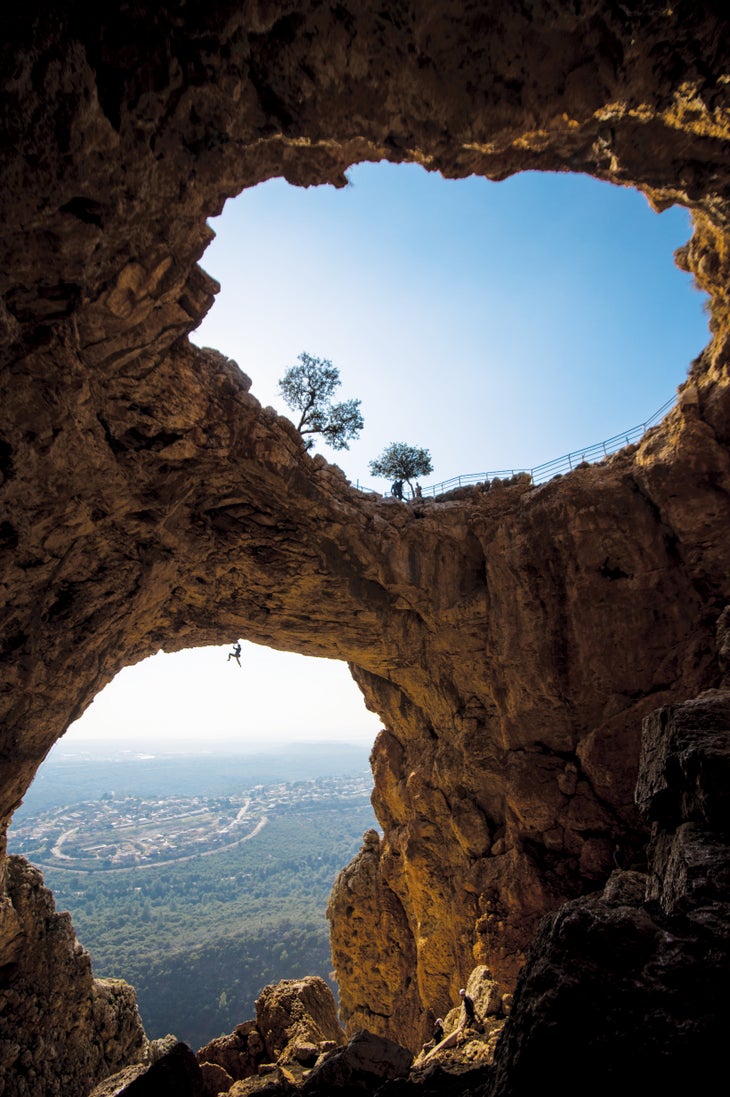 Climber: Ofer Blutrich
Route: Icarus (8a/5.13b)
Location: Keshet Cave, Israel
Israel is a land steeped in history—its climbing, however, is a different story. Most climbing areas were developed in the past five to 10 years, and the pictured Keshet Cave was only established in the last year and a half. Local strongmen, like Ofer Blutrich who has traveled to world-class climbing areas in Spain and Thailand, have come back to apply what they've learned to their home country. Blutrich, now 34, started climbing at age 22 after four years in the Israeli military (serving in the military in Israel is mandatory for all citizens, both male and female). He's bolted and climbed the first ascent of more than 100 routes in the country, including lines up to 5.14b. This particular climb is about 115 feet and takes a direct route up the side of this natural arch, which is a popular tourist destination in Galilee in northern Israel, right next to the country's border with Lebanon.