Flash: 6 Inspiring Climbing Photos
FEBRUARY 12, 2016 EDITION
Photo: miah@jeremiahwattphotography.com
Heading out the door? Read this article on the new Outside+ app available now on iOS devices for members! Download the app.
The following story originally appeared in the August 2014 issue of our print edition.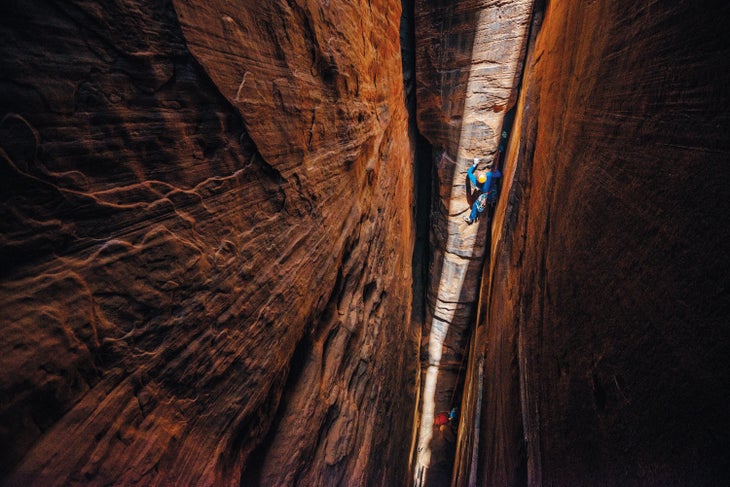 Climber: Rob Pizem
Route: Datura (5.12-)
Location: Zion National Park, Utah
Climbing within a comfort zone is not something Rob Pizem is known for. As a matter of fact, he's famous for the opposite: Wide cracks, scary runouts, rarely traveled routes, and bad pro are just a few of his fortes. This climb is no exception: "Choosing this route really was about picking something that I thought most climbers would avoid like the plague," he says. This 900-foot route involves 400 feet of questionable and chaotic crack climbing followed by a 500-foot chimney filled with obstacles of all sizes and difficulties, including massive tree stumps wedged between the two walls. Yes, you read that right: 500 feet of an arboreal plant–filled chimney. Sound like fun? According to Pizem, many of the leftover tree stumps are relics from Zion's logging days, which date back to the 1850s, when they were tossed over the wall's edge. This old aid line was established by Jim Beyer, who graded it 5.9 A2, a fact first ascensionist Pizem (along with Mike Brumbaugh and Andy Raether) didn't discover until he rappelled the line and found old bolts deep in the wide crack. On that same day in March of this year, the trio managed the first ascent of another 900-foot line about 150 feet to the right, calling it Dr. Spaceman (5.12-). Pizem says the best part about the route was "getting to free the two aid pitches without having to add any new protection to the route." The worst part? "As with any new Zion climb, getting sand in your eyes while belaying." Here, he frees the last pitch of Datura.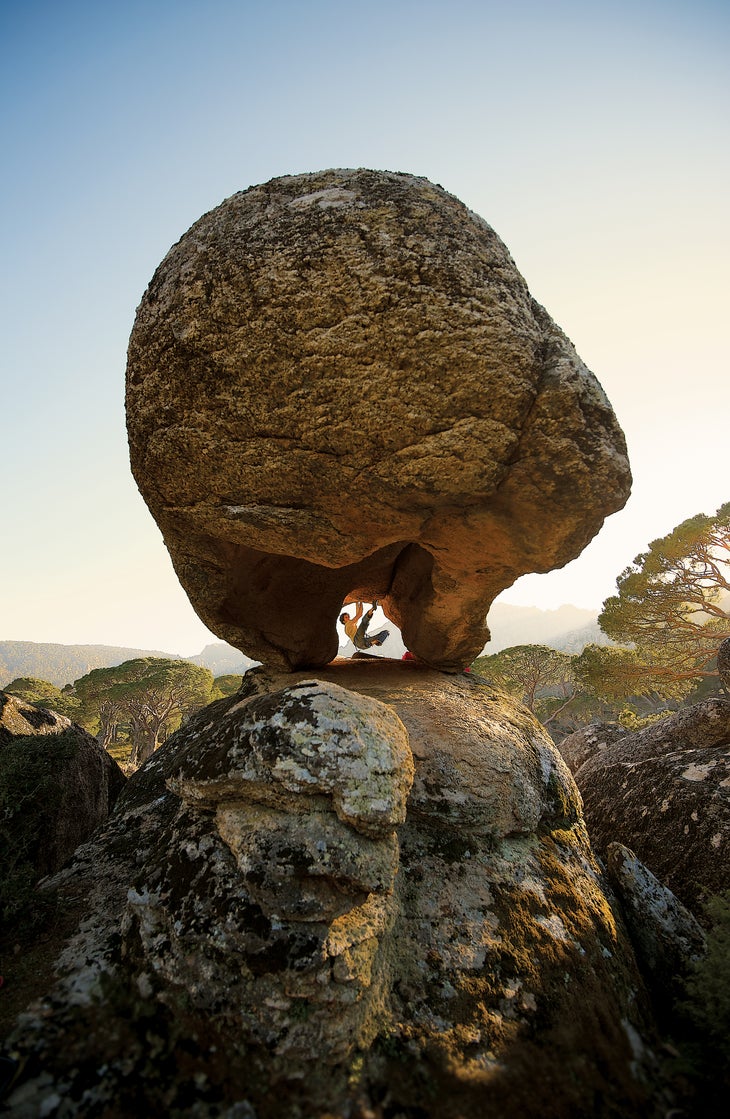 Climber: Frédéric Moix
Route: Arches of Time (V8/7b)
Location: Bafa Lake, Turkey
Surrounded by idyllic olive trees and historic ruins, Bafa Lake is more than just a world-class bouldering destination. Due to its historical significance—it was a trading port a few thousand years ago—it was declared a national park in 1989, covering 65 square kilometers and home to at least 224 unique bird species. Many religious groups, including both weather-worshipping cults and Christian sects, made their homes here at different times, and each group has left some trace of their existence. Coarse-grained granite boulders dot the landscape and intermingle with 2,000-year-old crumbling walls, and despite blocks that seem somewhat featureless, there are dozens of high-quality climbs. Frédéric Moix found and established this problem at the top of the hill: a 33-foot roof crack that splits the middle of this arching tunnel. "I was blown away when I saw it the first time, but it wasn't so hard," he says of giving it the 7b grade. "But it's probably 7a [V6] for Americans because Europeans can't jam!"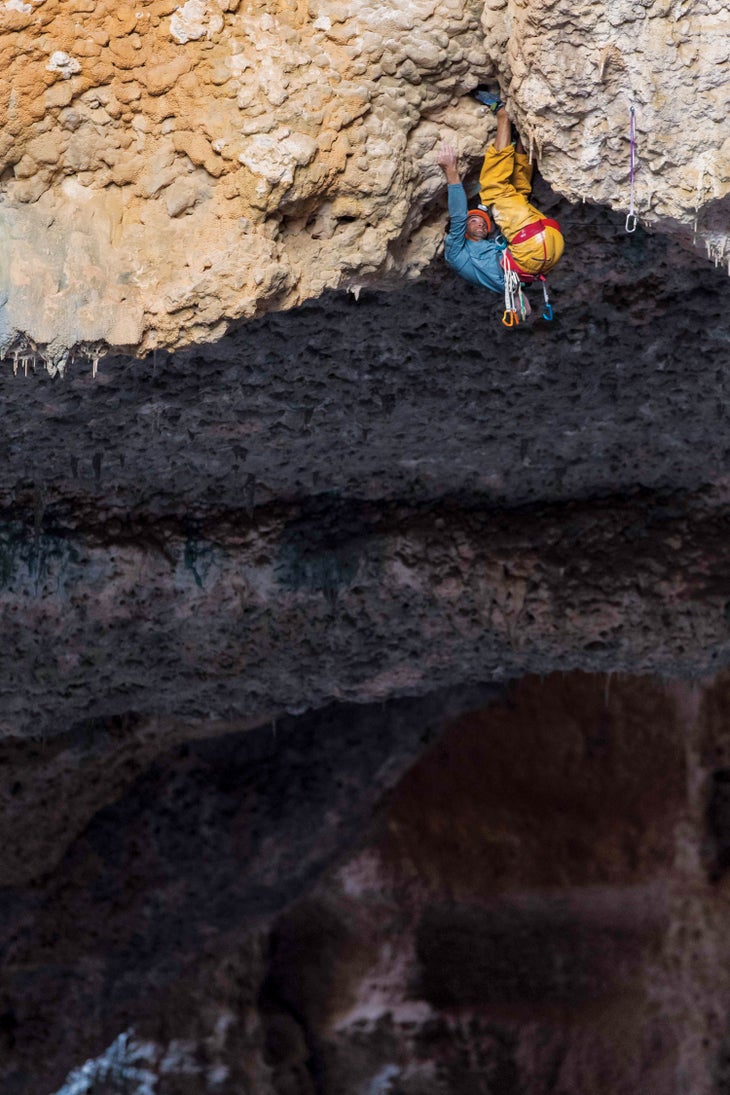 Climber: Chris Sharma
Route: Into the Light (5.14a)
Location: Majlis al Jinn Cave, Oman
After you've climbed the most difficult features on the Earth's surface, where do you look for your next challenge? Below ground. Despite focusing on two completely different climbing disciplines—alpine big walls vs. sport—unlikely partners Stefan Glowacz and Chris Sharma did exactly that in March of this year. What appears to be a large hole in the ground on the remote Selma Plateau (which sits about 4,500 feet above sea level) opens up to a gaping maw of a cavern that drops 525 feet to the floor. After nine months of planning, training, and obtaining permits, the duo rappelled down and started working the climb. The route, appropriately named Into the Light, is 984 feet of climbing on quality limestone, broken into 13 pitches ranging from 5.13a to 5.14a. In this photo, Sharma climbs out of the cave on the last pitch, and while it looks like crack climbing, Sharma says it was mostly face climbing. Even though the two had never roped up together, they got along famously. Sharma said that learning from Glowacz was one of the best parts of the adventure, and Glowacz praised Sharma, saying, "I am fascinated with the young generation. Most of all I am inspired by Chris because of his way of thinking about climbing and life."
To see the first ascent in action, check out the video series: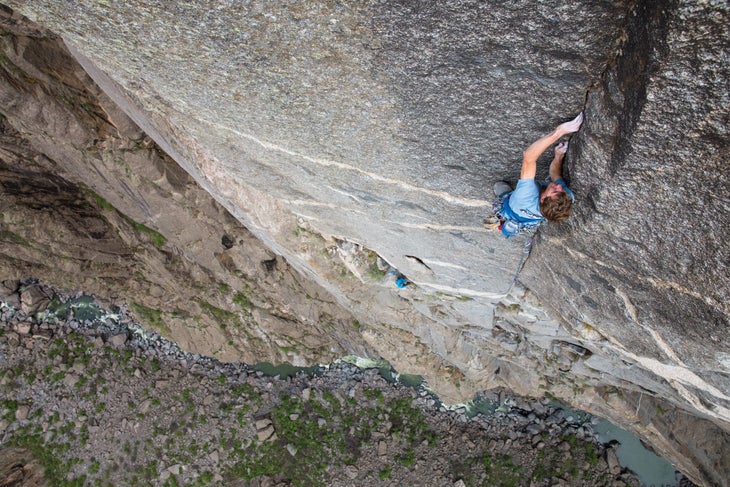 Climber: Hayden Kennedy
Route: Tague Yer Time (5.12)
Location: Black Canyon of the Gunnison, Colorado
Yosemite isn't the only American big wall destination. The Black Canyon of the Gunnison in western Colorado features pegmatite-banded gneiss that plummets more than 2,000 feet straight down to the river winding through the canyon. The area is known for its steepness, hard climbing, tricky protection, wandering lines, and sketchy rock. Even its nickname, "The Black," conjures up a sense of doom and intimidation. The Black is not a beginner-friendly area: Out of about 140 established routes (all trad), less than 30 are rated below 5.10, and even those are characterized by loose rock and difficult route-finding. This climb, named after the late Cameron Tague, who established many routes in The Black and died climbing in Rocky Mountain National Park in July 2000, is 15 pitches, 1,500 feet, and clocks in at a solid 5.12. Here, Hayden Kennedy leads the stellar eighth pitch while Nik Berry belays.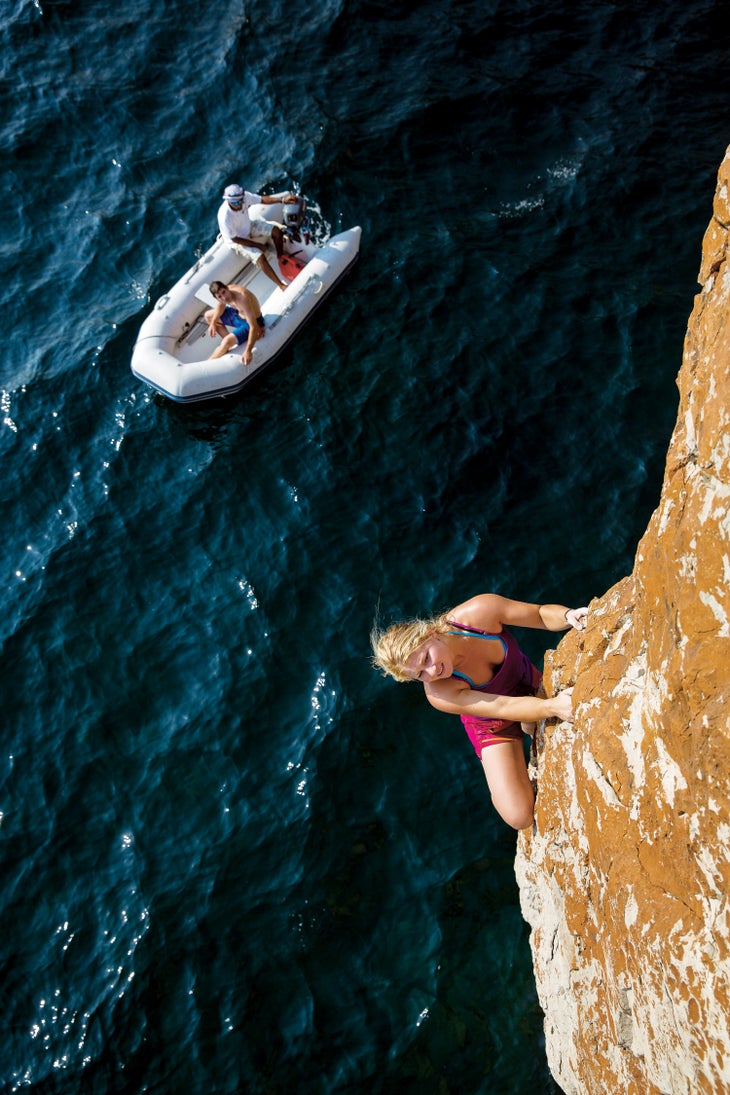 Climber: Hazel Findlay
Route: Unknown
Location: Musandam Peninsula, Oman
Despite a tricky political situation, Oman is becoming a hot spot for climbers itching for something new. A team with The North Face, including Hazel Findlay, Alex Honnold (pictured in the dinghy), and Mark Synnott, visited Oman to go crag-hopping by catamaran. With an estimated 100 miles of cliff line on the Musandam Peninsula in the Gulf of Oman, it's no wonder that the group chose this region for first ascents and deep water soloing. Just because there's a lot of rock doesn't mean it's good rock, however. The group experienced falling blocks and choss on almost every route they touched. One such climb chopped a cord that left group members Mikey Schaefer and photographer Jimmy Chin stranded on a cliff face high above the village of Sibi. Luckily, Synnott and Renan Ozturk were climbing nearby and were able to get another rope to them.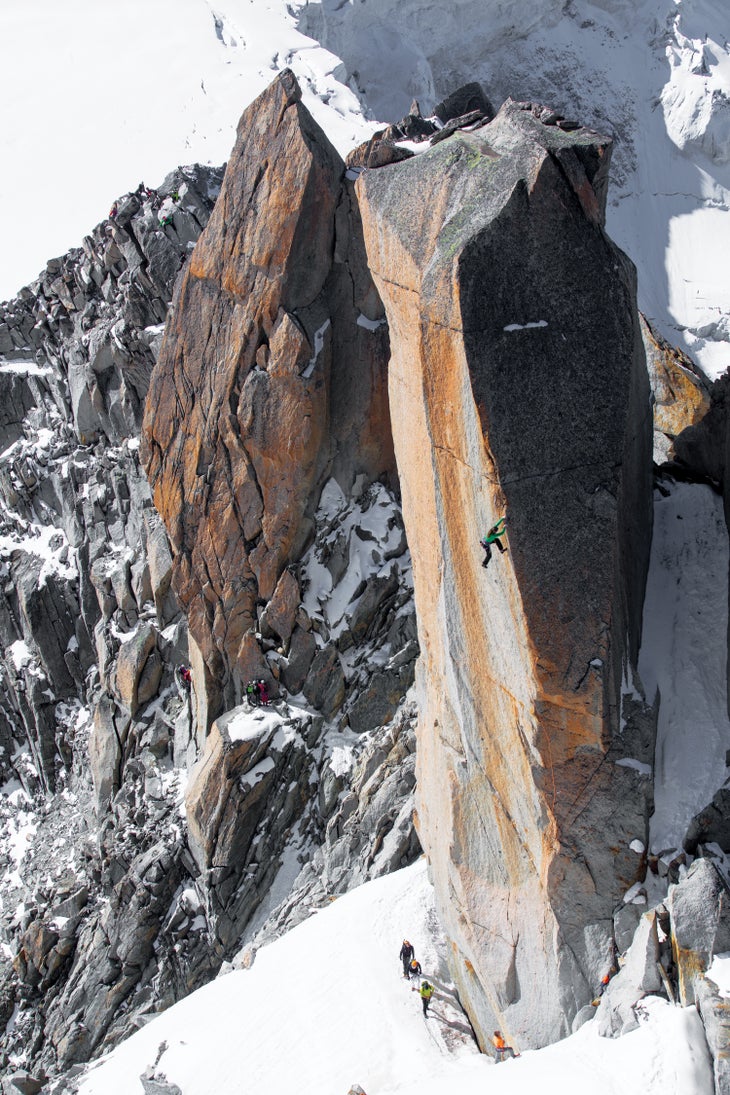 Climber: Martina Cufar Potard
Route: Arête Cosmiques (5.13b/8a)
Location: Mont Blanc Massif, France
Nothing like an alpine ridge approach to get to a 5.13 sport route! This route, which nine-time Slovenian National Champion Martina Čufar Potard nabbed the third ascent of, is on the Grande Gendarme, a tower that juts out of the middle of the Cosmiques Arête ridge traverse, which combines snow and mixed climbing with a 5.8 rock crux. While this ridgeline that runs from the Abri Simond hut to the Aiguille du Midi-Vallee Blanche cable car station has been climbed since 1911, this route wasn't established until 2013. Most climbers traverse around the Grande Gendarme, but Martina's husband, Frenchman Nicolas Potard, made the first ascent in July of last year, with the French climber Victor Estrangin getting the second ascent. This isn't the first route on the Grande, though; Digital Crack is a 5.13b that runs directly up the middle of the spire. It's famous for possibly being Europe's highest 5.13 at 3,800 meters (12,467 feet). Although Nico graded the climb 8a (5.13b), his wife claimed that the high elevation and lack of holds made it feel much harder and more physical than Digital Crack.