Flash: 8 Climbing Photos—Bugaboos, Dawn Wall, African Ice, and More
Heading out the door? Read this article on the new Outside+ app available now on iOS devices for members! Download the app.
This article originally appeared in the February 2015 issue of our print edition.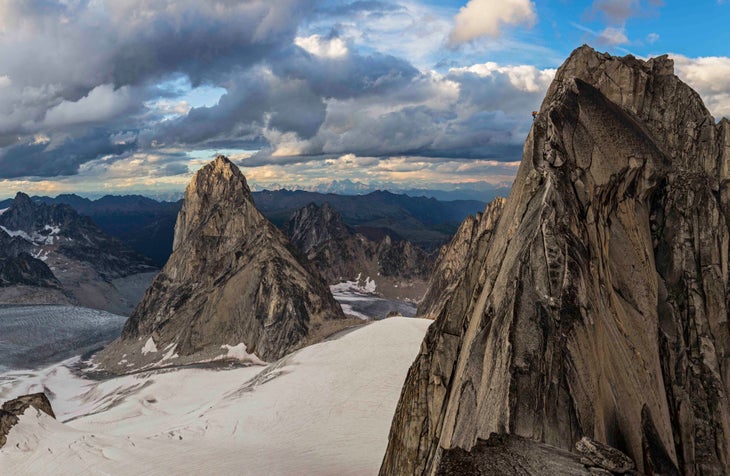 Climber: Conrad Anker
Route: West Ridge (5.4), Pigeon Spire
Location: Bugaboos, Canada
Although the life of a professional climber may look like one rad expedition after the next to cool places with awesome people, it's actually quite rare for the most elite to be able to go on "a fun trip with friends," which is how legendary mountaineer Conrad Anker described this excursion to the Bugaboos in the Great White North. Anker, Alex Honnold, Jimmy Chin, and Renan Ozturk headed to this well-known spot in British Columbia to celebrate a few milestones and move on some rock, climbing the ultra-classic Beckey-Chouinard (5.10) on South Howser Tower and a few other routes nearby. They commemorated Honnold turning 28, Chin's last big trip before his daughter, Marina, was born, and a reunion of the Meru team, which included Ozturk, Chin, and Anker. The trio successfully summited the Himalayan peak via the Shark's Fin in 2011 after a few attempts by each climber.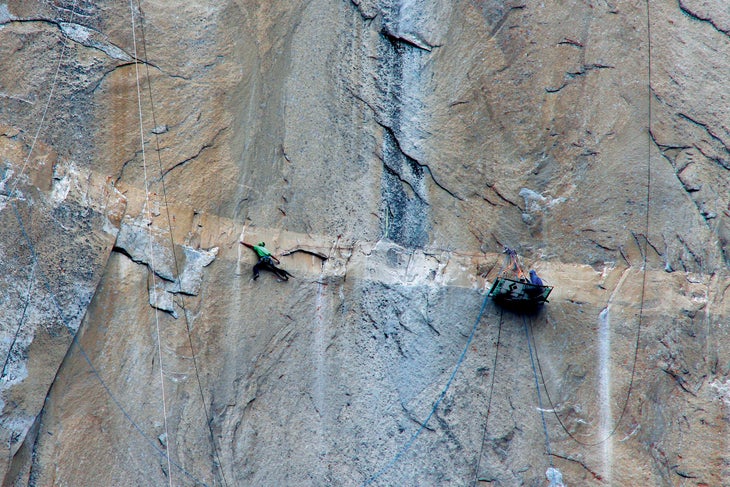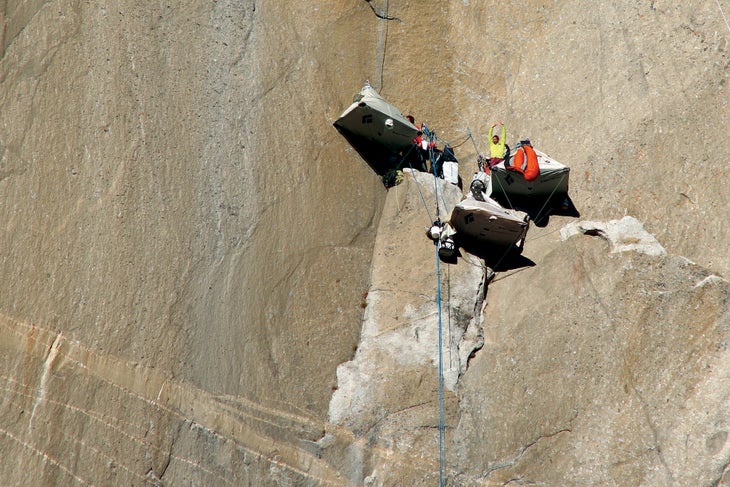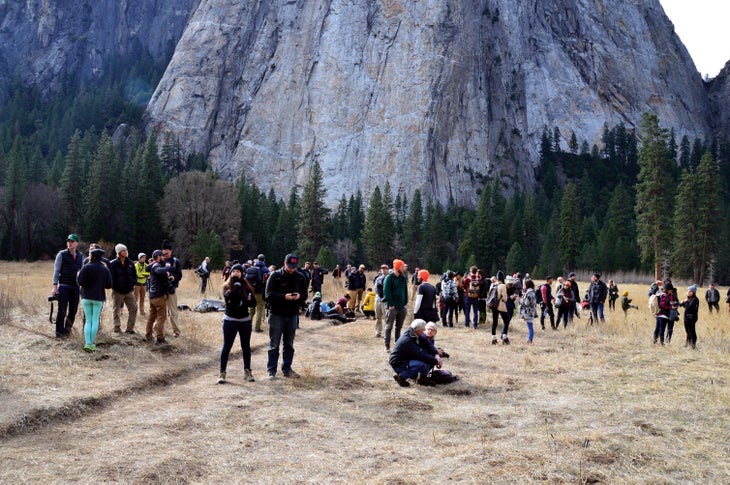 Climbers: Tommy Caldwell and Kevin Jorgeson
Route: Dawn Wall (5.14+), El Cap
Location: Yosemite, California
At this point if you're a climber and you haven't heard of the Dawn Wall, you've been living under a rock—no pun intended—for several years. In 2007, Tommy Caldwell began exploring the southeast face of El Cap to look for free-climbing potential (several aid routes already existed). When he finally found a line he thought would go, he realized it was so difficult that he would need a top-tier partner. Native Californian Kevin Jorgeson joined him in 2009 and has been his most committed partner, among a list of serious professionals that includes Chris Sharma, Alex Honnold, and Jonathan Siegrist. The team has returned year after year (Jorgeson took two years off) to work all 32 pitches, seven of which are 5.14 and 12 of which are 5.13. They finally finished the mega project on January 14, 2015, summiting at 3:30 p.m. PST, after 19 days on the wall. While Caldwell's ascent was relatively smooth, Jorgeson was nearly thwarted by pitch 15 (5.14d) due to split tips and the resulting finger tape that prevented him from grabbing the razor-thin holds. He pulled through on his seventh day of attempts and made a dramatic comeback to summit the wall with Caldwell in fine style.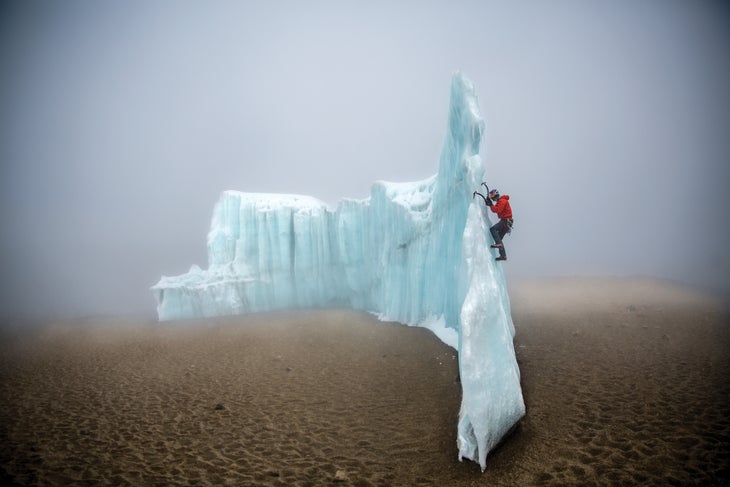 Climber: Will Gadd
Route: Mount Kilimanjaro
Location: Tanzania, Africa
For most people, "climbing" 19,341-foot Mount Kilimanjaro in Tanzania on the southeastern coast of Africa means a weeks-long slog with heavy packs, porters, and days of acclimatization, similar to Everest without the incredibly cold weather and the last 9,700 feet of altitude gain. The top of a volcano in Africa might be the last place you'd expect to find incredible ice climbing, but leave it to Canadian ice and mixed climbing badass Will Gadd to spearhead an expedition with the sole purpose of climbing the fast-disappearing frozen stuff in the summit crater at 19,000 feet. He's on a mission to climb ice on all seven continents, and he had to get on it quickly because more than 90% of the ice on Kili has melted in the last 100 years, and research suggests it might all be gone by 2020. Gadd says, "The ice I climbed was literally disappearing in front of my eyes. None of what I climbed will survive another month." The very high altitude combined with a super-hot, tropical sun creates crazy formations like this ice fin that pokes out of sand. "The biggest challenge was acclimating to that altitude in a few days and not overexerting ourselves," photographer Christian Pondella says. "This trip was all about surreal juxtapositions. Moments before this photo it was clear blue skies and desert-like heat as we were walking in the sand with bare feet. Then instantly the clouds and fog rolled in, and it started to snow."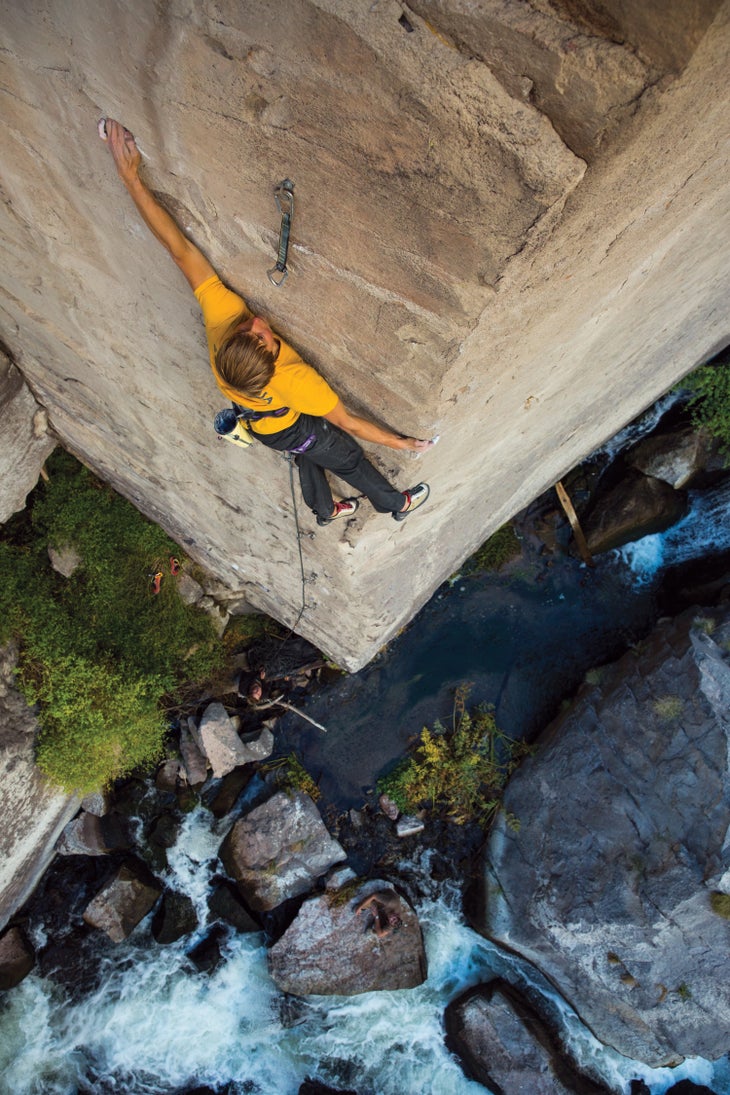 Climber: Alex Megos
Route: Bongo Fury (5.12b),
Location: Owens River Gorge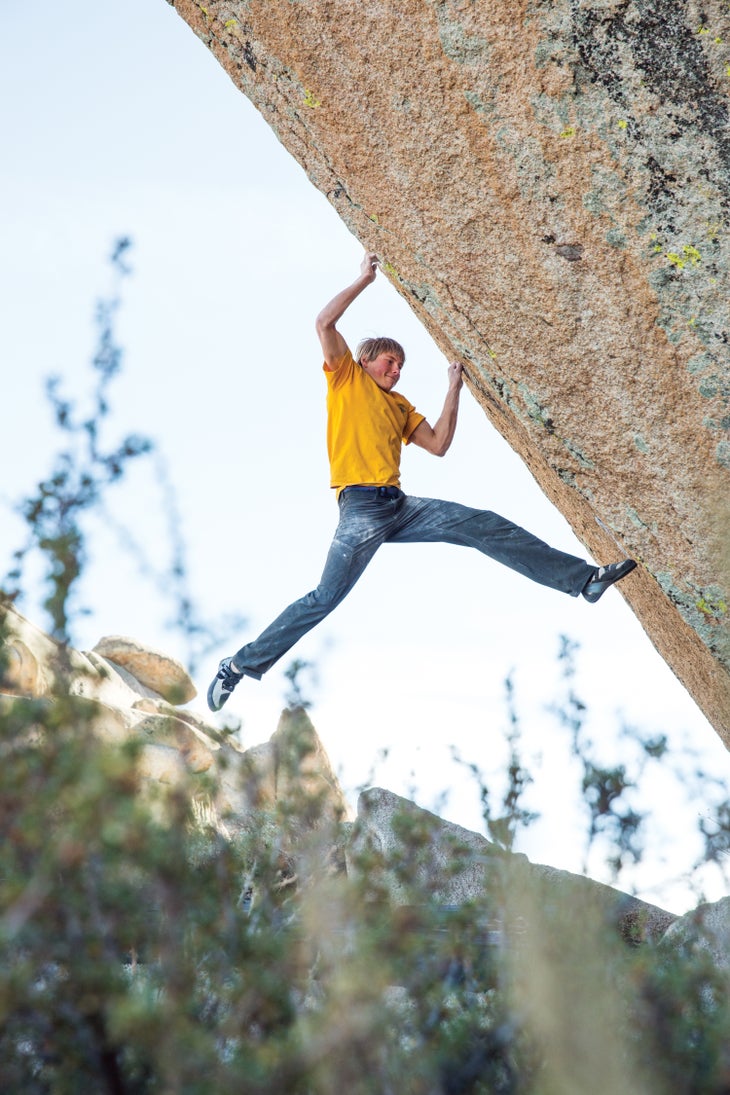 Climber: Alex Megos
Route: The Swarm (V13/14),
Location: Bishop, California
This 21-year-old from Erlangen, Germany, has become known as the king of quick sends, including the first-ever onsight of a 5.14d (Estado Critico in Siurana, Spain), and it was no different when he came to the States in November 2014. True wunderkind Alex Megos dispatched The Swarm (V13/14), Mandala Sit Start (V14), and the Buttermilker (V13) faster than it would take most elite climbers to do one problem, saying, "I sent all of them relatively quick, spending about two short sessions on each problem." He had visited Bishop the year before, sending what he calls the "easier classic problems," including the stand start to the Mandala (V12), the highball Evilution (V11), and an impressive flash of Blood Meridian (V12/13). Continuing his 2014 sendfest, Megos visited nearby Owens River Gorge and then Red Rock, Nevada, with Meadowlark Lemon (V14) and Clockwork Orange (V12/13) in his sights. The first session on Meadowlark was a "catastrophe," he says. "Basically I tried to get my second foot off the ground the whole session." He left for a few days, came back, and some visiting climbing partners got him psyched again, so he sent the stand start (V13), then came back the next day to send the sit start. When he moved on to Clockwork, which he also struggled on during that first catastrophic session, he found that he could easily hold the crux's strange pocket (FYI, this was after doing an all-day multi-pitch route), and he sent it third go. He sums up his experience: "That's when I figured it out—bouldering is strange."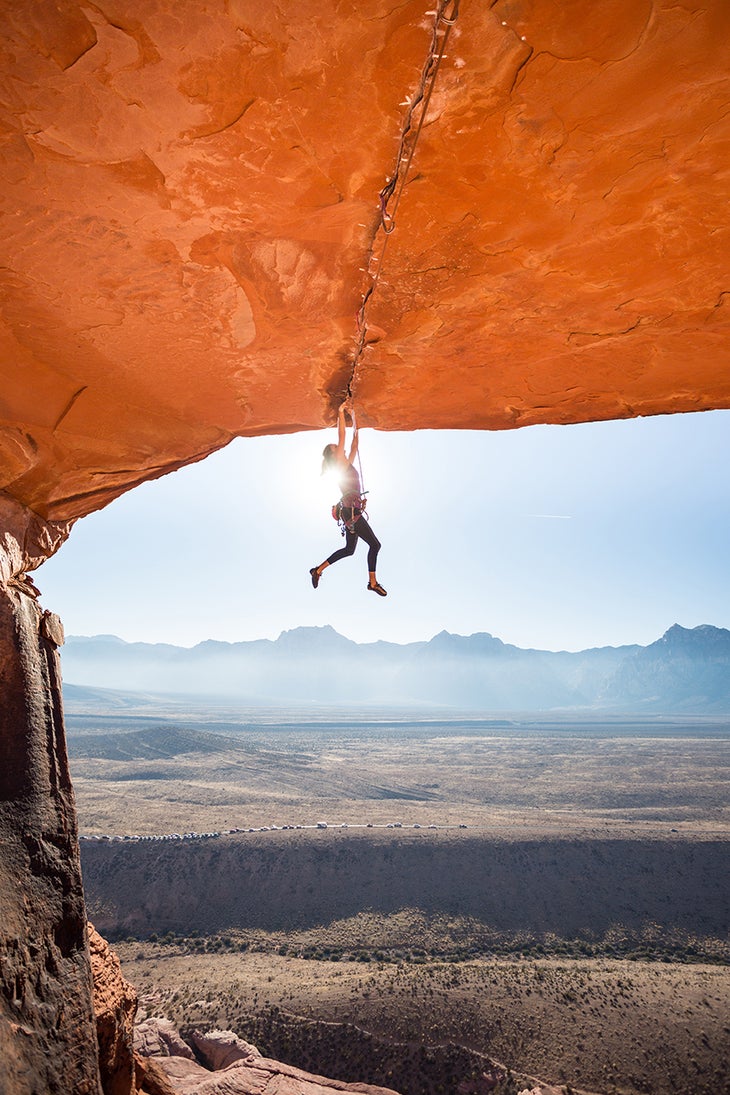 Climber: Heather Weidner
Route: The Great Red Roof (5.13b)
Location: Red Rock, Nevada
"When I was in school and working as a veterinarian, I was just climbing on the weekends, so I put time and energy into projecting difficult sport routes," pro Heather Weidner says of her switch from focusing on hard sport sends to ticking elite trad lines. "Now that I'm climbing full-time, I want to be a more well-rounded climber." And when you've redpointed up to 5.14b sport, 5.13 trad isn't far out of your reach. Weidner wanted a challenge, and a few friends recommended The Great Red Roof. Reminiscent of Separate Reality (5.12a) in Yosemite, this short but burly line climbs out from a protected cove on a 30-foot horizontal roof, with the last 10 feet involving no-feet campusing moves, at which point the exposure becomes "super intimidating." Weidner and her husband, climber and writer Chris Weidner, checked it out in spring 2014 and "got our butts kicked." They couldn't figure out most of the moves, but they came back this winter with a new resolve to take the time to unlock the beta. Over the course of five days and 11 attempts, she was able to redpoint it while placing gear, for likely the female first ascent (records are scarce so this is unconfirmed). What's next for Heather? "I just climbed ice for the first time a few weeks ago with Chris and had a blast! I'm excited to see what I can do with trad, and who knows, maybe some big walls are in my future…"