Photo Gallery: A Climber's Guide to Middle America
6 photos of some of the best midwestern climbing you've never heard of.
Heading out the door? Read this article on the new Outside+ app available now on iOS devices for members! Download the app.
This story originally appeared in the June 2016 issue of our print edition.
To the east, sandstone hollers stretch from Arkansas to Kentucky, eventually morphing into the granite crags of the Northeast. To the west, the Rockies, Sierras, and Cascades each offer lifetimes of climbing. But what about Middle America? A vertical swath cut down our beloved nation is sandwiched between greatness on either side. On the way from nothing, on the way to nowhere. Better known for epic flatness, cornfields, and Fargo—you're darn tootin'—the Midwest still has plenty of rock. Some of it is straight-up ugly, but if you're willing to look, you'll find some of the best climbing you've never heard of.
Oklahoma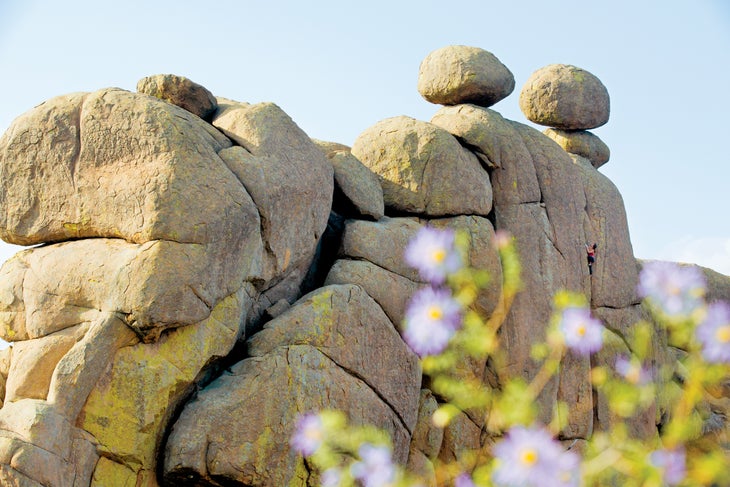 Climber: Elisha Gallegos
Route: Power Series (5.10c)
Location: Wichita Mountains Wildlife Refuge
Believe it or not, the Sooners have several amazing granite crags. The Wichita Mountains Wildlife Refuge is home to short domes and free-ranging buffalo, and Quartz Mountain is a slab climber's dream. However, these crags are not for the faint of heart. At Quartz the number of X routes easily outnumbers the safer and saner ones. Both areas are bold and technical; bring your big boy pants.
Kansas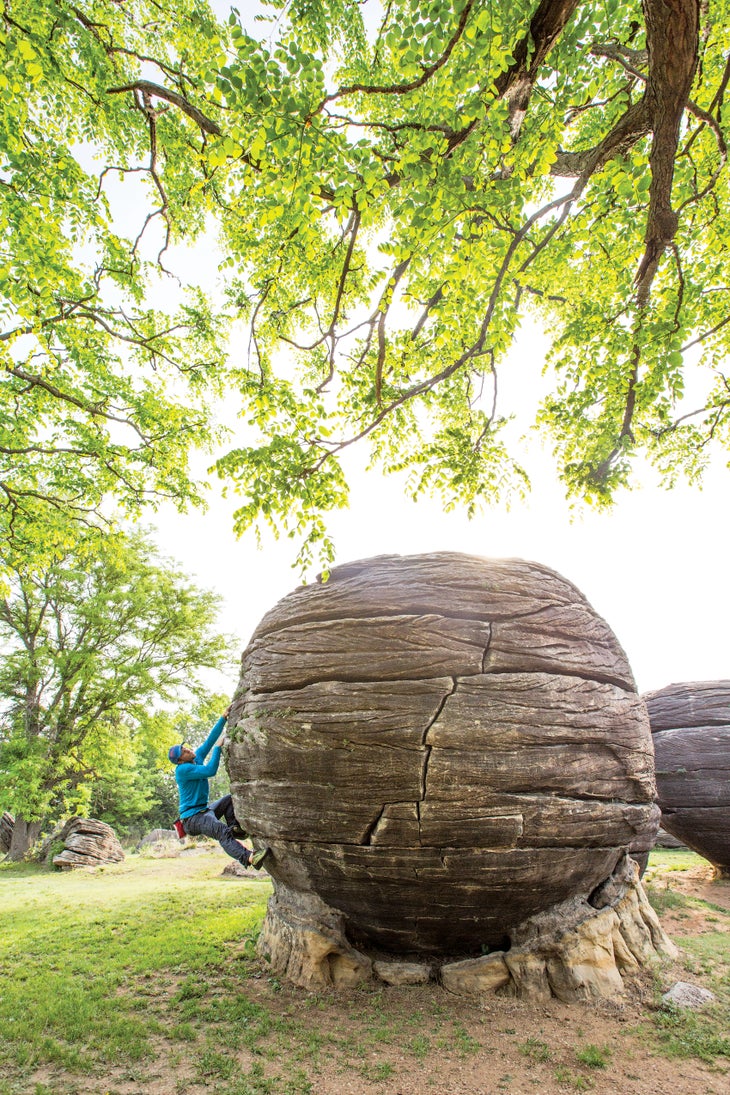 Climber: Andrew Burr
Route: Unnamed
Location: Rock City
Kansas is the birthplace of nearly every joke involving grand flatness and cornfields. And for the most part, that is what you'll find, except in the corner of this one cornfield, where there is a true geologic oddity—Rock City. Hundreds of perfectly round sandstone concretions, some more than 20 feet in diameter. Now here's the great part: Instead of being locked away or fenced off, the owners of the land actually encourage interaction with the landscape (for a small fee, of course). Walk around, get lost, and enjoy these peculiar stones.
North Dakota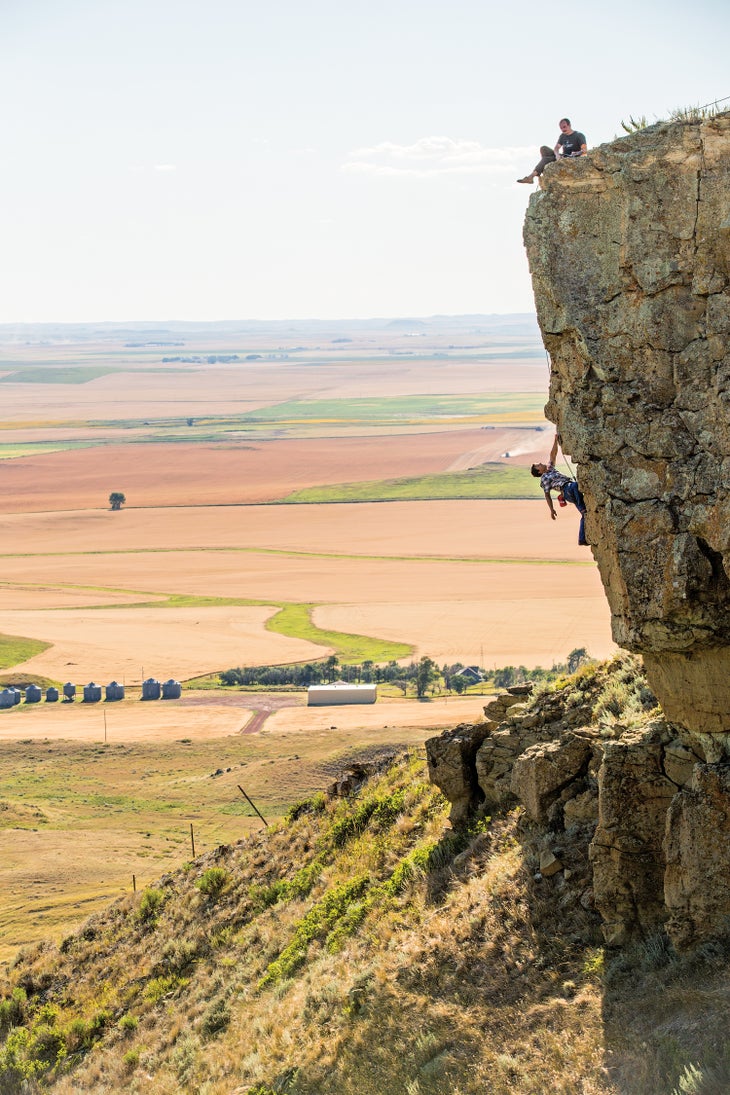 Climber: Luke Kretschmar
Route: Unnamed
Location: Sentinel Butte
Sentinel Butte is the Arapiles of North America. Wait, did I just say that? When it comes to the landscape and atmosphere, this bump of quartzite surrounded by farmland fields, lumbering combines, swaying golden grasses, the blazing sun, and an earthy aroma of the summer harvest has a feel that is unmistakably similar. And as for the climbing, well, if it were half as good, then it would be pretty good. But it's not. What other choice do you have?
Texas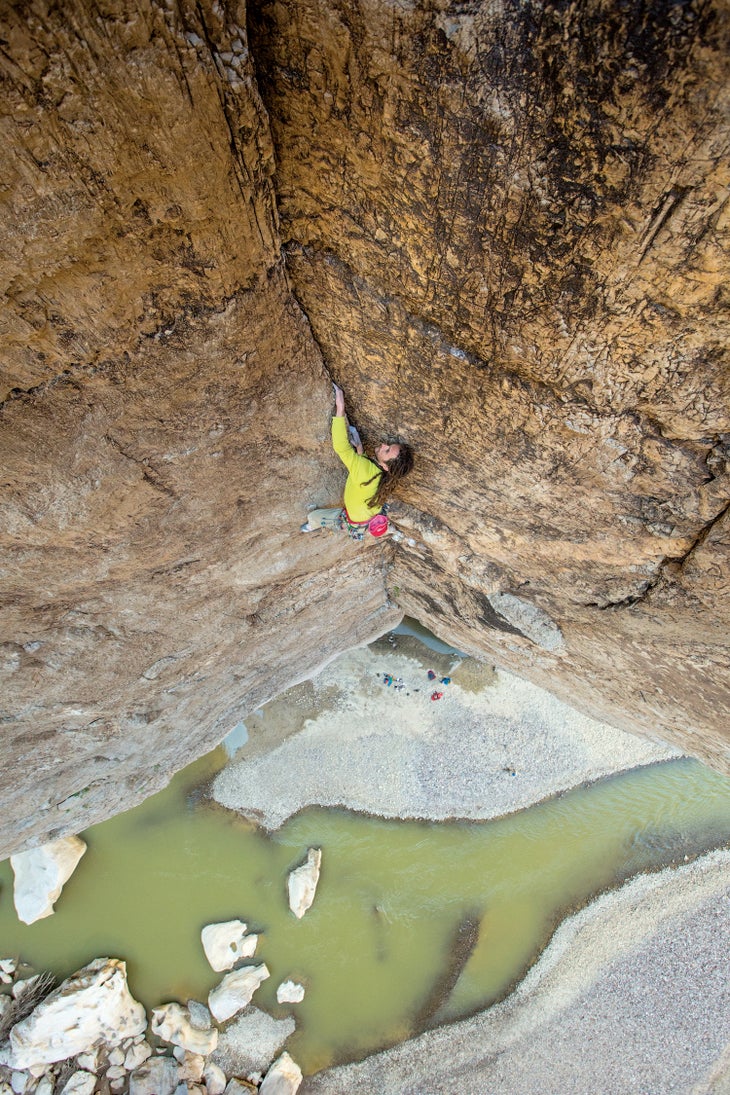 Climber: Andy Knight
Route: NPS Corner (5.11+)
Location: Big Bend National Park
Bigger than the highly restricted bouldering of Hueco Tanks or the limestone waterways surrounding Austin, the Rio Grande River and nearby Big Bend National Park are brimming with rugged terrain of a spectacular nature, a place where everything has thorns, volcanic outcroppings dominate the horizon, and climbing isn't banned—it's just not encouraged. The bolting moratorium doesn't help matters either. The spot way down where a river separates two nations shouldn't be your first choice for a climbing trip, but if remote exploration grabs your fancy, by all means, float the line.
South Dakota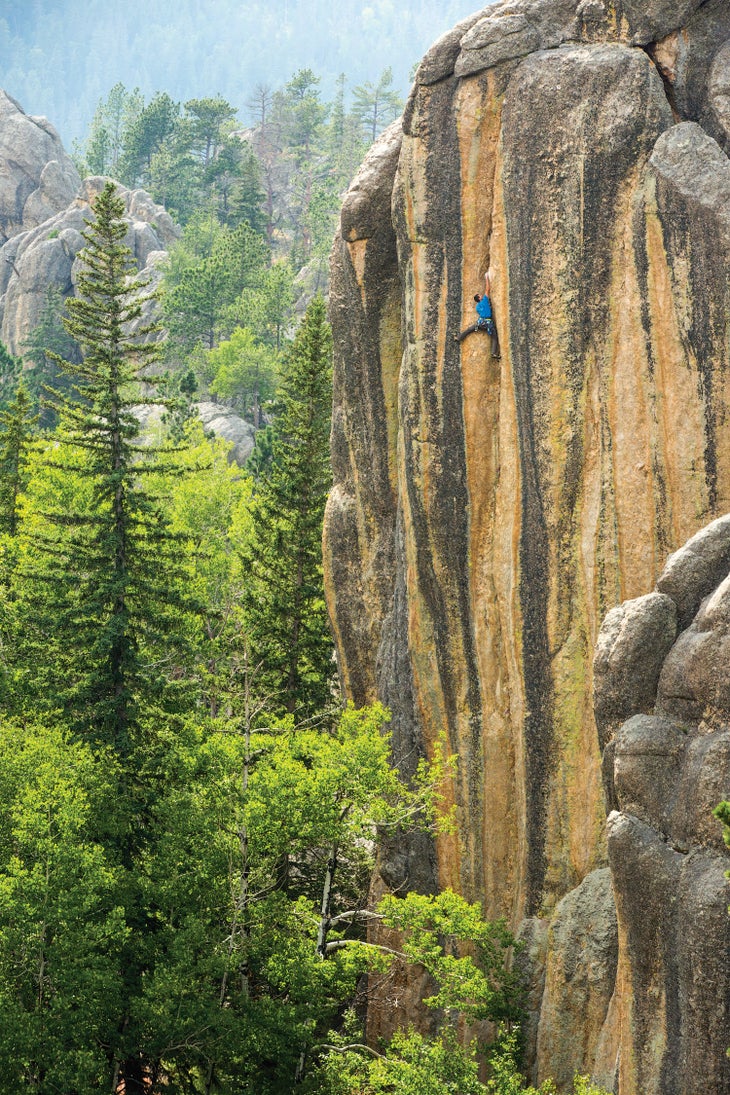 Climber: Chris Hirsch
Route: The Phoenix (5.13+)
Location: Custer State Park
Spearfish Canyon, Victoria Canyon, Rushmore, the Needles, the Black Hills—the Mount Rushmore State is the pimple on a vast prairie. It's likely the most underrated climbing destination you've never been to. That's right—it's a destination! Limestone canyon walls lined with well-bolted overhanging jug-hauls or hundreds of technical pocketed faces to give Popeye arms a rest and work those tendons and toes. Just behind the gigantic carved faces of four presidents are amazing routes of all flavors and grades. And of course on the other side of Harney Peak are the infamous Needles, where those dreamy slender granite spires will scare even the boldest of us.
Nebraska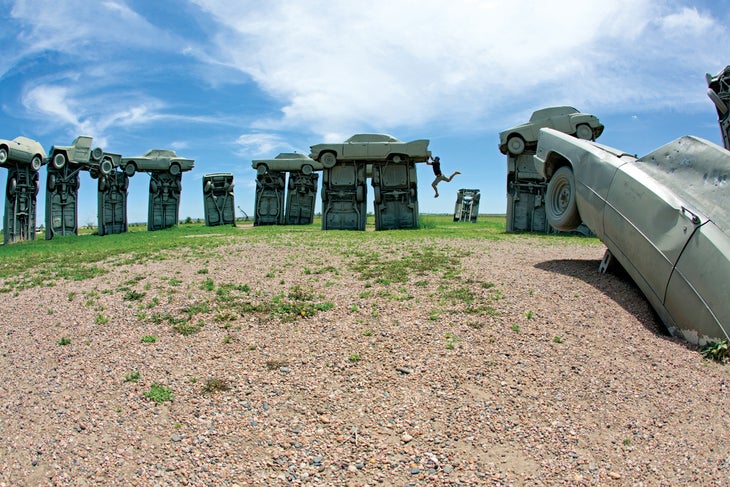 Climber: Andrew Burr
Route: Junk in the Trunk
Location: Carhenge
OK, you got me. Sometimes stereotypes are unavoidably true. Nebraska is virtually rockless. Back in 1995, Tim Toula categorized every piece of rock big enough to trip over for the entire United States in his amazing book Rock 'N' Road, and even he came up empty. Same for John Sherman and his quest to climb in all 50 states, but I'm sure he found a technicality to complete his goal, hopefully more legit than some rusty piece of Americana like I found. Omaha does have some nice steaks, though.