Flash: Virgin Gorda Bouldering, Alberta Ice, and More
Heading out the door? Read this article on the new Outside+ app available now on iOS devices for members! Download the app.
This article originally appeared in the October 2015 issue of our print edition.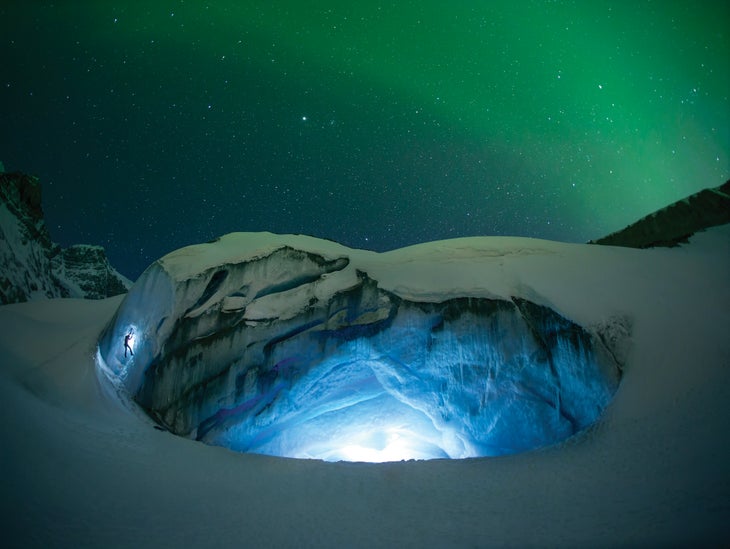 Climber: Mike Stuart
Route: Unnamed
Location: Athabasca Glacier, Alberta, Canada
Despite postponing the shoot several times to wait for favorable ice climbing conditions, patience paid off for photographer Paul Zizka when the aurora borealis made an unexpected appearance, especially rare so far south of the Arctic Circle. Caused by charged particles interacting with the surrounding atmosphere, the light display of the aurora is most commonly seen at high latitudes in the Arctic and Antarctic regions of the globe. Because of its location between major Alberta towns Banff and Jasper, and accessibility by foot, the Athabasca Glacier is the most visited glacier in North America. Zizka had friend Takeshi Tani hide just below the lip of the snow cave to provide a lighting element in the center of the frame.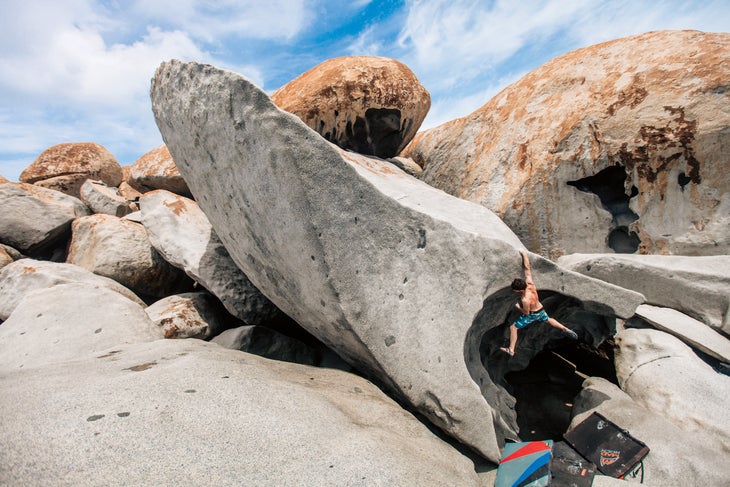 Climber: Jimmy Webb
Route: Walk the Plank (V4)
Location: Virgin Gorda, British Virgin Islands
For the last decade, climbers have traveled to the island of Virgin Gorda to trade frigid winter weather for moderate boulders on the beach, bathwater-like Caribbean seas, and laid-back island life. But in spring 2015, highball hardmen Jimmy Webb and Matt Gentile traveled to the third-largest island in the British Virgin Islands to explore new rock. The duo put up several new problems, ranging from V-easy slabs to a 50-foot boulder that starts with sculpted jugs in a roof and ends in a vertical 5.12 finger crack—all over a no-fall zone. Here, Webb ticks a sideways dyno that had eluded previous climbing visitors. Photographer Julie Ellison says of the area, "Take the giant egg boulders of the Buttermilks and pile them all up in one spot. A lot of it isn't climbable because of the landings, but the parts that are—one in a million!"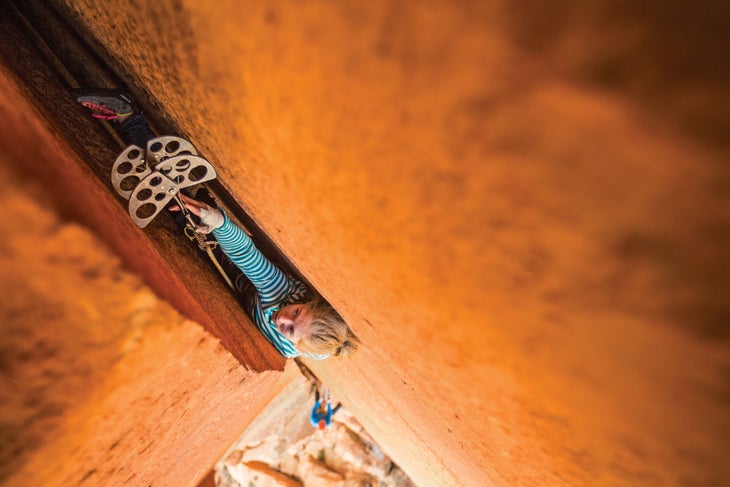 Climber: Ashley Cracroft
Route: Bigg's Crack (5.12)
Location: Canaan Mountain Wilderness, Utah
With long, hot approaches and Zion National Park as its neighbor just to the north, the Canaan Mountain Wilderness sees very little traffic, but 44,000 acres of wilderness speckled with tall vertical cliffs of Navajo sandstone mean the spot has potential to be a climber's paradise. While this area might not be immediately familiar, you might have seen it before, as this particular route, Bigg's Crack, ascends the rock feature that was showcased on the cover of famed climbing writer Jon Krakauer's book Under the Banner of Heaven, which chronicles the lives of the fundamentalist Mormons who live near the wilderness area. In fall 2014, Jordon Griffler, Pete Takeda, and Steve Biggs got the first ascent of this blue-collar offwidth after several weeks of work.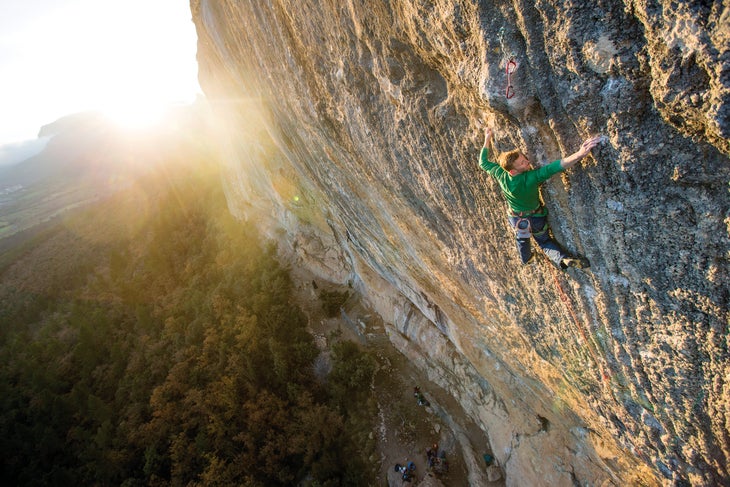 Climber: Jakob Schubert
Route: Marroncita (5.13d/8b)
Location: Oliana, Spain
Austrian powerhouse Jakob Schubert might only be 24 years old, but he's been climbing half his life and dominating on the international competition scene for most of that time. Winning his first Lead World Cup in 2009 in the Czech Republic, he set a world record in 2011 by winning seven consecutive Lead World Cups. Prior to that he was crowned Youth World Champion three times. He's no stranger to crushing outside, either, as he's one of the very few climbers who's ticked the grade of 5.15b/9b, nabbing the third ascent of Fight or Flight in Oliana, Spain, which he sent on his 24th birthday. Other notable ticks include Papichulo (5.15a/9a+), also in Oliana, and an onsight of Aitzol (5.14b/8c) in Margalef, Spain. His bouldering resume is equally impressive with the first repeat of Bügeleisen Sit (V15/8c) in his home country of Austria, a line put up by Nalle Hukkataival, who called it one of the hardest problems he'd ever done.