Photo Gallery: Onsight—5 Climbing Photo Highlights (June 2019 Edition)
Heading out the door? Read this article on the new Outside+ app available now on iOS devices for members! Download the app.
Photo Gallery: 5 Standout Climbing Photos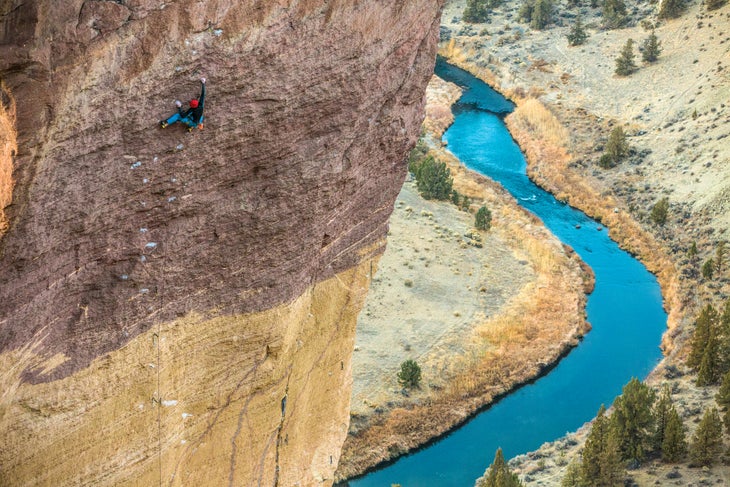 "You have to make so many fast decisions, right at the moment," says Adam Ondra of his November 2018 onsight of Just Do It (5.14c) at Smith Rock, Oregon, as he narrates video footage of his ascent. Jean-Baptiste Tribout FA'ed America's first 5.14c, this 140-foot stamina testpiece on the east face of Monkey Face, in 1992 (Alan Watts had bolted the line a few years prior). To prepare, Ondra warmed up to the Smith style by onsighting Scarface (5.14a), White Wedding (5.14a), and Bad Man (5.14a) and by sending Drew Ruana's Assassin (5.14d)—Smith's most difficult pitch—on his second try. Ondra's latest tour of the States included a close onsight-in-a-day effort on Yosemite's Salathé Wall
(VI 5.13b) as well as a trip to Indian Creek where he redpointed the notorious offwidth Bellyful of Bad Berries (5.13a) and onsighted Concepion (5.13b). "In any kind of onsight climbing, you have to be willing to commit," Ondra says in the video. "You have to be willing to go into a move that is low percentage and not hesitate for too long."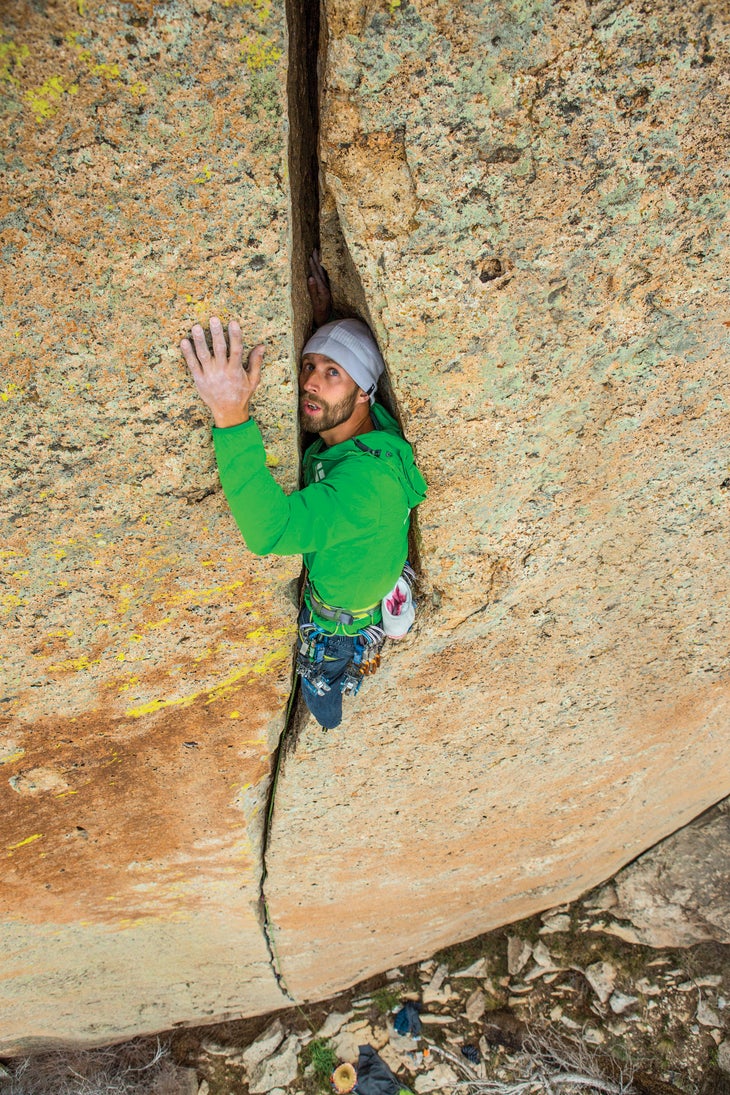 Fingers, hands, fists, a body- length of offwidth, and an adventurous feel make up Wide Crack, a 150-foot splitter at Cinco de Mayo at the Horn in the Henry Mountains, here climbed by Peter Vintoniv. "It's an old-school zone with hard climbing," says the photographer Andrew Burr, who has shot the southeastern Utah location a few times over the years. "The sport climbing is bold and sandbagged, and the trad routes are stiff." The rarely advertised area contains some of Utah's best climbing, with a plethora of boulder problems, dozens of sport routes in the 5.12–5.13 range, and tons of splitter cracks on bullet diorite, all deep in the remote high desert.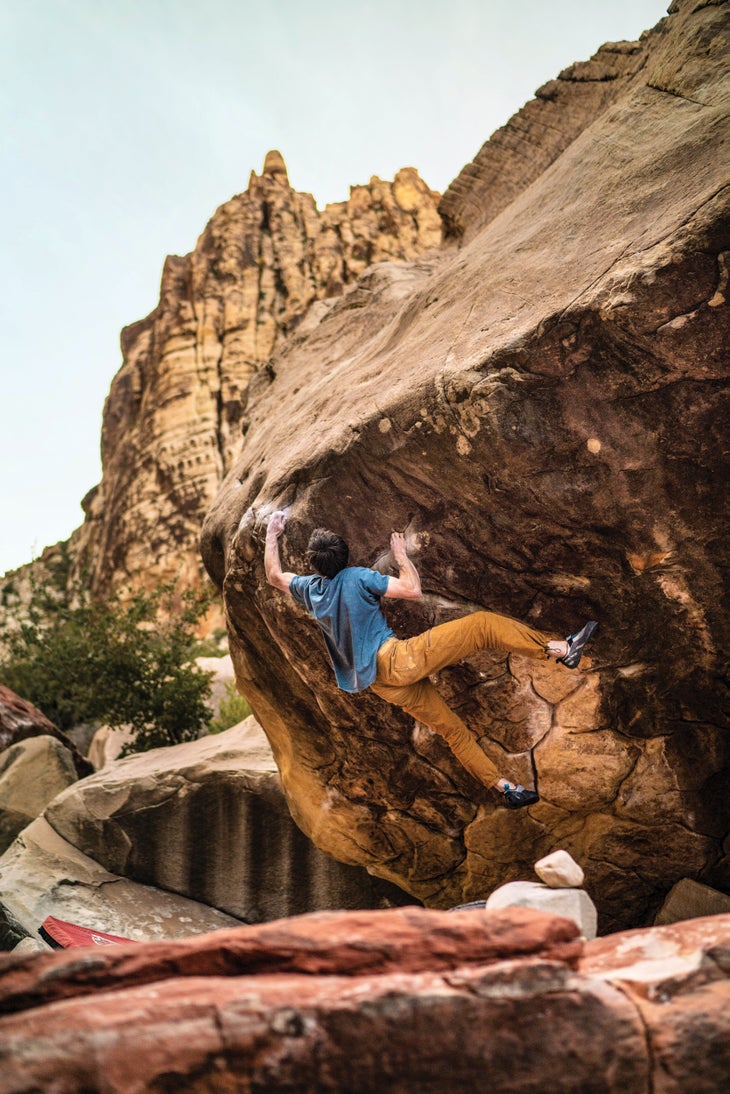 In mid-December 2018, Jimmy Webb FA'ed the 11-move Sleepwalker (V16) in Las Vegas's Black Velvet Canyon, giving America its fifth problem at the grade. "You're trying so damn hard on each individual move that [you] feel like your brain can't process what's going on," says Webb. Sleepwalker, on the iconic Wet Dream Boulder, begins matched on an undercling and slaps up a jigsaw-cut face before hitting a sloper—and then finishing with an overhead toe hook and match on a hueco. "The amazing jigsaw pattern sweeping out a 45-degree wall is not something you see every day," says Webb. Daniel Woods repeated the problem shortly after Webb's ascent; in late January 2019, Nalle Hukkataival, who'd first attempted the problem, finished it as well. The climb represents a push in standards for Webb, one of the world's strongest boulderers. "Sleepwalker has taught me a lot in my climbing, and now going forward I realize and am confident that I can push it further," he says.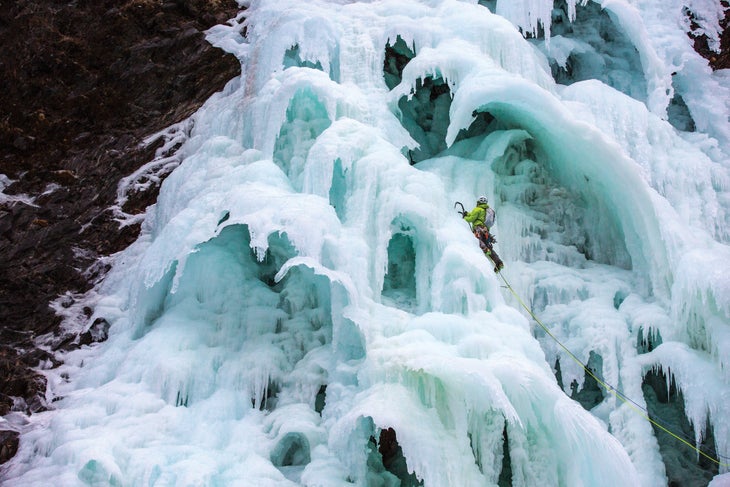 Dustin Eroh on the ethereal wind bells of Hung Jury (WI4), Keystone Canyon, Valdez, Alaska.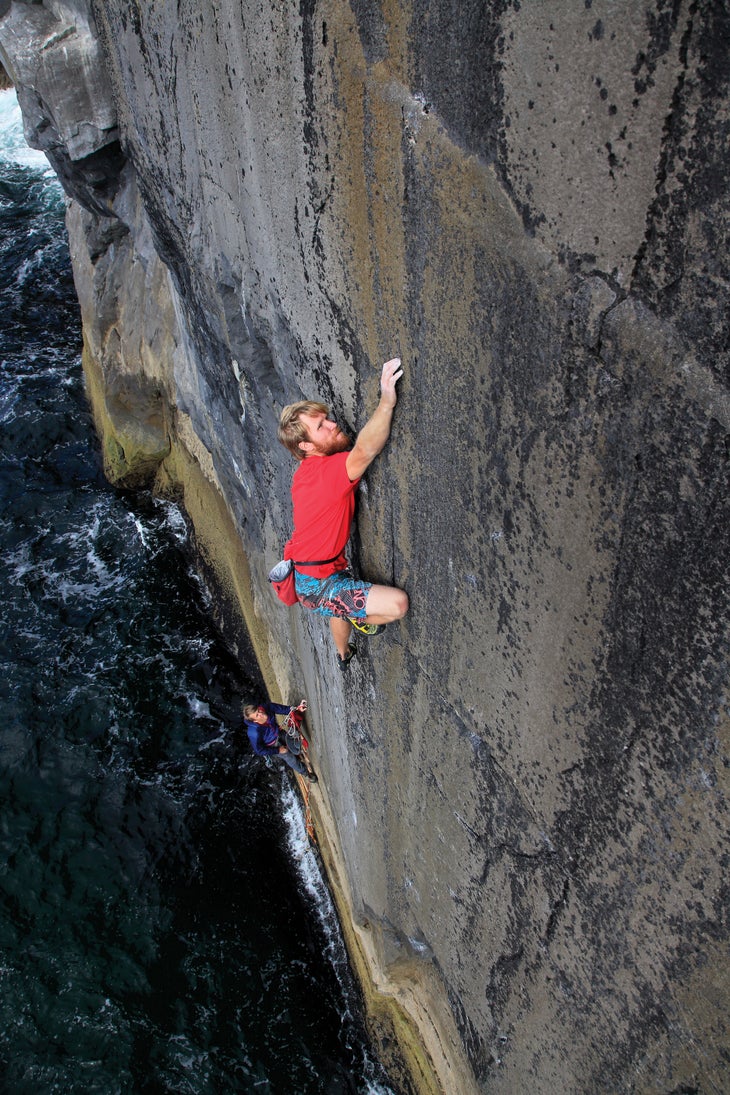 Sam Hamer deep-water soloing Bing Crozzly (5.12d) at An Falla Uaigneach (The Lonely Wall, The Burren, Ireland.
Note: Captions can be hidden, and click any photo to view the full-size version.
Five photo highlights from past issues of Climbing Magazine, including Adam Ondra's Just Do It (5.14c) onsight, Jimmy Webb's Sleepwalker (V16) repeat, and more.
Related: