Photo Gallery: Onsight—6 Photo Highlights From 2018
Heading out the door? Read this article on the new Outside+ app available now on iOS devices for members! Download the app.
Photo Gallery: 6 Standout Climbing Photos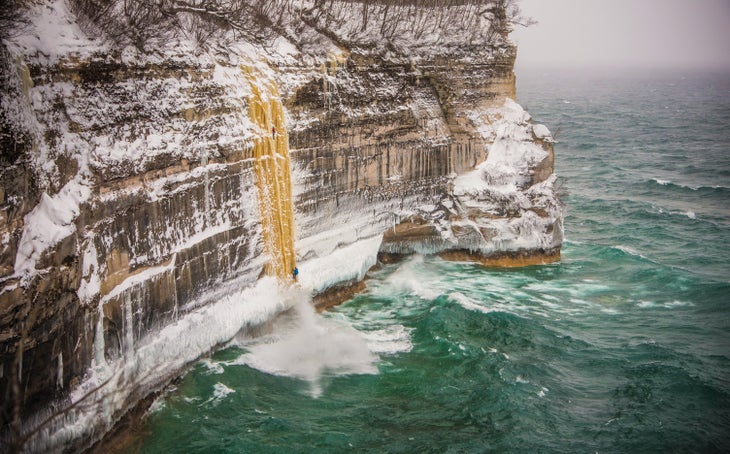 Climbers: Jon Jugenheimer and Colten Moore
Route: HMR (WI5)
First Ascent: Paul Kuenn
Location: Pictured Rocks National Lakeshore, Lake Superior, Michigan


Imagine rapping an icefall, the 10-foot waves of Lake Superior booming below. With the water at 33 F and a long swim to the nearest beach, your only way out is up. This was what Midwest hardmen Jon Jugenheimer and Colten Moore faced in January 2016 on the 200-foot HMR, short for Help Me, Rhonda. The route was originally ascended by Wisconsin native Paul Kuenn, who, says the photographer Aaron Peterson, "climbed damn near everything in the area in the 1980s and 1990s without naming or recording anything." As lore has it, Kuenn and partner climbed the flow off a frozen lake, naming it Singing in the Rain for a storm that caught them on the open ice. Years later, a Michigan Ice Fest staffer made what he thought was the FA (the route had been recorded in Jugenheimer's guidebook as "Unclimbed??"), naming it Help Me, Rhonda after an older festival attendee. Informed of this, Kuenn said he was good with the new name, and it's stuck. Fortunately for Jugenheimer and Moore, no waves broke over them that day—save one rogue monster that doused Moore's crampons.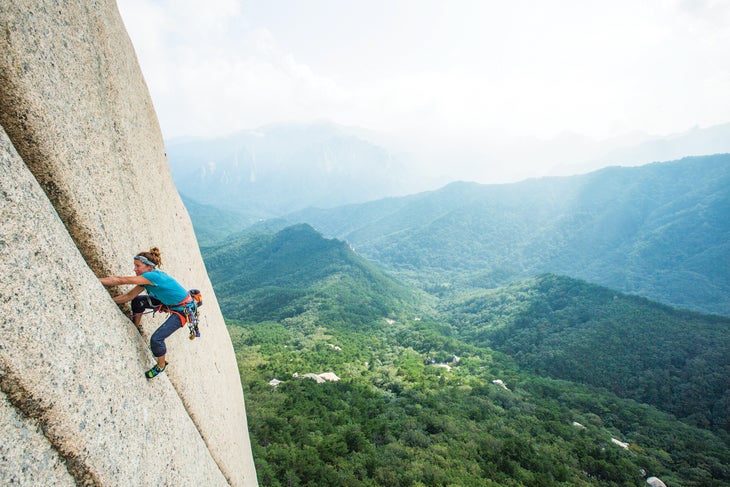 Climber: Brittany Griffith
Route: Unnamed
Location: Ulsanbawi, Seoraksan National Park, South Korea


In September 2015, Brittany Griffith jammed up the Mesozoic granite and granodiorite of Ulsanbawi, a series of six granite peaks 2.5 miles in width in Seoraksan National Park, the Yosemite of South Korea. Here, in the northern portion of the Taebaek Mountain Range on the northeast coast of the country, the routes are lonnng: One popular outing is Nadeurigil, a 30-pitch 5.9 R that traverses over and around Ulsanbawi's rock faces. Griffith neared the anchors on a 120-foot route that locals believed hadn't seen a free ascent. The splitter glory meant excellent, consistent jamming; it also meant using the same-sized gear for the entirety of the hands-to-fingers pitch. "I ran out of gear, and had to lower and back-clean," Griffith says of almost getting the first ascent. "It was only like 5.11a." The route is still awaiting a proper FA—bring jamming skills and lots of cams!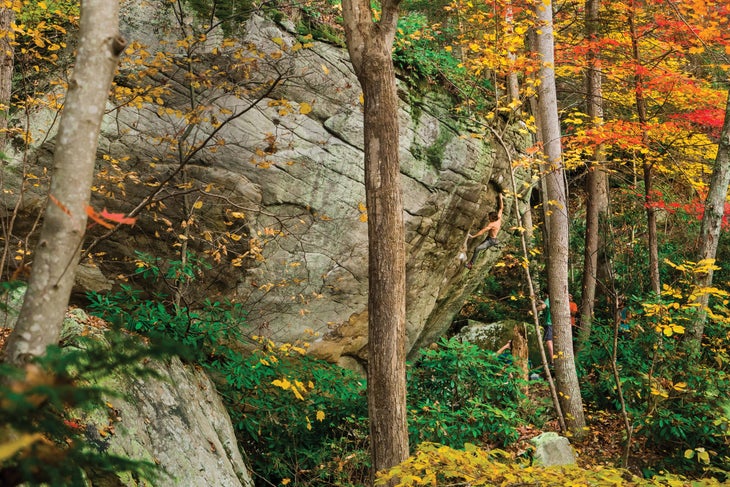 Climber: Daniel Woods
Route: Get Rich or Die Trying (V11)
First Ascent:  Jimmy Webb
Location: Fern Creek, Fayetteville, West Virginia


In November 2017, the New River Alliance of Climbers (NRAC) held the New River Boulder Bounty, a unique competition in which climbers vied for the first ascent of eight sponsored projects and $8,000. The Bounty attracted 20 strong climbers who competed on problems from V11 to an estimated V15. Most bounties went directly into Jimmy Webb's bank account, as the Southerner finished five new problems, though James Pearson also earned some cash by firing a 30-foot highball he called Dirty Money (V11/12). The unclaimed bounties went to NRAC, which organized the event to help raise awareness of the plentiful bouldering (1,200 problems and counting) in the area's riverbeds. "That's the tip of the iceberg," says New River Bouldering guidebook author and event organizer Micah Klinger. This photo shows Daniel Woods on the Butora Climbing project that became Get Rich or Die Trying (V11), a Webb FA topped out via a terrifying, mud-soaked mantel that prompted his spotters to ask, "What would you do for $1,000?"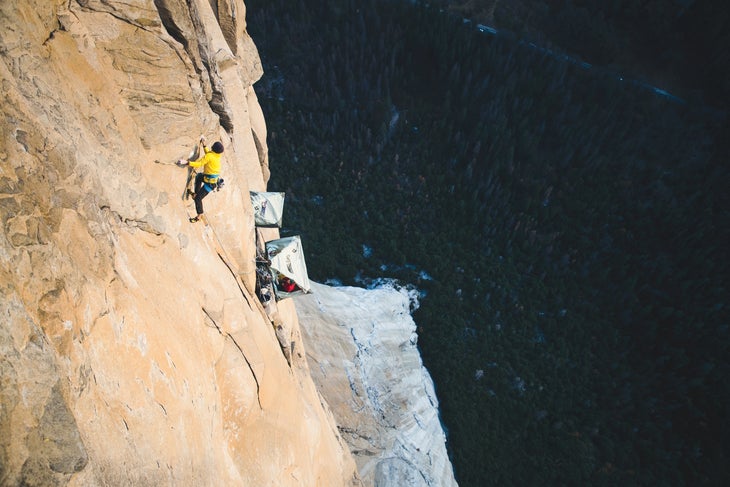 Climbers: Barbara Zangerl and Jacopo Larcher
Route: Magic Mushroom (VI 5.14a)
First Ascent: Steve Sutton and Hugh Burton, 1972
First Free Ascent: Tommy Caldwell and Justen Sjong, 2008 
Location: El Capitan, Yosemite National Park, California


In December 2017, the Italian Jacopo Larcher and the Austrian Barbara Zangerl completed the second free ascent of El Capitan's 2,900-foot Magic Mushroom. The pair spent more than 30 days on the wall. "The goal was to climb ground-up first," says Zangerl. "On the way up [using free and aid], we worked on single pitches. But also after, we went back to work more on the different pitches." Tommy Caldwell and Justen Sjong freed the 28-pitch line in May 2008, climbing a dozen pitches of 5.13–5.14 and nine of 5.12. For Larcher, the crux came on pitch 20, a 100-foot flared dihedral that could be 5.14. "There are no footholds, and it's quite narrow in some spots," says Larcher, shown here on P25 (5.13c). "It's super pumpy for the legs." For Zangerl, the crux was the last 5.14a pitch, a steep finger crack near the top. After falling on the last move twice, Zangerl worked out new beta. "I pressed my head against the left side of the crack, for balance. Then I could place my left foot high and the crux felt way easier," she says. Apparently, the pitch was "heads-up." All told, the climbers spent 11 days on their final free push.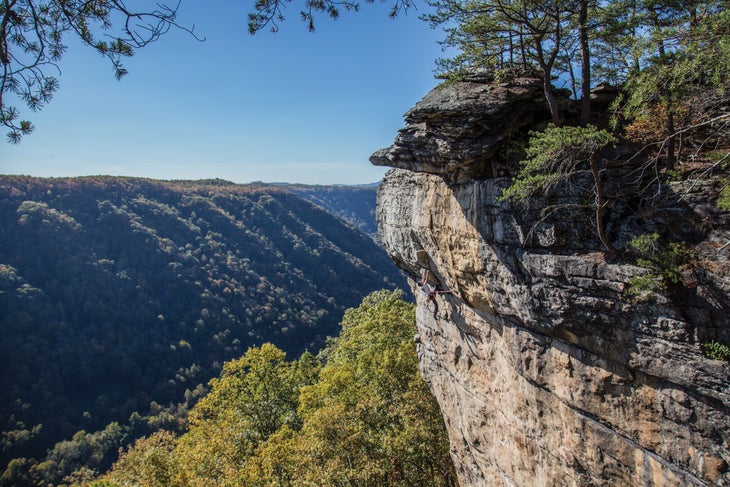 Climber: Ben Hanna
Route: Coal Train (5.14a)
First Ascent: Michael Williams
Location: Beauty Mountain, New River Gorge, West Virginia


As anyone who's climbed at the New can testify, it's the world's best rock with the world's wettest weather—so you're often racing the clock. The Santa Fe, New Mexico, climber Ben Hanna, 19, used an approaching storm last October to motivate him, in a 24-hour period making his first-ever 5.14 flash, redpointing another 5.14, and taking down two 5.13s first try. On the afternoon of October 27, Hanna fired the venerable Doug Reed testpiece The Racist (5.13b/c) at the Endless Wall, for his hardest flash to date. "Exhausted" but still game, he then took down his new hardest flash, Proper Soul (5.14a) at the Cirque. Surprised to have fired the crux, he battled a massive pump, finding a no-hands kneebar at the last bolt and eyeing the exit. Hanna threw to a slopey edge and found himself stuck: "I frantically slapped at non-holds to keep myself on," he recalls, clipping the chains as his fingers opened. The next morning, Hanna redpointed Coal Train (5.14a) at Beauty Mountain and onsighted Pod (5.13b) at Summersville Lake. Hanna climbed the routes in his trademark aggressive flow, jumping for holds where other climbers might lock off, going a muerte. See page 22 for a Portrait of this up-and-coming climber.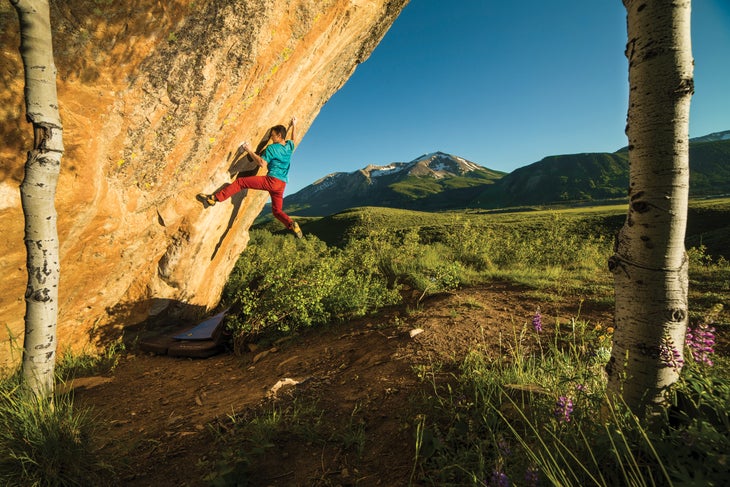 Climber: Sebastian Infantes
Route: Shuhari (V13)
First Ascent: Will Anglin
Location: Skyland, Crested Butte, Colorado


Skyland, near Crested Butte, Colorado, is bouldering heaven: a tumble of giant volcanic blocks so fused they look like granite. Joint Rock is the showcase boulder, sitting at the edge of an aspen grove with a high, striking, radically overhanging north face. Beelining up the right-center of the face is Shuhari, put up by Will Anglin in October 2015 after eight years of on-and-off effort. Wicked compression leads to heel- and toe-hooking jessery on opposing pinches then big punches to flat holds before the climb moves right to join the arête of Filth Pig (V6). Here, Sebastian Infantes moves into the business. "Sebastian, with a valiant try, could not take down the crux," writes the photographer Coleman Becker. "But he gets closer after each attempt."
Note: Click any photo to view the full-size version.
Six photo highlights from the past year of Climbing Magazine, including Daniel Woods, Barbara Zangerl, Jimmy Webb, and more.
Related: