Photo Gallery: The Films of Reel Rock 12
Heading out the door? Read this article on the new Outside+ app available now on iOS devices for members! Download the app.
Photo Gallery: The Films of Reel Rock 12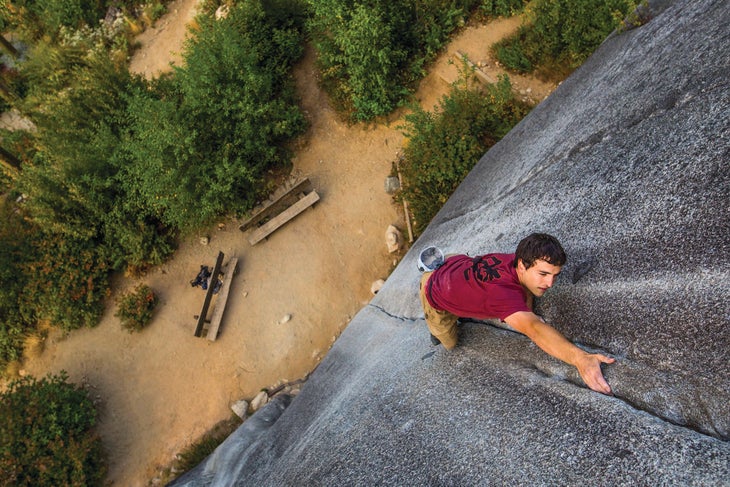 Climber: Brad Gobright
Route: Crime of the Century (5.11b/c)
Location: Squamish, British Columbia
Film: Safety Third
With confectioner's sugar from his morning donut covering his face, 29-year-old Brad Gobright seems like an unlikely hero. The absentminded Gobright forgets his shorts, so he climbs Musta' Been High, a 5.13c R in Eldorado Canyon, in his boxers. Living out of his Civic and working as a busboy in Boulder, Colorado, Gobright spends his mental and physical energy pushing hard, dangerous climbing, often unroped. After surviving a back-breaking groundfall on Viceroy, a 5.14a R in Boulder Canyon, Gobright asks himself if he's willing to keep putting it on the line with his free soloing in Eldorado—feats like 25 solos of the Naked Edge (5.11); or the Doub-Griffith (5.11c/d), a thin, hyper-exposed face/arête—or if he'll hang up his soloing shoes before the stakes get too high.
Photo: Dan Krauss Climber: Maureen Beck
Route: Reefer Madness (5.11a)
Location: Clear Creek Canyon, Colorado
Film: Stumped
Before she climbs, Maureen Beck tapes up the soft skin of her left forearm. Born missing her left hand, Beck tapes up to avoid a bloody mess when competing in the adaptive category at the IFSC World Climbing Championships, at the Vail GoPro Mountain Games, and at the USA Paraclimbing World Cup. A New England native, she has climbed multi-pitch routes on Poke-O-Moonshine in the Adirondacks, Plumb Line (5.9+) at Vedauwoo, and the Cave Route (5.10+) in Indian Creek. Her stump fits cracks down to .75, but she's unsure how wide she can jam, which she might investigate after she ticks her latest goal: 5.12. After clocking out of her job for Eldorado Climbing Walls, Beck heads to the sport crags of Clear Creek Canyon, where she's hoping to become the first woman with one arm to climb the grade, changing the way people perceive climbers with disabilities. "I don't want to just be a good one-armed climber," says Beck. "I want to be a good climber." 
Photo: Cedar Wright Climber: Chris Sharma
Route: Alasha (unrated)
Location: Mallorca, Spain
Film: Above the Sea
Eleven years have passed since Chris Sharma showed how hard climbers could push it above the waves with his FA of the Mallorca sea arch Es Pontas (5.15a). Post–Es Pontas, Sharma set out to find the next big deep-water solo (DWS) on Mallorca. He'd swim along the northwest coast, scoping cliffline. One day, he swam out to where the water was deep and dark, into an "ominous place" where a tan-and-orange face tilted over the deep. This became his DWS project Alasha, completed in September 2016. Fun, flowing 5.12 leads to the crux 55 feet up, where the wall tips out. Working up into a sloping undercling rail and then pimping for micros, Sharma finally pulled through "12 moves of super-gnarly bouldering" (an estimated V13). It was a route he'd tried on and off for years. "There really is nothing like being on a huge wall just with your climbing shoes, your chalkbag, and dangling by your fingertips," says Sharma.
Photo: Adam Clark /Red Bull Media House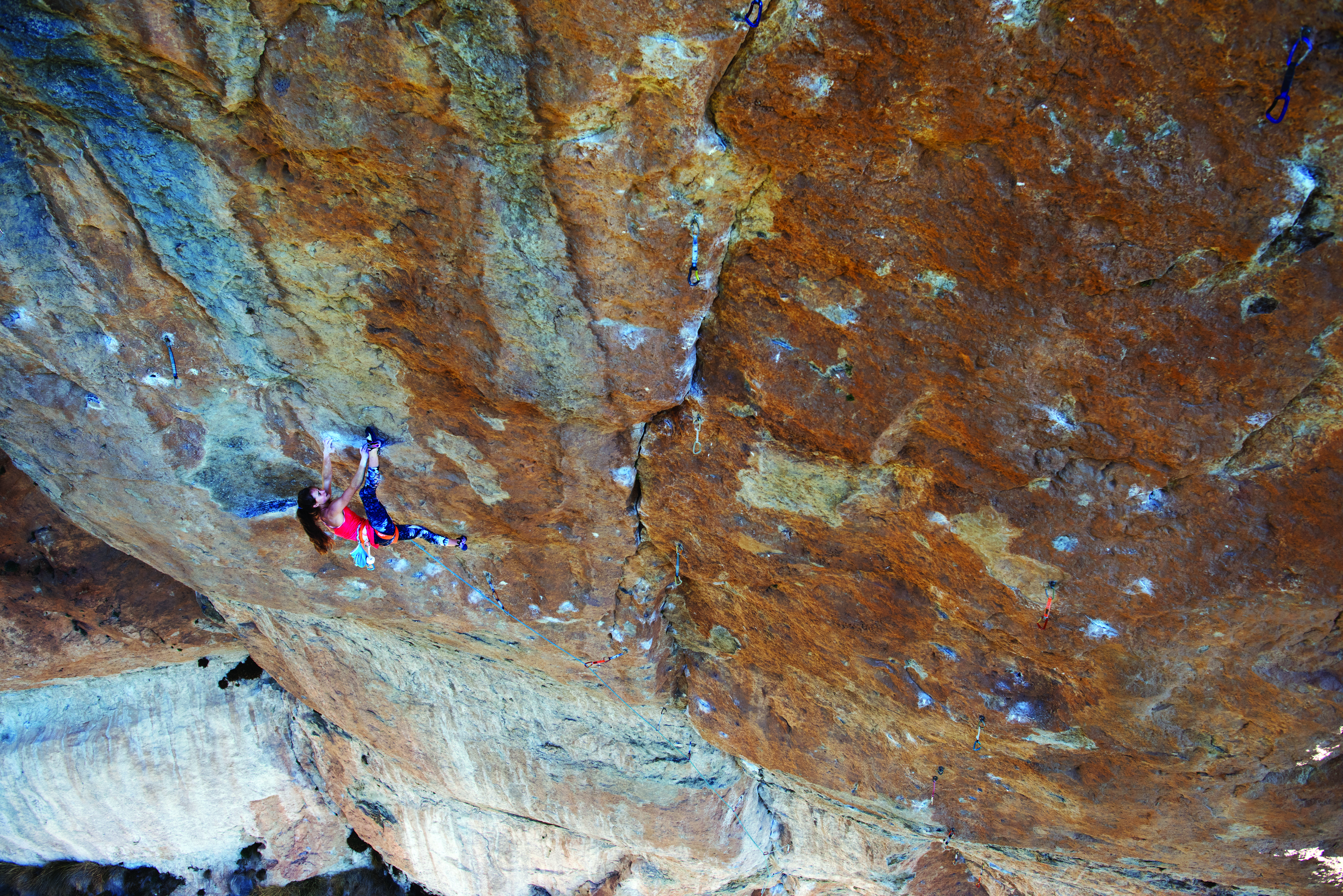 Climber: Margo Hayes
Route: La Rambla (5.15a)
Location: Siurana, Spain
Film: Break On Through
When the Basque climber Josune Bereziartu redpointed Bimbaluna (5.14d/15a) in Saint Loup, Switzerland, in May 2005, she set a high bar for women sport climbers—so high, in fact, that it would not be surpassed for another 12 years. On February 26, 2017, Colorado climber Margo Hayes, 19, redpointed La Rambla, a 45-meter benchmark 5.15a in Siurana, Spain. After checking out the climb and France's Realization, she settled on La Rambla as her 5.15 project—and became the first woman ever to climb the grade. Hayes's redpoint took only seven days, but her preparation leading up to it was methodical and substantial: Hayes made sure she was ready by climbing 14 5.14s in her eighteenth year, including an ascent of the 5.14d Bad Girls Club at Rifle. She also moved to Europe to train and climb, pushing hard to get ready, treading the razor's edge between success and burnout. While Hayes's journey was epic, it has cemented her role as one of the best climbers—male or female—in history, with more to come.
Photo: Greg Mionske
This November, the REEL ROCK Film Tour returned better and bolder than ever, with four new films celebrating the best of our climbing community. From the irrepressible tradster and soloist Brad Gobright going for it madly, to paraclimber Maureen Beck pushing 5.12, to Chris Sharma's hardest deep-water solo yet, to Margo Hayes's ascent of 5.15, RR12 has it all. Check out reelrocktour.com for the showing nearest you.