Photo Gallery: The Nose Speed Record, Anak Verhoeven's 5.15a FA, and More
This story originally appeared in the December/January 2018 issue of our print edition.
Heading out the door? Read this article on the new Outside+ app available now on iOS devices for members! Download the app.
Photo Gallery: The Nose Speed Record, Anak Verhoeven's 5.15a FA, and More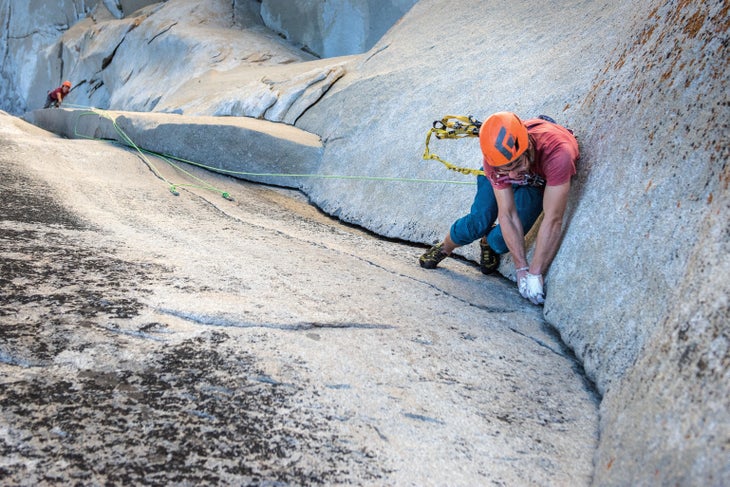 Climbers: Jim Reynolds and Brad Gobright
Route: The Nose (VI 5.8 C2)
First ascent: Warren Harding, Wayne Merry, George Whitmore
Location: El Capitan, Yosemite National Park, California
At 6:50 a.m. on October 21, 2017, Jim Reynolds hit the stopwatch as he and Brad Gobright surged up the Nose of El Capitan, with 8 cams from .3 to 2 inches, 11 draws, and 14 carabiners. Gobright, a 29-year-old pro climber from Orange County, CA, and Reynolds, a 24-year-old Trinity County, CA, native and YOSAR member, were on the climb for the eleventh time this autumn, vying for the speed record. They topped out in 2:19:44, setting the record and beating Alex Honnold and Hans Florine's June 22, 2012, time of 2:23:46. "The last three pitches were super exciting," says Gobright of their sprint to the summit. (This photo shows them on pitch 26, 5.10d, nearing the home stretch.) They could hear hooting and hollering from the meadow below. "It's a different type of challenge than chasing hard grades," says Gobright. "It's a big teamwork thing. If one person screws up, it affects the other."
Photo: Drew Smith
Climbers: Inge Perkins and Hayden Kennedy
Route: The Strawberry Roan (5.13c)
Location: Wild Iris, Wyoming
On Saturday October 7, 23-year-old climber and Montana State University math student Inge Perkins and 27-year-old alpinist Hayden Kennedy skinned up the north couloir of Imp Peak (11,202 feet) in the southern Madison Range near their home in Bozeman, Montana. They triggered a 1- to 2-foot-deep, 150-foot-wide, and 300-foot-long avalanche. The snow fully buried Perkins and partially buried Kennedy, who dug himself out. After failing to find Perkins in the snow, and overcome with grief, Kennedy took his own life. Gallatin County Search and Rescue found Perkins the following day with instructions that Kennedy had left. Perkins was an accomplished Randonée (ski-mountaineering) athlete, winning competitions in that sport as well as in bouldering and deep-water soloing. Beyond being a highly accomplished rock climber, Kennedy was regarded as one of the top alpinists in the world after ascents of the East Face of K7 (22,749 feet) and the South Face of the Ogre (23,901 feet) in the Karakoram. "I've realized something painful. It's not just the memorable summits and crux moves that are fleeting. Friends and climbing partners are fleeting, too," Kennedy wrote in a recent article at EveningSends.com. "This is the painful reality of our sport, and I'm unsure what to make of it. Climbing is either a beautiful gift or a curse." (See Remembering Hayden Kennedy and Inge Perkins for more.)
Photo: Andrew Burr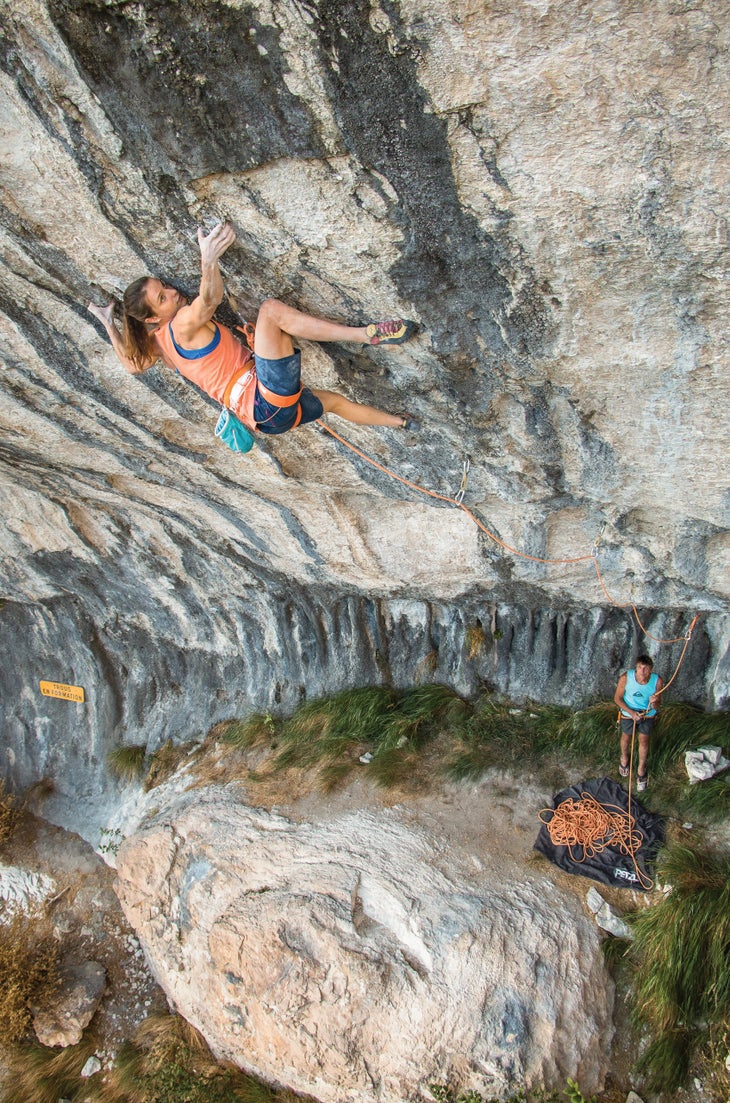 Climber: Anak Verhoeven
Route: Sweet Neuf (5.15a)
First ascent: Anak Verhoeven
Location: Pierrot Beach, France
On September 6, 21-year-old Anak Verhoeven reached the anchors on Sang Neuf (5.14d), a 50-foot line of limestone tufas, pockets, and pinches at Pierrot Beach in France, bolted by Quentin Chastagnier two years previously. The 15-time lead climbing World Cup medalist had already sent the line two days earlier for its first ascent. Now, from a small kneebar rest at the anchors, she stared up at the wall above, namely the 80-foot extension of Home Sweet Home (5.14c), a series of deadpoints on crimps and pockets. The Belgian climber pushed onward, making the first ascent of Sweet Neuf (5.15a), the hardest first ascent by a woman. (Watch the video here.) With a résumé of 27 5.14a and harder routes, including La Reina Mora (5.14c/d) in Siurana and Era Vella (5.14c/d) in Margalef, Verhoeven added to the legacy of female climbers with her ascent. "I was very happy when I clipped the chains!" she says.
Photo: Sebastien Richard
Three newsworthy climbing photos: Brad Gobright and Jim Reynolds new Nose speed record, a tribute to Hayden Kennedy and Inge Perkins, and Anak Verhoeven's 5.15a FA.