Unpublished Climbing Photo Spotlight: Jeremiah Watt
Heading out the door? Read this article on the new Outside+ app available now on iOS devices for members! Download the app.
This story originally appeared in the July 2015 issue of our print edition.
A marketing internship with an international adventure travel company led this Salt Lake City–based photographer to his current career path. "I lived and worked with guides who were psyched, all making a decent living, and doing the very things daily I wanted for myself," he says. "I returned to school in South Dakota, dropped all my classes, and signed up for a black and white photography course." After 10 years of various seasonal gigs that maximized his rock and snow time, Jeremiah Watt went back to school for an MFA in photography and "jumped in with both feet." Now he travels at least 75% of the year to "anywhere with grand light and good people." His secret to being one of the best climbing photographers out there? "Leave before breakfast, return after dinner, and work on YOUR story."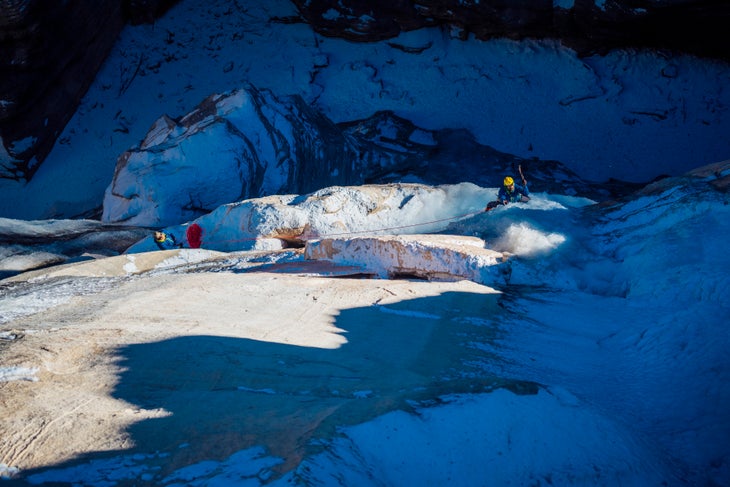 Climber: Scott Adamson and Matt Tuttle
Route: Divine Intervention (WI6)
Location: Zion National Park, Utah
On any given day, Zion is a magical place and a favorite of mine for shooting. Throw in ice and a few crazy climbers, and it's off the hook. We shot for two days, heading out early due to warming temps. Zion ice lasted about two days for the whole season, and thanks to Scott Adamson's persistence and planning, we nailed it before the rain fell and washed the frozen stuff away. On our first day shooting lower in the canyon, we noticed the light passing through the ice above and marked the time, hoping to grab a shot of the climber on the sunlit dagger the following morning. This image is Scott hustling to catch that ray of light, and for me, the climbers in this shaft of sunlight works even better than the intended take.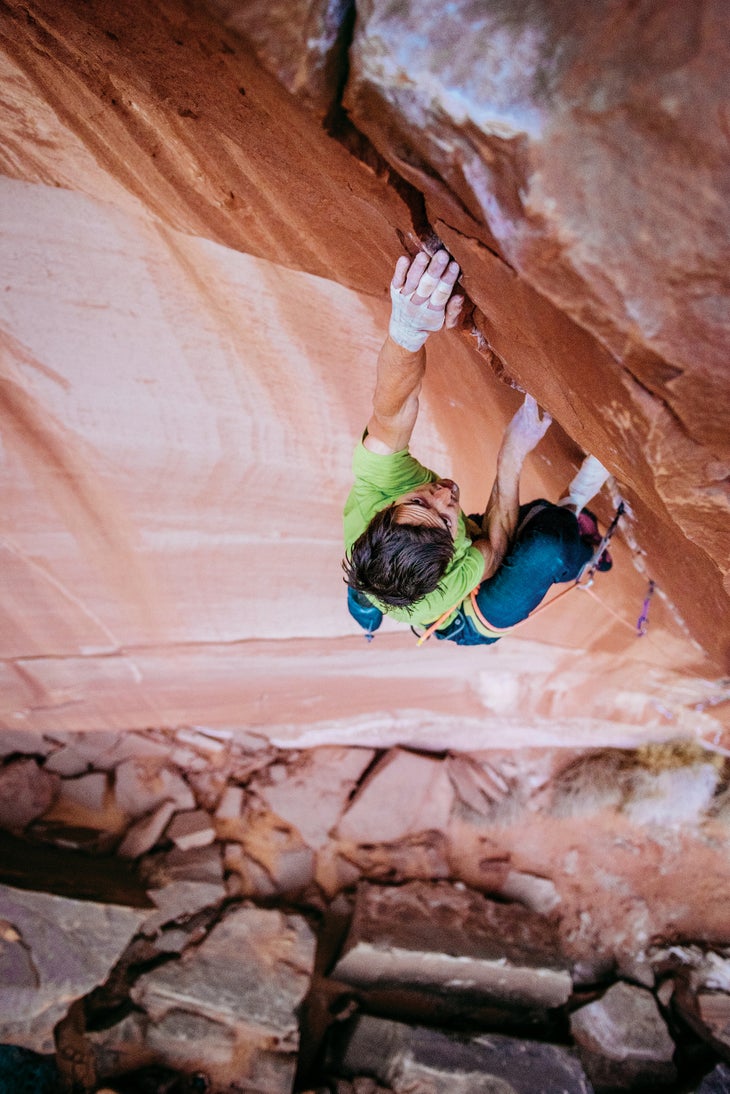 Climber: Mason Earle
Route: Bartlett Wash Project (5.14-)
Location: Moab, Utah
This shot of Mason Earle sending is just that—no posing, no rehearsal, a little luck, and a clean shot of the actual send on one of the hardest cracks on the planet. I'd love to say that all my photos are similar, but that just isn't true. Typically, the athlete and photographer work together to get shots before, after, or whenever, perhaps during the projecting or shortly after the send. I'd been pushing to shoot with him on this for a while, but to Mason's credit, he'd held off. On this day, I was only planning to get composition and aesthetics dialed. If I had any idea how smooth his send would be, I'd have had a second camera and my lines locked. I didn't know where the crux was and I missed a crucial campus move, but I'll take that rush of honesty over the polish of the pose-down any day.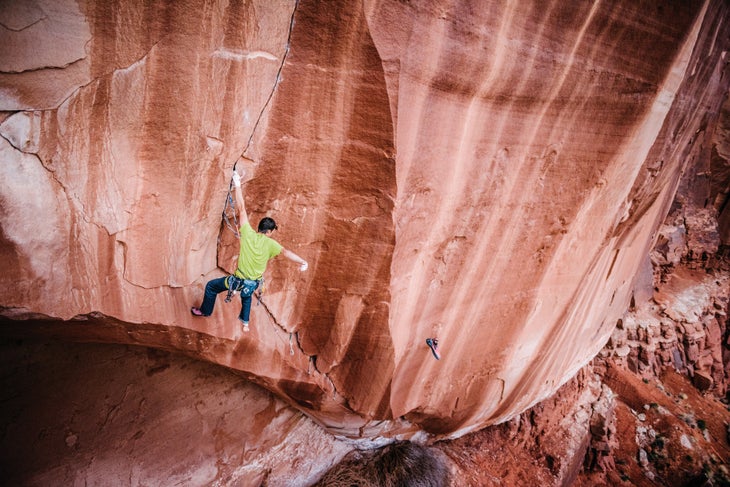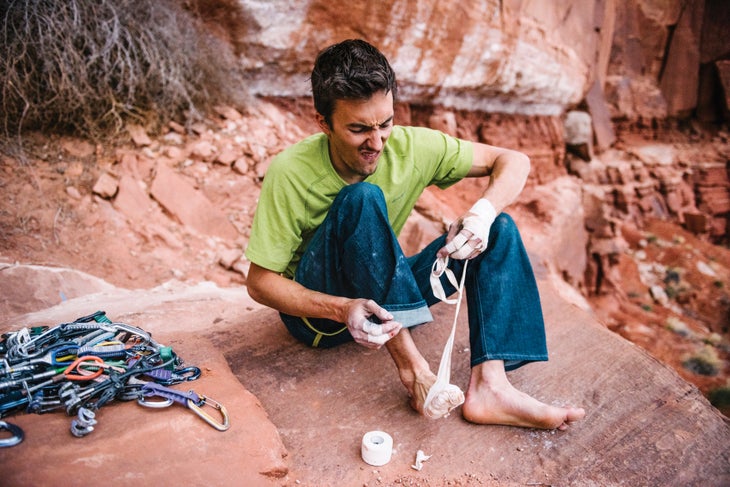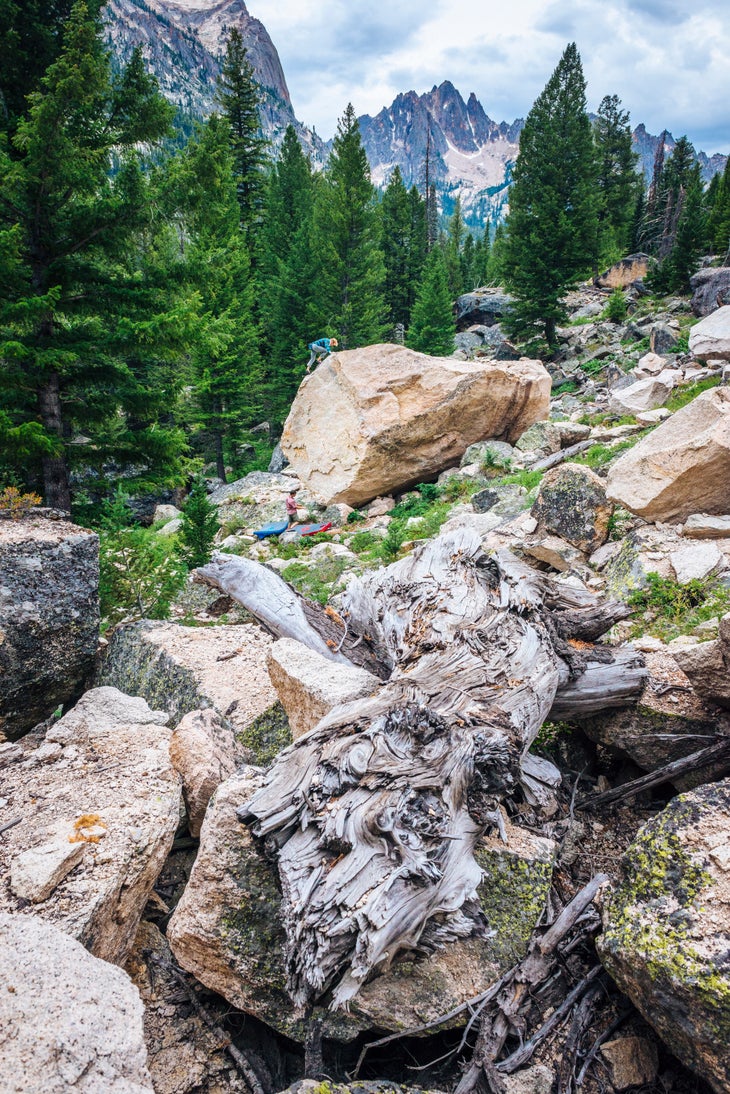 Climber: Justin Wood and Davey Jones
Route: Unnamed (V3)
Location: Sawtooths, Idaho
A few friends and I spent five days on Redfish Lake, bouldering in the alpine and climbing at Elephant's Perch. On the approach to the Perch a year before, I had walked through stunning highballs and looked for beta afterward. Turns out there's a number of established climbs with lots of room for more. Using first ascent potential as the hook, I proposed a week-long stay camping at the lake to utilize the boat ferry for transporting big fat pads, plentiful beverages, and trad gear for a little alpine holiday. Four of us descended upon the lake with nothing but a hearty appetite for cooler temps and solid rock. We explored the boulders, dodged a little rain, and sent the Original Beckey (5.11+) on the Perch.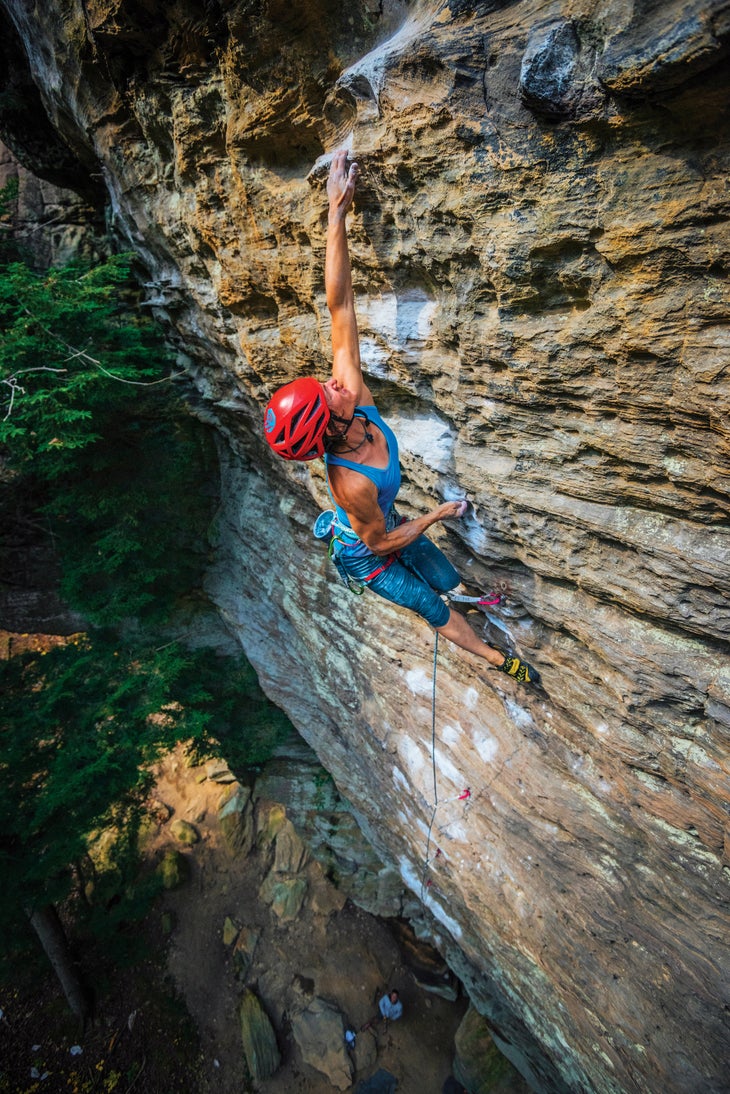 Climber: Dawn Glanc
Route: Big Money Grip (5.12b)
Location: Red River Gorge, Kentucky
Dawn Glanc, Erica Engle, and I spent a month on the road sampling the classic crags of the East in fall 2014. The Red was our final destination, and I really wanted a shot of the ladies on a must-do sport route with details of the incredible rock and a bit of the local landscape as a background. Dawn had been working this route Big Money Grip for a day or so, and on my last day there, we had great light breaking through staggered clouds, filtered by trees just beyond the climbing. Dawn was pushing so hard, just barely getting the distance for the big throw up high. Her excellent fitness was apparent, the try-hard was obvious, and there was just enough environment to create an interesting backstory. 
Website: jeremiahwattphotography.com
Instagram: @miahwatt
Further Reading:
Unpublished Photos From 3 Top Climbing Photographers