Sick of the heat? Check out These Five Alpine Bouldering Destinations
Is America's best bouldering is above 9,000 feet? Some of us think so. Here's what you need to know to hit the country's finest alpine areas.
Heading out the door? Read this article on the new Outside+ app available now on iOS devices for members! Download the app.
Boulderers are migratory. Spring finds us anxiously emerging from the gym to (fingers crossed) send projects we didn't manage to finish up before fall turned into winter. We explore all elevations and different regions of the country, chasing those perfect, friction-increasing dry and crisp conditions that make the rock feel like Velcro. Come summer, though, there is no chase. We know exactly where to go: It's alpine season.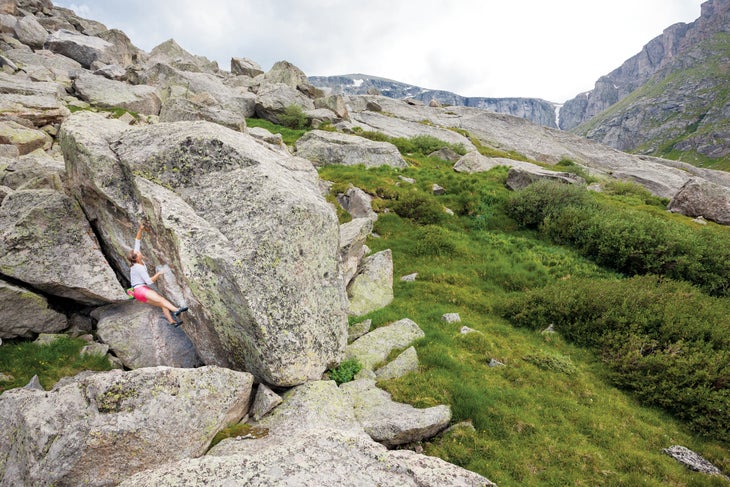 For some boulderers, the entire year is spent in preparation for summer alpine bouldering season. There is definitely something special and unique about bouldering in the high country: The flowers are brighter, the air is cleaner, the friction is stickier, the stone is (more often than not) high quality, and the scenery is always grander. Oftentimes you might find yourself spending more time taking photos in the meadows, on the trail, and in the talus than actually climbing. Oh well. There is enough sending to fuel a passion for climbing the rest of the year—and enough flailing to have plenty of projects to come back to.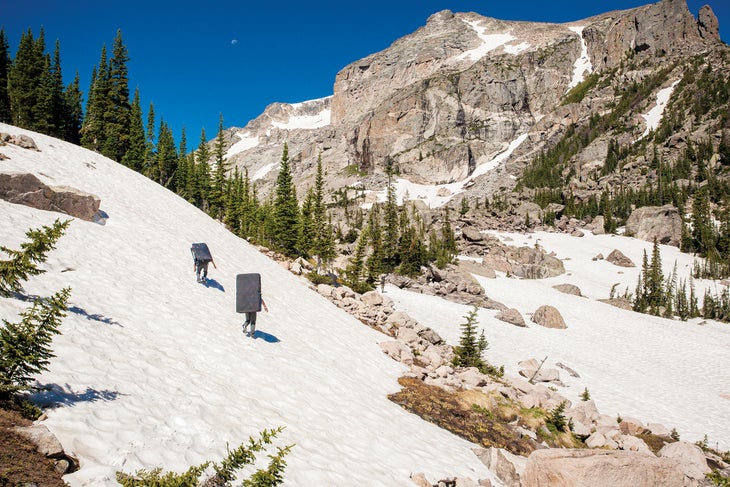 Alpine bouldering is solidifying itself as a real genre in the wider world of climbing. Try it, and you'll be hooked. Because each alpine bouldering area is a new world, it can be a lifelong pursuit. Whether it is the local community, the scenery, the type of rock, the style of climbing, or the weather patterns, each area stands alone. This sets the stage for adventure and experiencing something new every time you visit. Most alpine bouldering areas in the U.S. are relatively new, and every year new problems go up across the country. There is so much potential up there and so few people willing to hike that you can easily get a shot at a first ascent!
Massive Rockslide Destroys Classic Boulders in Rocky Mountain National Park
Whether you're a weekend warrior, living in your van, or simply someone who enjoys being outside, alpine bouldering has something for everyone. Add these spots to your summer tick list, and it's guaranteed that you'll have some of the most memorable climbing experiences of the year.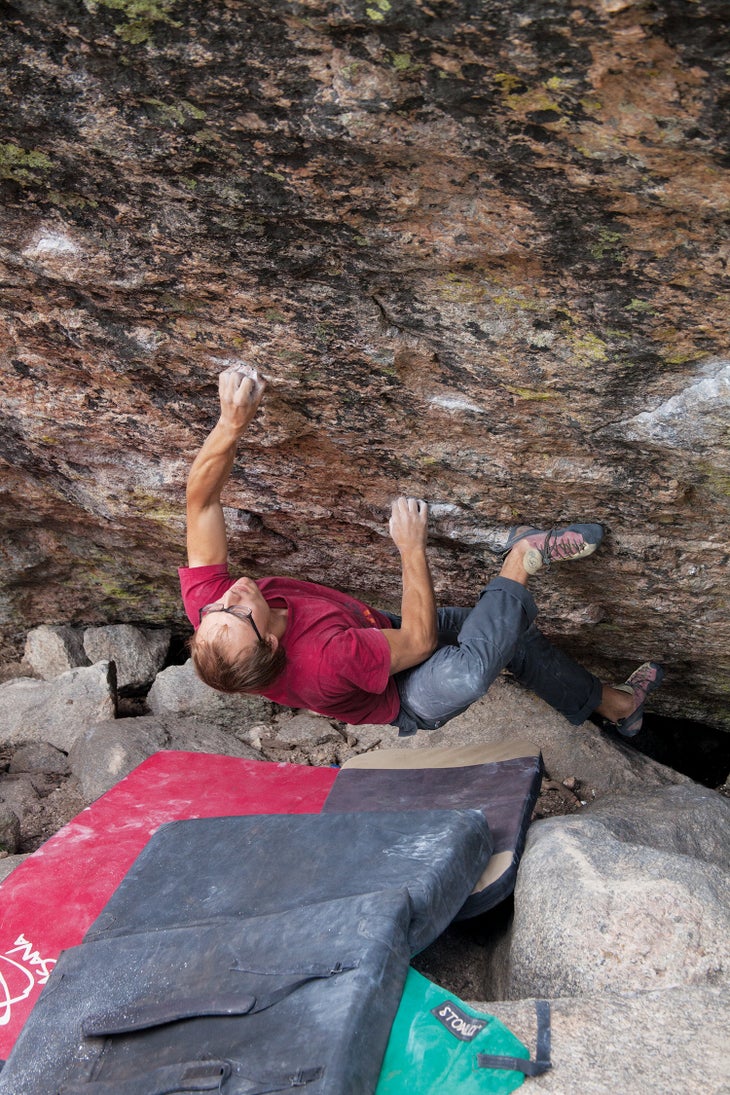 Rocky Mountain National Park, CO
Experience the most popular alpine bouldering area in the country.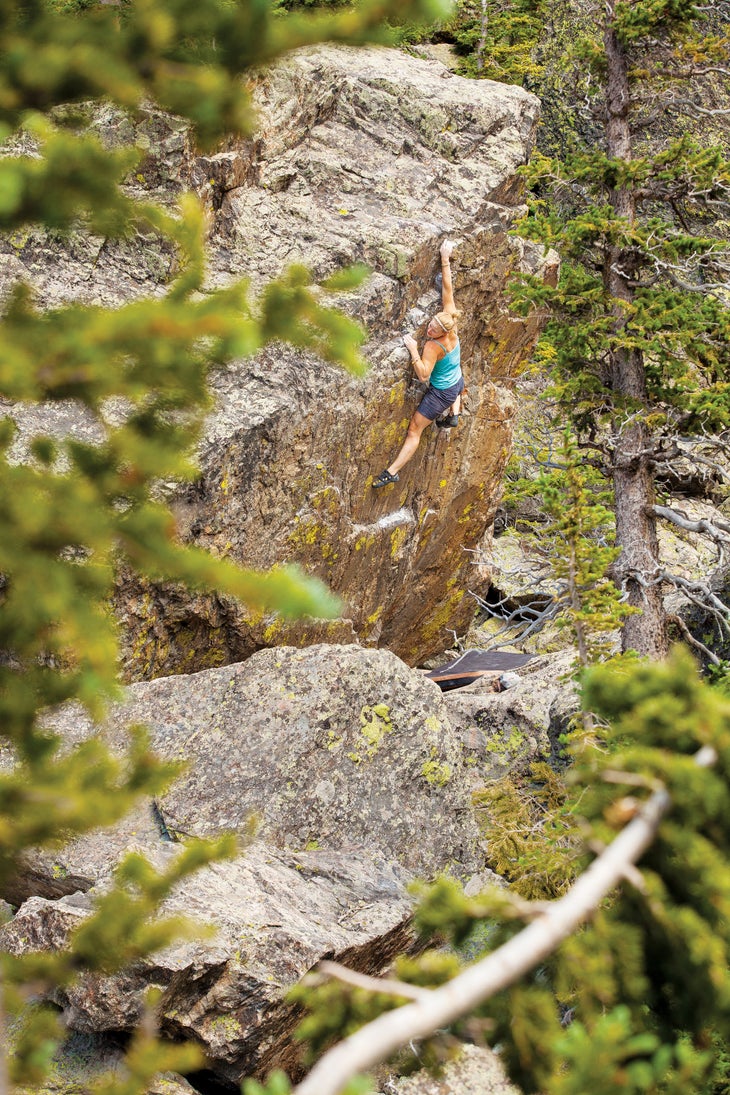 The Scene
Quality gneiss colored with splotches of green, yellow, black, and gray, a seemingly unlimited amount of development potential, breathtaking vistas of some of Rocky's most scenic peaks, hundreds of four-star boulder problems (of all grades), and a rich history all make this place one of the most visited summer climbing areas in North America. Can't-miss zones: the Bear Lake Road circuit, Emerald Lake, Moraine Park, and Lower and Upper Chaos Canyon.
The Approach 
To get to Emerald Lake and the Hallett Boulder, park at the Bear Lake parking lot (10 miles from the park entrance on CO 36). Take the Emerald Lake Trail (a paved path for most of the way), passing views of Glacier Gorge and Longs Peak. The 1.5-mile hike gains 605 feet, and the bouldering area sits at 10,080 feet. Targeting Chaos Canyon? Park at the same lot and take the Emerald Lake Trail until you reach a junction with the Lake Haiyaha Trail. Turn left and hike uphill through several switchbacks and river crossings. Eventually the trail will spit you out at the mouth of Chaos Canyon. Trend right for Lower Chaos; trend left for Upper.
Notable Problems at Emerald Lake
The Kind, (V5)
Rumored to be the best V5 in Colorado, this classic moves out a gentle overhang on absolutely perfect rock. The wall itself might even seem like it's changing colors as the sun moves across the open sky. An absolute must-do for all capable.
Tiger Stripes, (V7)
Fireball, (V10)
Whispers of Wisdom, (V10)
This beauty takes home the "most coveted V10 in Colorado" award. Everything about this problem is ideal. It's tall, steep, proud, aesthetic, hard as balls, and just plain fun. Not to mention you get the most spectacular view in all of RMNP from on top of this boulder. Whispers of Wisdom is the only line on the face and has a 25-foot slab for the finish to guard it from the faint of heart.
The Kind Traverse, (V11)
A butt-draggin' low-baller with two cruxes. To avoid rolling into a tree, a tight spot is essential on the second crux.
Storm Shadow, (V12)
Notable Problems in Chaos Canyon
Wyoming
Venture into the frontier of alpine bouldering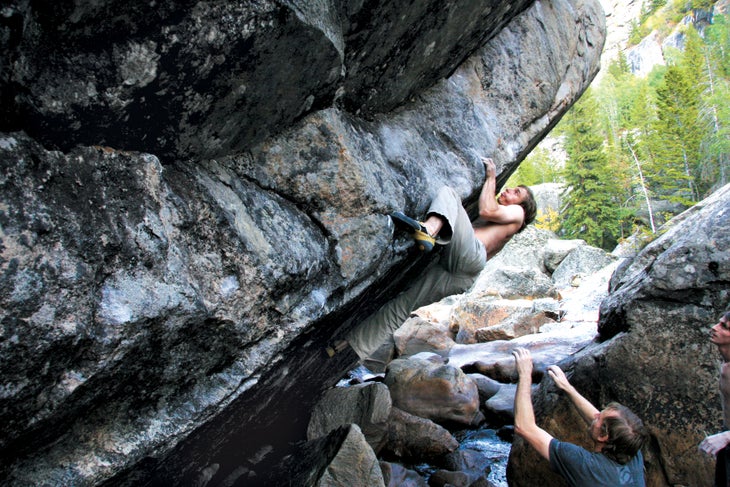 The Scene
The Wind Rivers, near Lander, Wyoming, and the Laramie Mountain Range, host some of the country's most underdeveloped and promising bouldering. Lander is home to roadside sandstone, alpine granite, and plenty of wilderness dolomite, and Laramie is just as diverse, with more rock than you could ever imagine. Local Davin Bagdonas says, "Developing new problems and areas is the driving force behind the climbing community here." If you have any interest in finding new rock, having areas to yourself, or first ascents, this is your spot.
The Approach
For Lander, see Bouldering in the Wind River Range, by David Lloyd and Ben Sears. For Laramie, visit wyomingbouldering.blogspot.com.
Notable Problems
Alca, (V5)
Crystalis, (V6)
Green Machine, (V6)
The Solitude, (V9)
Sometimes V9 can feel way harder than V10.
The Arkenstone, (V11)
A true finger-strength testpiece.
Never Cry Wolf, (V13)
Established in 2012, this problem (temporarily) holds the title of being the hardest problem in Wyoming.
Burst Rock, California
Visit the best-kept climber secret in the Sierra Nevada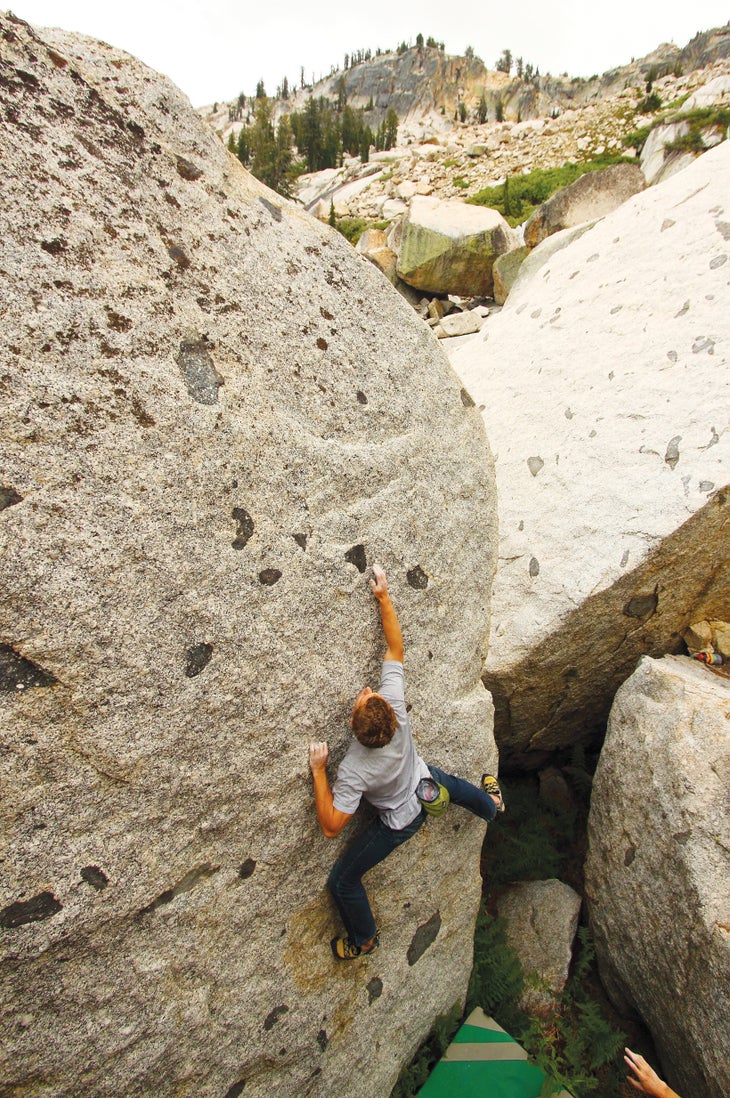 The Scene
Burst Rock, which sits at about 8,000 feet above sea level and an hour outside the town of Twain Harte in the Eastern Sierra, is on par with the world-class Colorado spots—with none of the people. Littered with towering granite blocks, this talus field has unimaginable potential with very few takers, despite locals encouraging development. The boulders are tall, and the landings are rocky and uneven. Bring your pads and some friends.
The Approach
You'll need two things: a vehicle with off-road capabilities and an affinity for hiking. Head east out of Twain Harte on CA 108 and after about 30 minutes, you'll hit the small town of Cold Springs and then Crab Tree Road. Turn right and drive for about 15 minutes (it will go from paved to dirt). Continue on this road until you arrive at the Gianelli Trailhead. Park here, hike for one mile until you hit a small wooden sign, and then hang a left to follow a climber's trail. When you arrive at the rim of the talus field, pick your poison and make your way down.
Notable Problems
The Ribbon, (V4)
Conversations with Marmot, (V7)
We Don't Need to Whisper, (V7)
The most obvious line in the whole canyon. You can see the lightning bolt feature that defines this highball boulder from the top of the canyon before you make the descent. Brute force won't get you to the top of this gem; you have to whisper.
Sweet Sixteen, (V8)
An amazing highball that ascends little edges up a perfect overhang. Bring the spotters and the pads!
Lexical Ambiguity,( V10)
Climb a perfect overhanging face on crimps and edges.
Skype, (V10)
Max Zolotukhin put this problem up in 2011 after it thwarted many attempts.
Leavenworth, Washington
Fatten your tick list in the climbing capital of the Northwest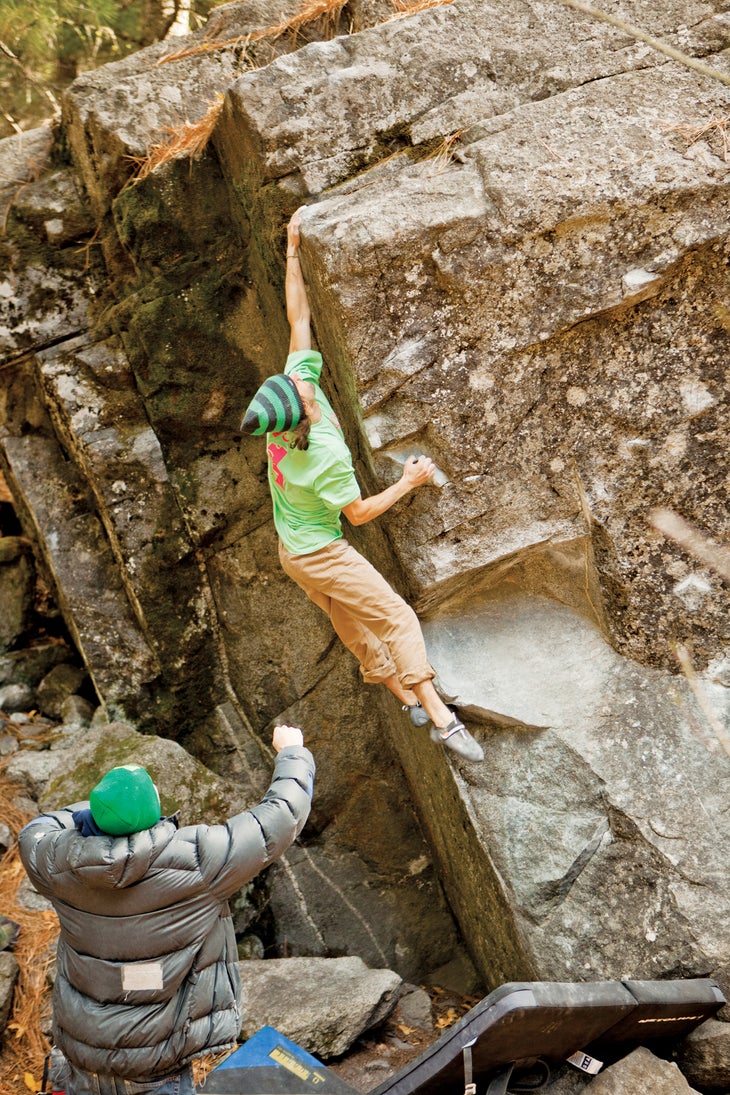 The Scene
The faux-Bavarian village of Leavenworth is located in central Washington and surrounded by Alps-quality scenery. With a mix of whitewater boaters, alpine climbers, mountain bikers, and tourons, you won't be alone. But with the highest density of bouldering and rock climbing in the region—not to mention a fun vibe and plenty of great breweries—who's complaining?
The Approach
There are thousands of impeccable granite boulders scattered along forest roads and hidden in the surrounding trees, but the majority of the bouldering is located along Highway 2 and can be broken down into two general areas: Icicle Creek and Tumwater Canyon. Follow Icicle Creek Road south out of town to get introduced to the area (and find camping).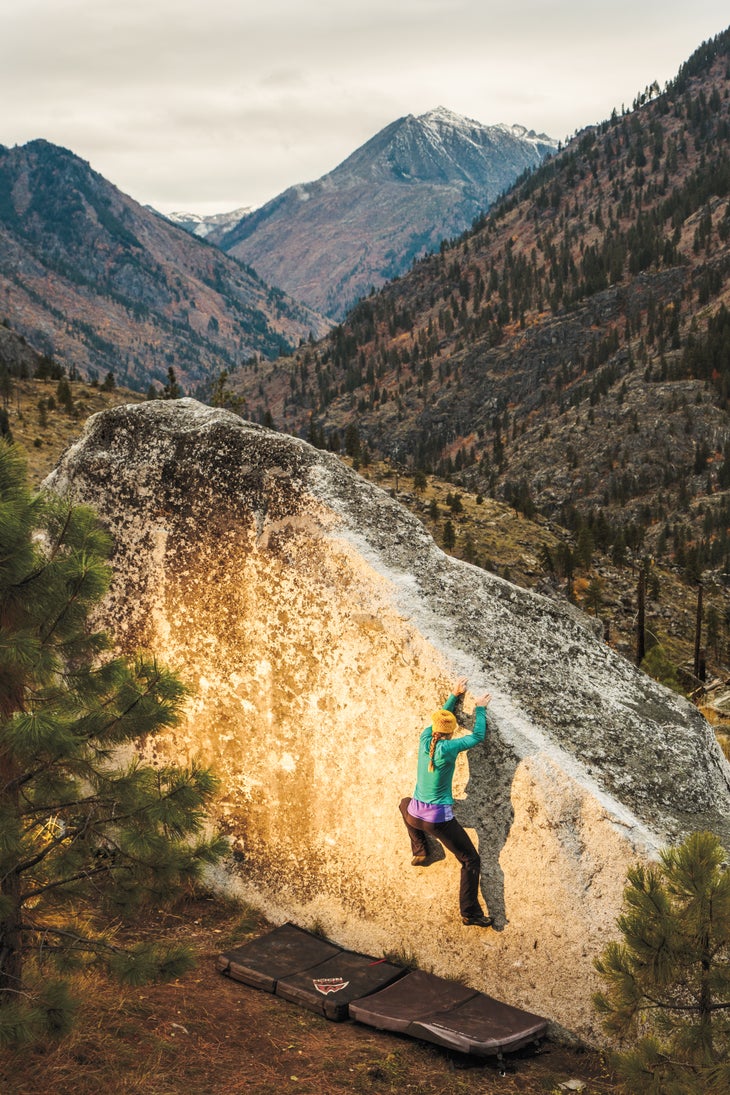 Beta
Beach Arête, (V2)
The Sword, (V3 R)
Darth Maul, (V4)
A true gem of the area. Most climbing areas are defined by their harder boulders, but this one stone puts all the other blocks to shame.
The Shield, (V7)
Pimpsqueak, (V9)
The Prism, (V9)
Cotton Pony, (V10)
Gymnastic movement, comfortable holds, and a stout reputation make this one a coveted ascent for those climbing at the grade.
Mt. Evans, Colorado
Hike through vibrant flowers and meadows to world-class boulders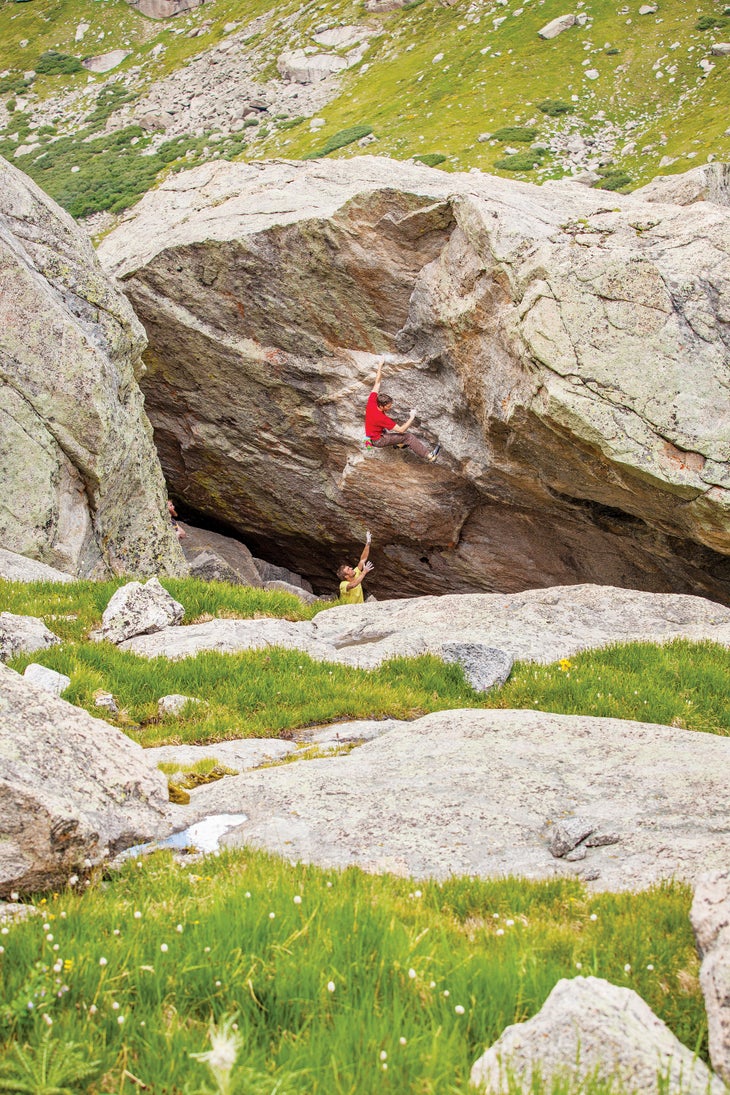 The Scene
Mt. Evans hosts some of the most sought-after problems in all of Colorado, of every grade. The bouldering here varies wildly in climbing style, which creates a unique experience every time you visit. You can find nearly everything here. Technical granite slabs? Yup. Dynos on steep overhangs? Absolutely. Slopey compression thuggery? Uh-huh. You can find anything from V0 to V15 at Mt. Evans.
The Approach
From I-70, take CO 103 south from Idaho Springs for about 14 miles to Echo Lake Park. Echo Lake is the trailhead for Chicago Lakes Trail No. 52, which leads to Areas A through D. Area A is about three miles from the trailhead. Area D adds another two or three miles (depending on how lost you get).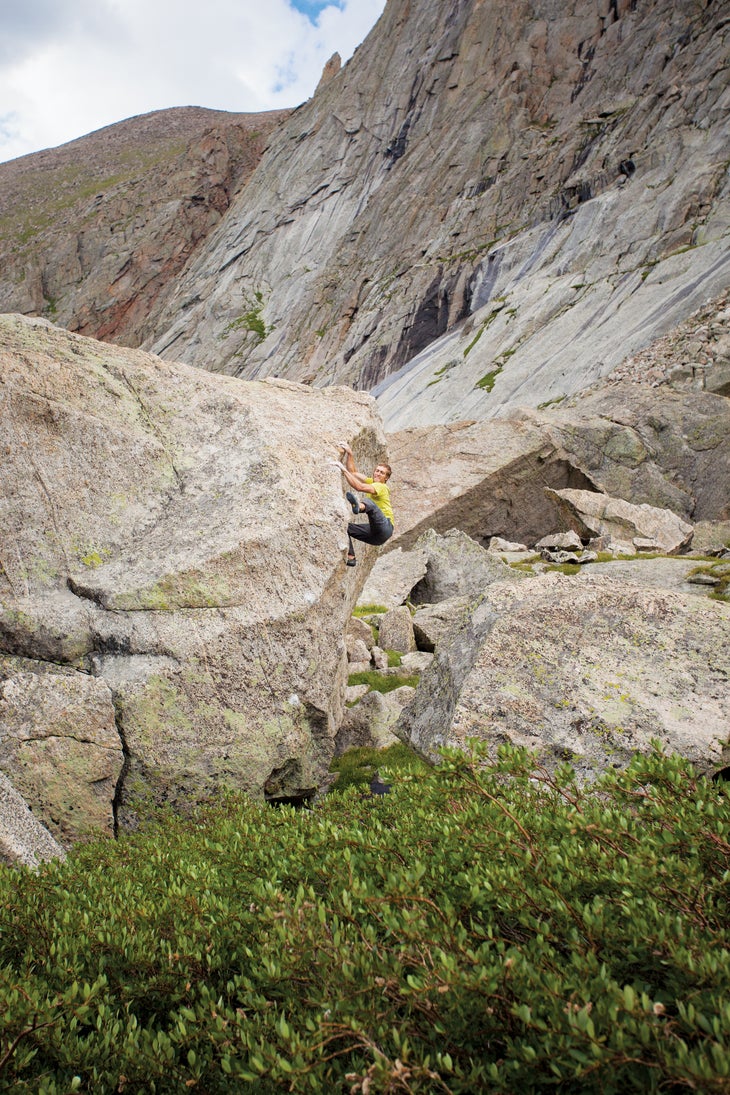 Notable Problems
Timeline, (V1)
Timeline is a 25-foot-tall granite slab that sits right in the main area of Area A. Unless you want to be carried out by friends, I suggest you practice your mantel technique beforehand. It really doesn't get much better than this.
Last of the Ohitians, (V1)
The Ladder, (V2)
It's arguably the best V2 in all of Colorado; this "ladder" climbs up a 10-foot vertical face on perfectly sculpted slopers and edges. Climbers might spend 30 minutes running laps on this one before moving on—it's that good.
Puddle Jumper, (V2)
Hello, balance!
Peasants into Leaders, (V7)
Seurat, (V8)
Bierstadt, (V9)
The Dali, (V9)
The Dali Boulder's namesake is short and fun with a big move.
Silverback, (V10)
Clear Blue Skies, (V12)
Steep, straightforward, and crimpy, plus it's surrounded by other challenging classics.
No More Greener Grasses, (V12)
The last problem on a block that is fully stacked with hard climbs.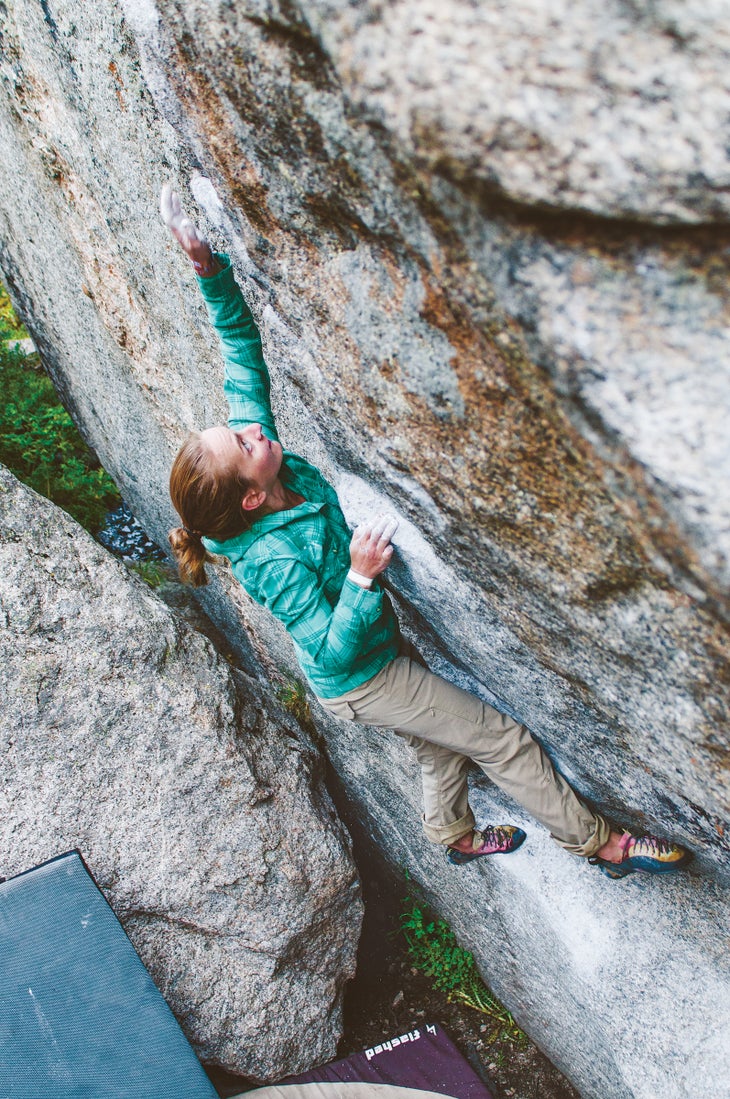 Rules of the Alpine:
#1. Be aware of weather
Quickly moving storms, lightning strikes, and exposed positions mean weather is more than just a threat to your climbing session—it's a threat to your life. Check NOAA and other sites to cross-reference hourly weather graphs and see when and where the storms will be hitting. Always pack layers and rain gear.
#2. It's physically demanding
Everything is harder at altitude: hiking, breathing, climbing, etc. Drink plenty of fluids throughout your day. Pay attention to your body, and don't push yourself too hard. Descend immediately if you have a headache, appetite loss, dizziness, or nausea, which are common symptoms of altitude sickness.
#3. The alpine environment is fragile
Plants and animals are delicate and need to be respected. Stay on trails, don't feed the wildlife (seriously, not even the squirrels), pick up all the trash you find, pack everything out, and follow the next rule. Climbing in these wild, beautiful places is a privilege, so treat it like that.
#4. Don't stash pads or other gear
If you don't have the fitness/energy/motivation to hike your pads in and out every time, you shouldn't be visiting these areas in the first place.
#5. Access is not guaranteed
Developers have worked closely with park rangers and the Forest Service to allow climbers access, so don't do anything to threaten that tricky relationship. Be courteous to other climbers, tourists, and rangers. There's a lot of rock, but it's not all open to traffic, so check before developing.
#6. Wear sunscreen and sunglasses
Being at elevation means harmful rays are more intense, a lack of tree cover means there's little to no shade, and surrounding snowfields will compound the problem. Protect your skin with layers and sunscreen, and wear a hat and sunglasses to shield your peepers.
This article originally appeared in the August 2014 issue of our print edition.