5 Must-Do Moderate Moab Towers
Heading out the door? Read this article on the new Outside+ app available now on iOS devices for members! Download the app.
"On a desert tower, the standard is not to be measured in difficulty, but adventure." —John Sherman
Southern Utah is home to more tower formations than anywhere else in the United States. Formed from rock dating back to Jurassic times, these striking sandstone spires represent the last untoppled remnants of ancient seabeds that have been worn down by erosion's never-ending course.
For most climbers, towers have a special allure. Perhaps it's because of their defined summits, the fact that they're only accessible via technical means, how climbing them feels like being on the side of a skyscraper, or just the sheer adventure of it all. Adding to their overwhelming sense of exposure is the fact that they often perch high atop talus cones, exposed to the elements. Even in the desert, swift-moving thunderstorms can descend in minutes, bringing lightning, hail, and other nasty surprises to tower aspirants.
The five towers outlined here are all, at 5.10 or easier, within reach of most mere mortals. For many, they've proved to be the launching point for a lifetime of tower-climbing exploits. As a photographer, it was great to revisit these routes, some of which I first climbed almost 20 years ago. Along with the magic of spending time in the desert, the highlight of this project was introducing people to Ancient Art, a precarious swirl of Cutler sandstone in the Fisher Towers that astounds even the most jaded and accomplished climbers.
Owl Rock, West Crack (I 5.8)
Arches National Park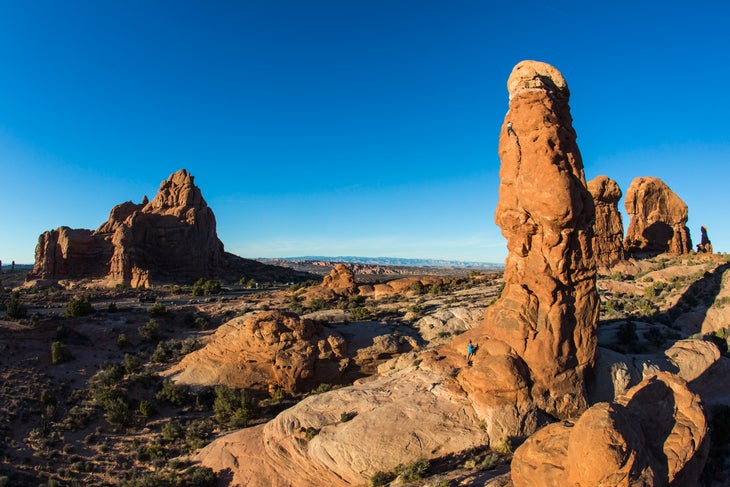 Owl Rock perches high on the Arches plateau, with views south to the La Sal Mountains. It's composed of the same soft Entrada sandstone that forms most of the park's arches.
"It was my first desert tower, and started the whole adventure," says Jay Anderson, a guide who has climbed 30-plus towers since Owl Rock, 34 years ago. "The next day I climbed Castleton … Owl Rock was my gateway drug/tower."
Follow the obvious crack on the west face, protecting in its depths and using the occasional hand jam between slopey jugs. Though the climbing gets progressively harder, protection remains relatively abundant. An intermediate belay/rap station is set just below the summit.
First ascent
Ron Olevsky, 1968
Rack
Standard single rack
Rappel
Rap to the ground with a single 70-meter rope from the anchor just below the summit.
Getting there
Drive 9 miles past the Arches entrance, turn right at Windows Road, drive another mile, and turn left into a scenic pullout. 
Castleton Tower, Kor-Ingalls (III 5.9+)
Castle Valley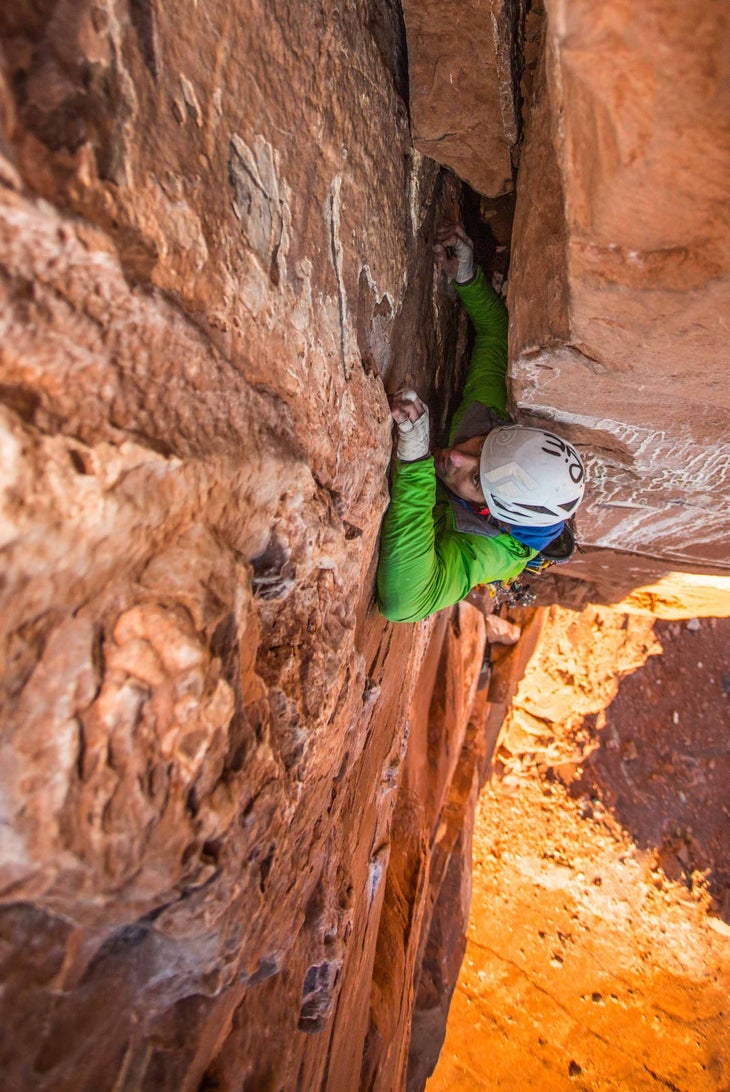 Made famous in Steve Roper and Allan Steck's Fifty Classic Climbs of North America, Castleton Tower perches atop a huge talus cone and features superlative views. Castle Valley, Round Mountain, and the Porcupine Rim spread out before you. To the south loom the La Sal Mountains, Utah's second highest range. These mountains remain snowcapped much of the year in contrast to the red desert below.
The route follows the obvious chimney system on the south face for four pitches of steep, in-your-face terrain. Pitch three is the money pitch and a great intro to desert offwidth, with two bolts down low providing much-needed protection. Higher, the crack widens to swallow you whole—you may want a no. 6 cam. The final pitch feels a bit spicy, but protection appears just when you need it. The summit is expansive—in fact, in the 1960s, Chevy famously helicoptered a car onto it for a TV ad.
Expect lines: Arrive early and preferably on a weekday.
First ascent
Layton Kor and Huntley Ingalls, 1961
Rack
Standard rack with doubles of no. 2 and 3, single no. 4 (optional no. 6)
Rappel
Either rap the route—four rappels with two 60-meter ropes—or rap the North Face via three double-rope rappels.
Getting there
From Moab, follow Highway 128 east. In around 15 miles, turn right toward Castle Valley on the La Sal Mountain Loop, where a 2002 Utah Open Lands (UOL) purchase helped open a low-key climbers' campground below the tower. A small donation is recommended. The campground makes a great base for Castleton and the Fisher Towers. Follow the climber's trail for 1.4 miles and a gain of about 1,400 feet.
South Six Shooter Peak, South Face (II 5.7)
Indian Creek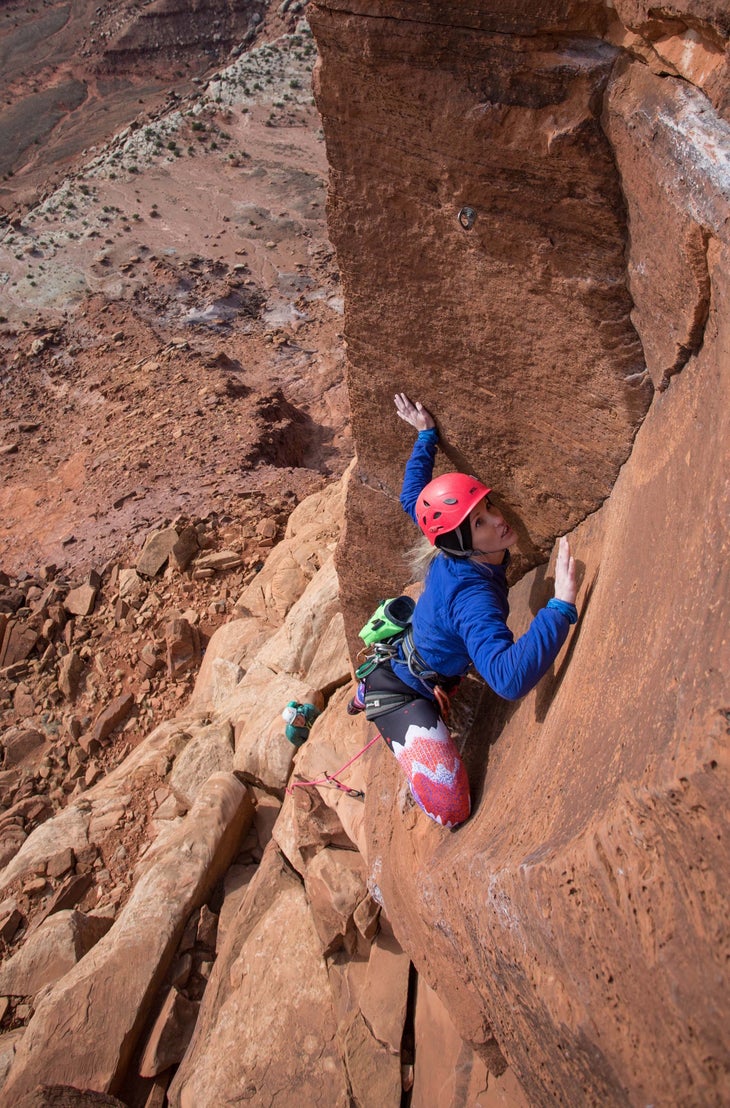 Located between Indian Creek and Canyonlands National Park, the South Six Shooter provides moderate desert tower climbing on an iconic formation. Its South Face makes for a great adventure for the novice climber or a fun, easy outing for those on a rest day at Indian Creek.
The South Six Shooter is situated between the Needles district of Canyonlands and the sunlit walls of Indian Creek. Here, technicolor washes fan out in all directions and the silence is overpowering. The nearby syringe-shaped North Six Shooter is a summit straight out of an old Western.
The straightforward first pitch starts up the obvious broken crack system (5.5) that begins a step down and left of the main south face. The climb ascends a series of simple cracks, chimneys, and ledges as it wanders around the south face for three pitches. A tenuous, heady crux mantel guards the summit, but good sandstone holds await above.
First ascent
Bill Roos, Denver Collins, and Burnham Arndt, 1969
Rack
Standard single rack
Rappel
Rap the route with one 60-meter rope.
Getting there
From Moab, take Highway 191 south for 62 miles and then head west on Highway 211. Stay on 211 for another 21 miles, passing Newspaper Rock, Supercrack Buttress, and the Beef Basin Road; after passing the Superbowl Campground, go less than a mile and turn left onto Davis Canyon Road. Head south for around 20 minutes on a rough, sandy 4WD road until you're south of the talus cone. Look for obvious cairns that lead 1,000 feet up through a weakness, then to a wash, and then to the final switchbacks up the south side of the cone.
Ancient Art, Stolen Chimney (III 5.8 A0 or 5.11)
Fisher Towers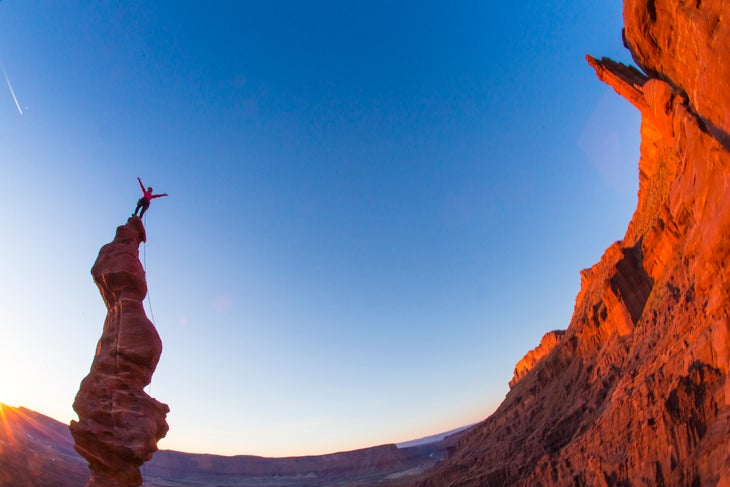 Located in the Fisher Towers, a cluster of fluted red-brown spires up to 900 feet high, Ancient Art is considered by tower aficionados to be one of the best moderate spires on the planet. The start heads up the "Stolen Chimney" for two pitches of fun stemming (5.8 A0 or 5.11). Despite the Fishers' reputation as hardy mud, the rock is remarkably sound. After the chimney, you reach "Party Ledge." From here, it's a short pitch to the infamous boardwalk, a narrow neck with nearly 400 feet of exposure to either side—just enough for a BASE jump.
Next, it's time to mount the "Diving Board." Most climbers perform a bold belly-flop style mantel. (Note: This maneuver is friction dependent, so leave the puffy at the belay.) Once on the Diving Board, head up the corkscrew, passing a couple of bolts. The move off the Diving Board is the crux: slopey and requiring balance and tension. It would likely be trivial if not for the considerable air beneath.
Try not to fall off the bar-stool-sized summit while having your belayer get the obligatory hero shot. Lower off tied slings and head back to the belay. The route is as popular is it is awesome—best to hit it midweek.
First ascent
Paul Sibley and Bill Roos, 1969
Rack
Standard rack, with quickdraws for the A0 sections
Rappel
A double 70-meter-rope rappel from Party Ledge gets you back to the ground.
getting there
From Moab, head north out of town on Highway 191 to Highway 128, which follows the Colorado River. Turn right and drive east 20 miles to the sign for Fisher Towers on the right. A short drive up the dirt road leads to parking. Take the Fisher Towers trail to the first climber's path on the left (signed).
Easter Island, Thunderbolts (5.10)
Bridger Jack Mesa, Indian Creek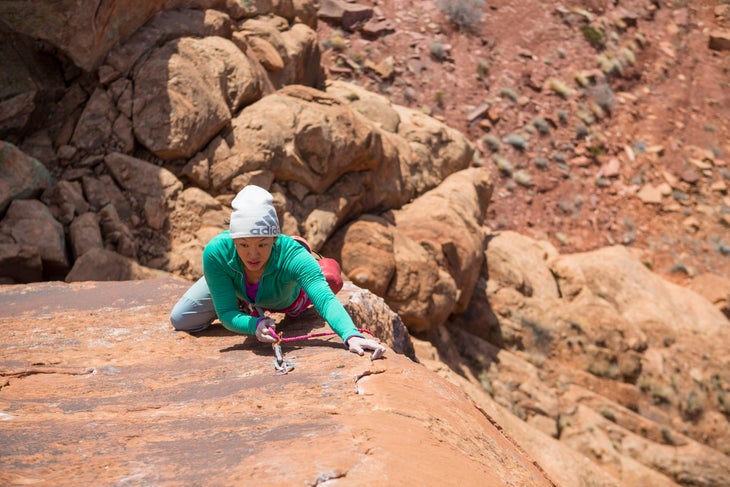 The Bridger Jack Mesa formation, a serrated ridge that separates Beef Basin from Davis Canyon (the large valley containing the Six Shooters) in Indian Creek, is home to some of the Creek's best towers. Though Easter Island stands among the shortest towers in the Bridger Jacks, it does provide quality and varied climbing. The first pitch is a flaring hand crack that has ratings all over the map: Let's just call it 5.9+. It leads to a large, sloping belay ledge. From here, head right and slowly wind around the tower to a bolted, technical face.
Airy exposure and sandy crimping make the second pitch feel like old-school 5.10. Be sure to use long runners early on; rope drag could ruin your day as you tiptoe and balance your way up its tiny edges. The kitchen-sized summit is a great hangout, and the free-hanging rappel is fun and straightforward.
First ascent
Jeff Achey, Easter 1985
Rack
Standard rack with draws, plus a couple of long runners for the bolted face
Rappel
Double 70-meter rap to the ground.
Getting there
From Moab, take Highway 191 south for 62 miles and then head west on Highway 211. Stay on 211 for another 21 miles, passing Newspaper Rock and Supercrack Buttress to reach Beef Basin Road on your left. Turn here, and less than a mile down, turn right and drive toward the Bridger Jacks (4WD required) for around a mile. Follow the obvious trail a half-mile to the towers.
Tower Tips
Wear a helmet on desert climbs. Expect loose rock and parties climbing above.
Use caution on the approaches to protect the fragile cryptobiotic soil. Stay on the climbers' trails, and keep on bedrock whenever possible.
Fill up your water jugs with free filtered tap water (and perhaps pick up a no. 6 Camalot) in town at GearHeads Outdoor Store.
Guide services
Red River Adventures and Moab Desert Adventures offer guiding on all of these climbs with the exception of Owl Rock, due to its location within Arches National Park.
Guidebooks
High on Moab by Karl Kelley (Sharp End Publishing); Indian Creek, A Climbing Guide by David Bloom (Sharp End).
Tower history
Desert Towers by Steve "Crusher" Bartlett (Sharp End) is the definitive historical and photographic resource.
John Evans is a Salt Lake City–based photographer with over 25 years climbing experience. Despite a ticklist that includes Half Dome and the Titan, he thinks of himself as a determined mere mortal who happens to have great climbing partners. See more of his images and work at johnevansphoto.com.