A Family Climbing Vacation to Formerly War-Torn Croatia
A climbing trip to a formerly war-torn country? With your kids? You bet!
Heading out the door? Read this article on the new Outside+ app available now on iOS devices for members! Download the app.
This story originally appeared in the November 2015 issue of our print edition.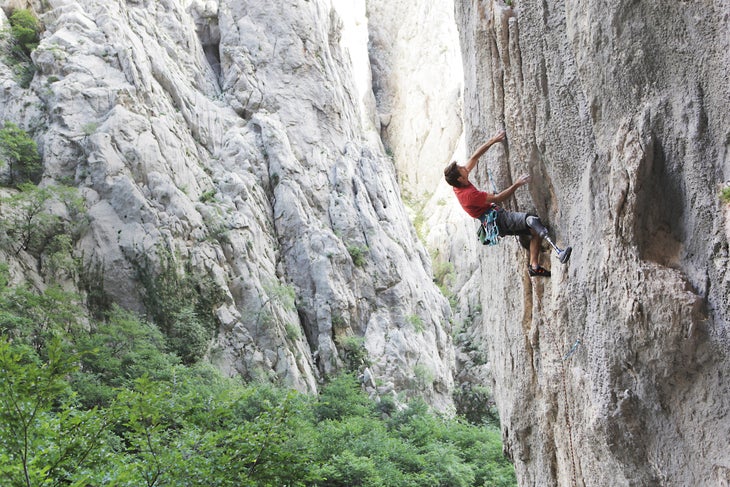 "What are your thoughts on a climbing vacation to Croatia?" my wife of 19 years asked me oh-so-innocently last year. (I love this woman.) Visions of azure waters and towering limestone cliffs jumped to mind. And, then, of course, war and unrest. Would this be a safe place to bring my kids on a family climbing trip?
When I was younger, I worked for the Associated Press in Philadelphia, and I remember wanting to go to this part of the world, not to climb but to cover what was shaping up to be some serious ethnic cleansing. That was 1992, and Croatia was trying to leave the former Yugoslavia to become a sovereign country. Years of fighting ensued, and by 1995 it was over. Croatia was on its own. But the remnants of the war remained in the form of land mines and the skeletons of tanks that littered the roadsides. Now, having returned from almost a month of climbing there, I can tell you that the past 20 years have been very good to this beautiful country and its world-class limestone.
I would move there tomorrow.
We flew into Vienna, Austria. Flights there were much cheaper, and it provided the opportunity to explore Slovenia's climbing as well, since it would be an easy stopover on our trek to Croatia. After about 13 hours of connecting flights and a blur of bad movies and even worse airline food (seriously, how can it be so bad?), we began the task of finding the trains that would take us to Slovenia. We would be renting a car, a must while traveling and climbing in this region of the Baltic states, but we had learned you couldn't rent a car in Austria and drive it to Croatia (the Austrians aren't down with Croatia's history of unrest), so we took a six-hour train ride to Slovenia (where you can rent a Croatia-bound car) to rest and climb. Arriving in the capital city of Ljubljana, a beautiful mix of Old World European charm and new-world tourism, we began by not just relaxing but also soaking in the realization that this part of the world would be home for 3.5 weeks.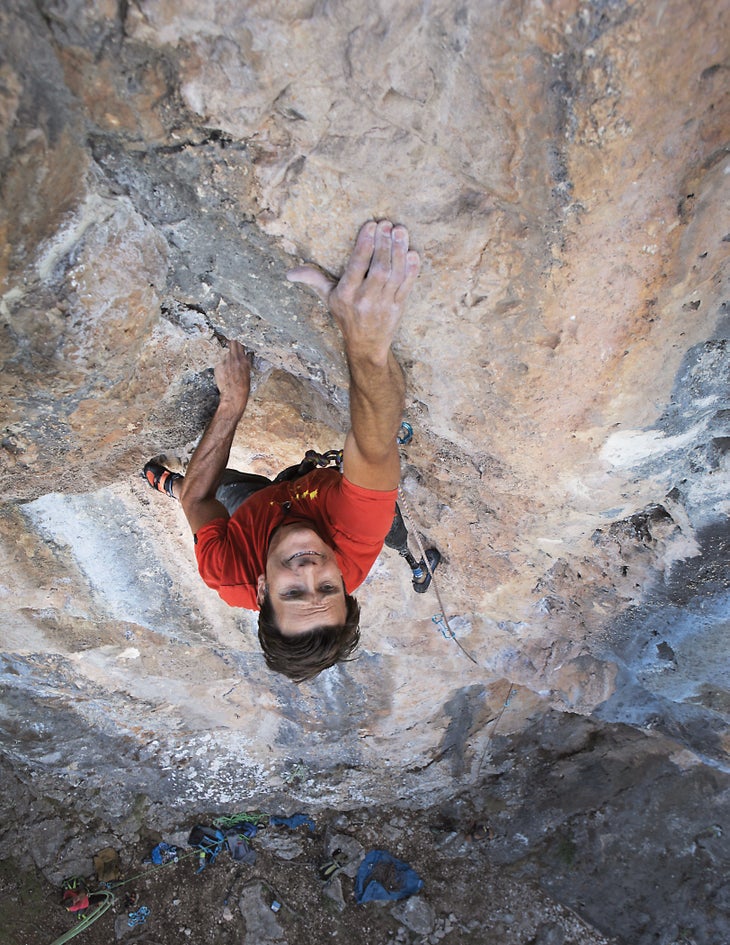 Once the morning came, my wife Cyn and I set off to find the rental car agency. "Oh, I LOVE Croatia!" said our clerk, "and you have your kids?! That's fantastic!" Bringing your kids to an area like this, or traveling anywhere far afield for an extended time, can produce a bit of a dilemma. On the one hand, our kids are pretty experienced travelers, and this would be a great new adventure. But the warnings I read about unexploded ordinance (military-speak for land mines) had me a bit shaken. After some deep research, Cyn seemed confident in the area and our family, which is really all I needed to see. I also decided less was more with the kids when it came to information. Most of the warnings I had read online, which you have to run through your own comfort filter, were vague at best, and we would be in well-traveled areas, so I put it in the back of my mind and moved on.
We went back to the hotel, picked up the kids, and the adventure began in earnest. Our kids, Mayah, 17, and Will, 15, have traveled with us all around the world. They've climbed in France and been to the rainforest in Ecuador. But this trip would be their longest time away from home. We've tried to give them experiences instead of things in hopes of raising two people who will do some good in the world as opposed to just taking up space and accumulating stuff. Cyn and I both think that seeing the world outside of our little bubble in Colorado is a great growth tool for the kids. For them to see other societies and how the kids there live is always a bit of a culture shock. They hear that less is more, but when you see it in real life, it always has a big impact, and we value that greatly in our family. Traveling with kids can be stressful—heck, traveling with anyone can be stressful—and I'm always anxious before a trip because I feel like so much is out of my control. Now add in the fact that the three people I care about most could be involved in something bad or a trip from hell, and you can see why I had a few sleepless nights leading up to our departure.
Family Trip lesson 1
You can plan as much as you want (and you definitely should), but know that nothing goes according to plan 100% of the time. As long as you stay calm, your kids will do the same.
We began the drive out of the city of Ljubljana and made our way to Slovenia's Osp region, a bucolic landscape with several beautiful limestone crags on which to get our feet wet and prime us for the plentiful, long Croatian routes we had heard so much about.
The limestone here was very different than what we were used to in the Rockies, where we climb on pockets and edges like those at Colorado's Shelf Road and Wyoming's Ten Sleep. Here the rock was fluted and riddled with tufas and shallow water marks. On steeper routes we could climb small edges, but grabbing the tufas took some getting used to, since the movement was totally different from anything we'd climbed before. The kids adapted faster than me. Will, who can onsight 5.12a in Colorado, swam up his first climb, which was rated 6b, or about 5.10+. The ratings are a bit confusing, but once you figure out that the grades in the States are soft (or that the Euros all climb a lot harder than us!) you can get along quite well. Feeling jet-lag more than the rest of us, Mayah struggled with the first few climbs, but she was not to be outdone. I felt like I had two cinder blocks tied to my waste as I struggled up a 7a (5.11d). Hanging and cursing the entire way, I tried to enjoy the scenery and the dusky smell of this new, greener forest. Cyn had booked us a charming and clean apartment in the countryside, and that evening we sat around the table playing cards and just soaking up the simple pleasures of the climbing life.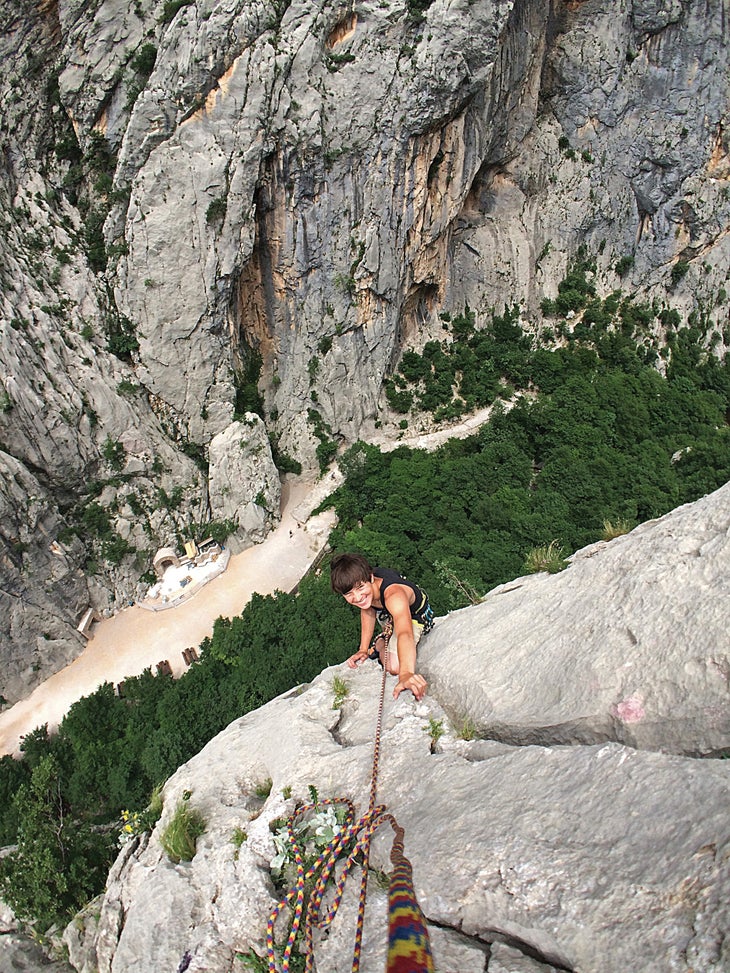 Family Trip Lesson 2
Hotels get the job done, but for long trips like this, rent an apartment. You'll be way more comfortable, and you can shop for food and cook what you and the kids like. It's easier than ever with sites like Airbnb and VRBO.
After about four days, we finally hit our stride—or at least I did. I think the kids adapt way better than we do, and once I caught up with them, we started trying harder routes and exploring the area. We were traveling in June and had to chase shade to climb our best, but that's an easy thing to do, and sometimes we would take a break in the middle of the day and then climb in the evening. The climbing in the region is mostly single-pitch, along long cliff bands that wind through lush forests. You'll find steep pockets or razor-sharp slabs that test your balance and skin. Park your car on a paved, single-lane road and hike uphill for about 10 minutes where the crag reveals itself though the trees. The cliff band in Osp undulates along a hillside into deep corners and cave-like features that drip with tufas, and bolted lines are everywhere. We would hike out in the twilight through a cool breeze that smelled of the ocean and lavender fields surrounding the cliff.
Family Trip Lesson 3
If they are old enough and you feel it's safe, let the kids spend time without you to explore an area their way. Our kids have a great appreciation for other cultures and a grasp of self-sufficiency because of this.
The drive to Croatia was easy and followed a twisting road that weaved along the Adriatic Sea to the coastal town of Stari Grad, where our rental flat was located. This beautiful town houses Paklenica National Park, which is home to the largest concentration of limestone sport routes in the whole country. The routes range from 5.6 to crazy hard, and let me go ahead and warn you: The grading here is STIFF! Warming up on 6a (5.10a/5.10b) was the norm, and there were lots of climbs in that grade range, but when you make the jump to 7a and up, it feels hard very fast. When we walked into the park the first day, Will turned and looked at me with the biggest smile I'd seen in years. As I glanced around at the group, we all had that same grin. The approach is literally five minutes on a paved trail to the base of the first climbs, and even the "long" approaches are only about 45 minutes. We sampled routes in the 6a to 7b (5.12b) range, again marveling at how much harder the grades felt here than in the U.S.
For the next week and a half we settled into a fantastic routine. Get up, breakfast, go to the park and climb all day, return to the apartment and walk to the pebble-covered beach. We would swim and lounge around, then head back to the flat. Eat, sleep, repeat.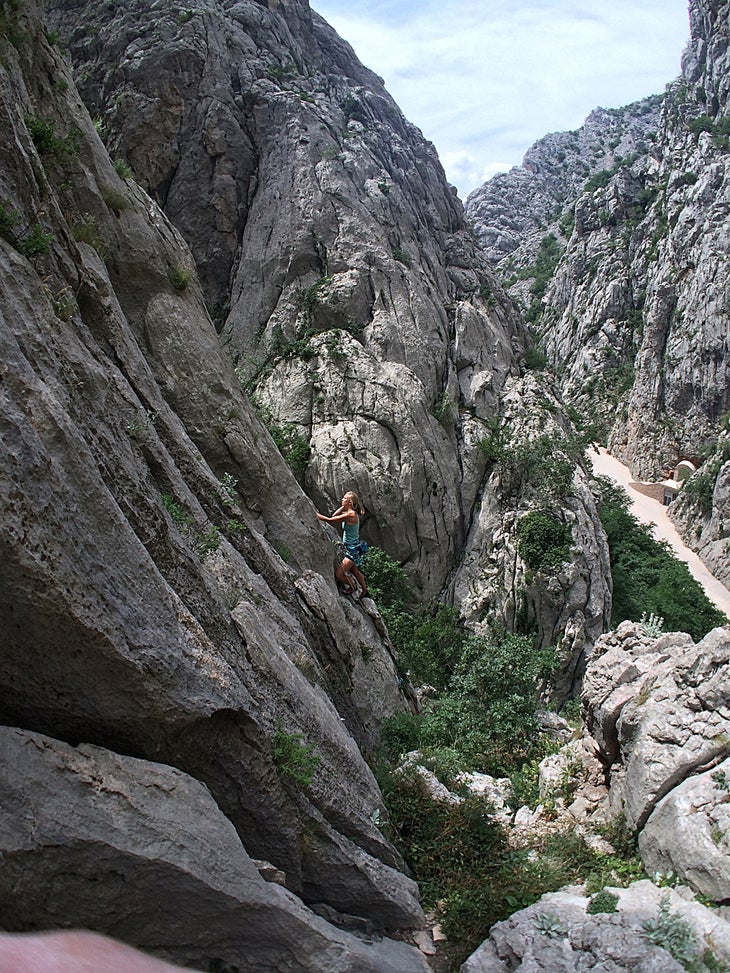 One of the greatest things about travel, whether we're in America in our van or venturing overseas, is the simplicity it provides. When I'm home I have to be a lot of things—a dad, husband, provider, friend, dog wrangler, van mechanic, house cleaner, advisor, trainer, coach—a seemingly endless list of tasks and identities. But when I travel with my family, our roles become simple. We're climbers. I realize that these three people are really the only people I have to worry about. They are the ones who truly care for me, and me for them, and that is liberating. I don't have to have the next six months mapped out and stay the course. It's just today. We listen to each other better, and because we are in close quarters, we are more open to change and moods. That's not to say we are always singing "Kumbaya" in a circle and holding hands. There are times when we want to sell the kids at the next gas station, and I'm sure they would ditch me willingly, but we work together and, in the end, we all learn more about what it means to be a family.
On any given day, Will—who is close to me in climbing grades, which is super cool—and I would work on routes together, untangling sequences and giving each other beta. Cyn and Mayah would work on routes they thought would be great based on aesthetics or guidebook recommendations. Cyn is fantastic at coaching the kids on a route; she helps them with mental focus, attitude, and beta and is even happier than they are when they succeed. Seeing your kids appreciate a lifestyle you have embraced is truly fulfilling. Our kids have grown up in the climbing culture, but they only took it as their own a few years ago. To see them put it to use in such a foreign place is really great to watch.
After our time in the park, we drove south to the town of Split and hopped on the ferry to the island of Hvar, a small landmass that sits two hours off the coast of Croatia. It's a quaint, vibrant isle with several climbing areas scattered about. We found the type of climbing that makes you giddy and full of laughs. We would drive up the one road on the island, pick an area next to the clear blue water, and climb. Around lunchtime, the smell of wood fire would lure us off the wall, and we'd wander down the cliff, order a cheap pizza or two, and hang out eating, drinking coffee, and letting the rock cool off. Later, we'd walk back up to the cliff and climb again. Sometimes the kids would come, other times it would just be Cyn and me as they headed to the beach or docks to work on their tans.
We started at Vela Stiniva, which sits right above the azure waters of the Adriatic. Most of the routes were one pitch, and the limestone, although similar to the mainland, had noticeable differences in the way it was formed. The climbing felt more three-dimensional to me. The cliffs had large roofs with huecos, and ledges were more plentiful, with picturesque views of the sea from just about every route. As we climbed, we were surrounded by the smells and sounds of a jungle with a background of the ocean. It was a full sensory experience.
Our last day on Hvar we headed to Cliff Base, or as it's known there, Sveta Nedjelja. It's a fee area, which made me less than enthusiastic to go. As we made our way along the base of the cliff to the climbing area, I kept thinking it was silly to pay to climb on someone's cliff. I couldn't have been more wrong.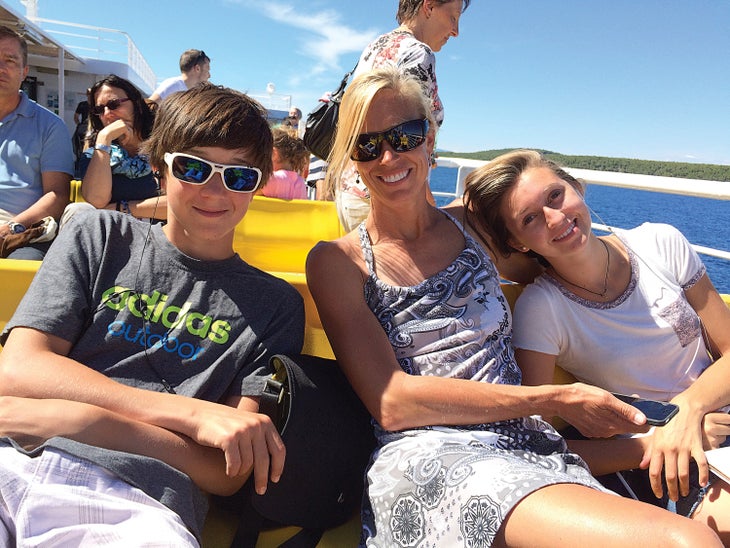 Family Trip Lesson 4
Leave whatever preconceived notions you have about everything at home. In most cases you'll be wrong and you will short-change your trip and miss an opportunity to experience something new and fun.
We reached Cliff Base by driving down a hill toward the ocean after coming through a mile-long tunnel. Then we shouldered our packs and walked along the craggy coast on a faint trail. I actually wondered if we were lost, but after rounding a buttress, we were greeted with beautiful stone steps rising to a custom cave dwelling. Two climbers who live in the cave run Cliff Base. Not just any cave, but a really nice cave, a jealousy-inducing cave. The climbers have built their home here completely off the grid, with sleeping quarters for visitors, a kitchen that is built into the cliff walls, and outdoor sleeping platforms. The routes here are long, up to 40 meters, and they stick right out of the ocean like white ramparts on a castle. Chasing shade here was harder, but because of the ocean breeze, it was quite pleasant even on a hot day. Mayah and Will did some psicobloc climbs, splashing down into the water and laughing without a care in the world. The caretakers sell strong coffee and light snacks as well as topos—$2 for all the routes in the area. It was idyllic, and in retrospect, we wished we had gone there days earlier.
On the ferry ride back, the three I care about most turned on me. As I glanced at them watching Hvar recede into the distance, Mayah looked at me with sadness in her eyes. "Why is it we have to go back home? Seriously, why?" she pleaded. I tried my best to explain that I think it's actually illegal not to return (at least I think it is), and in any case you'd miss your friends and dog. Small consolations. This trip marked a new space for all of us. The experiences we give to our kids, the life we model, is far more important then the latest Xbox, car, or house, and the undivided attention we give them will shape them into caring and thoughtful adults that will then influence the bigger world.
As I reflect back on our time there, it's downright funny that I worried about land mines and civil unrest. Those are things of the past. For us, the simple rhythm of life we slid into was refreshing and empowering. The people and places were welcoming and full of adventure. I love simplicity and seeing our kids learn and grow with us, and that is what Croatia is about today.
Croatia Beta
How to Get There
Fly into Vienna, Austria, or Munich, Germany. You can fly directly to Split, Croatia, but it tends to be more expensive. You will need to rent a car to get to Croatia, as well as to access the variety of crags in the area.
Maps
Download the app MapsWithMe. It works great when you are lost in the middle of nowhere.
What to Pack
Put climbing essentials in your carry-on. That way if a bag is lost, you can still climb. We pack everything but the rope in a carry-on since you can get them fairly easy overseas.
Guidebook/Climbing Resources
The routes here are mostly sport, but there are trad lines as well. The older routes can feel runout, but you really do have a bolt exactly where you need one. Most times. Go to hvarclimbing.com for route lists, which you can download to your phone or print prior to leaving. For local guidebook-level information for our other favorite area, Paklenica, visit climb-europe.com. And use climb-croatia.com as a broad resource for the country as a whole. Guide services are hard to find, but if you take your time, you can figure out the area pretty easily.