Acadia: The Northeast's Coastal Trad Climbing
Don't be fooled by the stunning appearance and easy approaches of the coastal climbing in Maine's Acadia National Park. Bold grades, tricky movement, and exposure demand extra effort.
Heading out the door? Read this article on the new Outside+ app available now on iOS devices for members! Download the app.
I downclimbed to the seam, backing off the crux roof again. Behind me, Mount Desert Island was serene, in contrast to my insides. A mounting forearm pump had my mind racing. The crux of Green Mountain Breakdown at the South Wall in Maine's Acadia National Park seemed harder than its given 5.9+. The added "+" felt like a cruel joke. I imagined my pro popping out while I whipped in slow motion. I tugged again on the C3 cam at my waist, felt the stickiness of the pink granite under my feet, and breathed slowly. Shaking out one last time, I moved out over the roof. If I was going to do this, it had to be now.
Earlier that summer in Brooklyn, I had Googled "coastal trad climbing in the Northeast." I missed my native California granite and the Pacific Ocean, and I wanted to work on my trad head. Pictures of climbers dangling off sea cliffs popped up on my screen. I imagined a group of my girlfriends trading belays while the Atlantic swirled, a breeze blowing through our ponytails as we moved up pristine granite. That daydream was just an eight-hour drive away.
Acadia National Park spans 49,000 acres of southern Maine on Mount Desert Island, the sixth largest island in the contiguous United States. Spruce, fir, pine, and birch trees, sphagnum moss, and blue lakes characterize this fairy land surrounded by the Atlantic. Acadia features via ferrata–style hiking, kayaking, fresh lobster, beer halls, and campgrounds with ocean views. Around 10,000 people call Mount Desert home, but the island sees more than 2 million visitors a year, making it one of the United States' top 10 most-visited national parks.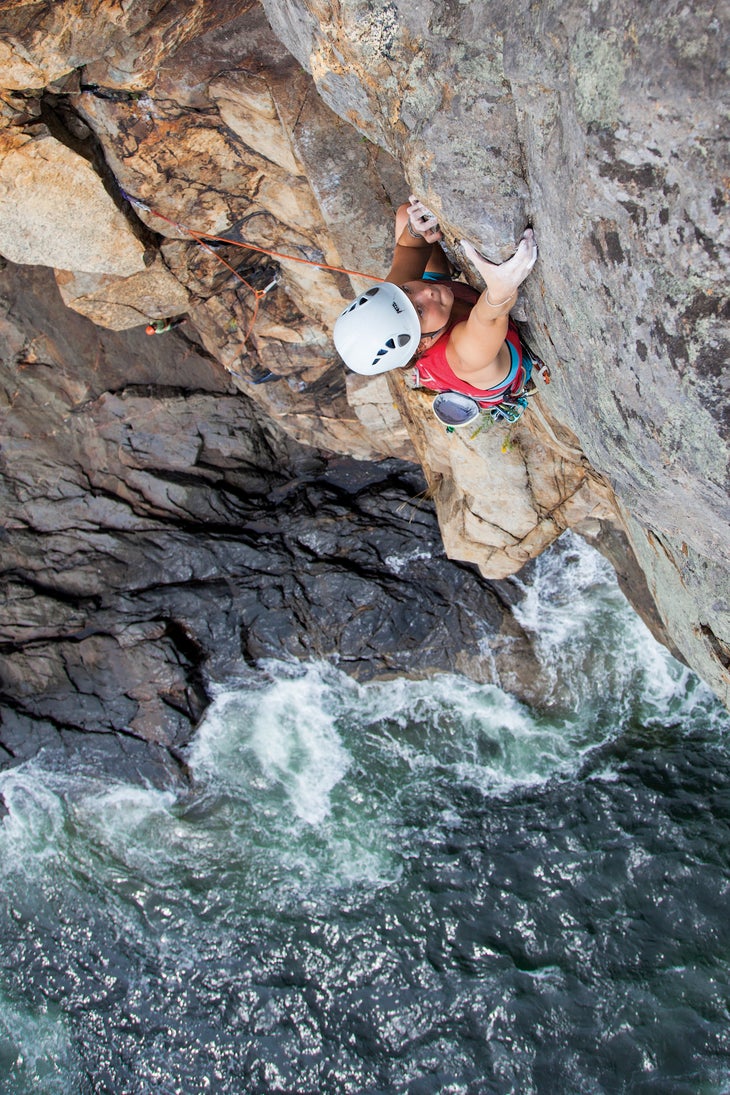 "Acadia is a pain in the ass to get to. That's the bottom line," says Northeast climber Tim Kemple, who made the first free ascents of Thicker Than Water (5.13b R) and Transatlantic (5.13a) at Acadia's Great Head. Though beautiful, Acadia is often overlooked as a climbing destination. New England locals and traveling climbers alike often opt for the more accessible crags of North Conway in New Hampshire or the Gunks in Upstate New York. Summers at Acadia see the most traffic, with guided groups of a dozen or so climbers crowding the crags and thousands of tourists swarming the island. Rock Climbs of Acadia, by Grant Simmons, promises more than 300 single- and multi-pitch routes, the majority of which require heady moves and sparse pro. The longest routes, up to three pitches, can be found at South Wall, while Great Head hosts the area's hardest and steepest routes, some of which must be accessed from the top via rappel. Approaches are mostly short, but those who don't mind a little bushwhacking should experience the committing and varied moves on Masquerade (5.10a R) at the North Bubble, with its steep and dynamic start and delicate, slabby finish, or the (thinly) bolted and beautiful arête Stratocaster (5.10c) at Eagles Crag.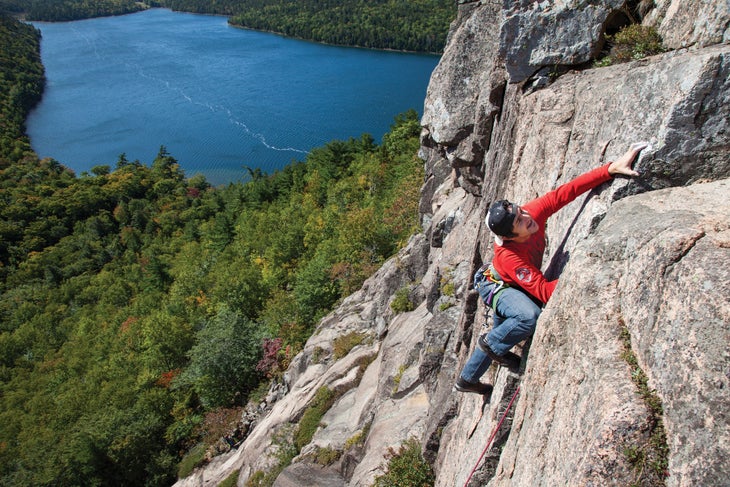 In the middle of July, Taylor Nystrom, Sarah Shaw, and I set out to sample the granite and seafood of Maine.
After a sun-drenched first day toproping at Otter Cliffs, known for climbs accessed from the top, we checked the weather report. The forecast for the week was ominous: rain and thunderstorms. Gray clouds gathered the following morning, but we continued to rack up, ignoring the rolling sky.
When I was 30 feet up the first pitch of Gunkslandia (5.7), the rain started. "Do you want to bail?" Taylor shouted up. I felt the light drizzle on my face and thought about it. Everyone around me was rapping, so I lowered off a nut and waited in the trees. The rain stopped a half hour later, and I started up the now-damp granite. Thirty feet up, back at the nut, the rain returned, only this time it was torrential. Water rushed down the slab in sheets. Bailing was the only option now. A rapping party offered their rope. Five minutes later, we were running to the car and whooping through the heavy downpour. Ten minutes after that, we were trudging into the Dog and Pony Tavern, egos bruised and clothes soggy.
The next day, we headed to South Wall at the first sign of sun. We got revenge on Gunkslandia and climbed the bouldery, finger-sized Emigrant Crack (5.10b). Worried this would be the last of the sun, we headed south to the infamous Great Head. Earlier that morning, a local guide had told us the area was "intense," recounting the tale of a climber who'd drowned after a drastic change of the tide. Our goal was Morning Glory (5.8+) at the Morning Glory Alcove, described by the guide as "the best 5.8 in Maine."
Taylor and Sarah rapped in at 4 p.m. while I set up a static line to shoot photos. The fog rolled in while water crashed into the granite 70 feet below and mosquitos whined in my ears. Taylor and Sarah hadn't pulled their rope yet, so I rapped over the edge.
"Everything OK down there?" I yelled.
"Yeah … we're not gonna pull the rope," Sarah said. "We don't know what routes these are, and they're hard as shit." Taylor started up the route they'd rapped in on, climbing slick and slopey rock on toprope, only to get spit off 10 feet up. The mosquitos continued to buzz as I jugged back to the anchors and put my camera gear away. The light faded, the ocean roared, and the hair on the back of my neck prickled. Great Head was giving me the creeps.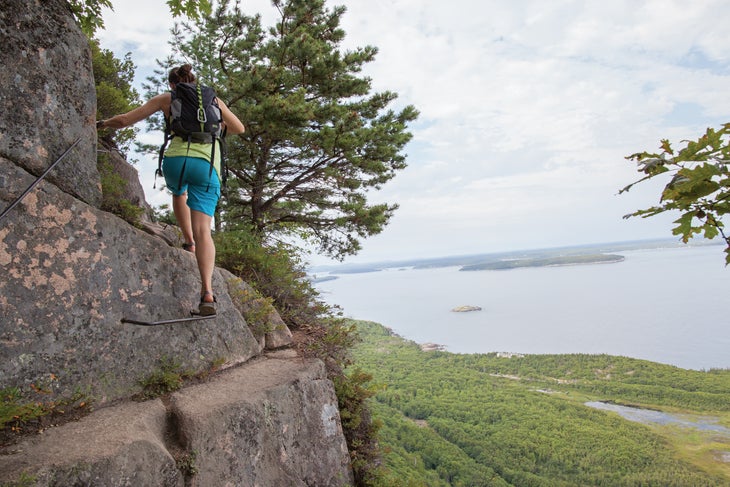 After 45 minutes, I rapped back over the edge and was greeted by a stream of profanities. They were ascending the rope with prusiks. "What happened?" I shouted, trying not to laugh at my friends' slow progress.
"We couldn't find Morning Glory, and everything else was too hard," Sarah said.
"We also couldn't tell if the tide was rising," added Taylor, who had been uncharacteristically quiet. Only when a grumpy bartender at The Thirsty Whale slid beers under our noses were we able to laugh about it. We had underestimated Great Head, but the lesson had been learned: Don't head to the sea cliffs late in the day, always check the tides, and have a bail plan in case you get your asses handed to you—which is likely.
"Want to go back to Acadia?" I asked Taylor a week later. After being home for 48 hours, I was remembering the trip fondly. What had seemed like a miserable week now lived in my mind as a hilariously botched adventure. I wanted a do-over.
Taylor squinted at me for a moment, then said, "Yeah, let's do it."
Three weeks later, we again crossed the Mount Desert Narrows—the tiny channel that separates Acadia from the mainland on the northern tip of the island. The summer crowds had dwindled, and the sun was shining. We spent two days exploring South Wall classics, like the splitter single-pitch Old Town (5.7+), the varied three-pitch Story of O (5.6), and the epic roof crux on Green Mountain Breakdown (5.9+). In the evenings, we drank Atlantic Brewing Real Ale and I hunted for Bar Harbor's best lobster roll. I found the perfect butter-soaked lobster meat on a toasted hot-dog bun at The Thirsty Whale, where you can pair your lobster roll with a cup of clam chowder for $15 bucks.
After our second day at South Wall, we wandered into the Atlantic Climbing School office to learn about more moderate climbing at Great Head that was accessible by foot. Eli Simon, the school's owner, greeted us, giving us beta and offering to take us out the following morning.
"I think Acadia is the best place in the world!" Eli said as we scrambled to keep up with him on the walk to Great Head the next day. "What do you do for fun in the city?" he asked. Taylor and I grinned at each other sideways. He seemed just as interested—concerned maybe—about our lives as city dwellers as we were about his life on this idyllic island. We emerged from the trees to an ocean view. Our conversation halted. The area's vistas over the Atlantic have that effect on everyone, even the locals. I closed my eyes and breathed in the cool, salty air. When I opened them, Eli and Taylor were almost out of sight. I ran to catch up as they turned toward the water.
The Left Wall at Great Head offers a variety of single-pitch climbs, most set back from the water and unaffected by the tides. They are Acadia "moderates"; 5.9 requires your full attention. The climbing is technical, and the pro can be thin. In other words, these moderates are old school—they were graded in a time when freeing 5.11 was newsworthy. Windward Roof (5.9-), a gymnastic climb with a high-foot-to-shallow-dish crux, had me muttering praises to a higher power for a thoughtfully placed bolt. Eli referred to it as 5.10b.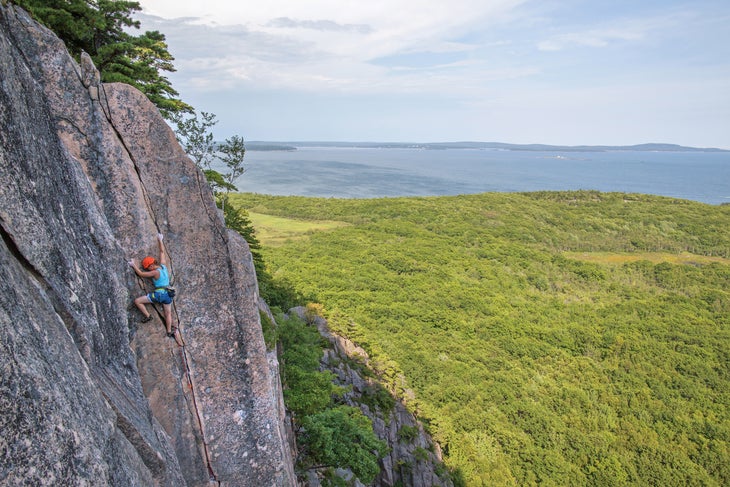 A few weeks later on my third trip to Acadia, this one solo, I sat in Jeff Butterfield's home surrounded by the yellow and orange leaves of late August. Dirty after a day of bushwhacking and climbing a South Bubble–Pleasure Dome–North Bubble link-up with Eli and another guide, Wendy Eliot, I felt sentimental knowing this would be my last trip to the island for a while.
"I loved the area. I thought it was one of the most incredible places on Earth," said Butterfield, author of Acadia's second guidebook and one of the most prolific locals. The Maine native, now 59, had climbed in Acadia as a teenager when he was new to the sport. In 1984, he and Casey Newman opened a climbing school, but it failed. ("People would rather window-shop than climb rocks," he recalls.) A decade later, Butterfield tried again, and this time, the business, Atlantic Climbing School—started by local Chris Kane—boomed. Despite the initial setback, Butterfield stuck with Acadia climbing, and now he calls the craggy island home.
I finally committed to the sloper over the roof on Green Mountain Breakdown. Searching for something to pull on with my left hand, I settled on a miserable divot for my middle finger. I should have gotten a high foot and locked off, but my arms were fully extended, my body draped around the roof like a starfish. Through a series of expletives, hip gyrations, and knee scuffs, I surmounted the mini-roof. I looked below me, triumphant and grinning.
Every trip that summer showed me a different side of Acadia and gave me a different story, from drenched rock to surprise prusiking to guide lessons to an ugly but successful ascent. In spite of the mishaps, this was still the place of my early-summer daydreams. Acadia takes some learning, and what better place to apprentice oneself than on craggy granite overlooking the Atlantic Ocean?