8 Favorite Offwidths Worth Your Blood, Sweat, and Tears
Whether you're already an offwidth fan or are ready to face your fears, check out this list for some of our favorites.
---
Join Climbing
Create a personalized feed and bookmark your favorites.
Join Climbing
Create a personalized feed and bookmark your favorites.
Join for free
Arduous and sometimes a little gory, with odd, thought-provoking body placements, wide cracks are an acquired taste. Find the right route, though, and this intriguing style becomes enjoyable. Whether you're already an offwidth fan or are ready to face your fear, check out one of the following routes that embody the elusive joy of offwidths.
Little John, Left (5.8)
El Capitan Base Routes, Yosemite National Park, California
This short, vertical corner offers a small taste of Yosemite's most iconic wall, El Capitan. Though only about 70 feet, it incorporates a variety of techniques up polished granite: full-body jams and stems, hand stacks, chicken-wings, and laybacks. "It's a great place to practice these techniques," says offwidth aficionado Rob Pizem. "It's sustained yet pretty mellow… You can easily practice without being in the best shape." Hike your feet up high at the crux for more secure jams.
Chrysler Crack (5.9)
Sandy Corridor, Red Rock National Conservation Area, Nevada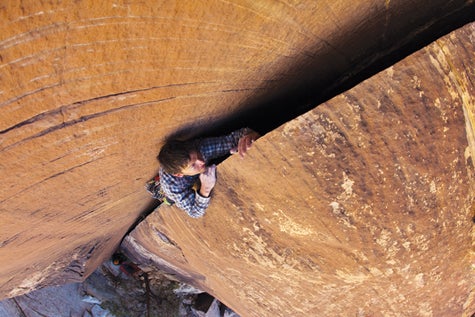 While many of Red Rock's offwidths are short and fringed with face holds and choss, this aesthetic and exposed crack is 90 feet of clean and solid sandstone. "It's inspiring and beautiful—too awesome not to try," says local Matt Kuehl. Chrysler Crack sits at a moderate grade, but it is sustained. Forgo the laybacking and employ arm-bars and heel-toe cams at the start before squeezing yourself into the chimney in the upper half.
Shake-n-Bake (5.10a)
Stronghold Dome, Cochise Stronghold, Arizona
"This is a good introduction to offwidth climbing because it's not straight-in like those at Indian Creek, Utah," says guidebook author Stewart Green. The aesthetic route will take you to the summit of Stronghold Dome after following the most prominent feature of the main face: a flared, four- to five-inch arching crack. The bigger your fists, the easier the crux; after the first 20 feet, the grade kicks back.
Black Crack (5.10)
Barber Wall, Cathedral Ledge, New Hampshire
Amid the many finger cracks up Cathedral's steep, 450-foot cliff is one of the Northeast's best offwidths. The start is a little dirty; avoid it by climbing the ramp on the neighboring Upper Refuse (5.5) to get situated in the large, right-facing corner. The middle section contains the meat, but small edges are scattered throughout to help with upward progress. The wall's namesake, Henry Barber, made the first free ascent with Dave Masury after an unknown party placed a bolt to replace the dicey six-inch bong Mike Stultz used on the first ascent.
Wide Pride (5.10c)
Lost Ridge, Red River Gorge, Kentucky
This remote crag hosts the Red's purest offwidth in a serene setting. The curving, beautiful 55-foot crack splits a featureless sandstone face, never widening to more than four to five inches. "Unlike many wide cracks in the East, it forces the climber to rely solely on offwidth techniques rather than familiar face climbing," local climber Jon Kulikowski says. As guidebook author Ray Ellington states, "Abs of steel required… Don't give up if you can't find it. The reward is an incredible climbing experience."
Right Chimney (5.10c)
The Three Penguins, Arches National Park, Utah
Although the offwidth section is a short part of this two-pitch tower, it will take you quickly through the full range of wide crack skills just before a rewarding summit. "You go from fist jamming to a couple of hand stacks and some wiggling, and then transition to a squeeze move," says ace crack climber Steph Davis. "It's soon over, and you pop out of the wide crack to climb over a sandy bulge to the summit. It's surprisingly fun." Former Climbing editor Michael Kennedy made the first ascent in 1976.
Pipeline (5.10d)
The Shlanay, Squamish, British Columbia, Canada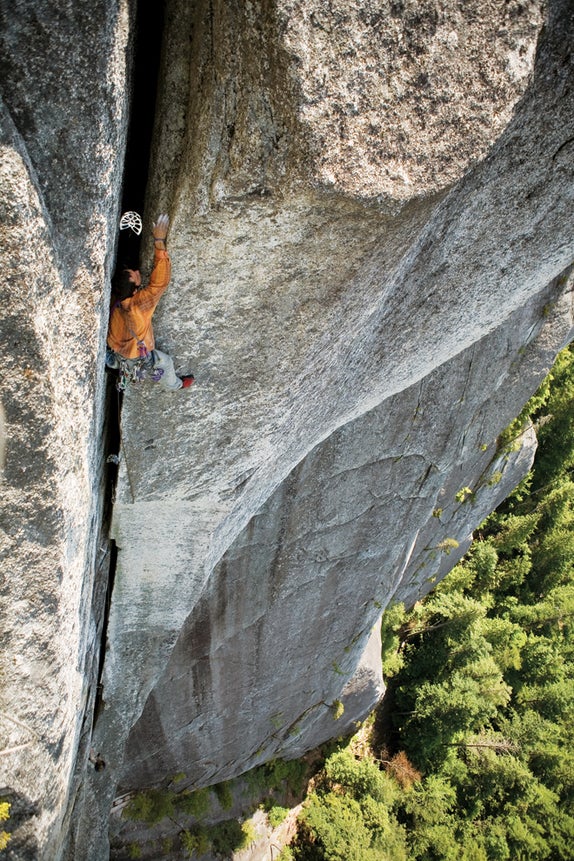 This route's prominence in Squamish began with its first free ascent: an onsight free solo. While many Squamish cracks allow the use of face holds, Pipeline demands wide crack technique. "The only other climbs like that are single pitches," local Matthew Hoffmann says. "And those don't get the exposure, stunning position, and brilliant summit [of Pipeline]." The granite is steep, and the crux comes at the third pitch, with about 15 feet of overhanging climbing between the bolt and the lip. Chicken-wing until you reach a small foothold out right to help get you over the bulge.
Crack of Fear (5.10d)
Twin Owls, Lumpy Ridge, Colorado
While this daunting Colorado classic is known for being relentless and strenuous, according to local climber Jason Haas, "If you're into offwidth climbing, it's a great moderate, and you get a huge bang for your buck." It will test even the most experienced offwidth devotees because "there's no way around [the wide crack] for 300 feet," he says. Prep your endurance for chicken-wings, hand stacks, and heel-toe cams for this sandbagged, three-pitch line.