Heading out the door? Read this article on the new Outside+ app available now on iOS devices for members! Download the app.
John Kear savoring The Promised Land (5.12) on the Shield.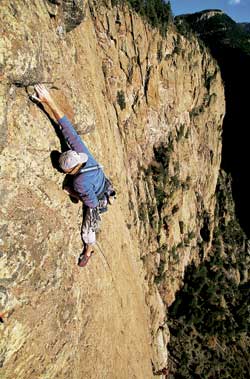 I looked directly left toward the belay. The rope made a long, sad droop before it hit a piece of protection. "I think you're at the first R part," said, Kennan. Off to the right, I could see what looked like a crack, but it was another seven or eight feet out. The rock in between appeared blank. The holds under my hands and feet were classic Sandia granite, rounded and gritty, and I sensed that I had limited time before nerves and gravity got to me.
"I'm going to move another few feet, see if I can get in some gear," I said. I palmed a shallow dish, reached out for a sidepull, rocked over as delicately as I could onto my right foot — then breathed a sigh of relief. A cam-sized fissure appeared before my nose. Back at the belay, Kennan gave me a thumbs-up.
We were four pitches up
Rainbow Dancer
on the Shield, a 1000-foot formation that dominates the northern skyline above the shopping malls and million-dollar homes that comprise the Northeast Heights of Albuquerque, New Mexico. The Shield receives even less traffic than formations in other areas of the uncrowded Sandia Mountains, and we weren't gunning for one of the more popular lines. By best estimate, our route had seen fewer than a dozen ascents in over twenty years. Its grade — 5.11a R — isn't tough by modern standards, but the route has a reputation for an ass-kicking approach, complex route finding, loose rock, and runouts, all of which conspire to keep away crowds. What's appealing is that it takes a direct path up the Shield's middle, weaving a sinuous line through a series of huge roofs, and then punches straight for the top. After ten years of climbing in the range, I finally felt ready to attempt it, and Kennan, though new to the Sandias, had bought into the project. Now, it was nearly noon and we were just getting into the route's meat.
I finished the pitch, brought Kennan over, and we gazed at the overhangs directly above. They looked as welcoming as a car wreck; a short, steep crack gave way to a slab devoid of obvious protection, followed by the ominous, chunky roofs. I handed Kennan the rack. "Your lead!"
The author takes in the sunset from top of Murilla Grande, Sandias, New Mexico.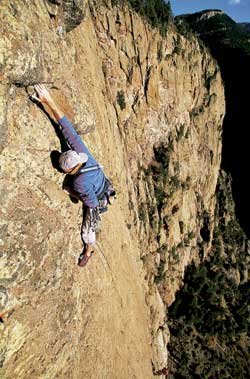 Sam Gardner gets up close and personal with the Skinwalker (5.10d), on the Clandestine Wall.
Most New Mexico climbers avoid the Sandias. At first this seems surprising. These magnificent mountains rise nearly a vertical mile directly above Albuquerque. From the city, one can see remote spires and red-gold granite faces — hundreds of feet high — erupting from the forests. Fins of rock branch out and fold around, creating an inviting vertical playground. A closer view reveals that most of these granite features are devoid of splitter crack systems. Visitors quickly discover that route finding can make the difference between a beautiful, multi-pitch outing on good rock and a waking nightmare of deadly, teetering blocks. Even when you stay on route, longer lines keep your attention by handing you discontinuous cracks joined by sections of "faith-based" climbing and sparse protection. And those heady pleasures are often predicated upon navigating brush and game trails to the route's start. "The Sandias?" goes the refrain. "I tried to climb a route there once — got lost, got benighted, don't think I'll go back."
Yet for those with the right temperament, excellent climbing in a magnificent environment beckons. If you're looking for convenient high-standard trad climbs, find another area. If you're seeking a 5.10-or-under wilderness climbing experience that just might end with headlamps and a hanging bivy, the Sandias are for you.
Most of the popular classics have seen enough traffic to clean off the worst of the loose rock, and in the past ten years or so locals have begun establishing "modern" lines on the steeper, cleaner aspects by hand-drilling bolts to stitch together discontinuous cracks. They have also established trails to the larger formations, and equipped many of the popular routes with bolted anchors. The area is becoming more welcoming, but, despite these improvements, a "crowded" day in the Sandias usually means that there's another party somewhere in the same valley.
The Sandia Crest.
Tina Sommer prepares for the Second Coming (5.10), on the Murilla Granda.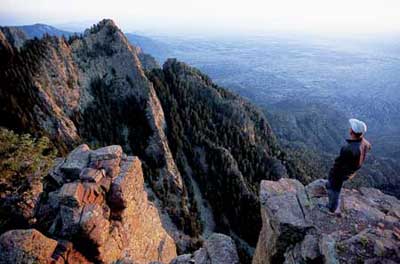 Sandia granite is ancient. Over a billion years of geological evolution have pressed the rock, folded it, and finally thrust it violently up out of the edge of the Rio Grande Rift to form the dramatic face that overlooks Albuquerque. "Sandia" is Spanish for watermelon, and the mountains probably acquired this name because the rock turns elegant pink in the setting sun. A nickname for the Sandias might be the "Carrot Cake" Mountains, because the textured red granite that makes up the bulk of the west face is topped by a half-pitch-thick icing of white limestone. Elsewhere in the range, at Palomas Peak, sport climbers have made good use of this limestone by bolting over 100 routes. The Sandia Crest limestone itself lies inside the wilderness boundary, off limits to power drills.
The granite of the upper mountain is best approached via a paved road that winds up from the east, passing through forests of aspen and ponderosa pine, ending in a large parking area on the Sandia Crest's 10,678-foot summit, where visitors can get a cup of coffee and a hot dog at the concession building. (A half-mile swath of land at the Crest has been ceded to the needs of civilization via a grandfather clause in the Wilderness Act that allows sprouts of communication towers to remain. The red warning signs about radiation exposure encourage hikers to speed down the trail. These towers can be seen from much of the range, and serve as a useful landmark when navigating to and from some climbs.) Trails lead off in all directions, but most of the climbing is accessed via the La Luz trail, which starts here and drops to the west, or by hiking north along the Crest Trail.
There is a small but active group of locals who feel that the Sandias' bad rap is undeserved. Among them is guidebook author Mick Schein. "It's important to know which routes are good and which aren't," he says. "If you do know, it's possible to do some outstanding climbing in the Sandias." His belief that people just needed a nudge in the right direction and a friendly voice giving them good route Beta led to his book
Sandia Rock
, which offers an overview of the range's best climbing, and steers readers to the cleanest routes on more heavily trafficked formations.
Mick Schein courts his Mountain Momma (5.10c).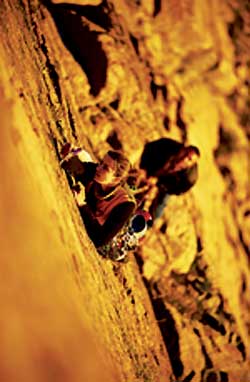 Carolyn Parker climbing the last pitch of The Promised Land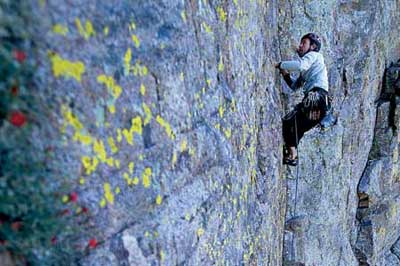 Another strong local voice is climbing guide Carolyn Parker. Carolyn learned to climb in the Sandias, and she and her husband John Kear continue to be very active, bushwhacking to remote formations to do repeats and establish first ascents. "The place is magical," she says. "It's always challenging, and it always makes me face myself." Parker's years as an itinerant climber and guide have only enriched her appreciation for her home area — the Sandias remain her favorite place to climb.
Parker does acknowledge that she has a huge home-court advantage, and encourages visitors to do their homework. "The Sandias can be confusing, because you approach from the back. You can't see many of the formations until you get to them." She also cautions visitors about the weather. Storms build quickly above the high desert peaks, and a bright sunny day can swiftly transform into torrents of freezing rain and lightning.
Climbers have been coming out of Albuquerque to the Sandias since the 1950s. Most of the old lines pick their way up low-angle ridges on the major formations. One notable classic from this era is the
Southwest Ridge
of the Needle, a twelve-pitch 5.8 first climbed in 1959, still one of the most popular Sandias routes. The first ascent was carried off with aplomb by David Hammack and Reed Cundiff. The two scouted the line, climbed it, and made it back to Albuquerque that same night — quite a feat, given that many modern parties armed with cams and topos have spent cold, unplanned nights partway up the route. At the age of seventy-five, Hammack still hikes the Sandias as a volunteer ranger, offering cheerful pointers to both climbers and hikers.
Carolyn Parker explores The Promised Land.
Cheryl Albrecht consults the topo.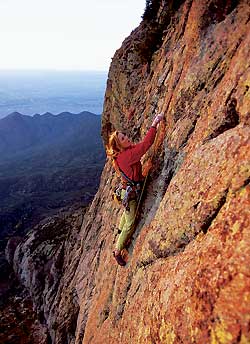 Kennan started quickly up toward the Rainbow Overhangs, then slowed to a crawl when he hit the slab. He drifted up, moved down, stepped up … stopped. "This route was put up when? 1979?"
Peter Prandoni and Doug Bridgers put it up," I replied.
He finally plugged a small cam. "Well, they're brilliant. And damn good climbers."
I had to agree. Long routes at most crags follow well-defined features and crack systems. In the Sandias, that rule is often broken. Many routes flow from hidden hold to hidden hold, and route finding must be accomplished in close consultation with a good topo — or divine guidance.
Rainbow Dancer
, in the remote vastness of the Shield, is the epitome of that type of climbing. It unfolded before us as we progressed, following a path of intuition and possibility upwards, weaving delicately through and around obstacles, spurning power and requiring high-steps, blind reaches, and oppositional pulls.
Kennan continued climbing well past his gear, then executed a delicate mantel onto a shelf where he established a belay. I followed, and as I approached the mantel, he said, "Don't use that crack to the left. The rock's loose."
I looked. The cliff appeared solid to me, but I took his word and ignored the inviting finger crack, and instead grasped two tiny edges, raised my foot, and made a gasping belly-flop onto the ledge. After I clipped in, Kennan stepped forward and said, "Watch."
He nudged the rock above the crack, and a 500-pound chunk of granite separated from the cliff and fell towards the ground, streaming a contrail of dirt. Six pitches later it struck the talus, sending a sound wave rolling upwards. At a popular climbing area, such behavior would be tantamount to manslaughter, but at this seldom-visited wall, it was more an act of safety and public service to future parties.
Josh Smith and Sam Gardner Cry for Merlin (5.12b).
The next section went uneventfully, but it brought us to the seventh pitch; the guidebook description read, "going straight up on easy ground leads to 5.10X climbing. Instead, traverse right past the rotten band." Words to stir the sweaty palm. Kennan had drawn this pitch as well, and I watched tensely as he disappeared around a corner. Each time the rope fed out, I had to fight the reflex to lock off, afraid that he might be falling along with a pile of crumbly rock. I only relaxed when I heard him call "Off belay!" It was obvious when I followed that he'd made the correct route-finding decision, though the pitch was circuitous and allowed him only a handful of gear placements in 190 feet. When I joined him and looked up, I could see the top of the formation. The difficulties were over.
The last 200 feet of the climb scaled a clean, easy slab and deposited us at the wall's apex. We sat on top, eating a snack and looking out over the valley to the city far below. I felt happy, even elated at what we'd accomplished. Often, putting a ten-year project to bed leaves a void, but instead I felt a deep peace. "You know," said Kennan, "I've really gotten to like this place." I nodded my head.
Josh Smith lives in Los Alamos, New Mexico, within easy striking distance of the Sandias. One of his greatest pleasures is bushwhacking to remote rocks.
The Shield with red line marking the Promise Land, Sandia Moutains, New Mexico.
Photo by John Kear