How Underrepresented Groups Are Becoming Texas's Next Big First Ascentionists
Heading out the door? Read this article on the new Outside+ app available now on iOS devices for members! Download the app.
"Do I need my aggressive shoes for this one, Mike?" Kristina Chyn asked as she prepared her gear for the next climb. 
"Yeah, you'll want them." Mike Klein, her mentor and climbing partner replied. "Can you fit your ankle brace over your shoes?"
Kristina, battling a week-old ankle sprain, was debating the value of wrapping a brace over her performance-fit Solutions or just wearing her much more neutral-fitting Mythos.
It was a cold Sunday morning at Inks Ranch in Texas, about a half-hour's drive from Enchanted Rock, and two hours from Austin. It had rained unexpectedly the night before, and temps had dropped to the thirties. Lucky for us, a brisk wind raked the granite domes, sopping up the wet rock, and providing several routes tacky enough to play on.
Inks Ranch, and the playground of Texas granite within its boundary, is private property. But back in 2017, the landowners, in partnership with Access Fund, began the framework for what would eventually become the Inks Ranch Climbing Festival, opening the area to climbers a few weekends a year. 
Visually, the landscape is striking. It reminded me of Joshua Tree, except with a lot more greenery, cactus, and cow pies, and a lot less sand, roadrunners, and Joshua trees. 
Okay, so maybe not so similar to Joshua Tree at all.
*
Outside of Hueco Tanks, The Lone Star State is probably the last place anyone thinks of when they think about rock climbing. Yet there we were, jumping over cactus, squeezing between fallen boulders, climbing and exploring a wild granite landscape.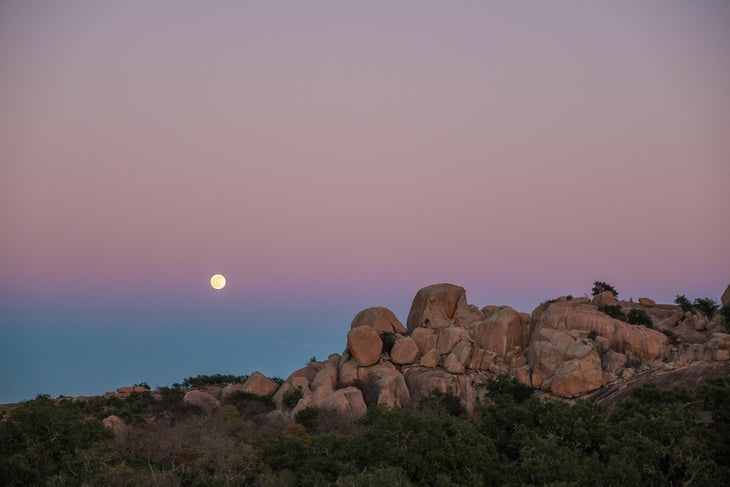 According to the Access Fund, a mere 5% of the land in Texas is public, though some folks have told me it's even less. Historically, many of the routes and crags have had a similar recipe for development: bolt first and ask for forgiveness later. When word gets out about these new areas, climbers begin to visit, growing steadily in number, until the crag or boulder field is eventually accepted by the landowner. It's by no means a perfect development strategy, but it's how, historically at least, a lot of Texas crags seem to be born. 
When the pandemic first shocked the US, Kristina found herself looking for a COVID-safe group to climb with. That's when she started climbing with Mike, a local climber and route-developing legend. As they climbed more and more, a mentor-mentee relationship formed. One day, Mike invited her to a crag that he was developing in a park just outside of Austin dubbed the "Dog Park." While the wall is only about thirty feet tall, it's full of aretes and dihedrals and ranges from slightly slabby to overhung. 
This article is free. Please support us with a membership and you'll receive Climbing in print, plus our annual special edition of Ascent and unlimited online access to thousands of ad-free stories.
That's when Mike asked her if she was interested in bolting a route. 
Kristina was incredulous. Developing routes wasn't even on her radar. Not because she had no interest in it, but because she never imagined that she, as an Asian American female, would ever have the opportunity to create that kind of impact on the Texas climbing community.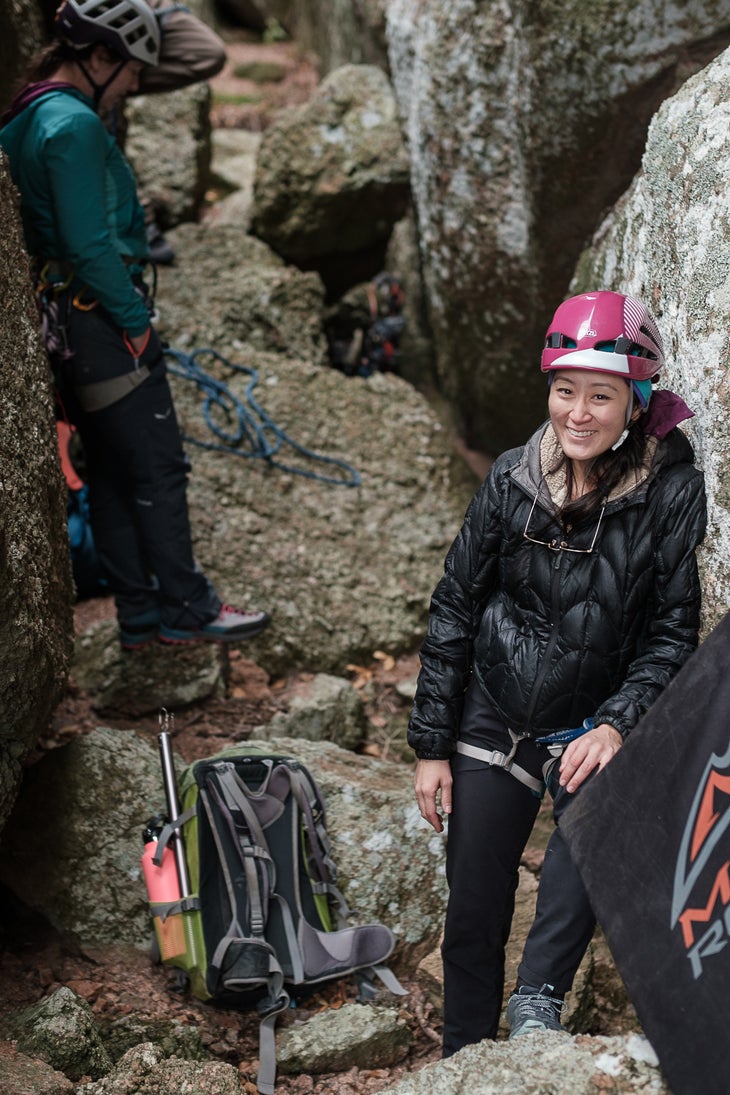 Kristina grew up in Austin, Texas. To a lot of folks, with big tech moving in and booming housing costs, Austin exists in popular imagination as the California of Texas. But the city has changed drastically over the past three decades. 
Growing up, Kristina attended a magnet school where she was one of only a handful of minorities. While there, she was always told by her classmates that she had to fit the stereotype of what an Asian "should" be: good at school, quiet, and a nerd. The few times she did try to develop her personality outside of what everyone else expected of her—listening to anything other than classical music, for example, or buying trendy clothes from Hot Topic—she was immediately ridiculed by her peers. 
As a result, instead of being proud of her cultural identity, she found herself cutting off any association with "Asian-ness" that she could. "I stopped visiting family in Taiwan, I ate American-acceptable foods, I didn't associate with too many other Asian Americans on purpose," she says. "Cutting myself off from my cultural heritage is something I deeply regret, but many kids at school perpetuated judgment and exclusion and I wanted to be accepted, as most teenagers do."
In college, Kristina spoke up for herself against a cat-caller, who berated her in return. She was an Asian woman and, according to him, she was supposed to be weak and submissive. This kind of experience—just one of many—stayed with her on a subconscious level, no matter how much she tried to fight against it.
Kristina said these experiences are why she was so surprised when Mike asked her about route development. While the sport of climbing is growing fast, most of the first ascensionists you see in guidebooks are still white males. And many of the photos you see in the magazines and on social media are white males—all climbing hard and usually shirtless.
Despite Texas's ranking as one of the most diverse states in the country, right alongside California and Hawaii, the climbing community, and particularly the route development community, hasn't necessarily reflected that. And rightfully so. It is hard to imagine yourself a route developer when no one who looks like you develops, either.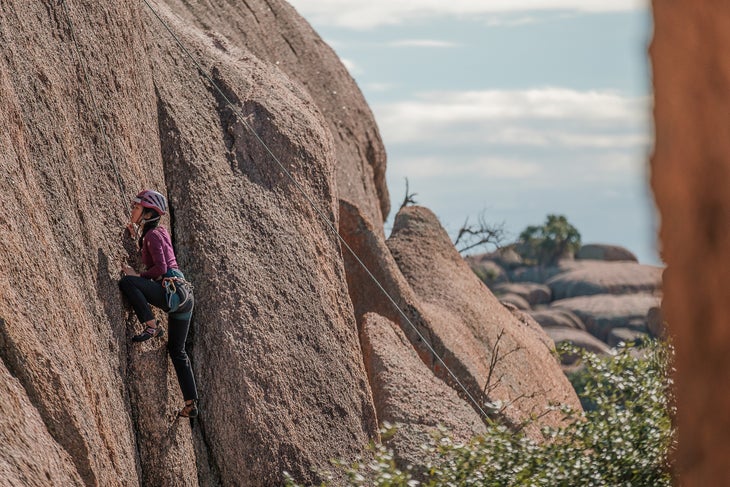 Emilie Hernandez, another local climber, started a climbing meet-up group in January 2018 called Texas Lady Crushers. Originally intended for female climbers in Texas, the group quickly opened to all female, non-binary, and non-gender conforming Texans and Texas travelers to climb in a supportive and educational space.
In early 2020, Brian Tickle, Access Fund's Texas Regional Director, reached out to Emilie and other Local Climbing Organization (LCO) leaders, informing them of an opportunity for first ascents in the privately owned granite playground called Inks Ranch, about a half-hour drive outside of Llano, Texas. He asked if they knew anyone who might be interested in developing routes there, particularly climbers from underrepresented groups. 
Due to an inherent lack of diversity, the Access Fund and many LCO's pledged to make both rock climbing and route development more JEDI: just, equitable, diverse, and inclusive. Tickle knew Inks Ranch would be a prime location to start the initiative for the Texas climbing community. The plan was to hold route development weekend events, pairing seasoned route developers to mentor a diverse group of participants from marginalized communities at Inks Ranch. Over one of these weekends, a woman named Bree Jameson likely became the first black woman in the state to bolt and send a new route.
JEDI is now something of a buzzword in the climbing community, though it's usage, more often than not, is purely conceptual. Tickle said the Inks Ranch route development events were a proof of concept for JEDI and provided a tangible outcome at long last. 
When Kristina took Mike up on his offer to develop routes, it was a conscious decision to no longer bind herself to the stereotypes of a supposedly meek, Asian woman. It took her nearly a week's worth of effort to develop what became her first FAs: two sport routes, Nutters (5.10c) and Curry (5.10b), named after her dogs, of course.
Each route took a day to clean, another day to develop and bolt, and a third day to get the send. For her, leaving such a substantial contribution to the Texas climbing community was especially meaningful. Not in the least because she was able to do it in such a physically demanding way.
*
"Climbing!" I hear Kristina call to Mike as she begins her ascent. I scramble on top of nearby boulders, dodging cacti and thorny bushes, making my way up to a higher angle to photograph her from. As I peer through my viewfinder, I watch as she manages to climb through the crux of the route, pulling on crimpy holds and stepping up on thin granite crystals, before finally topping out, sprained ankle and all.