Ten Stout Routes in the Ice-Capital of Canada
The Canadian Rockies boast some of the best long ice routes in the world. With the borders newly reopened, it's time to sharpen the tools and gas up the car for your dream winter road trip.
---
Join Climbing
Create a personalized feed and bookmark your favorites.
Join Climbing
Create a personalized feed and bookmark your favorites.
Join for free
This article was originally published in Climbing No. 380 under the title "Deep Freeze."
The Great White North's borders have finally reopened, and for those with a hankering for long, epic ice routes, the opportunities are endless. From roadside flows, to backcountry hideouts and high alpine faces, the Canadian Rockies—in particular the area in and around Banff National Park—have an ice climb for you. What follows is a curated selection of winter dream routes, though it's not your typical ticklist. Any one route here represents a solid day out, requiring avalanche savvy and mountain sense to safely manage the terrain. Even if you have these skills and the requisite commitment, your bucket-list route might not have formed this season.
Despite its abundance of ice, Canada, unlike many of the world's other preeminent ice-climbing venues, remains a quiet destination. Sure, you might see several parties on a weekend, especially on the classics. And don't be fooled—some of the routes I've included here are among the most popular in the range. But compared to Chamonix? Or Ouray? The Canadian Rockies are a ghost town.
Finally, bear in mind that while the following climbs are all in the same mountain range, getting from one to another can involve hours of driving on different highways—you're probably not going to tick them all in a day!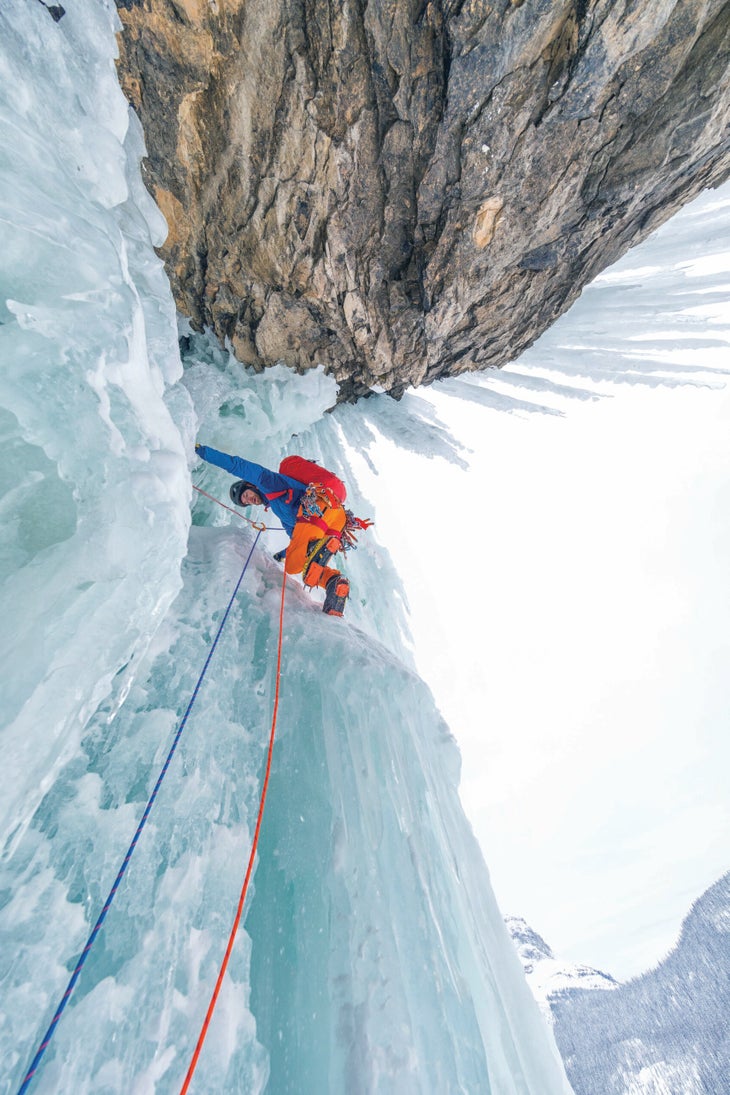 Takakkaw Falls
[ V WI 4; 250 meters ]
Takakkaw Falls is the second tallest waterfall in Canada and one of the more remote "classics" around. Even in the dead of winter, the falls have a powerful flow that never fully freezes. "You are inevitably climbing on a shell of ice," says the local ice maestro Greg Barrett. "At the bottom there is open water, a thunderous roar, and a steady mist floating up from below." Fitting, then, that takakkaw means "magnificent" in the indigenous Cree language.
Although the ice thickens in merciful sections, the threat of waterboarding is always imminent. "You'll come upon a thin spot again, or an opening, and hear the roar anew," Barrett says. If you were to take the plunge, and somehow avoid drowning at the end of your rope, there would still remain a hypothermic 15-kilometer ski back to your car.
Barrett mitigated this danger by waiting for sustained periods of cold weather—"cold" for an ice junkie in Canmore means two weeks of -20° C (that's -4° F)—before venturing onto this fast-moving flow. Once on route, he weaved through sections of thin and thicker ice, avoiding fragile shells whenever possible, kicking gently when he couldn't. One option, which Barrett gladly chose, was "an overhanging wall of ice, with wild frozen tentacles hanging off of it," he says. "The climbing went up a chimney, with unstable blobs and columns on all sides."
It certainly wasn't the path of least resistance.
Nemesis

[ V WI 6; 160 meters ]

Benchmark Grade 6. The prolific author Joe Josephson notes in his guidebook Waterfall Ice Climbs in the Canadian Rockies that Nemesis is "one of the few early climbs that have not been downgraded." In an area not particularly known for soft ice grades, take this statement to heart. Nemesis forms on the north-facing Stanley Headwall and sees little sun—especially in the heart of winter. The two-hour ski approach is a warm-up for the first 70 meters of climbing: an often-rotten pitch of WI 4. So why is this route classic? Keep climbing to the spacious ledge above and look up: 70 meters of steeper, harder, and better-protected WI 6 await.

Like many routes in the range, Nemesis is firmly planted in avalanche terrain. Approach with care, and be mindful of the slopes above. In the Rockies, out of sight is never out of mind.
Silmarillion

[V WI 6+; 140 meters ]

Though only a few kilometers from the relatively popular Stanley Headwall, the Storm Creek area was long seen as mysterious and poorly documented—even by Canadian Rockies' standards. "It didn't seem like anyone went up there," says Jon Walsh, a leading Canadian alpinist and prolific first ascensionist. "It was an obscure spot with a pretty epic approach." Compared to Stanley's dedicated parking lot and donkey trail to the base, Storm was less pedestrian: The thickly forested hillside tilted at an unrelenting angle and posed a route-finding nightmare on the approach.

Then, in summer 2003, a wildfire raged through Kootenay National Park. Firefighters cut a fire break across the valley and unknowingly created a direct approach into the Storm Creek drainage. "It was heinous otherwise," Walsh recalls. The following winter, Silmarillion received its first and second ascents; it was graded WI 6+ X, owing to a long pitch of dangerously thin ice followed by a poorly protected pillar. Walsh visited Storm Creek every year since the FA of Silmarillion and never saw it in full form again—that is, until he and Brette Harrington climbed it in December 2020 for what Walsh believes was its third ascent.
Iron Curtain

[ IV WI 6; 85 meters ]

Iron Curtain is both classically cliché and anomalous in the Rockies. The climbing is excellent, the crowds nonexistent, and the setting remote. However, the approach is actually quite mellow: The paved Yoho Road closes each winter due to extreme avalanche danger, providing ice climbers a direct path, on skis, into the many flows beneath Mount Ogden. These climbs have varying degrees of avalanche exposure, but all present some element of risk.

The climbs in this area are southwest facing, and on warm days often comprise wet and sticky hero ice. "I recall being dripped on with lots of water as I moved through the crux section [of Iron Curtain]," says the local Patrick Lindsay. "I'd make a fist and squeeze puddles of water out of my not-so-waterproof gloves."
Arian P'tit Gremlin

[ V WI 5–6; 300 meters ]

Tucked away from the watchful eyes of conditions-obsessed ice climbers is Protection Valley, between Banff and Lake Louise. Here, you'll find Superlight (WI 5+ 5.10). Featured in Rock and Ice No. 267, it's the most striking feature visible from the highway—though the view of the route is fleeting, a calculated glance at best. However, adventurous climbers who are up for the long approach are rewarded with an impressive, hidden amphitheater of ice and mixed lines, including Superlight and the neighboring Arian P'tit Gremlin.

"Sometimes you may just want to escape the crowds, have a solid winter trek, and then top it off with some epic climbing," says Patrick Lindsay, a local alpine guide and owner of Ridgeline Guiding. Arian P'tit Gremlin ticks all the boxes. This isolated route is found at the very back of Protection Valley, guarded by a three- to five-hour ski approach. Climb conservatively and within your ability level back here; it could be a long, chilly night otherwise.
Louise Falls
[ II WI 4–5; 100 meters ]
Louise Falls makes for a relatively laidback classic: This two- to three-pitch outing has a plowed parking lot, cell service should you need to update Instagram mid-route, and a packed-out and (mostly) flat approach to its reliably fat blue flows.
Despite its mellow reputation, Louise Falls can always be turned up a notch. For Stas Beskin, one of the area's best pure ice climbers, this classic is best early season. "This is when it's unformed, untouched, ephemeral. I find it's the most rewarding time," Beskin says. "Later in the season, lines get fat and then pegboarded. I can't stand pegboard."
The lure of virgin ice comes with its own risk—before it fattens up, Louise Falls initially forms as a narrow, detached column lacking the structural integrity to take reliable pro. In November 2020, Beskin climbed halfway up the pillar, reaching a spot just before it connected with a solid curtain. Suddenly, his bodyweight cracked the precarious column, and the entire mass settled. Fortuitously, it remained planted to the ledge below, and Beskin carefully hooked and scratched his way onto safer terrain.
Kitty Hawk
[ III WI 5; 200 meters ]
The first ascent of Kitty Hawk, in 1981, marked the culmination of many local climbers pushing their mental and physical limits. The season prior saw a substantial lead fall, hence the name Kitty Hawk, and an impromptu rescue; it was the first of several valiant attempts to take down the then-hardest ice climb in the David Thompson area.
The demanding route finally succumbed to a solo effort by the indefatigable local climber Greg Grant. He self-belayed the hardest pitches, but even Grant was not immune to an epic of sorts. "After descending the ice safely, Greg's foot broke through a snow crust at the base of the climb, and his thigh was lacerated by the pick of his ice tool," Cyril Shokoples wrote in his A Mini Guide to David Thompson Ice. Grant required 26 stitches to knit his skin back together.
Oh, how times change and standards progress! Last winter, the same fearsome route provided Stas Beskin with a fun day out: He free-soloed it twice. "In general, I treat every ice climb as a solo [anyway]," Beskin says. "Then I never push it on lead. I always have a safety pattern: I never fall."
Hydrophobia

 

[ IV WI 5+; 150 meters ]

Brette Harrington had wanted to climb Hydrophobia for years. In March 2016, she ventured with hooks and other aid-climbing equipment into the remote cirque that houses the route, intent on establishing steep rock climbs on the surrounding limestone. She watched from her portaledge as party after party flowed up the vertical football field of ice, just a few hundred meters from her perch, before it succumbed to spring warming and crashed to the ground, fortunately while no one was on it.

Harrington returned to climb Cryophobia (WI 5+ M8) in December 2019 (its start is visible on the left side of the image) and, finally, for Hydrophobia the next season. "[It's] one of those iconic lines that every ice climber wants to do," she says—despite its name meaning "fear of water."

Thirty-five years ago, Karl Nagy and Frank Campbell attempted the route's first ascent on a frigid December day. As they neared the top, a natural ice dam released from above, hosing the men with icy water for nearly half an hour before the flow slowed enough for them to retreat. Desperately hypothermic, they staggered several miles back to their vehicle, but returned the following week to take Hydrophobia to the top.
Polar Circus
[ V WI 5; 700 meters ]
Polar Circus is a burly and historic route. It has been climbed in all manner of ways: a full day of pitched-out climbing, a half day of simul-climbing in blocks, and even two-hour free-solo blitzes. On the first ascent, in 1975, Bugs McKeith, Charlie Porter, and Adrian and Alan Burgess made an eight-day siege replete with fixed ropes, direct aid, and, at one particularly disorganized belay station, a "Polish Circus." The derogatory route name didn't stick, but the route's reputation certainly did.
The 15-minute approach, multiple tiers of climbing, and alpine ambience make this an enticing outing, but the route still requires the utmost respect. You will cover 500 vertical meters of steep ice, punctuated with careful tiptoeing across serious avalanche-prone slopes, all while at the mercy of massive avalanche bowls overhead.
Quentin Roberts, a professional alpinist living in Canmore, knows the score. In January 2017, Roberts was in the belly of the beast—one pitch from the top of Polar Circus—when he heard it: an avalanche released from above, its rumbling mass barreling right toward him. He was three meters above his last screw when the white cloud pounded him, filling his jacket's hood and sleeves. "I never felt like I was going to fall, but I did know that if something heavier hit me it would likely knock me off," Roberts says. He held fast in an "X" position for three minutes as the cascading snow ran its course—almost to the highway far below. Then, he rappelled off as quickly as he could.
La Goutte

[ WI 6; 50 meters ]

La Goutte is a striking, lonely pitch perched high on the northern flank of Mount Rundle. As enticing as the climb is, however, its steep, multi-hour approach through high-consequence avalanche terrain keeps traffic to a minimum. "La Goutte is definitely worth it for one pitch," assures Jon Walsh. "I wouldn't make it the first thing I'd do, but after awhile you start running out of ice climbs to add to your collection."

Anthony Walsh is a Canadian Rockies local and a digital editor at Climbing. He apologizes to his community for any lineups on Takakkaw Falls this article may create.