Clean and Jerk (5.10c), Joshua Tree, California
Heading out the door? Read this article on the new Outside+ app available now on iOS devices for members! Download the app.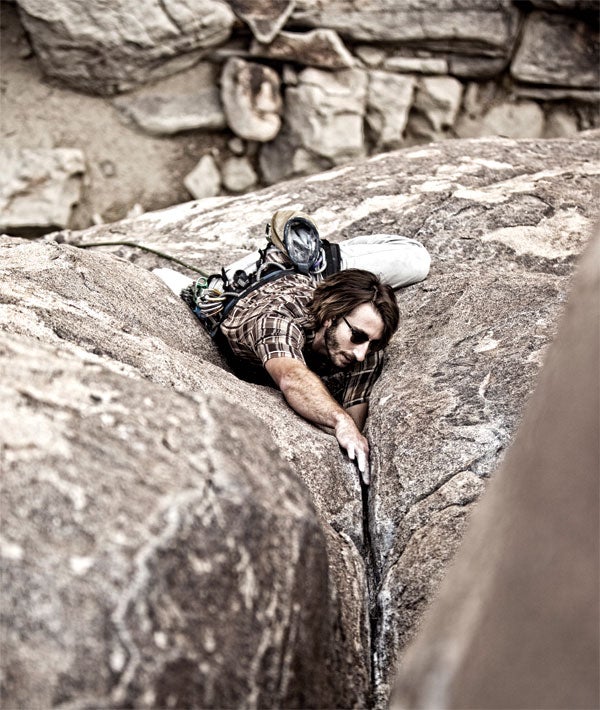 Picture yourself in Southern California in the late 1880s: An infamous group of bandits known as the McHaney Gang, led by the ruthless cattle rustler Jim McHaney, is being chased out of the San Bernadino Mountains by a posse of ranchers tired of losing stock to the gang.The rustlers escape to the east and set up camp near today's Twentynine Palms. They continue their lawless ways, stealing cattle and hiding in what they called Cow Camp, at the edge of today's Wonderland of Rocks in Joshua Tree National Park. Probably looking for a new location for their cache, gang member Willie Button wanders south of camp and discovers the Real Hidden Valley; it's believed that McHaney and crew kept much of their stolen stock here.
Today, climbers can walk in the footsteps of those notorious cattle rustlers along the Hidden Valley Nature Trail, which loops around one of Joshua Tree's most popular cragging zones. Follow the trail to Sports Challenge Rock and hop on the area classic, Clean and Jerk (5.10c), on the east face. Tim Powell and Dan Ahlborn discovered Clean and Jerk during a late-night bouldering session in 1976, then returned a week later to make the first ascent with Powell's brother Kevin. "I remember I had precious little in the way of protection below me, and the prospects above didn't look good," Tim recalls. "The wall was viciously steep, and I remember looking down and thinking that I was probably on a grounder."
Clean and Jerk is now a climber favorite in the park—and it's solid, if not sandbagged, at 5.10c. The crux sits right off the deck: Get ready to charge up a bouldery, overhanging face on horizontals. Catch your breath, and then continue up a steep 5.10a crack. Powell originally finished in a chimney to the right, but most take the direct exit.
It's very common for routes on Sports Challenge Rock to be toproped, but many lines take great gear. On colder days, hit Clean and Jerk early for morning sun.
Beta
Season: Fall through spring; November through March are the prime months.

Guidebook:Rock Climbing Joshua Tree West, by Randy Vogel; Joshua Tree Rock Climbs, by Robert Miramontes

Gear: Standard rack with cams to three inches. A solid spotter for the start is recommended.

Approach: From Joshua Tree National Park's west entrance, drive 8.6 miles until you hit the junction of Intersection Rock (east) and the Hidden Valley picnic area (west), and turn right (west) onto the Hidden Valley picnic area road. A few hundred yards leads you to the parking lot. Sports Challenge Rock sits in the center of Real Hidden Valley. Take a right (east) at the fork on the Nature Trail, walk for about 50 yards, then head north to the east face of Sports Challenge Rock; Clean and Jerk is on the Main East Face on the left.