How An Unlikely Nairobi Climbing Gym Brings Worlds Together
Climb BlueSky was East Africa's first public climbing gym.
Heading out the door? Read this article on the new Outside+ app available now on iOS devices for members! Download the app.
On a hazy Friday afternoon in Nairobi, Kenya, three teenagers lounge on a boulder pad under the short but colorful walls of Climb BlueSky, bright equatorial sunlight streaming through the open windows. Six floors below, the weekly market bustles with people examining piles of mangoes and gourds and garlic, the sounds of a few loose chickens intermixed in the scene. The teens seem spent after a few attempts on the nearby toprope walls, with the exhausted wonder of realizing that this sport is harder than it appears, but they watch, rapt, as a much older Kenyan pulls an elegant sequence with a tight hand-foot match up an overhanging boulder. I can tell they've never seen someone move like that—they don't even notice me snap the moment on my camera. They giggle in the dust and chalk that fly as Sam Mwangi drops to the mat. I learned to climb in this gym as a teenager, too. Sam, head routesetter here, helped teach me to move almost a decade ago. He's still teaching kids, but in the gym, a lot has changed.
"If you love something, you invest in it," he told me.
The simple, steady determination of people like Sam has made BlueSky the improbable hub of the Kenyan climbing community.
Nairobi is a garden city, towering with jacaranda and bougainvillea, and unless you are beguiled into the frenetic and grimy steel jungle of the Central Business District—the city's beating heart—you could wander hibiscus-laden neighborhoods endlessly. During the rainy season, the blooming canopy holds up a lattice of thunderclouds that make the sky seem, as is often said of this part of Africa, bigger than it should be.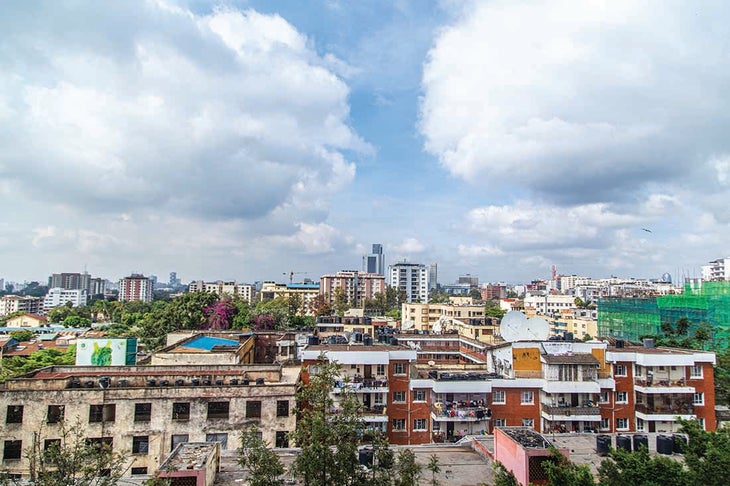 Encircled by the leafy suburbs and hectic freeways is an underground adventure culture with a rich history and promising future. The Kenyan climbing community is established but evolving—and, for a start, requires a breakdown of what "Kenyan" might mean. For many years, the climbers here were largely foreigners or white Kenyan citizens of British descent. Kenyans of South Asian heritage also picked up the sport; many of them owned family businesses and were affluent enough to afford the transport, equipment, and time needed for a sport with little public access. Black Kenyans have long pushed the sport, particularly on the glaciers and massifs of Mount Kenya, but were relatively few. The arrival of indoor climbing in Nairobi, however, has created a more affordable, available opportunity for more people to try out climbing.
It has also allowed for a true kaleidoscope to form—in this, the only public climbing gym in a major East African city, Kenyans of every background share space with the expatriates perpetually in and out of town. Criss-crossing this patchwork are those like me, born and raised in Nairobi to a white American missionary family, now returning home after some years in the United States.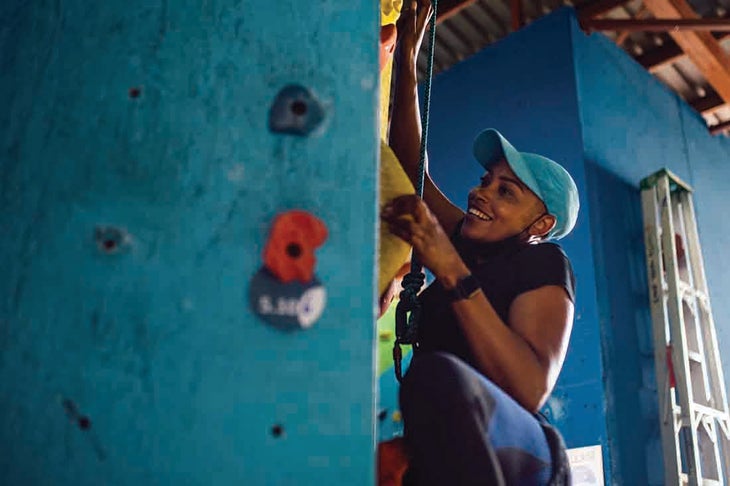 Beginning in 2002, the only climbing wall in Nairobi was in the clubhouse of the Mountain Club of Kenya, deep in an aircraft hangar in the southern part of the city. Many a merry dinner party, movie night, and inventive competition (including "shallow-water soloing" over a kiddie pool) transpired, though unfortunately the 4,000 shillings (about $40) annual membership fee was too steep for many Nairobians. The MCK, broadly focused on outdoor climbing, shuttered the clubhouse in 2008 after its lease expired, but now hosts its club library and member nights in a new space, runs outings, maintains a hut on Mount Kenya, and holds climb-and-curry-dinner nights at BlueSky.
Climb BlueSky was founded a decade ago, built under the umbrella of BlueSky Global Ministries, a U.S.- and Nairobi-based Christian organization that established a multinational summer-adventure camp near Nairobi in the early 2000s.
Today the climbing gym, fittingly, straddles the skyline between downtown and the sprawling tropical streets that disappear into the northern teafields. It is tucked into the sixth floor of the tetris block of buildings known as Diamond Plaza, a creaky relic of Nairobi before it was overrun by today's glittering malls.
To find the gym, you try not to get lost in the meandering hallways, which may unexpectedly drop several feet to cross into a new building, and to avoid elevators, which in this complex have reputations for losing power halfway between floors, requiring excellent manteling technique to emerge. Turn the wrong corner and you might draw up short before the luxurious incense and idols of a Hindu shrine. Diamond Plaza sits in Parklands, central to Nairobi's South Asian community. The wide-open windows in the gym bring in the scent of masala and the intricate, sonorous calls to prayer of the neighboring mosque.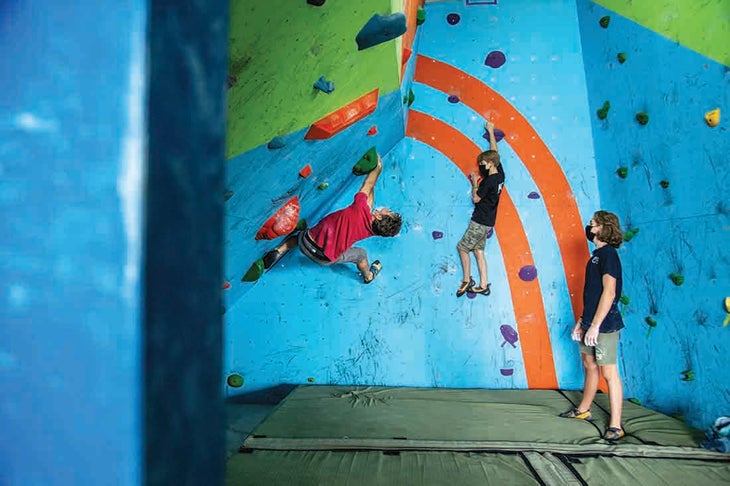 Climb BlueSky has now introduced thousands of Nairobians to a little-known sport in Kenya. Though various members of the MCK had long ago built an underground network of backyard woodies (and one wall in a converted squash court), until Climb BlueSky opened, the country had never had a commercial climbing wall.
The concept was at first "a foreign thing to us…. We hadn't seen anything like this before in a local setting," said Meekeh Maina, director of BlueSky Adventures, the arm of the organization that oversees the climbing gym.
BlueSky was founded by Kim Pace, an American from Georgia who arrived in Kenya in 2001 with the ambition of creating team-building programs. Fresh out of college and a fledgling climber who had worked with the network of WinShape camps in the Southeast, Pace soon developed a vision for a more cohesive and inclusive adventure community than the country had had.
"An adventurous spirit," Maina said of Pace.
"Always up for anything and everything," said another friend, Andrew Conway, recalling how Pace pulled her unsuspecting mentees into life-changing adventures—dodging wildlife on climbing days, rafting the whitewater of the Nile. Tragically, Pace was killed in January 2018, in a paragliding accident days before her 40th birthday, a loss that shuddered through BlueSky and its community.
"Kim was BlueSky and BlueSky was Kim," Maina, one of Pace's first climbing partners in Kenya, told me. "She wanted the gym to be that place where people can come, connect, and climb. Coming from an adventure background in the States, she wanted to create the same vibe here."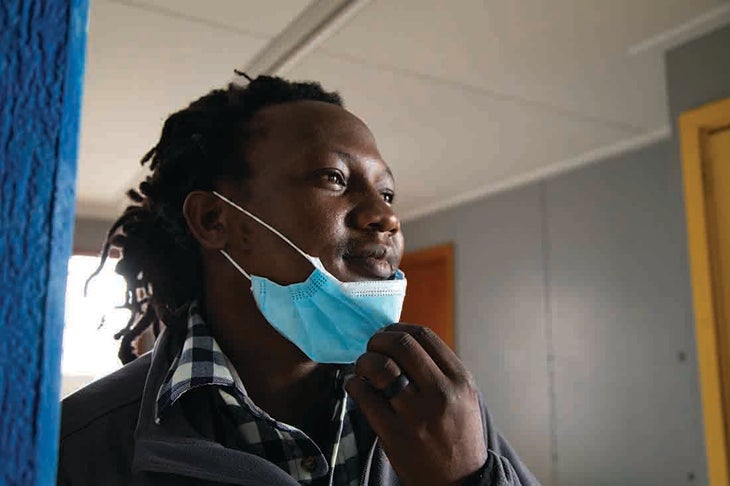 The community she built, full of people like Maina (whom I first knew as a goofy, dreadlocked river guide prone to dancing on tables) picked up that vibe and ran with it.
Still, developing a new industry in an emerging market is never straightforward. In 2010 Pace pitched the idea to Conway, another American who grew up in Kenya. Fresh out of college and looking for work back home, Conway, with two friends—Stephen Powell and Jason Boone—from the U.S., struggled to find a realtor who even grasped the idea. Conway told me, "We would get these looks: 'You want to do what?' People thought we wanted to bring in dump trucks full of boulders."
At first, Maina said, "Literally everything was imported. The holds, the shoes, harnesses. The only thing that came from Kenya was the wood." The early crew learned quickly, however: "We had to make some things for ourselves." Steel frames, anchor stations (shipping autobelays off for their biannual inspections was not feasible), even bouldering pads—all were made by the jua kali craftsmen whose open-air workshops line Nairobi's muddy intersections. Then Conway and friends hauled them up six dingy flights of stairs.
"We never really got pro deals," said Conway, who is still in Kenya and works as a high-end safari guide, "probably because no one believed we were building a climbing gym in East Africa! They thought it was a scam."
Early marketing also proved a challenge, but word-of-mouth among the expatriate community and some public television spots in Nairobi began to spread the word, and curious Kenyan adventurers emerged.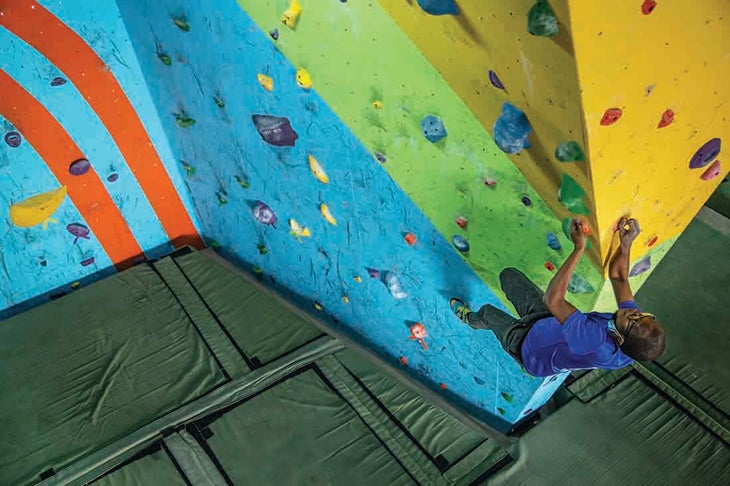 "BlueSky came on the television," said Tyson Nuthu, 31, an instructor at the gym for the past five years. "I printed my CV, boarded a matatu [minibus], and just walked in."
Nuthu had previously led courses for the Kenya School of Adventure and Leadership, one of the country's few outdoor leadership programs, so he was familiar with the skepticism that sports like climbing faced in the country.
"Climbing for locals in Nairobi is still like a bucket-list thing," Nuthu said. "They come in once and take photos for Instagram."
"It's thought of as just a fun activity," said Racheal Esendi, 28, also a staff instructor. "It looks [like] a bouncy castle, but…when they experience it, they realize that actually this thing takes work, takes thinking." Esendi first heard of climbing from a college lecturer while studying Recreation and Sports Management at Kenyatta University, in Nairobi. She decided to apply to work at BlueSky and immediately "fell in love with climbing."
"Nairobi is a hub of so many people coming from so many places," she said, that the gym feels like "a big family."
"I hadn't worked in a multicultural environment like that," said Tyson Nuthu, who joked that BlueSky feels more like an airport than a climbing gym—a place where the often separate circles of Kenyans and expatriates can overlap. "At first I used to limit my conversation just to climbing, but when I settled in and got comfortable with a few clients, we talked about life, family, ambition. The more you interact with people, the more you build a bond."
I was in high school in Nairobi when the gym opened in 2012, and cultivated my skills and confidence in there. Though I was one of many white faces in the gym, I often marveled at the sheer diversity of the community. The fact that I could rope up on any given day with a Kenyan friend, a Brazilian researcher passing through the city, a filmmaker from the UK, or the son of the Indian hairdresser five floors below felt modern and even futuristic.
When I returned to the gym nearly a decade later, however, much of that community had changed. Although there are still many white faces in the gym, the former expatriate community has mostly rolled over. With a few exceptions, any white foreigner who was here 10 years ago has moved on to the next assignment or adventure or returned home. Even the management of the gym has come and gone. Although a series of American managers for BlueSky have each contributed—upgrading the walls, introducing new styles of setting or training—the consistent turnover has created some whiplash for the Nairobian staff who have always been the backbone of the place.
"I came with an 'I know what I'm good at, let's get it done' mentality," reflected Andrew Andress, who managed the gym from November 2014 to June 2018. "But [they'd] seen so many other Americans come and go." Andress, now back at home in San Antonio, reconfigured much of the gym into its current form, split evenly between toprope walls and bouldering. "When I moved there, bouldering—in the gym or outdoors—wasn't really a thing."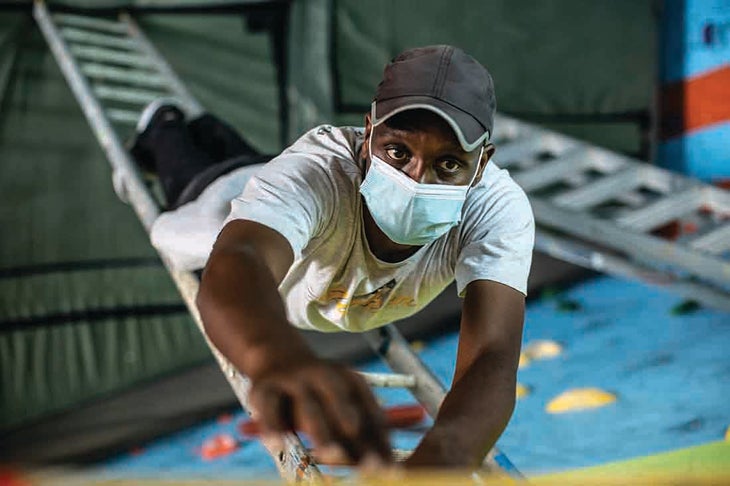 He gave himself both credit and criticism. "I think I did a great job of making it a better platform that people could come to long term," he told me over the phone before heading off for a day of Texas cragging. "I didn't do a great job of it being very open and welcoming to locals. I think having a local director of climbing makes that so much more accessible."
This conversation between worlds, initiated by Pace and carried forward by many, is the thread that connects the entire climbing community. Although most elements of the sport here, indoor and out, have been introduced over the years by foreigners, advances have ultimately been practiced and sustained by Kenyans.
Because of the difficulty of acquiring visas to go abroad, only a few local BlueSky staff have ever visited other gyms or climbing communities outside of Kenya. The cost of a ticket alone is "a huge deal," said Meekeh Maina. He added, "If someone from Europe or the U.S. travels to Kenya, they can just get a visa on arrival. But for me to go and get a visa —it's like applying for the military. You don't know if you're going to be approved or denied."
Now the talent is almost entirely homegrown. "Some of the strong climbers today were some of the first, first people we took out on trips to climb," said Meekeh Maina, "and down the line they've learned the ropes and are living out Kim's adventurous spirit. Now we have someone like Sam."
Sam Mwangi, who has been a fixture in the climbing community for years and formally became the Climb Director in 2018, echoed the challenges of running the gym away from the broader world of climbing, but his quiet dedication to moving the sport forward against long odds has shaped his own worldview.
Climbing with Sam is like getting a built-in life coach. "Struggle tells a lot about a person's character," he'll say with a Zen twinkle in his eye, then put you on a vicious new toprope and hope you make the connection. Before BlueSky, he taught mathematics in Kenyan public schools, and he keeps an analytical eye on both climbing and culture.
The relative isolation has resulted in a distinctive setting style that in many ways mirrors the movement of the nearby sport crags: high feet, small holds, lots of technical balance and body tension. The occasional fresh guest setter swings through, but Mwangi and the other setting staff at the gym are largely left to devise their own professional development. When Kim Pace sent him a few YouTube videos to get started setting in 2013, Mwangi ran with the program.
"We had to build routesetting from nothing," Mwangi said. "It was a learning process.
"There was no mentorship at that time, so the only thing was to get the material"—everything from World Cup finals videos, to routesetter Instagram, to Mountaineering: The Freedom of the Hills—"and read it, focus, practice.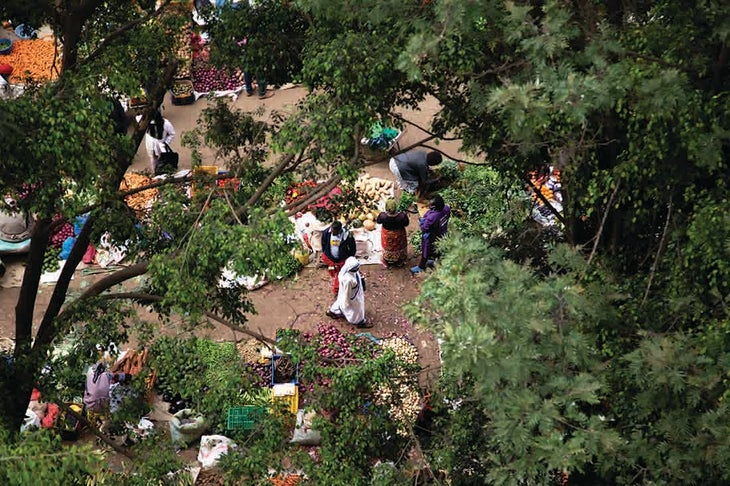 "A lot of visiting climbers don't hear this story," he said. "They might come with this unfair perspective, like we're not doing a good job."
He believes routesetters to be artists, and often wakes up in the middle of the night just to sketch out a boulder he's been imagining. He admits that his obsession with the process of setting is "a bit mad," and calls it the source of his hair loss.
There are no accrediting associations for climbing-gym employees here, no "Climbing Wall Instructor" or "USA Climbing Level 2" to tag on your CV. Even to access such a course would "cost an arm and a leg on this side of the world," Maina said. "So how do we empower [our staff] when they don't have the papers, but they have the experience?"
This particular issue hits close to home—although I learned to climb with Maina, Mwangi, and the area community, I went to the States for university and had the opportunity to get some of those very certifications. I'll admit that I loved waving around that little AMGA card—but would come back to Nairobi and run clinics at the gym without any ability to certify or share the veneer of professionalism, a frustrating disparity for all.
Difficulties in access are visible in the way the broader community operates, too—WhatsApp threads and Facebook groups have become the dominant forums for sharing beta, finding partners, and seeking gear. "Is anyone coming from the States soon with room for some cams?" is a common refrain in group chats. Though there are strong cultures around many team sports in Kenya, and even other adventure sports—biking and ultrarunning, for example—climbing has struggled to take root in the general economy in part because gear is either passed along from friend to friend, or brought in from the U.S. or Europe. Because the majority of climbing in Kenya is trad, the initial investment and learning curve are steep.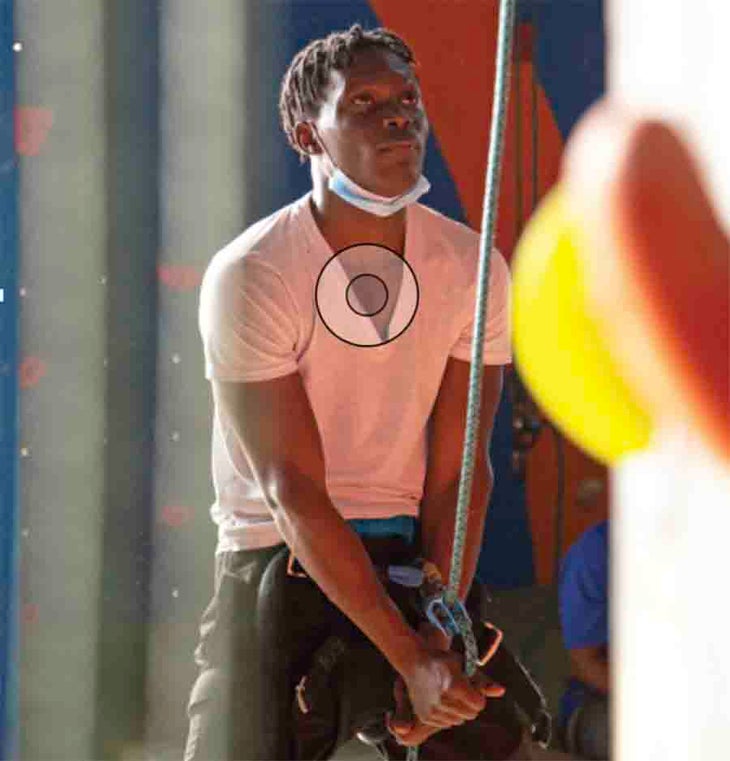 Thanks to the enormous malls erupting across the city, however, there is more availability of technical (though expensive) camping and climbing gear. With harnesses, shoes, and even ropes and quickdraws now at hand, more Nairobi climbers can strike out on their own. Climb BlueSky remains the city center for climbing and training, but COVID-19 and erratic government lockdowns have encouraged individual exploration.
Organizations like Climbing Life Kenya, a non-profit founded by a local climber, Liz Ndindi, offer affinity groups, advocacy, and learning opportunities. They have been providing rock-climbing opportunities and raising awareness on social media (@climbinglifekenya) since 2017, and in 2020 inherited the old MCK clubhouse wall, reconstructing it in another part of Nairobi in a symbolic passing of the torch.
"They're trying to promote climbing for the wananchi—the ordinary Kenyan," Peter Naituli, 22, a climber and dual citizen of Kenya and Norway, of Climbing Life Kenya. "'Cause when they see climbing in Kenya, they still mostly see white people climbing."
In a country where climbing remains relatively unknown, serious climbers like Naituli (see his exploits on Instagram as @afrovertical) have always been inventive. "I grew up in Nakuru, which is a rural town," he said. "There's no crags and there's no indoor anything, so most of my climbing career was spent doing pull-ups on goalposts." Especially given recent COVID closures, he mostly trains in the fresh air by traversing on the walls of his Nairobi house, lifting cement barbells and working on his family's shamba—tilling farmland with the djembe (the Swahili word for hoe) helps with calluses, he says.
This resourcefulness reflects the character of the greater climbing community in Kenya. Whether climbers are building a gym thousands of miles from the nearest autobelay or braving four hours of deadlock traffic on Mombasa Highway to go to the crag on a weekday, a camaraderie cuts through the Nairobi smog that might be called in Swahili the Ubuntu spirit.
Mwangi, who is vocal about a need for mutual support and "synergy" on his Instagram @samclimb254, believes that dialogue is the way forward in spite of the challenges: "What I love to see is when in the Kenyan climbing community, all colors are represented."
Everyone I spoke to over the course of this story mentioned in one capacity or another the need for visiting climbers to enter the community with a posture of humility: "The people who get the most value out of an international gym are the ones who go in way more excited to climb with the community than to showcase their skills," said Andrew Andress.
Progress has been lurching but steady: After another lockdown temporarily closed Climb BlueSky, I arrived at the local sport crag to find Dutch, Kenyan Indian, Belgian and British climbers sharing space with a crew of Kenyan teenagers led by Tyson Nuthu and a fellow BlueSky instructor, Nelson Anyanzwa Okella. The high, bright sun beat down on zebra-striped orange granite overhanging just enough to keep us in the shade, climbing commands bouncing off the rock in three or four languages. Peter Naituli was also there, clinking through his rack, while Nuthu's crew watched with keen and curious attention.
James Farr moved back to Kenya to live and work, after some years in the U.S., as an educator at a wildlife conservancy. Now living six hours away from the Nairobi gym, he finally gave in and bought a hangboard.