How Miguel's Pizza Made the Red River Gorge What It Is Today
How an immigrant from Portugal helped create America's premier sport climbing destination.
Photo: Photo: François Lebeau
Heading out the door? Read this article on the new Outside+ app available now on iOS devices for members! Download the app.
This feature originally appeared in Climbing in 2017.
"He won't talk to you on the phone," Dario Ventura said of his father, Miguel Ventura, owner of his namesake restaurant in Eastern Kentucky's Red River Gorge. The restaurant was closed for two more weeks during Miguel's annual winter break. Over the course of its many iterations, Miguel's Pizza has been an ice-cream shop, then pizzeria, then pizzeria-turned-climber-doss-turned-mega-campground-turned-Climber-Ground-Zero, all linked with the history of climbing at the Red. "Can you just come down?" Dario asked.
I considered this from snowy New York. Perhaps Dario, the go-between, thought Miguel would be too reticent on the phone. So I bought a $100 round-trip ticket, borrowed a car, and hit the Bert T. Combs Mountain Parkway east out of Lexington with few words from Dario other than, "Be here at 10 a.m."
In typical Ventura fashion, there was no plan. Dario, unbeknownst to me, had culled together Hugh Loeffler, Chris Snyder, and Porter Jarrard—three still-active Red climbing legends who helped launch the sport revolution here—in a makeshift, crag-side interview ("Some dude named Whit is going to interview you guys …" Dario had told them), followed by an impromptu nine-person dinner up at Miguel and his wife, Susan's, house on the bluff above the restaurant.
We scoured through signatures, relics really, within old guestbooks from the shop. Miguel had misplaced some of the earliest ones, like the one in which on Jarrard's first visit he left Miguel his phone number and a note: "I'm interested in bolting routes." (Jarrard is still waiting for Miguel's response.) Books from the late 1990s and early 2000s contained other noteworthy signatures: Dave Hume, the quiet strongman who established stiff, no-nonsense routes like True Love (5.13d) at Gold Coast and Thanatopsis (5.14b) at the Motherlode, and Kenny Barker, who discovered and opened routes at Purgatory.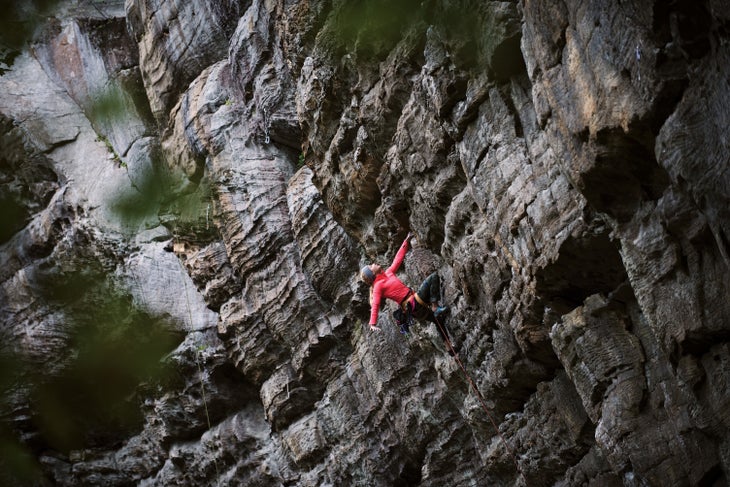 Being back in my home state reminded me why I miss the Red. It's an amalgam of amphitheaters and walls and mini-towers of perfect orange and brown Corbin sandstone, home to thousands of routes amidst rolling, thickly forested Appalachian hills. When I began climbing here in 2001, I was drawn in by the cliffs' mélange of colors and impossibly perfect routes that unfurl magnificent hold after magnificent hold. But soon I blended into the community when Miguel employed me in his kitchen, where I worked for two seasons prepping veggies and making pizzas. When I left to head West, Miguel gifted me a tiny hand-carved spoon, saying only, "I carved this for you." As I've learned, it's a gift he gives all of his former employees.
Miguel himself is not chatty; he's reserved even—a mystery behind his olive skin and dark, moody eyes hooded by thick, paintbrush-stroked brows. Flour from pizza-making or paint from his art marks his hands, chafed from a lifetime of use. But he's always quick with a smile. Miguel's laid-back nature appealed to me, and, surely, the gobs of other transient climbers Miguel has helped mold under his watchful tutelage of employment. Always inspiring you to work harder, dream bigger, and perfectly slice the potatoes, one of 48 pizza toppings—including pasta spirals and mango salsa—you can order here.
The shop was Miguel's biga: a starter dough. By letting climbers auger in long-term, Miguel allowed a local community to form, which has allowed America's best cragging venue to ferment and rise. Miguel's now, with its welter of outbuildings and additions, including a pavilion, bathrooms, shower shed, and even rental rooms in a home out back, would not be recognizable to a visitor in 1986, when the shop initially transformed from a rarely visited ice-cream shop to a pizzeria. In fact, the only thing they might find familiar is the iconic "rainbow door," hand-carved from poplar by Miguel, or the grinning face on the eponymous sign above the shop that now adorns the immediately recognizable T-shirts. ("Oh, you've been to the Red?" you might ask a German climber wearing one in Kalymnos.) And they'd likely feel overwhelmed by the hundreds of visitors who overnight at Miguel's on peak weekends during high season, in September and October. But the fact would remain: Without Miguel's, and the berth and grub that it's provided to climbers for the past 30 years, there really would be no Red—at least, the Red would not be what it is today.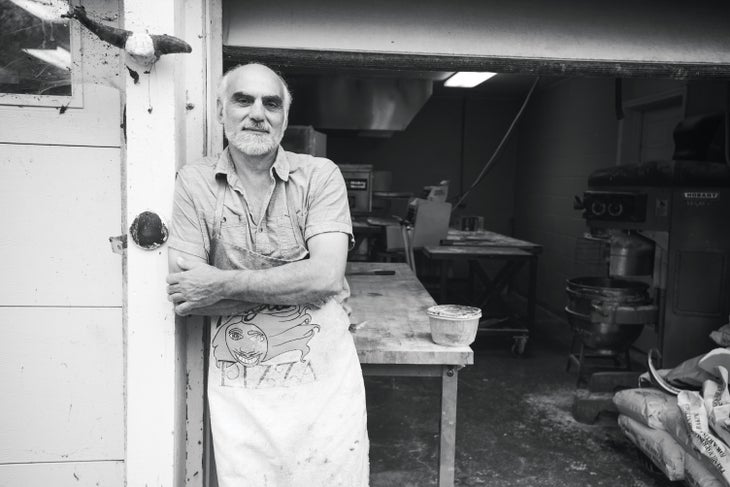 Set It Aside, Let It Rise
Miguel is an only child from Maçores, a small village in northwest Portugal. He was raised by parents Dario and Maria, who worked in the family mill. The semi-arid climate is reminiscent of Sacramento, but the patchwork fields of almonds and olives and grapes stitched together into a quilt of earthy colors are uniquely European.
Miguel remembers watching his grandmother knead dough and his grandfather mill wheat in the family's traditional, water-powered, hand-built gristmill—fellow villagers would come collect the flour on horseback. The village ethos was communal: People bartered goods and baked bread in a village-owned oven powered by wild sagebrush. "It was a social place," says Miguel.
In 1959, Miguel, then seven, and his parents emigrated to Connecticut. A transplant in the industrial city of Waterbury ("a ghetto," says Miguel), he didn't speak much English, and took to communicating in images when his sixth-grade teacher sat him in the back of the class with crayons. "Art gave me an escape," says Miguel. "It gave me a direction." Early on, he gravitated toward media like metal etchings; murals, which he painted in the hallways of the town's small Catholic Church; and sign-making—he worked in a master sign-maker's studio cleaning brushes. He was a visual learner, all kinetics, and in 1971 Miguel was accepted into the Rhode Island School of Design, though he declined for financial reasons. Instead, with buddy Neville Pohl, he drove a 30-foot rental truck stuffed with artwork to California on a commissioned trip for a former art teacher.
Miguel stayed; he bought a printmaking press and opened up studio.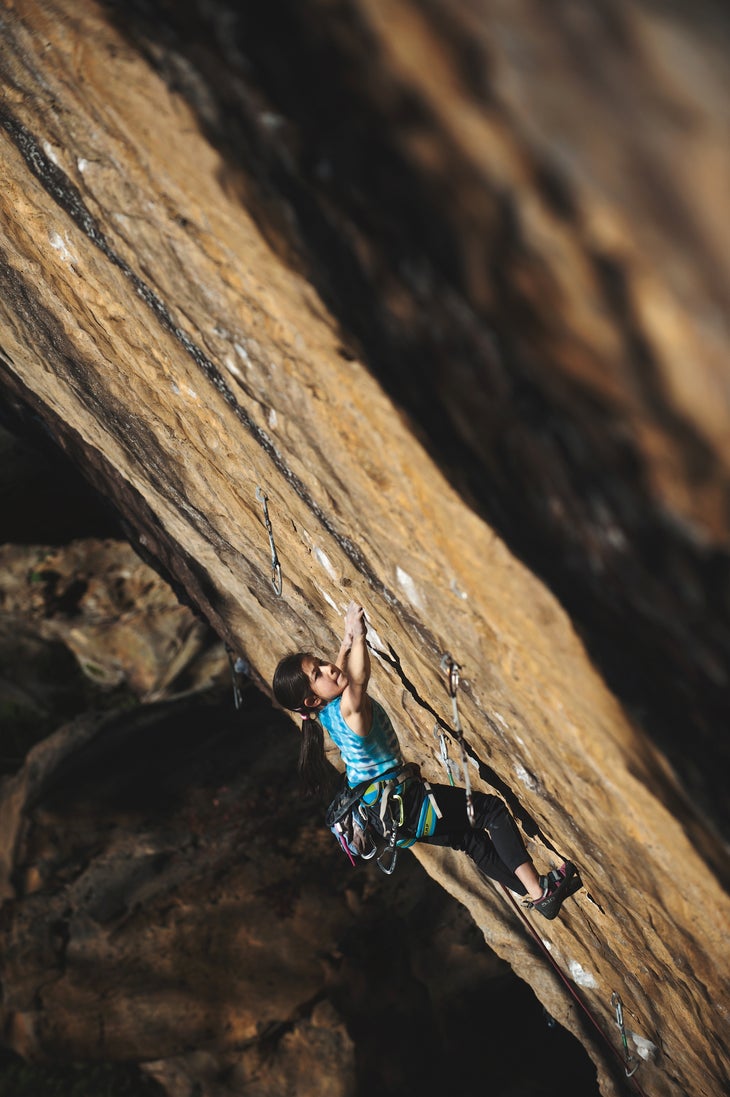 The work I've seen from this time—mostly sketches hanging in Dario's house or at his sister, Sarah Sutherland's, house—has simple lines, reductionist in nature, with eerie colors focusing on faces, oversized hands, and moments. It is emotive and raw.
"His art has an abstract feel," says Sutherland, an artist herself. "He doesn't get stuck on the details. His art tries to convey a feeling … an actual moment that he felt."
After five or six years in California, something changed. In an interview on Kris Hampton's Power Company Climbing podcast, Miguel said, "Art becomes part of your ego … that got to me." As Miguel recounted, the epiphany came when he drew a cartoon character lifting up the costume of an artist and getting inside. "You don't need a costume to be a person; you just need to be yourself," said Miguel. "I threw that outfit out and became who I am today: a pizza man."
Miguel returned back east to the cow town of Middlebury, Connecticut, where he worked as a maintenance man. In 1978, he met Susan, who in 1980 became his wife. As a team, they represent the perfect balance of left- (her) and right-brained (him) thinking, and in separate interviews, each described the other as "hard-working." In 1983, Susan, close to finishing a bachelor's degree in nutrition, became pregnant with Dario. Then, they got a call:
"Hey, Miguel!"
It was Pohl, now living in Lexington and part of a holistic healing center. He had a proposition: He owned land in Slade, Kentucky, a collection of dwellings tucked in the side canyons off the Mountain Parkway, with a few other guys from the center. Did Miguel want in?
Woods, a garden, a fresh start? Sure, what the hell. He and Susan bought into the land with $4,000 savings. It even had a name: Andorra.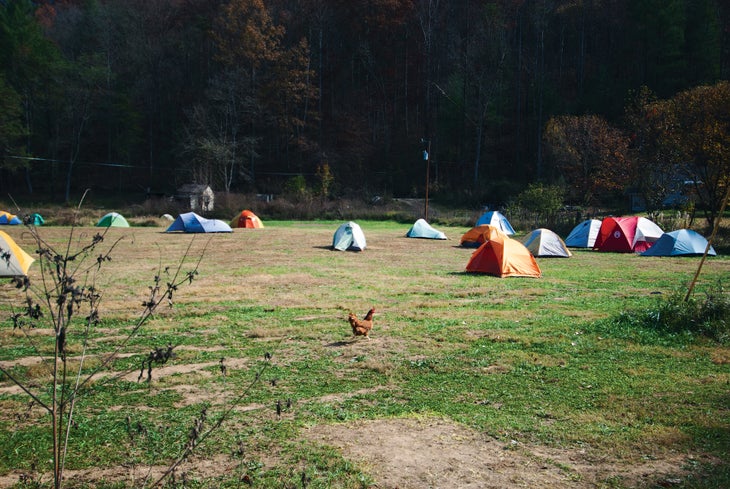 It was an artist's drafty garret existence, a farmhouse with no electricity nestled in the green-blue hills of Appalachia. "I was culture-shocked, homesick, and pregnant," says Susan. "It was a major change."
Brainstorming ensued. Miguel and Susan renovated an abandoned building on the partners' property skirting Highway 11 to create an ice-cream parlor. The last touch, and the start of a mythology, was the door, which Miguel had hand-carved on commission for a Connecticut health-food store that in the end wanted something more traditional. The red-haired face at center, Miguel explains, is Susan. "I was looking out the tent's screen at the moon when we were camping. And the moon created all these rays of light around her," he recalls. The door still hangs to this day, its paint as bright as ever with just a single retouch.
"The gorge at that time was where people came to party and where the hippies went," says Keith Phelps, an early 1980s climbing regular from Cincinnati, "[and] the door really fit in with the old hippie-hangout title." Not only did the Red attract the outdoorsy type, but also those craving escape and seclusion, especially with the area's reputation as a pot-growing paradise obscured by thickets of poison ivy and dense fog.
But whether Miguel and Susan's new way of life was, as Loeffler, now an internist in Lexington, puts it, "a utopia experiment" or a nod to Miguel's simple, resourceful Portuguese past, didn't matter. In middle-of-nowhere, economically busted Appalachia there weren't that many people. And without people, there's no one to buy ice cream, no income, and no utopia.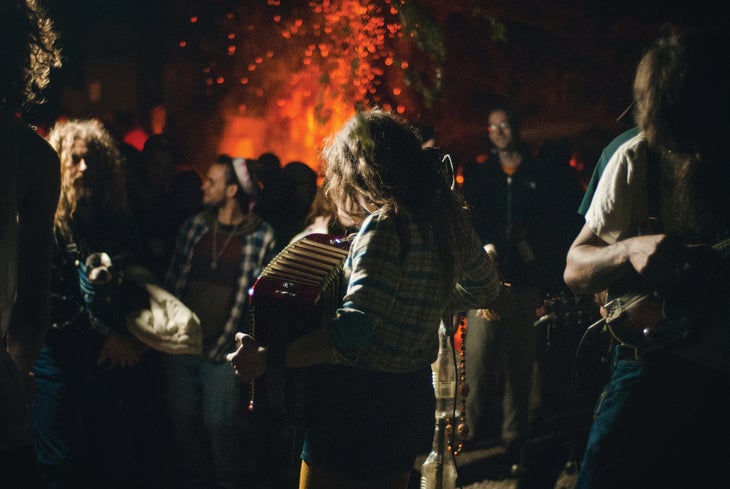 Homegrown Pies
The mountains east of Lexington had not always been so poverty stricken. In the late 1800s and early 1900s, the booming coal and timber industries brought jobs and money. But the area's rugged, secluded geography ultimately worked against it. According to a 2014 New York Times article, "Those rolling hills might be picturesque. But those country roads make it hard to ship goods in and out, in turn making it more expensive to build a warehouse or a factory." And as Michael Harrington's seminal 1962 work on poverty, The Other America, states: "The irony is deep, for everything that turns the landscape into an idyll for the urban traveler conspires to hold the people down. They suffer terribly at the hands of beauty."
At the same time, the hardscrabble landscape enticed a different type of visitor: the outdoor enthusiast interested in the area's plethora of caves and rivers and lakes and trails. Though climbers had been visiting since the 1950s (when the rumored first climb, Caver's Route, was established), the 1970s marked the biggest initial surge. Frank Becker (the area's first guidebook author; 1975), Larry Day (who established one of the Red's first 5.11s, Insanity Ceiling, in 1979), Ellen and Tom Siebert, and Ed Pearsall sought cracks that cut the cliff from bottom to top. Then, two brawny, self-effacing Cincinnati boys, Tom Souders and Jeff Koenig (the "Beene Brothers"), showed up. Loeffler remembers Souders training inside downtown Cincinnati's drained Eden Park Reservoir, traversing its retaining walls on tip edges while wearing a 40-pound pack.
"Anything hard pre-Porter was Souders," says Loeffler.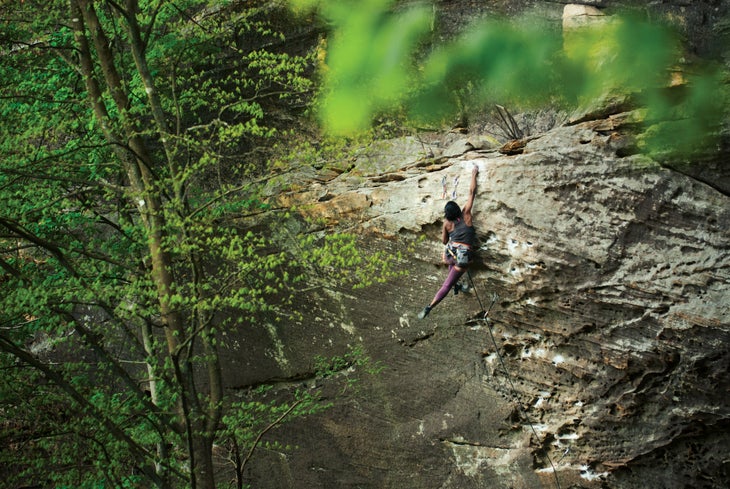 The Beene Brothers established routes like Inhibitor at Skybridge Ridge (a burly 5.11a following thin hands to grovelly offwidth; 1983) and Pink Feat at Military Wall (a groundbreaking, R-rated 5.11+; 1983), followed shortly by a prolific output from Martin Hackworth, who published another guide, Stones of Years, in 1984. Bob Compton, Tom Fyffe, Matt Flach—these scruffy guys hit the shores in the early 1980s. The climbers were beginning to come.
Still, Miguel and Susan lived a lean existence—more optimism than opportunity. After Dario was born, in 1984, Miguel kept the growing family running on the store's meager income and co-op farming. He raised goats, using them for milk, meat, and homemade cheese—think rennet made inside a slaughtered baby goat's stomach, extracted and tied up like a balloon, drying by a fire.
"That's how we made it," says Miguel. "Back out in the woods, if you're struggling. That's how you make it."
With the store's optimal highway-side location, it didn't take long for the two worlds to collide. Climbers began stopping in for ice cream, and Miguel welcomed them—he liked their Bohemian vibe. In 1985, Hackworth opened a gear shop, Search for Adventure, in a dusty corner of the shop, and the Ventura-climber fusion began.
"That was right when Miguel started making bread for us," says Phelps. The bread—similar to the triangular sandwich loaves he still makes—emerged not from a secret family recipe but instead from Miguel's own tinkering. Ciabatta-like but less oily, the bread has an almost crusty exterior, with an interior full of flavor, richness, and complexity. You can still buy the loaves, on which Miguel serves his sandwiches, starting at six bucks.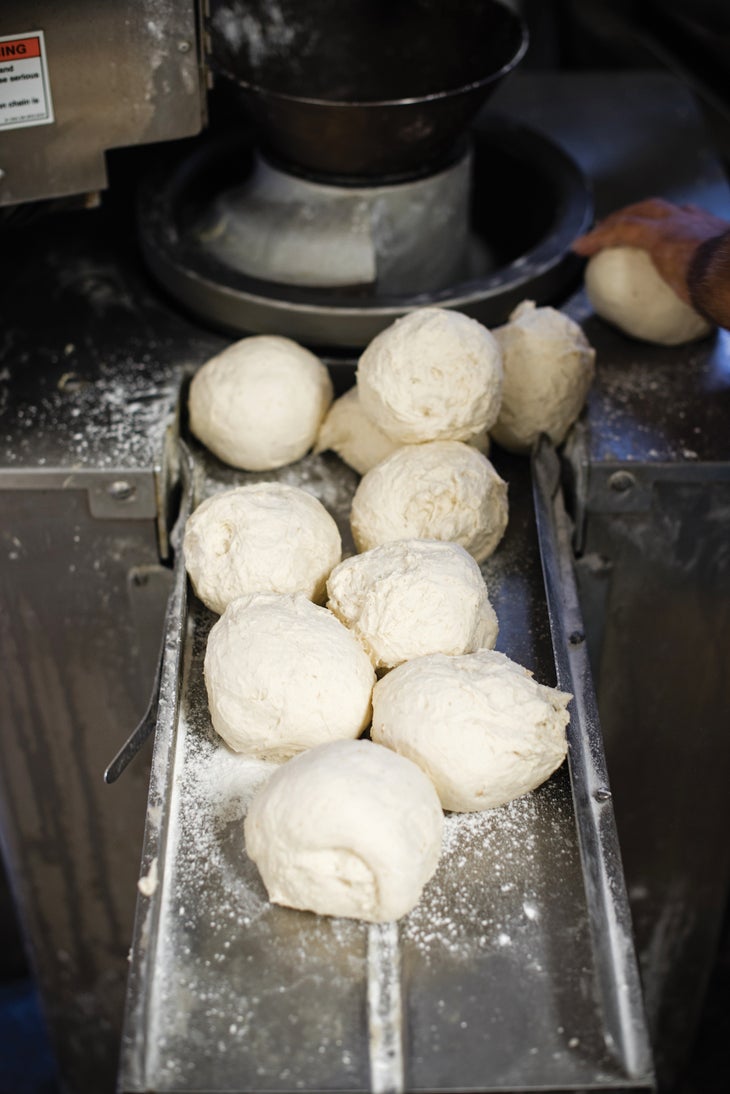 For Miguel, breadmaking was his way to provide heartier fare for the climbers who were ravenous after long days bushwhacking through dense rhododendron thickets to develop routes. Miguel was the creator, and Susan the businesswoman during the store's pivotal transformation, in 1986, into a pizzeria. Their pies used a portion of ingredients from their farm. The rest came from a local co-op set up through the pizzeria.
After the pizzeria opened, Miguel and his family played hopscotch with various houses on the property until, finally, they landed in their custom-built house up the hill. They spent candlelit nights heating water on the stove for a bath, or lying on the floor, heated by a hand-built Korean-style wood stove under the home. The garden fed the family, and Dario and Sarah would help each morning by weeding, picking out bugs, and spreading goat manure. Then was homeschool, taught by Susan; or art class, taught by Miguel.
"We'd paint or chip wood together," says Sarah, who with her father would scour beaver dams behind the house for sticks that were gnawed off and pointy. "We'd gather that wood and carve totem poles," she says.
The kids spent most of their free time outside, playing games or chasing goats. On Saturday nights, after a day of fasting that was the family's own form of Sabbath, the kids would charge down to the shop to devour pizza. Here, they'd hang out with the climbers, soaking up mid-1980s dirtbag lingo and culture: "heinous jams" and "epic whips," all set to the tunes of the Red Hot Chili Peppers playing around a campfire. The climbers, taped up and covered in blood, would overtake the picnic tables out front to sort their racks. Still, even with the climbers coming in, as Phelps recalls, if Miguel sold a dozen pizzas, it was a busy Saturday night. "It was always a small group, maybe one or two dozen people, and we would sit inside and talk everything from politics to literature to astrophysics," says Phelps. "When I look back on it, the climbing was awesome … but the nights at Miguel's are what I remember more than anything."
Miguel both fostered and tolerated his "dirtbag salon": "No one paid up front," he says. "And then people would start drinking beer and we'd have people pay forever after they ate. Months." His business was a patchwork endeavor—no blueprints, no master plan—but he was, whether deliberately or not, growing the climbing community. Someone had to: The local coal-centric community remained leery of the Lycra-wearing hippies.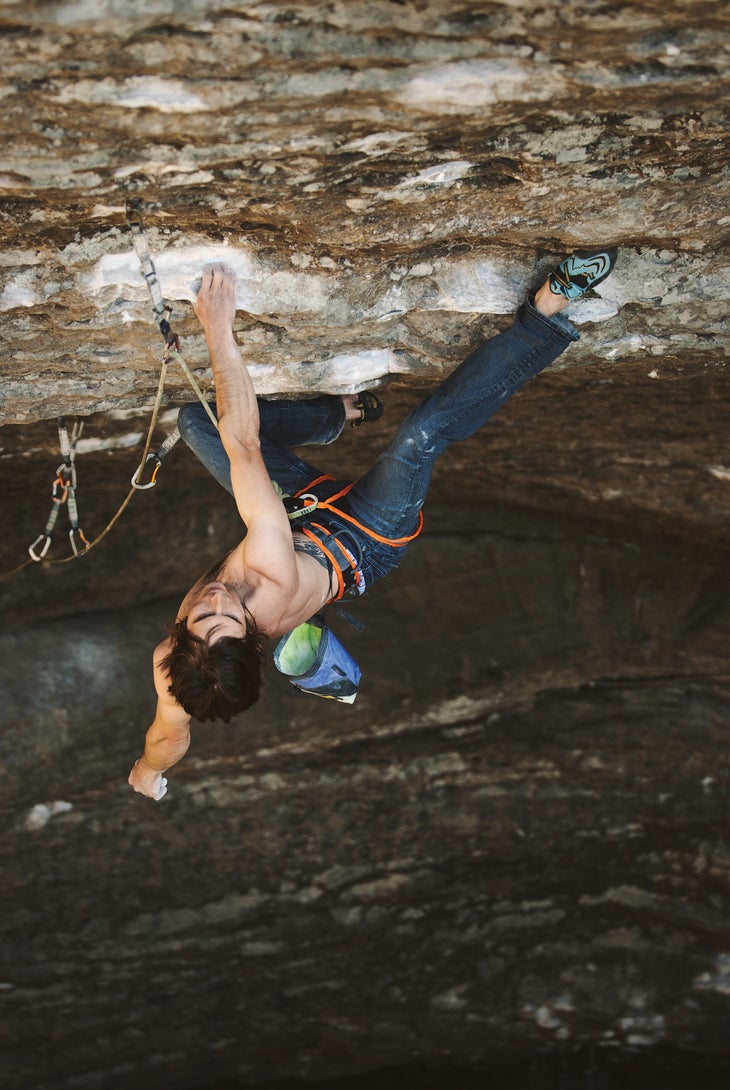 Soon, it all became a routine and a ritual.
"We served the people in the morning—coffee, we didn't do breakfast yet. And then no one would come in during the day and … I'd sit in front of the store peeling garlic into a bucket for the evening meal, and that was my job," says Miguel. Later, the climbers would roll in and it was time to make the pizza. "That was the lifestyle. That was the routine, and we had Mondays and Tuesdays off," he recalls. For Miguel, this was simply what he did.
Love Shack, Baby
Throughout the late 1980s, the Red remained a climbing backwater, especially compared to other East Coast areas like the New River Gorge. It was Hackworth who put up the area's first sport climb, in 1984: Close to the Edge, at Hens Nest. "We were all looking for vertical, New-esque routes," says Loeffler. "Mark Williams and I and a couple of other guys put up some routes out at Purple Valley—terrible, they sucked—then we put up the stuff at Roadside." These included Williams's four-star 5.10s Dragonslayer, Crazyfingers, and A.W.O.L. Flach, Souders, Greg Williams—those who followed suit are too many to name, but nobody had yet developed the eye for the futuristic super-steep walls. In fall 1990, Porter Jarrard, a loquacious powerhouse who earned his chops on the steep, grey quartzite walls of North Carolina's Moore's Wall, showed up. Armed with a power drill, he would become the trigeminal nerve innervating the new, overhanging face of Red River Gorge climbing.
"Porter started looking at all the stuff we were just walking past," says Loeffler. Within three or four years, Jarrard established over 150 routes. He systematically worked through Hackworth's guide, visiting the cliffs, cherrypicking five-star overhanging lines like Tissue Tiger and Gung Ho at Military Wall and Table of Colors at Left Flank. This multicolored beauty, established in 1990, would become the Red's first 5.13.
But while sport climbing was getting its electric start, the shop was still holding on by a thread. You might call this the "Love Shack" era: After Miguel and Susan moved up the hill, a series of transient climbers passed through the old farmhouse. The Love Shack (perhaps named after the B-52s' song—no one seems to know) was without heat, hot water, or electricity, but it was good enough for the climbers, allowing them to form the core of new-route development. Here, they took to cooking on a wok over a kerosene heater (not recommended) that Miguel lent them. Jarrard: "We would cook everything over that kerosene … poisoning ourselves. That's why I'm brain damaged right now." Loeffler: "A contributing factor. We slept well, though."
"Miguel was still just trying to make it work," says Snyder. "I remember him saying, 'Buy my pizzas or I'm going to have to eat my goats.'" But soon, as word about the high quality of the new climbs began to leak out, out-of-state visitors began trickling in.
"Miguel's wound up being this central place where information was being disseminated … that's why I think a lot of the development took place," says Bill Ramsey, at the time a philosophy professor at Notre Dame and today teaching at the University of Las Vegas. In the early 1990s, Ramsey, who'd been Alan Watts's regular partner at Smith Rock, Oregon, during the early 1980s when Watts began his pioneering sport-climbing efforts there, would drive 14 hours round-trip every weekend to the Red. In time, Ramsey put up enduring testpieces like Omaha Beach and Transworld Depravity, both 5.14s at the Motherlode, an OG Chris Snyder-Porter Jarrard area.
An almost magical evolution took place. Miguel started charging a couple of dollars for camping and made a few renovations. He upgraded the pizza oven to one that now held three 16-inch pizzas at a time, set into the wall and propped upright by a sturdy branch. Miguel's 15-hour workday would begin before 4 a.m. when he would start the dough and then hand-shred the cheese. His humility, quiet demeanor, and monk-like tolerance for just about anything all conspired to make him a little mysterious.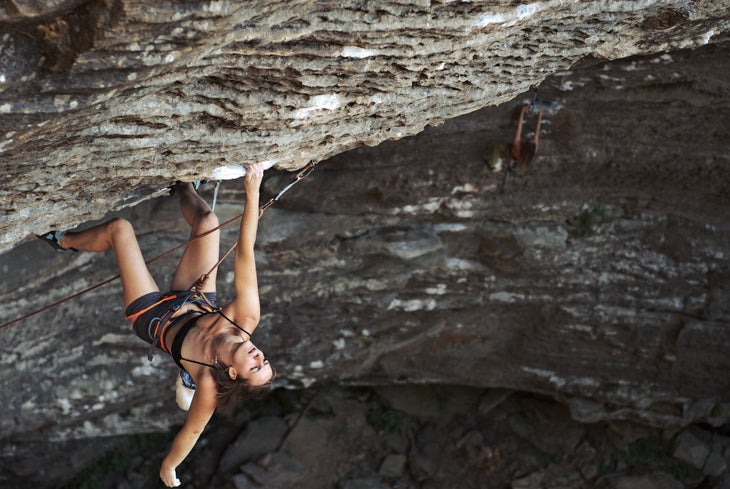 "The lore of Miguel is across the names of my climbing routes," says Jarrard. "He was like this luminary figure. Kind of enigmatic … Living up in the hills."
Camped out in the Love Shack but with no regular weekday partners, Jarrard took to solo bolting missions, with many of his route names inspired by the Ventura family. At Military Wall, there were Sunshine and Moonbeam, which he named after Dario and Sarah (whose names he couldn't remember). And at Left Flank, there was Mercy the Huff, named for Miguel's exclamation upon entering a roomful of guys having a toke.
Boomtown
Activity slowed with a bolting ban imposed by the National Forest Service in 1993, based off the misperception that climbers were trashing formerly pristine areas, as well as swirlings of tension between sport and trad climbers that had even resulted in bolt chopping. While the total ban was lifted in 1996, restrictions about bolting on the NFS land have remained in place. One upshot of this was that it spurred development in the Southern Region, where Snyder had found the Motherlode. That same year, Miguel and Susan's third child, Mark, was born and the family was complete.
The Motherlode was a jackpot of steep sport climbing, and ushered in a flurry of devolvement in the early 2000s, such as at the Pendergrass-Murray Recreational Preserve—a crown jewel and milestone in climber-owned crags—which includes Dark Side, Gold Coast, Drive-By, and Purgatory. Ramsey, Hume, and Ben Cassel established a number of 5.14s on these walls. As more routes were bolted, people started to realize that the Red's sport climbs were better than anything they had seen in America. Then, in 2007, the Petzl Roc Trip happened, and the Red exploded. Miguel continued accommodating climbers by slowly expanding his enterprise, one kitchen or campground addition at a time. It was a careful, organic growth, much in our sport's anti-materialistic vein, an artifact of its countercultural roots.
"There wasn't some capitalist narrative going on. I remember the accretion on the outside of the building and how it sprouted out like a little mushroom into other parts of the kitchen," recalls Jarrard. "It's a complete country, vernacular architecture-style … he would expand only when he had to."
The image of dirt and of growth was fitting. Something that survived and grew in the scruffiest of circumstances. Something that on its own accord found its place to survive and prosper. In this single image was a compressed story: not only of Miguel, and not only of the store, but of all the climbers who have come through. The miscreants, the wayward, all welcomed as interesting, different, and colorful—out of this backwater climbing area, they grew and flourished, making the Red what it is today.
"Miguel created this organic place for community to occur and let the community define itself," says Loeffler. "It's always been this pure, authentic thing."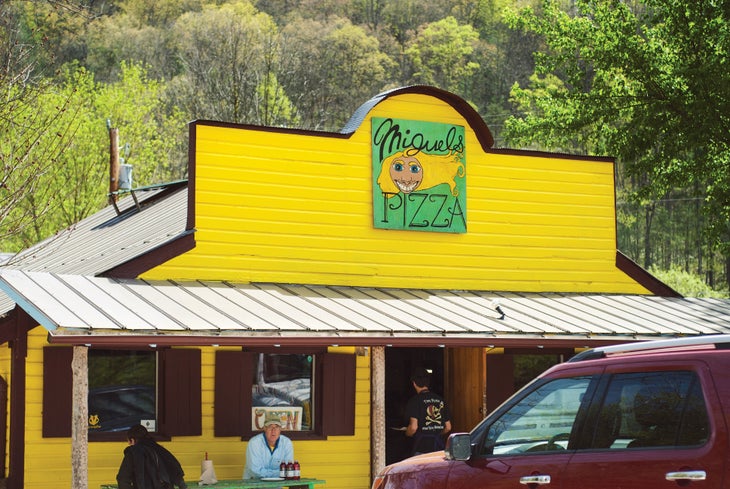 It's certain that Miguel is a sort of genius, but whether his genius is one of forward thinking or more one of surrender to the natural course of events—of not following a predetermined plan, but of instead laying down a blank canvas and then hoping for the best—it's hard to tell. "Now we're open seven days a week for nine months," says Miguel. Supported by 22 employees plus Dario, the store is constantly growing. The parking lot has expanded several times, pavilions have been added, and camping has overtaken the goat field and the Love Shack, which was leveled with a ceremonious bonfire. Miguel bought out all existing partners in the original co-op, and bought all the houses up on the hill and down the street. One house serves as the gear store and pizza-dough and ingredient-prepping space, while another is reserved for rental rooms. These days, on a busy night, hundreds of climbers might stay in the compound, and Dario estimates that they'll make and sell out 200 pizza crusts.
"I think Miguel could teach a course at the Harvard Business School on sustainable growth," says Loeffler. "He is the archetype of how to grow a business sustainably … he grew it very slowly and never grew it until he was already busting at the seams and already justified the cost of what he was about to do."
Today, the Red River Gorge has about 7,500 climbers visiting annually according to a recent Eastern Kentucky University study, and climbers bring in an estimated $3.6 million to the six counties around the Red. The RRG, thanks to the rich soil Miguel provided for the area's climbing to take root, has become one of the most well-known cliffs on earth, drawing pro climbers and an international following. And though Miguel's seems to reach max capacity every year as the spring-breakers, with their tiki torches and djembe drums, reach new, deafening densities, Miguel's is still ground zero. No visit is complete without a pizza.
"It's always been the case that world-class climbing destinations have these very special places associated with them that aren't necessarily the place where you're climbing," says Ramsey. "They're not the cliffs themselves, but they're where you come home after."