Central Spain Offers World Class Climbing, but Whether Crags Will Remain Open Is up to Climbers
As the crag came into view, their spirits soared, then quickly sank: "We began to notice that something was missing," Tighe said. "The first two bolts from every route."
Heading out the door? Read this article on the new Outside+ app available now on iOS devices for members! Download the app.
On a sunny February morning in 2019, Alex Tighe and Lucie Allard made their weekly pilgrimage from Madrid to the town of Cuenca. The weekend stretched out before them: two days of crisp limestone edges, perfect pockets, and plenty of routes to go around. As Valdecabras Sur's walls came into view, their spirits soared, then quickly sank: "We began to notice that something was missing," Tighe said. "The first two bolts from every route."
For months, landowners had been unhappy with a growing number of climbers on their property, lining the nearby road with cars. They decided to take matters into their own hands and chopped the starts of dozens of routes. Not only did this throw a wrench into the climbers' plans for the day, but they realized that without a change of practice, this could be the future of Spanish sport climbing. 
Spectacular Climbing Near Spain's Metropolitan Capital
Spain is widely recognized as one of the world's premier sport climbing destinations. Professional climbers make annual pilgrimages to the Catalonian crags of Siurana, Margalef, and Oliana. Brits and Germans flock to the warm southern areas of El Chorro (Andalucía) and Chulilla (Valencia) during the winter months. But many foreigners are unaware of the incredible quantity and quality of sport climbing in Spain's central regions, namely Madrid and Castilla-La Mancha. These two areas alone boast over 4,000 sport routes, many of which are just as stunning as those of their better-known neighbors, and they continue to see rapid development every year.
Less than an hour from Madrid sit the limestone cliffs of Patones and the granite mecca of La Pedriza—both within striking distance of the Spanish capital—and 30 minutes further brings you to Cuenca, a city that seems to have grown out of the rock.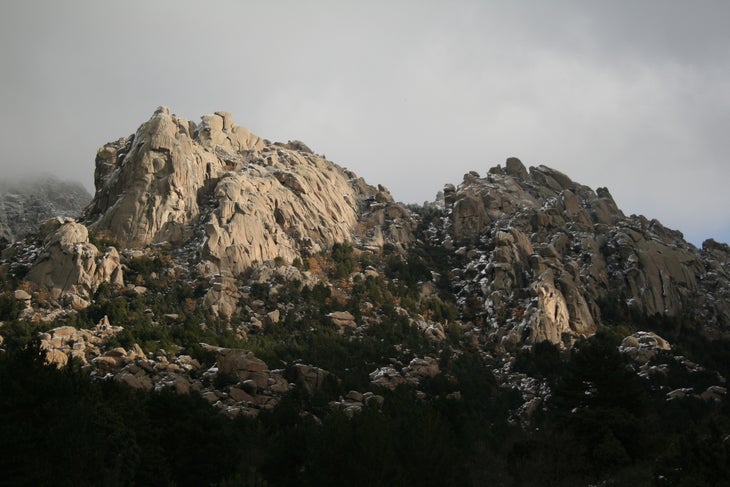 Cuenca has over 1,500 sport routes, from 5.7 to 5.15a, and a variety of crags to enable year round climbing. And while there is no shortage of rock to be climbed in central Spain, there is certainly a surplus of people to climb it. 
Despite its impressive amount of sport climbing routes, the high population density in the area (the region of Madrid is home to about 6.7 million people, comprising over a seventh of Spain's population) creates significant logistical stress. Overcrowding and parking issues at climbing areas have begun to fuel agitation among residents of Cuenca and other popular climbing areas in central Spain.
This article is free. Please support us with a membership and you'll receive Climbing in print, plus our annual special edition of Ascent and unlimited online access to thousands of ad-free stories.
These crags have been subject to a growing number of disputes and access issues in recent years, mainly sparked by displeased landowners. However, there is one organization that is fighting to keep these crags climbable: Escalada Sostenible. 
Escalada Sostenible: The Backbone of Crag Mediation in Spain
Escalada Sostenible (meaning "sustainable climbing" in Spanish) was born out of a land dispute at a local climbing area. About a decade ago, climbers from Madrid discovered a potential new crag some 60 miles from the city. The crag, now known as Barranco Fin del Mundo ("End of the World Cliff"), incited passionate debate between the local residents, who claimed the land belonged to a nearby housing development, and the climbers, eager to develop the grey- and orange-streaked cliff.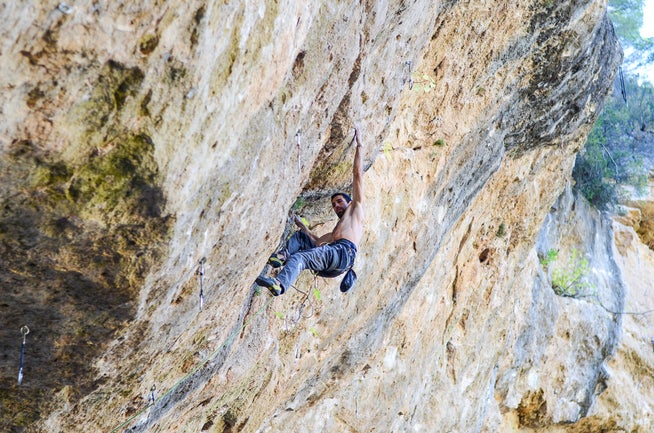 The current president of Escalada Sostenible, Juan Manuel León, and a handful of other local Madrid climbers realized that forming an organization to represent their cause would give them a more formidable presence, and thus Escalada Sostenible was born. 
The group researched the area's property boundaries by contacting local government offices and sifting through land records, allowing them to successfully prove that the crag was not located on land owned by the housing development. The organization had won its first dispute, and today you'll find hundreds of quality limestone routes at Barranco Fin del Mundo.
Since then, Escalada Sostenible has worked tirelessly to keep crags in central Spain climbable, but doing so becomes harder each year. In the United States, the climbing community has large organizations like the Access Fund and the American Alpine Club that secure millions of dollars in funding annually to represent their interests. But Escalada Sostenible's team of less than half a dozen employees works alone, without external support from government administrations or the Spanish Federation of Climbing and Mountain Sports. Though that's the way they like it. 
José Luis Núñez, who heads Escalada Sostenible's conservation and regulations department, recognizes the struggles the organization faces. However, he appreciates the organization's autonomy; it can independently advocate for climbers without any bureaucratic obligations. 
Back in 2013, the organization launched "Operación Tique," ("Operation Receipt"), an initiative that encouraged climbers to turn in receipts of local purchases from their weekend trips to Cuenca. Escalada Sostenible was able to demonstrate that climbers spent an average of over 700,000 euros in the town each year, highlighting the economic impact climbers have on the community and garnering support from local residents and government officials.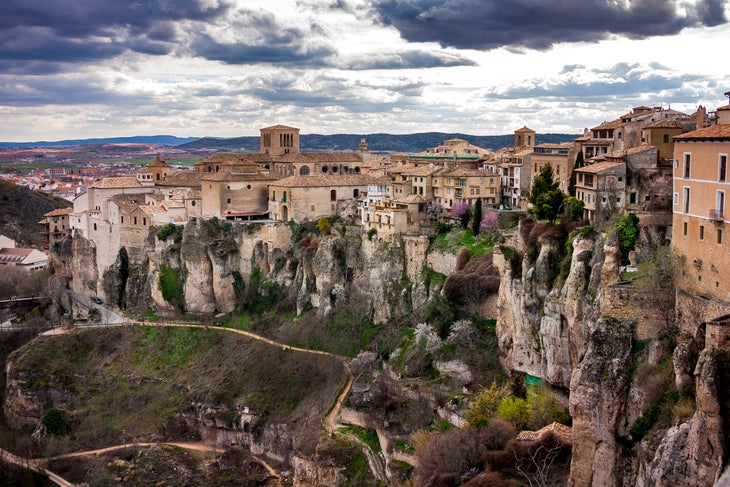 But the organization has also seen its fair share of failures, like the falling out that culminated in the bolt-chopping incident at the Valdecabras Sur crag. And again, in June of 2021, another group of landowners in Cuenca demanded that people stop climbing on their property, which is where part of the popular Primate crag is located, even though climbers had been cleaning up after themselves and parking appropriately. Despite an attempt at negotiations, the group has not yet reached any sort of compromise. 
What Climbers Can Do to Keep Crags Open
Keeping Escalada Sostenible independent is important to its cause, but without the support of climbers, it will no longer be able to help keep Spanish crags open. "Good behavior," such as implementing Leave No Trace practices and parking only in designated areas, is no longer enough.
Climbers can create their own delegations through Escalada Sostenible, which allows them to advocate for their local areas. The organization recommends this, saying "at the end of the day, local climbers know their crags and its issues best." However, as of 2022, there are only eight delegations in the entire country, despite Spain being home to over 1,000 crags and some 200,000 climbers.  
According to Escalada Sostenible, about 80% of issues with private landowners stem from climbers parking where they shouldn't or property owners fearing liability in the case of an accident on their land. While concerns of liability are valid, there are no precedents of cases in which injured climbers have sued private property owners because of an accident that occurred on their land.
Simply put, if climbers took the time to inform themselves of the issues, remained open-minded to the concerns of landowners and local residents, and harnessed their creativity to craft workable solutions, worst-case scenarios like the Valdecabras Sur bolt chopping episode could potentially be avoided. In the past, Escalada Sostenible has even offered to sign contracts with landowners or purchase their property to address liability concerns, something that could prevent outright prohibition and keep crags open. 
The story of Escalada Sostenible and its struggles presents us with a hard pill to swallow: if climbers aren't willing to participate in the advocacy of their beloved crags, then they can't expect them to be climbable forever. We have a responsibility to advocate for our sport and, according to Núñez, are morally obligated to do so. 
Climbers dedicate hours to our projects, training every week, sometimes hiking miles to the crag for just a burn or two. If we are so devoted to climbing, then Escalada Sostenible makes a strong case: we must also be willing to give back, make sacrifices, and dedicate ourselves to keeping the sport sustainable.