Is This the World's Hardest Indoor Route?
65 moves, six v11-v12 boulder problems, and no rests. Domen Škofic, a Lead World Cup Champion, thinks it clocks in at 5.15c.
Heading out the door? Read this article on the new Outside+ app available now on iOS devices for members! Download the app.
"Projecting a super hard route in the gym doesn't have the same weight as projecting outdoors," Domen Škofic admitted to Climbing.
But when the route goes at 9b+ (5.15c), that makes it currently the hardest indoor route in the world. And there's a 1,000 euro bounty on it.
The route's inspiration, in part, came from The Project, established in 2017 at the Klättercentret in Stockholm, Sweden. That route, tentatively given 5.15d, was attempted by the world's best, including Adam Ondra, Alex Megos, and Stefano Ghisolfi.  It went unsent for years and was then stripped. Such is the world of indoor climbing…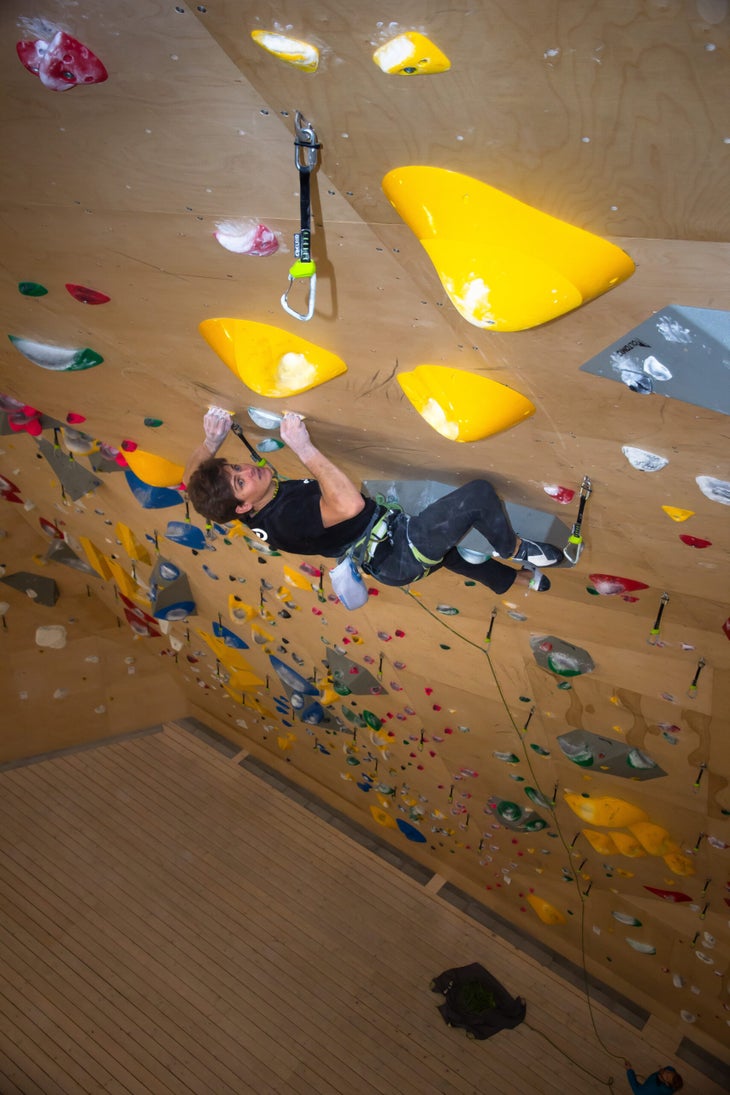 Škofic, the 2016 Overall Lead World Cup Champion, is also the owner of the Climbing Ranch, in Slovenia, where this new indoor project, dubbed Godzilla, resides.
"Climbing Ranch is a special gym. We have 60 percent of the walls designed for hardcore lead climbing," Škofic told Climbing. "I have a vision to make a bridge between plastic and hard rock climbing. Most of the routes on the "Monster Wall" are hard but I wanted to have the ultimate route in my gym, to have a proper challenge for myself and the best from around the world. "
The Monster Wall comes in at 20.5 meters, or 67 feet, and the steep angle makes for nearly 89 feet of climbing. Godzilla takes the longest route up the wall. "That's why the name was logical," said Škofic. "Godzilla is the biggest and the baddest monster of them all."
Although the idea to put the route up at the Ranch was Škofic's, it was established by Reini Fichtinger, a World Cup routesetter. It took Fichtinger a full day to set the route, and Škofic suggested three minor tweaks.
"At first I couldn't do all the moves because two were basically impossible, but after Reini fixed it I could do all of them. The moves are not super hard; the problem is that there are 65 of them and there is literally no rest in between." Godzilla consists of six boulders, all between 8A-8A+ (V11-V12), and no rests. 
"It's incredibly hard to clip and hard to chalk up," said Škofic. "My best effort for now is that I connected 22 moves, and I'm very happy with that."
Škofic invited the same climbers that attempted The Project to come give Godzilla a go. None have yet to bite, but the route was only put up on October 29th. "I understand them because working on a hard plastic route just isn't the same as outdoors, but I will try to make them motivated individually."
On indoor projecting, Škofic continued: "But on the other hand human creativity is not to be underestimated as well. The modern shapes of holds and the route setters' endless ideas make new kinds of moves, which are hard or almost impossible to find outdoors."
This article is free. Sign up with a Climbing membership, now just $2 a month for a limited time, and you get unlimited access to thousands of stories and articles by world-class authors on climbing.com plus a print subscription to Climbing and our annual coffee-table edition of Ascent.  Please join the Climbing team today.