Vertigo (5.9 R A0) Cannon Cliff, New Hampshire
Heading out the door? Read this article on the new Outside+ app available now on iOS devices for members! Download the app.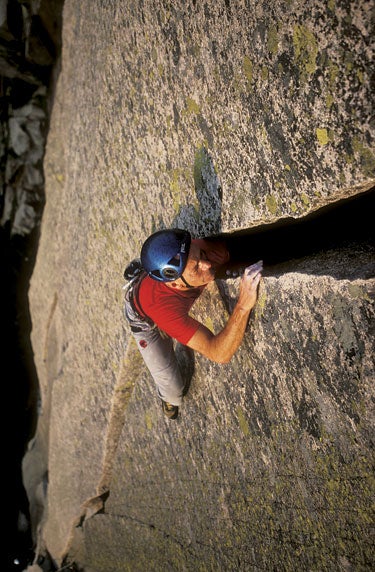 New England heaven — for leaf-peepers and climbers alikeForecastRadarCameras
For as long as it's sat high above Franconia Notch, in New Hampshire's White Mountains, Cannon Cliff has been slowly but surely losing its battle with gravity. If you have any doubts, just look at the giant talus slope running more than a half-mile along its base, where you'll find the remnants of the Fugue rockfall (early 1990s), Whaleback Crack (1997), and most recently, the Old Man of the Mountain himself (2003). The wall has a number of classic, well-traveled routes, but when asked to choose their all-time favorite, most Cannon aficionados proclaim Vertigo the best of the best. First climbed in 1971 by Paul Ross, John Bragg, and Michael Peloquin, the route has two features that make it entirely unique in the East: a sporty pendulum and a committing 5.9 R offwidth. And while a lot of other routes on this wall follow exfoliating, hollow flakes, Vertigo climbs a 400-foot granite buttress reminiscent of Yosemite or Squamish. This is one route that won't be joining the talus anytime soon. You'll find Vertigo near the middle of Cannon Cliff, just north of the Big Wall section. The guidebook recommends starting on the first pitch of Union Jack, a zigzagging 5.6 hand and fist crack that finishes at a comfortable ledge about 100 feet up. Another option is to bypass the ledge and climb the pendulum as part of a rope-stretcher first pitch. Above, Vertigo tackles splitter 5.9 fingers to tips. When the crack blends back into the dihedral at a small roof, fiddle in a nut and make wild, awkward moves around the arête to a bolted belay. As the name implies, the Half Moon Crack (left) curves in a gentle arch, climbing (almost immediately) from fingers to offwidth. Place cams deep inside down low and steel yourself for a solid 25 feet of unprotected offwidth. The fall from high within the Half Moon is unthinkable, so look for a tiny nut placement in a flake, just before your final thrutch up and out of the fissure. From the top of the Half Moon you can reach the ground in two 60m raps. But first, stop to soak up views of Eagle Cliff and Mount Lafayette, on the other side of the alluring Franconia Notch.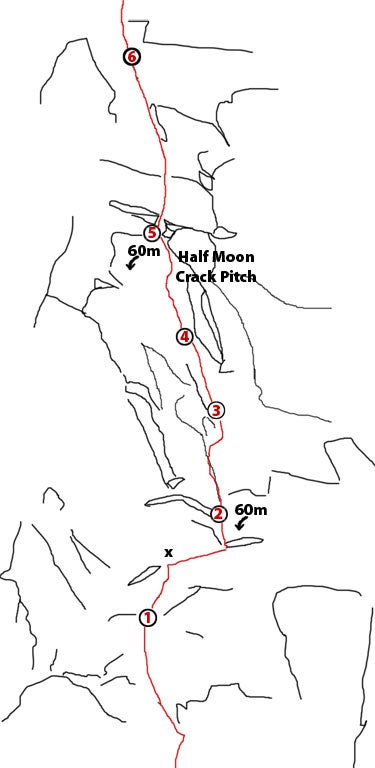 Five More Classics Near Vertigo (5.9 R AO)Cannon Cliff; Franconia Notch, New Hampshire
Whitney-Gilman Ridge (II 5.7)Next to Vertigo, some Cannon Cliff locals consider the Whitney-Gilman Ridge climb the classic for Franconia Notch — if not all of the White Mountains. Great, safe protection. Classic arête climbing. Five pitches, 500 feet. First ascent: when this climb was first ascended — in 1929, by Hassler Whitney and Bradley Gilman — it was considered one of the hardest climb in America and it was done without pitons.
Union Jack (III 5.9)This route is immediately to the left of Vertigo and stretches six to eight pitches up Bombay chimneys, traverses, and finger cracks. Most bail after P3 — a 5.8 flake reaching 120 feet that ends at a ledge underneath a large overhang.
Moby Grape (III 5.8)One of the most popular routes in all of New Hampshire. Begins about 40 feet from Reppy's Crack or you can start on Reppy's (see below). Six long pitches with classic exposure. First ascent was done in 1972 by Roger Martin and Jim Cote.
Reppy's Crack (5.8)Splitter. This can also be done as the first pitch of Moby Grape on the Conn Buttress. Reppy's Crack climbs a vertical jam crack. This climb reaches 120 feet and the first ascent was done in 1965 by Phil Nelson and Alan Wedgewood. Takes up to 3.5-inch pro. You'll need two ropes for rappels. Of course, bring a helmet any time you're climbing at Cannon Cliff.
Duet (5.7) and Duet Direct (5.10) Both of them are two pitches and they share the same first pitch. The second pitch of Duet is a long 5.7 wide crack. Not really an offwidth per se because there are enough face holds to avoid the big time grovel. The direct is a sustained 5.10 finger crack in the back of a splitter dihedral. Definitely one of the best 5.10 cracks in New Hampshire and by most accounts one of the single best pitches on Cannon. At the top you can rap from a beefy two bolt ring anchor in one long 60m stretcher to the ground.