Madison, Wisconsin Climbing Destination Guide
Heading out the door? Read this article on the new Outside+ app available now on iOS devices for members! Download the app.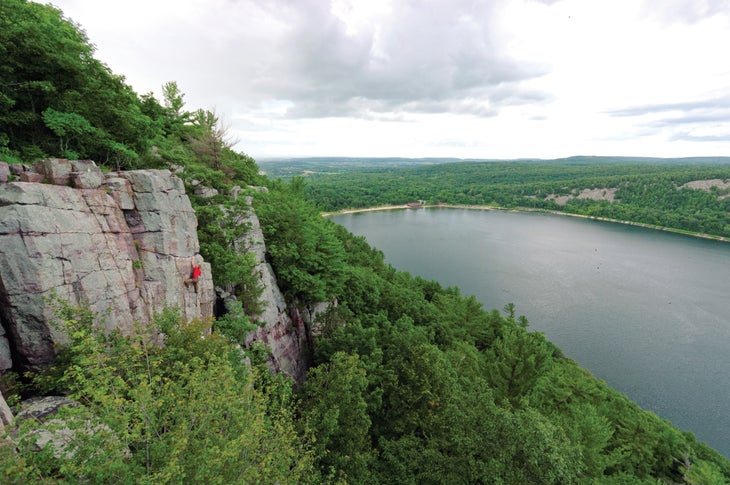 When most people think of Wisconsin, it's safe to say that cheese, beer, and football are the primary images that come to mind. But dream a little bigger and you can almost taste the vast array of quality trad, sport, and bouldering coming off your aged cheddar plate. With a rich history of ballsy leads dating back to the 1960s, you'll find an unlikely climbing community in Wisconsin that is harder than stone. And at the southern end of the state sits the gatekeeper to all of the area's best crags: Madison, a town bustling with nearly 250,000 people, the University of Wisconsin, and a reputation for getting rowdy. Madison has many staple activities, including a fierce Ultimate Frisbee following, world-class roller derby, and miles of bike trails. But the trump card is the list of more than 1,600 established routes that await you at the wonderful Devil's Lake about an hour away. With average summer temps in the mid-80s, come prepared for a bit of heat and humidity. If you make it out that way, expect high-quality stone, spicy gear-protected lines that favor arêtes with epic views, and clusters of spread-out crags that feature fun but aggressive sport lines and exceptional bouldering.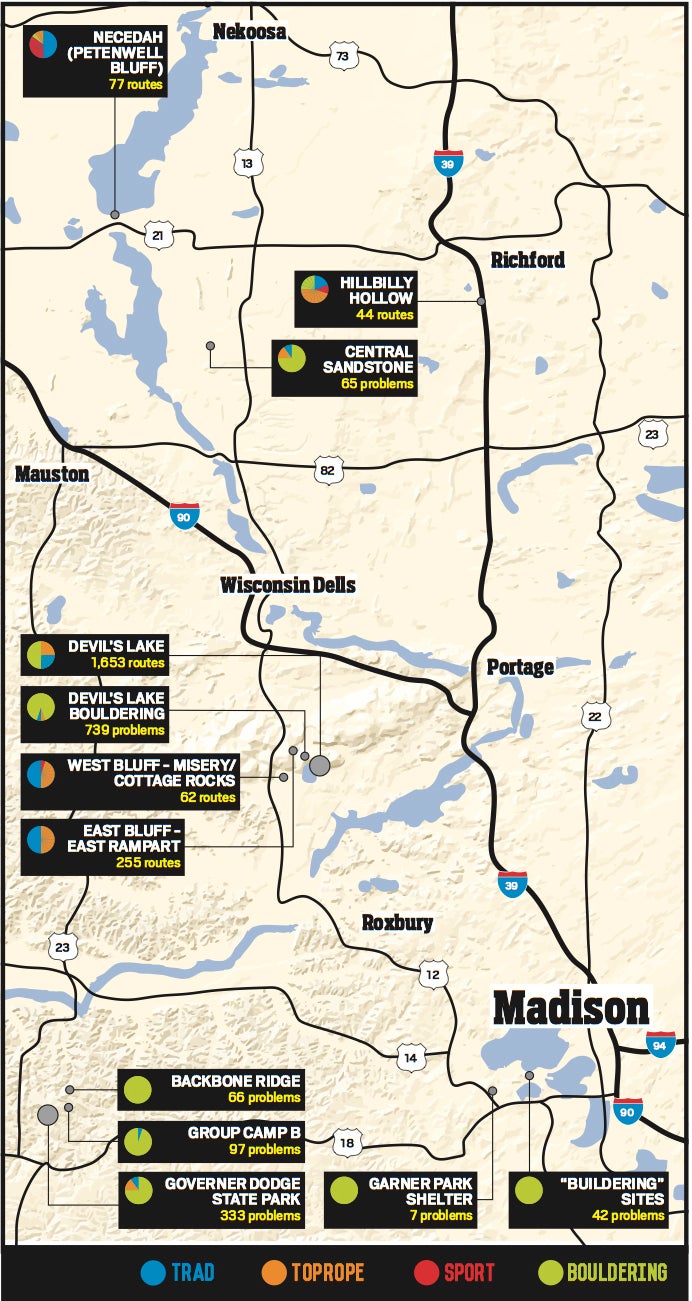 Where to Eat/Drink
At the top of Madison's street food game is the duo of two-wheeled food trucks called Good Food (608-217-5227). With dishes like Strawberry Love Salad and Sweet Potato Pleasure, you'll find yourself on the receiving end of an $8 mouthgasm. Be aware that although they run year-round, the trucks only operate from 11 a.m. to 2 p.m. Monday through Friday, so it's best to find them on a rest day. For West Coast climbers seeking the tasty Mexican food of their home states, a hidden gem is Tienda Los Gemelos (608-441-0061), where you'll find an array of authentic dishes that lack in grease but deliver in old-fashioned, home-cooked goodness. Savor the al pastor, pollo asado, carne asada—or all of them at the same time-—and don't forget the fresh avocado slices at a pleasantly low price. If you are heading to Governor Dodge State Park, a less traditional but very convenient spot is Aztlan Mexican Grill (608-437-7600), located in Mount Horeb off Highway 151. There you can feast on Americanized Mexican food on the cheap and bask in a wealth of chips and salsa. However, if price is not an issue, try out the Madison Food Explorers (608-444-3050) for a tour of the town's more refined tastes, perfect for a leisure day.

Madison has a long-standing tradition of being a party town, primarily due to the University of Wisconsin's celebrated "Jump Around" reputation. Finding a spot to get a drink won't be hard, but here are a few places to start. If you like free bacon and $1 cans of beer, check out Wando's Bar & Grill (608-256-5204) on a Tuesday night, and poke around the three-story bar for some mischief and mayhem. Dive bars are a reoccurring phenomena in Madison, and The Plaza Tavern (608-255-6592) has been the brass knuckles behind it all, enforcing cheap beer, one-of-a-kind burgers, and an old-school tradition of casual drinking. Another homegrown favorite is The Great Dane Pub & Brewing Company (608-284-0000), which started back in 1994 when a couple of college friends dreamed of opening a pub that provided in-house brews and pub food. Today they are a Madison empire with five locations, including a couple classy pool halls. And finally, if you're near Devil's Lake and aren't heading back to Madison, stop in the town of Baraboo for The Barn Restaurant & Bar (608-356-2161) and order their infamous Bloody Mary. In fact, go ahead and Google it because this unique creation alone will give you enough of a reason to come back for more climbing in The Badger State. 
Where to Stay
Camping is easily accessible at Devil's Lake and Governor Dodge State Park (dnr.wi.gov) and costs about $15. Expect to tack on $5 to $7 extra to reserve a spot, with the option of renting out a teepee for the same price as a motel. During the peak summer season, campsites get booked up quickly, so treat it like Yosemite and plan ahead if you really want to get in over your head on bold trad routes and have a campsite to crawl back to. Just north of Devil's Lake is the quaint town of Baraboo and its Spinning Wheel Motel (800-360-5003), where warm showers, in-room fridge and microwave, and smiling faces at the front desk await. It's really close to climbing and pretty cheap, starting in the $40 per night range. This is a perfect location for the dirtbags that need a break from braving the elements and want to share a bed and a memorable bedtime story. If you want a night in Madison to enjoy the sights and sounds of this electric town and celebrate all of your sends, check out the Hostel International Madison, and be prepared to spend $25 to $30 for a shared dorm room or $60 for a private spot. 
Where to Buy Gear
With locations downtown and on the West Side of Madison, Fontana Sports (608-257-5042, 608-883-9191) has all the necessary local beta, plenty of gear for the climber in need, and a long-standing stake in Wisconsin recreation. It all started back in 1949 when Clarence Hutchinson opened a military surplus store in Fontana. Later, his son John Hutchinson (who is the current president of the company) would open Fontana Army Navy in Madison in 1972, expanding to a larger store a couple years later. He then opened various other locations in the area because of its rapidly growing success. Since the beginning they have been family owned and operated, and now they have a large online retail presence. 
Where to Spend a Rest Day
It seems like most climbers go to great lengths to avoid any activity that involves cardio these days. However, the fast and fun sport of Ultimate Frisbee is a worthwhile way to spend your time on a sunny rest day. The Madison area is a mecca for disc lobbers, and pickup games are readily available on the weekends at Vilas Park for some off-day exercise—and an excellent reason to grab a post-game beer. Surprisingly enough for this laidback Midwestern town, Madison features a killer amateur roller derby league. The season for the Mad Rollin' Dolls runs winter through summer and hosts a variety of crushing females having a helluva good time. Enjoy a cold PBR and scream your heart out. And on a more nostalgic note, what's a memorable summer without logrolling? Yes, logrolling is a thing and you can do it at Madison Log Rolling. Register for a class and put those hippie slackline skills to use in this classic competition. If all else fails and planning ahead didn't scratch your off-day itch, wander down any street in downtown and it's practically guaranteed that you'll find live music, a cold brew, fun people, and a great time.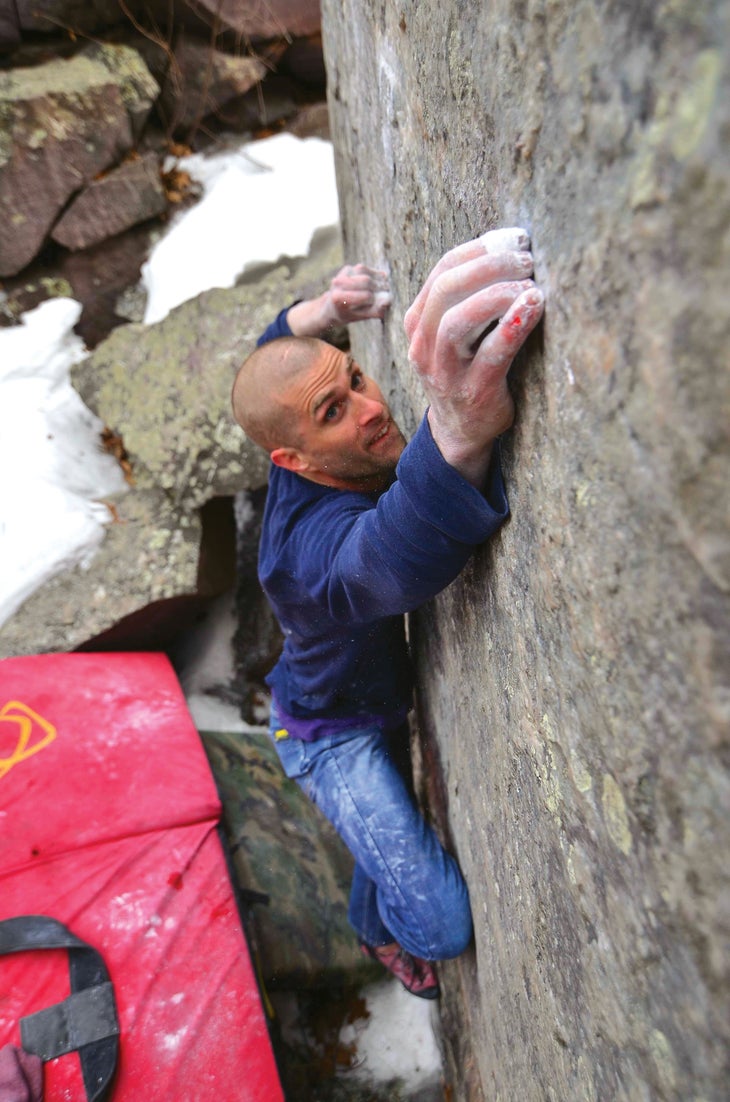 What to Climb: The 10 best 4-Star Routes
As ranked by Mountain Project Users
Soul Satori (V0)
Thin Man Corridor, Devil's Lake
"Soul Satori is located in the Thin Man Corridor, on the right arête as one is looking toward the lake. Although it may be overlooked, this climb is the most aesthetic in the park when climbed at sunset. This is a must-do for any climber—good exposure and beautiful views! Simply climb up the slabby arête using good crimps on both sides, aiming for a nice ledge for the topout. A definite DL classic!"
Big Bud Arête (V2)
North Shore, Devil's Lake
"This climb is classic! Best boulder problem I have done so far…anywhere. Try it with the sit start!"
East Comfort Route (5.4)
Cleopatra's Needle, Devil's Lake
"The best thing about Cleo's is introducing somebody new to the Lake's climbs. They always wig out at the top when the huge summit block moves while you're still sitting on it. I've never failed to see a newbie question my sanity when I tell them we're rapping off the bolt at the top instead of downclimbing. It's even better when you rap first and leave them to find their thoughts while the block moves even more."
Upper Diagonal (5.9)
Pedestal Buttress, Devil's Lake
"For the grade, I don't think it gets any better than this route at the Lake. Absolutely solid gear and climbing all the way from top to bottom. There's even a great kneebar rest halfway through."
Congratulations (5.10a)
Pedestal Buttress, Devil's Lake
"I'd say Congrats deserves a split rating based on the humidity. On a cool, crisp fall day it feels easier than other 5.10a routes in the park. On a hot, humid summer day…well…it's better for the ego to go somewhere else."
Sometime Direct (5.10d R)
Pedestal Buttress, Devil's Lake
"Great climb! Would have never guessed I would have gotten the send on December 26! However, I nearly took the whip from the crux as my fingers were numb! I'd say it's R-rated if you fall off the mantel, otherwise it's PG-13. The mantel is pretty easy, though— just don't fall!"
A Red Recollection (5.11a)
Qual Wall, Governor Dodge State Park
"This climb is SICK. Too much fun. So much fun it pumped me out. A note for topropers: Use the second set of chains to reduce the wear on your rope and cut back on the swing out in case of a fall. This is a great hard lead."
Straight No Chaser (5.11c)
Y-Crack Wall, Necedah (Petenwell Bluff)
"Four stars anywhere in the country. Bomber gear at the crux. A rite of passage lead for many a Wisconsin climber. Just led this recently again. One can pretty much sew the thing up, and you never really have to climb above your gear if you don't want to."
It's Oral Over (V6-)
The Complex, Governor Dodge State Park
"I forgot how amazing this line really is. The holds are painful, but the movement is great. Save your skin for this classic problem and bring a good spotter for the scary top section. It's well worth the hike."
Whiskey a Go-Go (5.13a)
Y-Crack Wall, Necedah (Petenwell Bluff)
"Hands down one of the best routes I have ever done. Whiskey would rank as a classic at the grade at any area in the U.S., and it's much better than routes of the same grade in places like Rifle, Wild Iris, etc. Photos just don't do Whiskey justice."
Madison, Wisconsin Climbing Metrics 
Style
Boulderers and traddies rejoice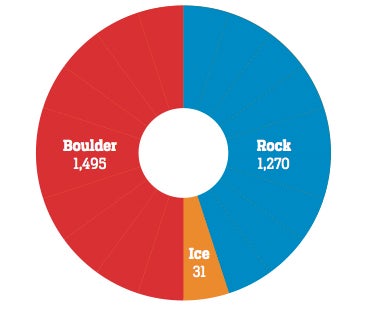 Difficulty
Plenty for everyone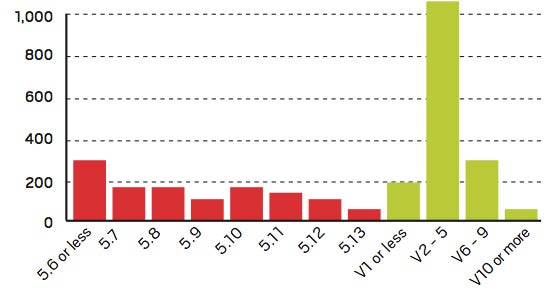 Quality
More than a lifetime of classics*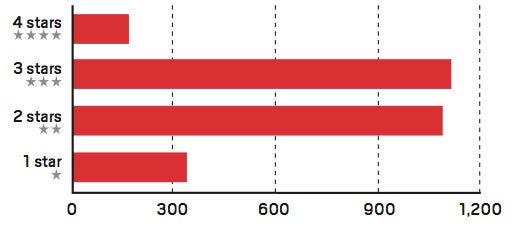 Season
Sweet spot for summer

*Stats are for the immediate Madison area. Get route beta, photos, and topos at mountainproject.com.