Mount Katahdin's Fairytale Climb Is a Reality You Must Experience
Maine's multi-pitch The Wind in the Willows promises big adventure, some commitment, and a lot of fun.
---
Join Climbing
Create a personalized feed and bookmark your favorites.
Join Climbing
Create a personalized feed and bookmark your favorites.
Join for free
Heading out the door? Read this article on the new Outside+ app available now on iOS devices for members! Download the app.
"Take the adventure, heed the call, now ere the irrevocable moment passes!"
      —Kenneth Grahame, The Wind in the Willows
Fantastical in both character and context, the Mount Katahdin, Maine, multi-pitch rock route The Wind in the Willows climbs much like the whimsical 1908 children's novel by Kenneth Grahame. Tackling a flake resembling a wolf howling at the moon, on a pyramid of peppered alpine granite above a sweeping glacial bowl, The Wind feels worlds away from the usual pine-and-wildflower blanket of Maine—you feel like you're anywhere but in the Northeast.
Every year, hikers flock to Katahdin, Maine's high point at 5,269 feet and the northern terminus of the Appalachian Trail. But there is no beaten path leading to The Wind in the Willows. Rather, you must navigate several miles of untamed wilderness, an approach that deters even experienced climbers with stark regularity. After three miles of hiking, you abandon the trail and rock-hop around the clear waters of Chimney Pond, starting your bushwhack in a riverbed of slippery stones. If the riverbed is dry, you're in luck; if not, you must weave among streamlets as you work up steep talus topped by patches of scrub spruce and skin-stinging brush to reach exposed low-fifth-class climbing, where an unroped fall would be unthinkable.
Fun Facts
FIRST ASCENT:

Ben Townsend and Dan Koch; September 1982

LOCATION:

Mount Katahdin,

Baxter State Park, Main

GRADE:

IV 5.9;

five pitches;

800 feet
The payoff for those who endure is a playground of crack systems with one particularly arresting focal point.
Ben Townsend, a campground ranger at Chimney Pond from 1979 through 1984, was climbing a neighboring route, the classic Armadillo (5.7), in summer 1979 when he first glimpsed the long, leaning finger-to-hands crack that comprises pitch two of The Wind in the Willows. "Looking down from the top of the flake [on The Armadillo], I could see this crack. I thought, Wow, that's pretty wild," says Townsend. Wild and unforgettable, it turns out, as he would spend the next several years studying the untouched fissure through binoculars from his perch at the ranger station two miles away.
After spending a winter honing his skills in Joshua Tree, Townsend returned to Maine ready to tackle his projects. In September 1982, as winter loomed large, Townsend and Dan Koch set off to write their own story, adding two new pitches of technical face, offwidth groveling, fingerlocking, and hand jams via a new variant using the crack Townsend had studied, ultimately finishing on the final pitches of The Armadillo.
At one point on the first ascent, Townsend felt a frigid breeze on his face—a whisper of wind from deep within the wall. This sensation, coupled with his curiosity about the breeze's origin, sent his thoughts spiraling to The Wind in the Willows, which he had just re-read. "Overall, [the book has] a soothing vibe to it, but it's a very strange story," says Townsend. The novel tells the imaginative tale of four anthropomorphized animals living in pastoral England. Born from the bedtime stories that the author, Grahame, had spun for his young son, the time-honored book is as much about the power of nature and friendship as it is a social commentary on class structure and bachelorism in England. To Townsend, the book's title was a perfect name for the new climb.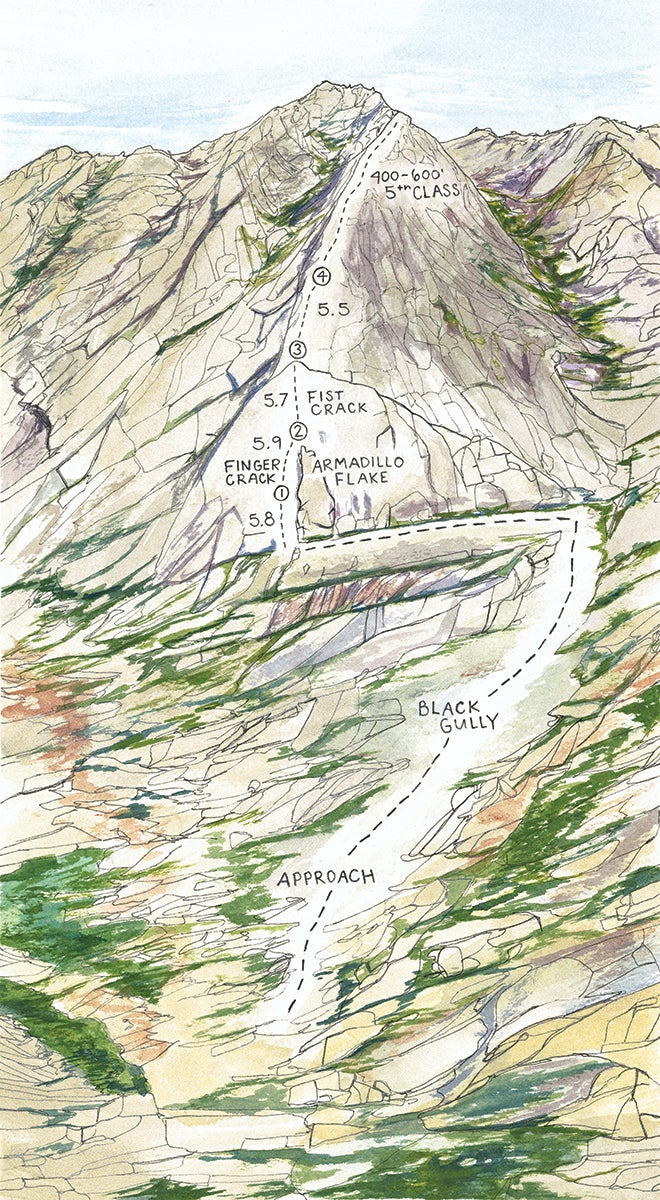 Once you commit to this wandering crack system—on which fingerlocks turn to hand jams, and diminishing foot jams give way to forced stemming against a disconcertingly hollow flake system—the sui generis of the route wraps its arms around you. You are but a speck in a sea of granite cliffs, hidden among bands of solid rock and ribs of tottering boulders, all reaching skyward and stretching to the pond below. Exhilarating. Mesmerizing. Liberating. Like being transported to another time and place by a children's story.Off the ground, delicate moves on equally delicate rock lead to a moderate but unprotectable slab. After traversing this slab, you are rewarded—some might say, tortured—with a No. 5 Camalot corner crack (5.8). Groveling up this beast is necessary to gain the wild finger crack that had idled in Townsend's imagination.
The hand crack eventually gives way to the famous fist-sized splitter of The Armadillo and, ultimately, a loose and wildly exposed arête that tops out on the Knife's Edge, a ridge stringing together Pamola Peak and Mount Katahdin, two of the park's highest peaks. You might summit to throngs of gawking hikers, some perhaps eager to be regaled by death-defying tales of conquering gravity. If you are fortunate enough to top out on a quiet day, it might just be you, your partner, and the setting sun reflecting off the dozens of blue-silver lakes that punctuate the horizon.