Moab, Utah Rock Climbing Destination Guide
Get thee to Moab, the ultimate climbing road trip destination.
Heading out the door? Read this article on the new Outside+ app available now on iOS devices for members! Download the app.
This story originally appeared in the November 2014 issue of our print edition.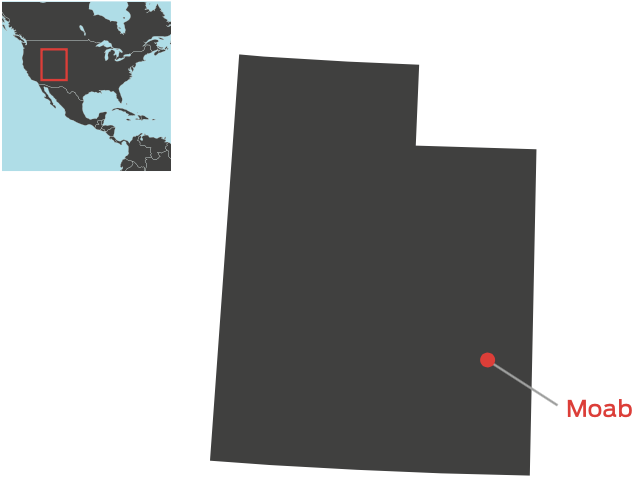 Going to Moab is mandatory. That's all there is to it. List this little town of 5,000 right alongside Washington, D.C., Disney World, and the Grand Canyon. But for climbers, of course, Moab trumps all.
As the desert opens up and spired cathedrals of red rock sprout from the sand, your mouth will naturally fall open—stunned by the awesome alien landscape and an immediate sense that you have arrived somewhere you were always meant to be. It's an almost-holy playground.
You can find climbs ranging from single-pitch sport at Potash Road to hauntingly beautiful tower climbs on Moses and Zeus in Taylor Canyon to big adventures on the Titan (at 900 feet it's the largest freestanding tower in the country). Bring your rack, your friends' racks, and your friends' friends' racks for the endless sinker splitters at Indian Creek, and don't forget a pad or two for small stones throughout the area: Big Bend has enough bouldering to keep you busy for a few days, but recent development has opened boulderers' eyes to new possibilities in and around Moab. The options may seem boggling, but one thing's for sure—you will leave Moab with some of the best climbing memories of your life and a burning desire to return.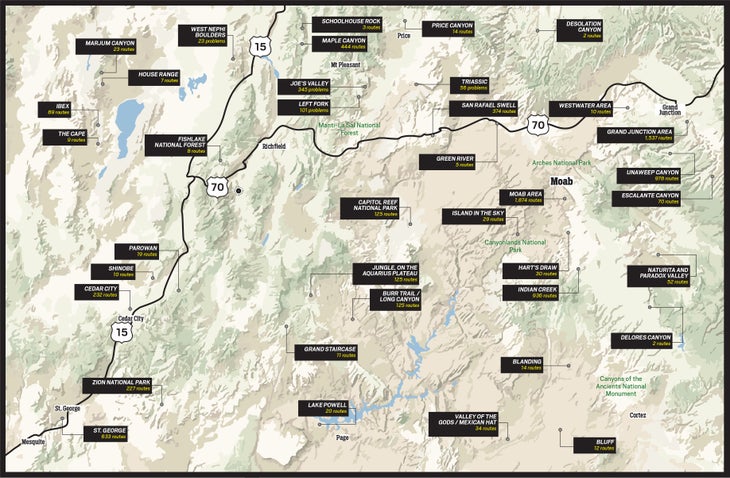 A Perfect Day
Choose Your Own Moab Adventure
By Julie Ellison
6:00 a.m. Wake up at Big Bend Campground on the Colorado River.
6:05 a.m. Make a quick cup of coffee to wake up and head west on Highway 128, then north on Highway 191.
7:07 a.m. Catch sunrise in Arches National Park. Snap some Instagrams, then head south to town.
8:12 a.m. Breakfast!
Fast but filling? Chow down on a huge burrito chased by an iced chai at Wake and Bake Café.
Quick and light? Grab a quick coffee and bagel at Sweet Cravings Bakery + Bistro on the north side of town.
Sit down? Try the hearty Quinoa Scramble at Peace Tree Juice Café or the decadent Coconut-Crusted French Toast (hello, rest day!).
8:56 a.m. Climbing!
Low-commitment cragging? Head south on 191 until you get to UT 211, then take a right. Sink your paws in one of the 1,000s of perfect splitters at Indian Creek. Bring tape!
Full-value, scarefest summits? Go north on 191, then left on Hwy 313 to Canyonlands National Park for a scenic tour of the White Rim Trail and a 5.10+ on Washer Woman Tower, or head east on 128 for one of Castle Valley's monoliths, 5.8 to 5.12, take your pick. Sack up and get your lead head straight!
"Rest day" bouldering? Play around on one of the beautifully sculpted blocks across the street from your campsite at Big Bend on Highway 128.
6 p.m. Book it to Dead Horse Point on Hwy 313 to see the most beautiful sunset view in the state.
7:30 p.m. Travel east on Hwy 128 to Red Cliffs Lodge for a recovery steak at an idyllic green setting next to a river between towering red cliffs.
9:00 p.m. Head back to camp for revelry, deep sleep in soft sand, and the chance to do it all again tomorrow!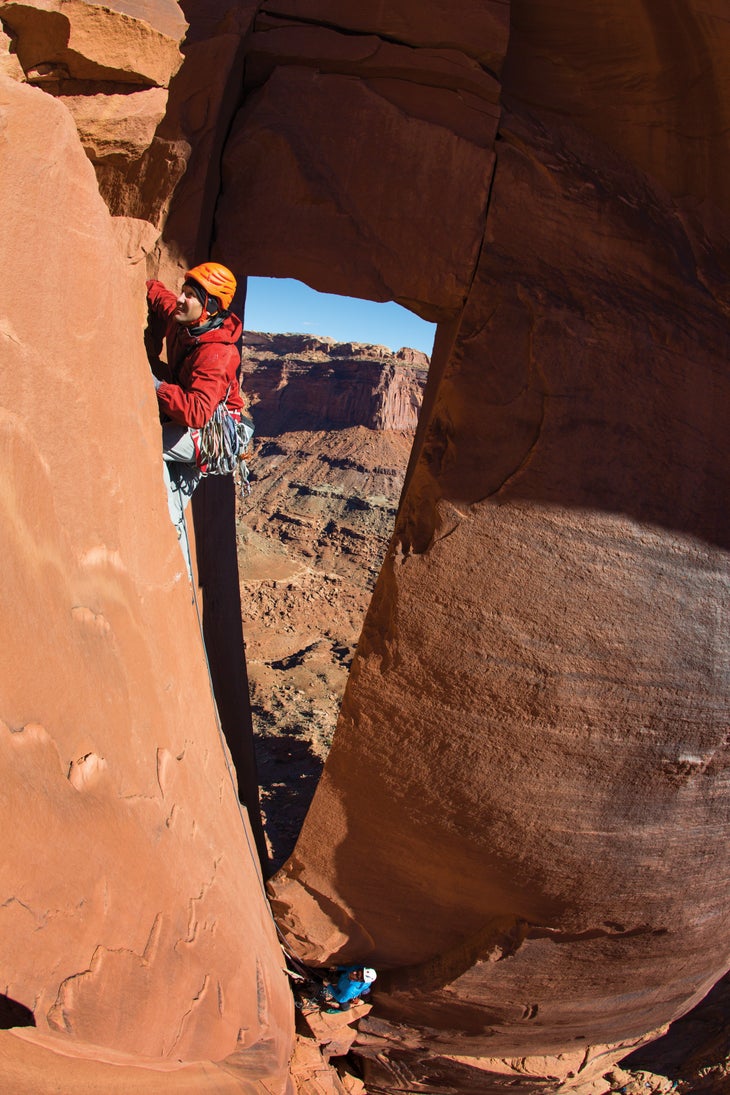 Where to Stay
It's as if the menu of accommodations in the Moab vicinity were all designed with the dirtbag in mind. BLM land offers numerous first-come campsites on the banks of the Colorado River just minutes from town. There are also several National Park campgrounds with amenities like bathrooms and electricity. If you prefer to stay in town, check out Up The Creek Campground. There are tent sites, showers, and it's walking distance to downtown (rates vary). The Access Fund acquired a plot of land at the base of Castleton Tower and provides it for use as a free, climber-specific campground (with toilets!). Camping in Indian Creek is plentiful (though crowded on weekends) and free. Random free desert camping certainly exists, though specific gems are sacred to locals—ask nicely at a local gear shop. If tents aren't your thing, there are more than enough hotels in the area, but the Inn at the Canyons in Monticello, just outside of Indian Creek, is managed by climbers, and offers discounts depending on the season and availability. And they have a pool.
Where to Eat and Drink
Stop at Moab Coffee Roasters on your way through town for the best espresso pull in town. Milt's Stop and Eat, Moab's oldest restaurant, dishes out grass-fed burgers, hand-cut fries, and old-fashioned malt drinks in a classic order at the window and eat outside setting. Looking to party before a rest day? Try Eddie McStiff's, with great food and a full bar. If you're looking for a ritzier place to take your belayer post-session, the Desert Bistro is owned and chefed by Karl Kelly, a pioneer of southeast Utah climbing who has also published several guides on the area. Oh, and beer. Moab Brewery offers growlers of microbrews, including the exceptional Black Raven Oatmeal Stout. Pick up beer for camp at the State Liquor Store on W 200 S; it's the only game in town. Or you could pack your own from out of state, which is technically illegal (we said could, not should).
Where to Find Water
It's the desert; water is precious. You'll go through a lot of it just staying hydrated and cooking. Pack a five-gallon jug and refill at the spring on the right side of 128 just after you turn east off 191. GearHeads Mountaineering also has free filtered water.
Where to Shower
The desert is dusty. For $5 one can find showers at Canyonlands Campark on South Main Street or Lazy Lizard Hostel off Highway 191, among a host of other possible showering spots. For the same price as most showering options, however, we recommend a trip to the Moab Aquatic Center, which includes a swimming pool and weight room in addition to hot  showers.
Where to Buy Gear
GearHeads Mountaineering and Pagan Mountaineering are both among the country's best specialty outdoor retailers. They cater to (and are run by) Moab climbers. GearHeads offers an absurdly extensive gear selection, making their shop a great place to find everything from that #5 you swore you wouldn't need, to hard-core mountaineering and backpacking equipment. Stop into either establishment for specific route information, local guidebooks, or to simply chat about adventures in the desert. The staffs of both have a wealth of knowledge on the area.
Find a Guide
For guided trips in the area, Moab Cliffs and Canyons provides guides and classes for canyoneering, cragging, tower climbing, and desert hiking for people of all ability levels. As the oldest vertical guide service in the area, they know exactly where to find the goods without the crowds. Whether you're looking for a crack climbing mentor, experience on multi-pitch adventures, or a rope gun to get you up that one tower, Cliffs and Canyons will bend to your specific needs.
Spend a Rest Day
Rest-day activity? Options range from mountain biking some of the country's finest trails, rafting the Colorado River, petroglyph viewing in Arches National Park, to wine tasting in town. If you are bored here, you are seriously missing something.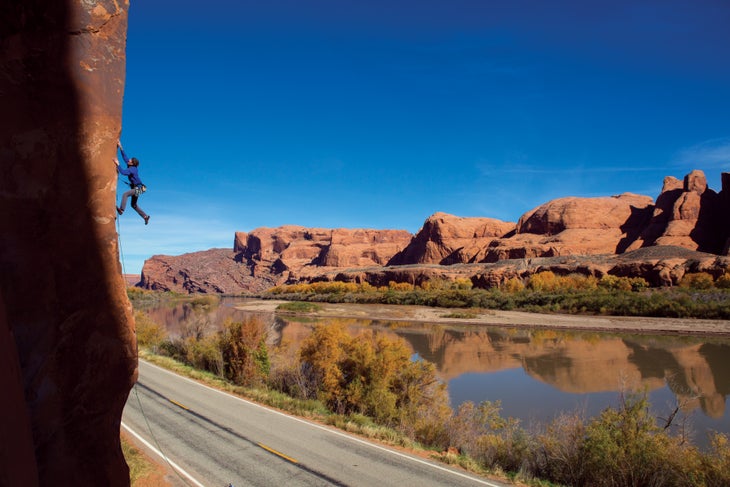 What to Climb: The 10 Best 4-Star Routes
As ranked by Mountain Project users
Regular Route (5.7 A1)
Trisstin's Tower, Lockhart Basin
"Wow! As far as clean desert aid routes go, it's a crown jewel. It's by far the thinnest seam I have ever climbed. Not a single piece of fixed gear on the entire route—props to the first ascent team."
Spear of Destiny (5.9)
River Road
"A really fun route with a cool summit. The route requires full-body stemming with possible body-bridge sections. Spicy!"
Stolen Chimney (5.10 or 5.9 A0)
Ancient Art, Fisher Towers
"This is by far the most popular route in the Fisher Towers. I had a dream in which I wrapped my arms around the corkscrew summit, crushed it, and watched it fall. I giggled about that dream when I saw how solid that incredible last pitch really is."
Supercrack of the Desert (5.10)
Indian Creek
"Wear a long-sleeve shirt. Better yet, tape it down around your wrists, so that when you show up at work the next day you don't have to explain those nasty scabs covering the insides of your wrists and forearms."
In Search of Suds (5.10+)
Washer Woman Tower, Canyonlands
"What a cool and unique route! The roof on the third pitch was exhilarating and well-protected, and the last pitch is spicy. Rapping through the arch is truly a surreal experience—so good!"
Coyne Crack (5.12a)
Indian Creek
"This crack is sometimes confused with Supercrack, and I know of at least one leader who thought they were starting Supercrack. He soon realized his error, but found himself in this thin-hands crack with many large cams dangling from his harness. He barely completed the climb for an impressive flash. This style, the 'ignorant flash,' is even more coveted than the onsight flash."
Fine Jade (5.11a)
The Rectory, Castle Valley
"Amazing. That's the only word for it. We camped on top, and the sunrise was life-changing."
Annunaki (5.11c+)
Indian Creek
"If you are a strong sport climber or boulderer, this is the route for you. The entire middle of the climb is bouldery, powerful moves between good holds that are formed by the crack's zigzags. However, there is still a final fingerlock move at the anchor."
Sacred Ground (5.12b)
Castleton Tower, Castle Valley
"Super sick! Deserves more attention than other routes on the tower. Rock is unreal on the last pitch, like pinching hardened wax. Do this stellar line!"
Excommunication (5.13a)
The Priest, Castle Valley
"The crux pitch is devious and cryptic, but fair at the grade. The second pitch is scary, as the arête is sharp from calcite. Gets my vote for best route in Castle Valley."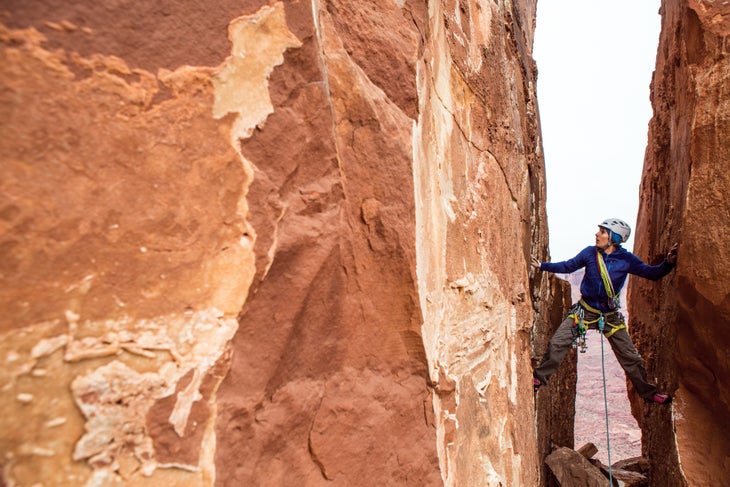 My Favorite Place
Moab is a bottomless well of inspiration
By Andrew Burr
The Colorado Plateau is famous for its breathtaking desert vistas, winding unbridled rivers, the occasional big horn sheep or bunny, the scent of sage (and pinyon and juniper) on the breeze, the evening light that stretches out and licks the foothills of the nearest mountains, and of course, the limitless potential of splitter cracks and legendary towers. Though the region is vast, one corner speaks loudest to climbers and pulls at the heartstrings the greatest.
Moab.
Just saying the name will give most climbers goosebumps. From the frightful to the benign, the short roadside flings to especially long lactic acid–laced splitters, the sandstone around these parts comes in all flavors, and the best part is that each day you choose your own adventure. Sweet, savory, spicy—or a mix of all three.
As a professional climbing photographer who routinely maxes out passport pages, I've never been to a place with so much rock that's so photogenic. And it's in my own backyard! Pick a direction; any will do. Head south and let Indian Creek teach you what a real hand jam is, turn east to walk among the iconic towers of the Fishers and Castle Valley, stroll to the west and crag along Wall Street or quest beyond that and into the remote Island in the Sky, or swing to the north and play alongside the countless arches.
Wherever your cardinal instincts may lead you, rest assured that you'll climb sandstone; it's everywhere. But, if you assume that all sandstone is the same—oh, how wrong you are! Entrada, Navajo, Kayenta, Wingate, Chinle, and Cutler all present different challenges and sometimes require an acquired taste. Their moods shift with texture and temperature, and each reveals subtle characteristics with the changing light of the day. Navajo is pale and sandy; Cutler, dark and chossy. Then there's Wingate, the good stuff, that perfect ribbon of amber chocolate that winds its way around the Canyonlands for what seems like eternity.
Eternity. That's why I return time and time again. The possibilities here are infinite. The diversity of climbing and routes and days is boundless. The way the light illuminates the landscape is ever- changing from day to day and season to season. There is not a more rewarding place to pursue perfection.
Moab Metrics
Quality
Nearly 1,100 routes at 3 stars or higher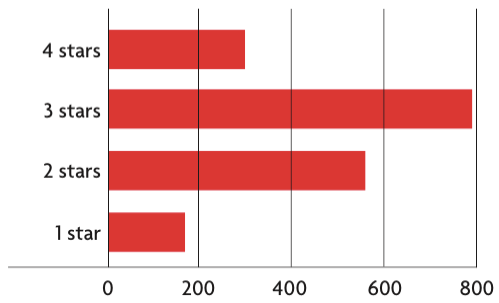 StyleTrad is the name of the game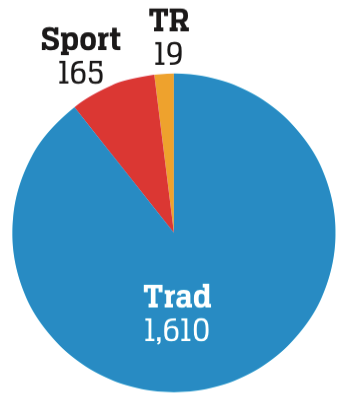 Difficulty
If you're solid at 5.10+, Moab offers tons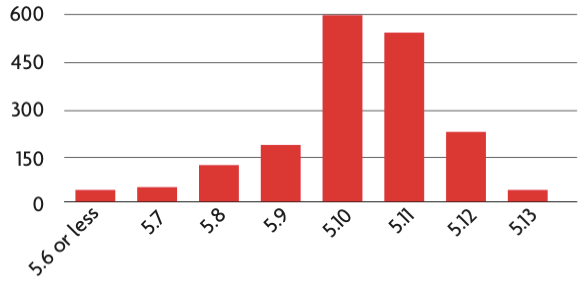 Season
Spring and fall see the most ticks                   

Get route beta, photos, and topos for the area at Mountain Project.