Montana Has Granite The Size Of Half Dome. Why Don't You Know About It?
A warm invite to climb in Montana —just don't expect a mint on your pillow
Heading out the door? Read this article on the new Outside+ app available now on iOS devices for members! Download the app.
Forrest Murter and I walked quietly past two dozen buildings, sagging and leaning, the remains of an old mining town deep in the heavily wooded mountains of Montana. I imagined people watching us from black windows where once there'd been glass. The smell of rotten wood and century-old tar swirled in a breeze that whispered through the lodgepole pines. A heap of metallic mining equipment sat rusting on the hillside, slowly surrendering back into the earth.
Beyond the ghost town, we followed cow trails through thick timber. The Big Sky, only visible when we looked straight up, was the sole reminder of a world outside our idyll. Granite boulders littered the ground, their gray and white shades a contrast to the electric-green ground cover and wildflowers. Tree branches snapped and the ground drummed as some massive animal—a bear or a moose—lumbered through the woods beyond. Beneath my feet, a hundred thousand ants tunneled their homes.
"There! I see it!" Forrest called out. A month prior, through a narrow slot in the trees, we'd spotted a granite buttress. The 500-foot wall, standing proud above the canopy, was split with continuous cracks.
We sat in a meadow at its feet and ate a baguette with brie and salami, surrounded by chirping nutcrackers and brilliant-red Indian paintbrush. After lunch we climbed, but I hardly remember it. Instead, I recall the freshly fallen rain, the warm spring sunshine, the solitude, and the sense of wandering in the woods.
Growing up and learning to climb in Montana, with its tight-lipped community and lack of beta, has fostered in me a sense of gratitude for days like these, spent exploring in silent, fantastical forests. The state's no-publish ethic reaches back to the 1960s and the Dirty Sox Club, which held that subsequent ascents of a route should provide the same experience as the first. The Dirty Sox upheld Montana climbing's wilderness aura by eschewing in-depth route topos and rarely leaving more than a rappel sling.
Some name the ethic as the main cause of elitist cliques and exclusivity, while others insist that it promotes adventure and is not rooted in keeping anyone out. In today's high-tech world, where information is available at the tap of a finger, Montana's community has found itself at a crossroads. Is it time to kick the old ethic to the curb, or is there a way to encourage access for all while respecting the traditions?
Montana boasts granitic walls the size of Half Dome and some of the best limestone in the country, so why haven't you heard about the climbing? Because Montana—pejoratively called by some the "Bastion of Secrets"—is different. The climbing community has typically had little interest in aligning with the rest of America. While climbers in other places might prioritize a joy-filled or successful experience—one they might share on social media or Mountain Project—Montana climbers often opt for adventure. This ethos, of course, is evolving. As sport climbing continues to expand, and communities such as Bozeman grow exponentially each year, new areas have proliferated. Easily available climbing is welcome here, too.
Surely in a state with 27 million acres of public land there must be room for both ethics. Boulderfields that stretch 100 square miles and 800-foot limestone sport climbs are a quick Google search away. Conversely, there are remote 20-pitch trad climbs on immaculate granite, 2,000-foot ice routes that have been climbed only once, and countless forgotten crags scattered within the valleys of Montana's hundred mountain ranges. Much of the time, when new to a climbing area here, be it a roadside sport crag or a glacier-carved granite canyon, you must wander with your eyes up in order to find routes. Trails may be faint or overgrown, and even the "trade routes" on the most accessible bigger walls are hard to follow.
For some of us, climbing experiences are their fullest when involving a great unknown: By seeking dark, untrodden realms, we find light emerging from within the rocks, the trees, the moss, ourselves. Naturally, with the unknown comes a greater likelihood of failure. I've had countless days out end in a humbling, sometimes humiliating, experience. However, I've also gained a willingness to try and a deep understanding that, for me, success is simply the cherry on top: The experience I find by following my curiosity is as good as any summit.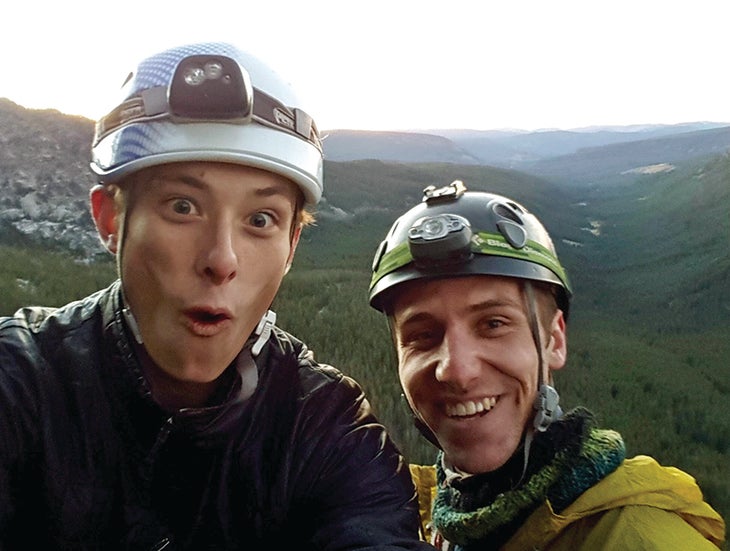 Last week, my dad and I, carrying 45-pound packs, skied through shin-deep powder for five hours looking for a fickle icicle we'd spotted years before, only to find a bare wall. So, we brewed instant coffee, watched the clouds stir throughout the granite massifs, and meandered back, swapping stories and telling jokes, alone in one of the most beautiful places on Earth.
The common misconception is that Montanans want to keep other climbers out. That's false. Our goal is to maintain the sense of adventure that's been an inherent part of climbing here. In fact, Montanans would welcome you: If you ran into another climber on the trail to a wall in the Beartooth Mountains, they'd be ecstatic to see you and might even leave a beer on your windshield for when you hobble back.
Perhaps not every route or area should have a 300-word description or a pitch-by-pitch breakdown. Maybe the unknowns can be welcome, not just in Montana but elsewhere. I love that there are countless U.S. areas where detailed beta is a click away, but also that our country harbors word-of-mouth areas, where you must gather beta yourself, often through trial and error. I value the lessons learned in such areas, though I worry they're in danger of being tamed, through exposure.
So, if you ever find yourself full of curiosity but lacking enough information to commit, at least sanely, to a trip, load up and go. Walk the valleys, carry extra gear, put success on the back burner, and keep your eyes up.
Justin Willis has been climbing for 23 of his 27 years. Having grown up in Montana, he now resides in the Bighorn Basin of Wyoming.