My First Big Wall
Lessons in Pulling on Gear in Zion
Heading out the door? Read this article on the new Outside+ app available now on iOS devices for members! Download the app.
This story originally appeared in the October 2015 issue of our print edition.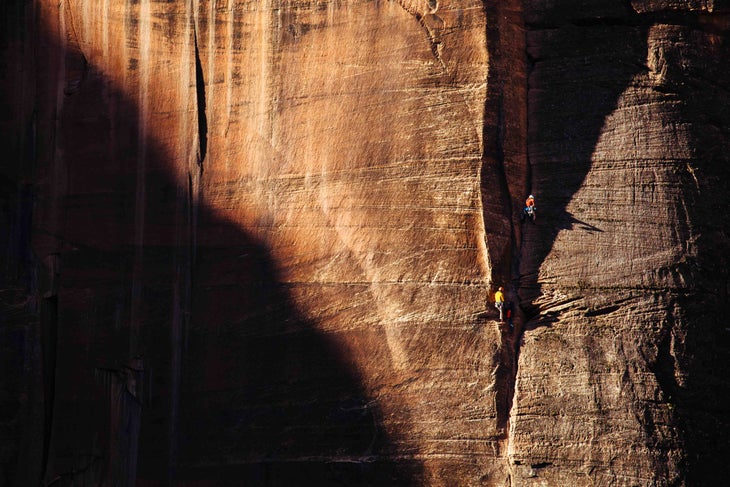 BRENDAN LEONARD: I glanced at the Grigri one more time before Ethan left the belay ledge to start up the sixth pitch of Prodigal Sun (5.8 C2, 9 pitches) in Zion National Park. Ethan reached up and tried to get to the drilled angle, a few inches short of the quickdraw in his outstretched right hand.
"Can I put my hand on your head?" he asked. I had just led the previous two pitches, doubling my lifetime aid leading experience, and Ethan agreed to lead the rest of the climb. He can do whatever he wants, I thought. 
"For sure," I said, then stiffened my neck muscles and leaned into the wall. He pushed down, harder than I anticipated. And longer. Five or so seconds went by, and I inspected Zion's beautiful sandstone walls, grain by grain. Ethan wiggled and wormed his way up. Sweat squeezed out of the pads in my helmet and streamed down my face. Finally, I heard the click of a carabiner gate closing as Ethan clipped the pin. There are no rules in aid climbing, Ethan said. This was an important point in my week-long big wall mentorship with him.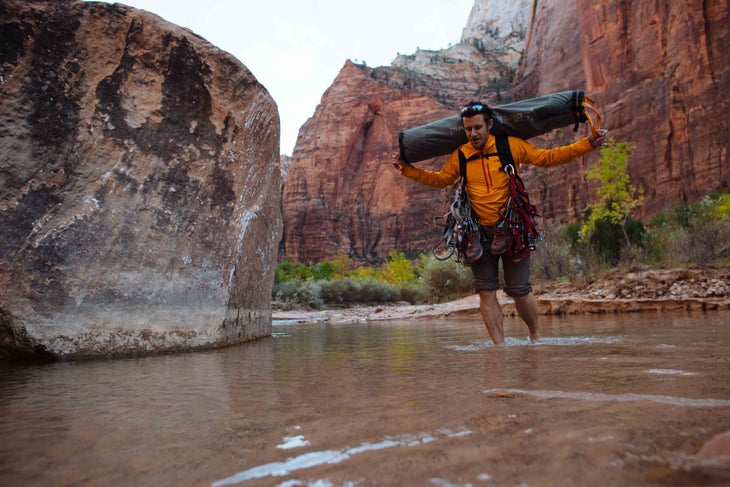 ETHAN NEWMAN: When people think big walls, they mostly think of Yosemite, or a few diehard Coloradoans may think of the Black Canyon or the Diamond. Between the two, however, is perhaps the best big walling venue in North America. Zion has a spread of big walls from C1 to A5, from three-pitch practice aid routes to serious grade VI walls. With almost 300 dry days a year, Zion also has better weather than Yosemite or Colorado. Best of all, though, is the lack of crowds. I've lived here for three years, and only once have I had to wait for another party on a route.
In the fall of 1978, a young Ron Olevsky, having established the classic aid line Touchstone Wall, looked across the river to the northeast face of Angels Landing. The dark, mossy face is one of the most continuously steep faces in Zion, and at the time only held two routes. The morning light illuminated a series of discontinuous cracks and corners, weaving left and right all the way to the summit of the formation. Inspired, he loaded up his haulbags and began climbing. At the time, Olevsky mostly climbed solo, and he pushed the route capsule-style, or self-contained and in one push, to the summit. He called the route Archangel, at VI 5.9 A3.
Olevsky wasn't finished with Angels Landing, though. From the midway ledge of Archangel, he saw a series of arcing corners leading up and right from where Archangel went left. In 1981 he returned to nail, nut, and bolt his way up the corners, in addition to adding a direct start. Years later Olevsky saw how the thin knifeblade placements were wearing out, and bolted the route down to C2. Where once you had to nail, you can now clip bolted drilled angles. Even the nut placements are oddly perfect; the crack eats offsets like a dirtbag at a dollar-a-scoop Chinese buffet. This route, Prodigal Sun, would be our classroom.
BL: Midway through my first pitch, I got into the rhythm of leading: Place a piece, yank on it a little, inspect it. Clip my daisy chain to it, shorten my other daisy chain to the piece below, gently weight the top piece and transfer my weight to the upper daisy chain. Bounce up and down on upper piece, loading it with gradually increasing enthusiasm each bounce. Step into bottom step of etrier, step up to the next step, then the next, then a deep breath. Pull hard on the piece or the grab loop, flip fifi hook into the piece, and sit back. Look up for next placement, dig through 30 cams and 25 nuts, repeat process.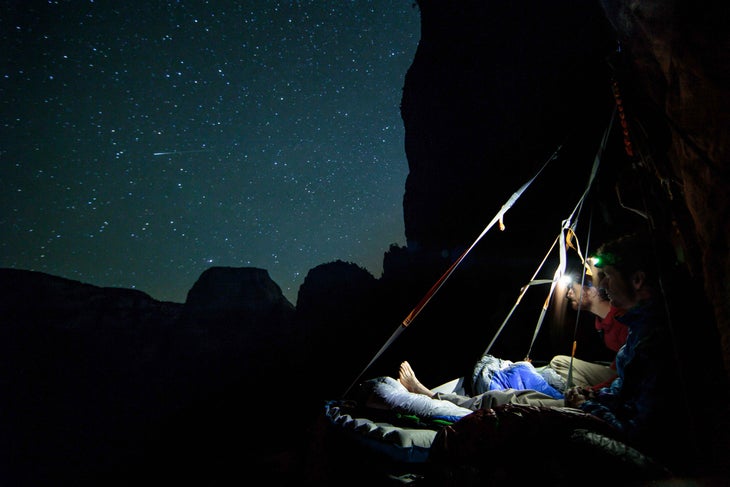 EN: In the mythology and imagery of the climbing world, free climbing is often compared to a dance up a vertical face, executed with beautiful movement. Aid climbing, on the other hand, is more like dry-stack masonry over a trap door. You cobble a pitch together, with the exact right piece in the exact right placement, until you have built a tower tall enough to reach the anchor. Each tool has its purpose, its moment. Still, one fuck-up and it could all fall down without notice. Aid falls are like that—one moment you're reaching up to place a piece, and all of a sudden the floor is pulled out from under you. No Elvis leg, no sensation of fingers sliding off a hold. Just a pop, then flight.
BL: Halfway up pitch five of Prodigal Sun, I poked a green C3 into a gap as high as I could reach from the second-from-the-top step in my aiders. The crack had started to disappear, and the cam hung between a sandstone nubbin on the left and a one-inch-deep corner on the right. I knew right away it would be the worst gear placement I'd stood up on all day. I lowered myself to my previous piece and looked up at the green C3. That's a small cam. This is desert sandstone. How many grains of sand have to move for that thing to move just a hair, just enough for it to slide out? Will it hit me in the face when it rips out of the crack? Jesus, what if it hits me in the fucking eye?
To do Prodigal Sun in a day, you have to move quickly. In late October, we had about 11 hours of daylight to work with. I was aware that I led pretty slowly, even for aid climbing, which is slow anyway. If I placed a piece every two feet, my pitches would take four hours apiece. Ethan said to move with purpose, meaning stand as high as you can before you place your next piece. And I took it to mean that you shouldn't spend five minutes examining each piece, wondering if it will hold or not, then placing another piece instead so you'll have more confidence in it—just place a good piece high the first time, test it, and go up.
I looked up at the green C3 again, gingerly bounce-tested it, and pulled my way up the etrier, not taking my eyes off the tiny cam in the sandy crack.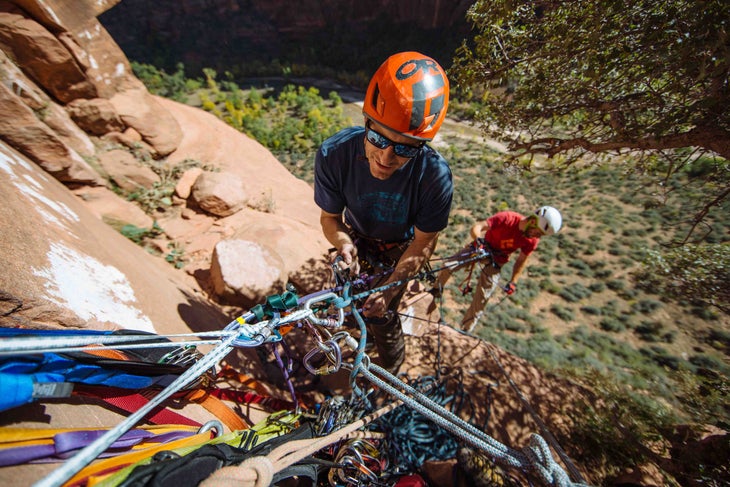 EN: When Brendan asked me to teach him how to aid climb, I was flattered. About eight months ago I belayed him on the first two pitches of Touchstone. I showed him how to stand in aiders, bounce-test, and the basic sequence of aid climbing. What I didn't tell him was how little experience I actually had. I had done maybe five walls, and bailed from a few more, nothing harder than A2.
I've only taken one fall while aiding. I was climbing an obscure wall on Mount Kinesava. My pitches were rated C2. I nervously shook my way up a sandy seam, placing brassies and small cams. I whined about every placement to my partners. Every time I placed a piece, sand trickled out of the crack. Anxious to get off a particularly flared brassy, I stepped onto a green C3 without bounce-testing it. I watched as the cam lobes pushed sand away within the crack, and before I could unclip my daisies from the brassy, the cam popped. I didn't even feel the nut rip out of the crack as I rotated right. I ended up 25 feet lower, hanging sideways from a purple Camalot in a flaring pod.
BL: If you talk climbing with people of a certain generation, you might hear that The Kids These Days are only interested in sport climbing or bouldering or climbing in the gym. Climbing These Days gets compared to Back Then—These Days, people are learning to climb in gyms, then clip bolts outside, and only some of those people advance to placing gear outside. Back Then, you learned by mentorship, and you learned to climb on routes that didn't have bolts, so you learned to place gear.
These Days, we're lucky to be able to pick from any number of climbing disciplines: bouldering, sport climbing, trad, ice, mixed, mountaineering, and even competition climbing, which most of the time takes place on artificial surfaces indoors. Lost among all those equally fun and amazing ways to climb is this one mysterious discipline that evades most climbers: aid climbing. In trying to explain it to my mother, I said, it's different—you basically climb your gear, not the rock. You put a cam in a crack, then clip yourself to it and pull up. Then I said, "It's how most people climb El Capitan." It doesn't seem to grab the attention of most people learning to climb nowadays, and it's not sexy when compared to the shirtless gymnastic feats of today's climbers. Actually, it's really not sexy at all. It might not be a stretch to say that most aid climbers are men in their 30s to their 50s, and not that those people aren't sexy, but carrying a double sling with 40 cams and 30 nuts up a route, yanking a 70-liter haulbag up a wall, bounce-testing pieces, and grunting your way up to the top step of your aiders—well, let's just be honest: Most people would rather watch a film of Sasha DiGiulian or Chris Sharma gracefully floating up a sport route. When Ethan offered to teach me how to climb big walls, I saw the irony of 35-year-old me learning this "old school" trade from a 23-year-old. But I wasn't going to say no.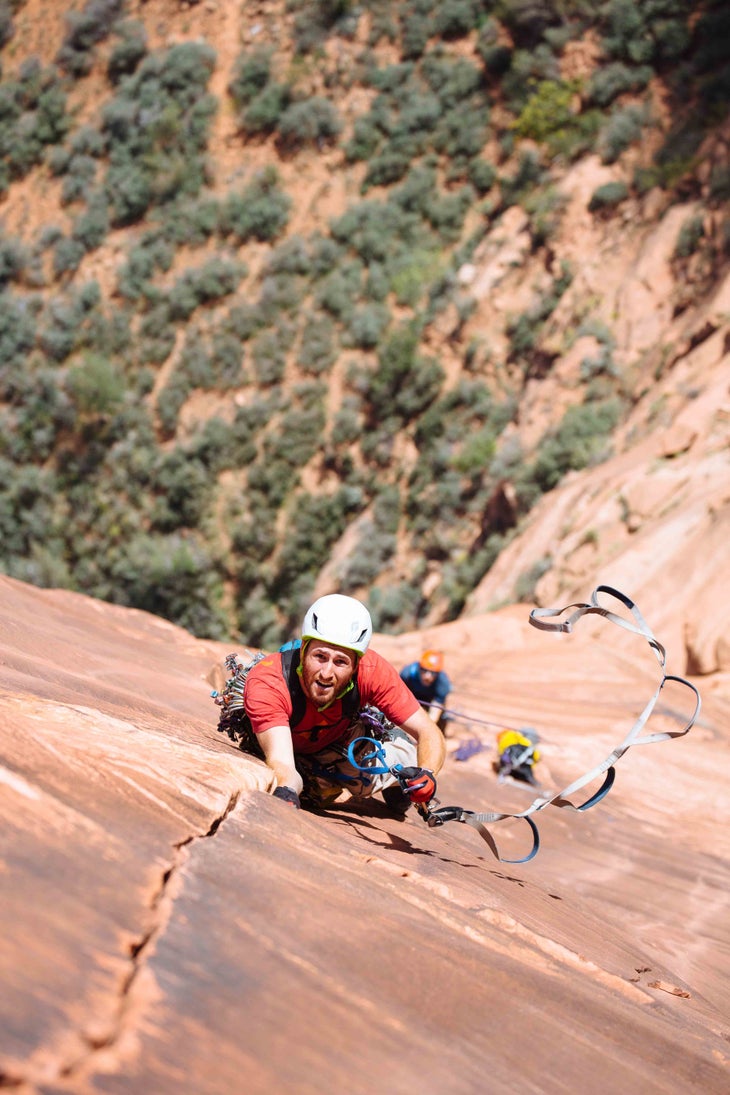 BL: Ethan had told me that big wall belays were a little boring for the belayer, and that we should bring music, so I brought a small Goal Zero boombox. I still felt weird about turning it on while climbing. What if he yelled something down to me and I didn't hear him? As he started off a pitch on Prodigal Sun, I looked around. No other climbers, no hikers in sight. I pulled out my iPhone. I yelled up.
"Do you like The National? They're from Ohio." I shifted my weight in my harness at the belay and tried to relax and enjoy the opening piano chords of "England" while I hung in the middle of an ocean of sandstone.
EN: To me, there is nothing more painful than a long belay. I'd rather hook for 40 feet above beaks pounded into moss than hang in a harness for three hours straight. To deal with this, I required music and a belay seat. Besides, which is going to make you climb faster: contemplating the serenity of the canyon, or Slayer at full volume?
By the end of Prodigal Sun, I thought Brendan had finally found me out. I tried to offer him the last pitch. "Hey man, you want this last pitch? There's a ton of bolts on it. I can see 'em from here. Besides, you won't have to lower yourself out the pendulum in the dark." He wasn't having it. I strapped on my headlamp and stepped up onto the first piece in the fading light. Several hours later, we topped out onto the Angels Landing Trail.
The aid routes in the main canyon of Zion highlight the absurdity of aid climbing, perhaps more so than other places. Most routes aren't particularly committing and have fixed anchors the whole way. Below, a shuttle bus passes by every five minutes, and you can hear hooting and shrieking from the rim trails above. Still, with all the people above and below, there are fewer places you feel lonelier than hanging on a hook in the dark out of sight of your belayer.
So, we had done a wall. Still, we hadn't had the full experience. What is climbing a wall without a hanging bivy? We scrounged through the guidebook to find something a little more intense.
By the early '90s, Zion was becoming known as a mecca for big wall climbing, and some big names came to the park to leave their mark, names like Xaver Bongard and John Middendorf. Jeff Lowe returned to free climb his own earlier aid routes. The hub of activity centered around a small house near the park entrance called the Rock House. Brad Quinn, a mason who had grown up in the area, was one of the few who actually paid rent there. In 1991 Quinn teamed up with Linus Platt to climb a thin seam he spied left of Moonlight Buttress. Platt wrote: "Later, Ron Olevsky, a fixture of Zion climbing back then, had told us he had 'scoped the line,' but deemed it 'too thin to climb in good conscience.' Thin was what we were looking for and the thought of such a new route stoked us up." Several days later, they topped out Lunar Ecstasy, ending at the same tree as Moonlight Buttress.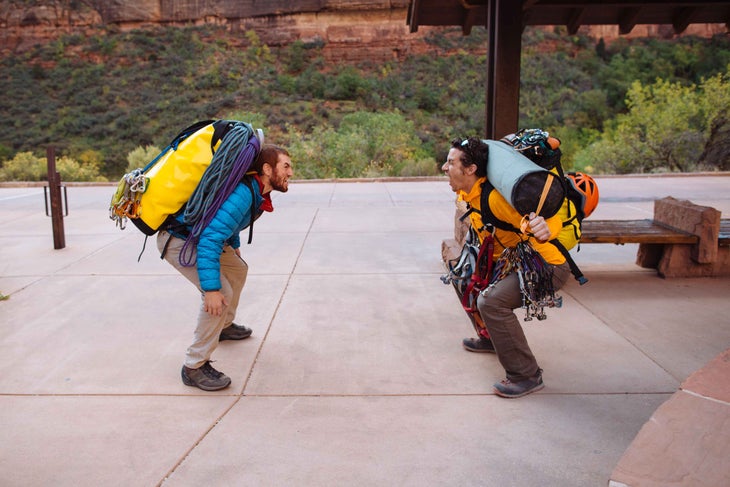 BL: When you ride the park shuttle bus through Zion Canyon, the voice of Ranger Mike Large narrates your trip over the bus speakers. As the bus approaches the Big Bend stop, the recording says, "At this stop, you may see California condors, peregrine falcons, rock climbers, or even hikers along the ridge to Angels Landing."
Zion National Park is one of the few venues in the national park system in which climbers are among the star wildlife. In Denali, the moose and bears draw the zoom lenses of vacationers, and in Yellowstone the bears and bison, but in Yosemite, Devils Tower, and Zion, it's often the climbers. Or as Mike Large's voice announces over the Zion bus speakers, "Climbers can spend an entire day or longer, slowly ascending sheer cliffs to reach the plateaus high above the canyon floor… These large cliff faces are dotted with people who aren't afraid to challenge themselves or test their resolve."
I've been coming to Zion since 2004, spending a couple months' worth of days hiking, trail running, and gazing up at the skyscraper blood-red sandstone walls from the bottom of what's become my favorite place in America. But I'd never climbed the big stuff here, and never been one of those climbers hanging off those towering sandstone walls.
EN: Like all climbing areas, a certain style of climbing developed here, in part due to the ethics of the local crowd, in part due to the nature of the geology. The rock is certainly hard enough to climb, but by no means is it Yosemite granite, or even the Aztec sandstone of Red Rocks, just a few hours away near Las Vegas. Because of this, some of the normal aid tools are sparingly used, or even avoided, so as to preserve the rock. Some climbers don't even consider a route "finished" until it goes clean. Routes like Desert Shield still have scars from cam hooking, and there are pale stripes up Prodigal Sun and Touchstone where hundreds of haulbags have scraped against the varnished rock. Even the cracks on Moonlight Buttress get wider every year. All this has coalesced into an emphasis on clean climbing, or at least minimal hammered placements, and "fix and fire" strategies. This way, the routes last longer, the rack is lighter, and you get to enjoy pizza and beer the night before the summit push.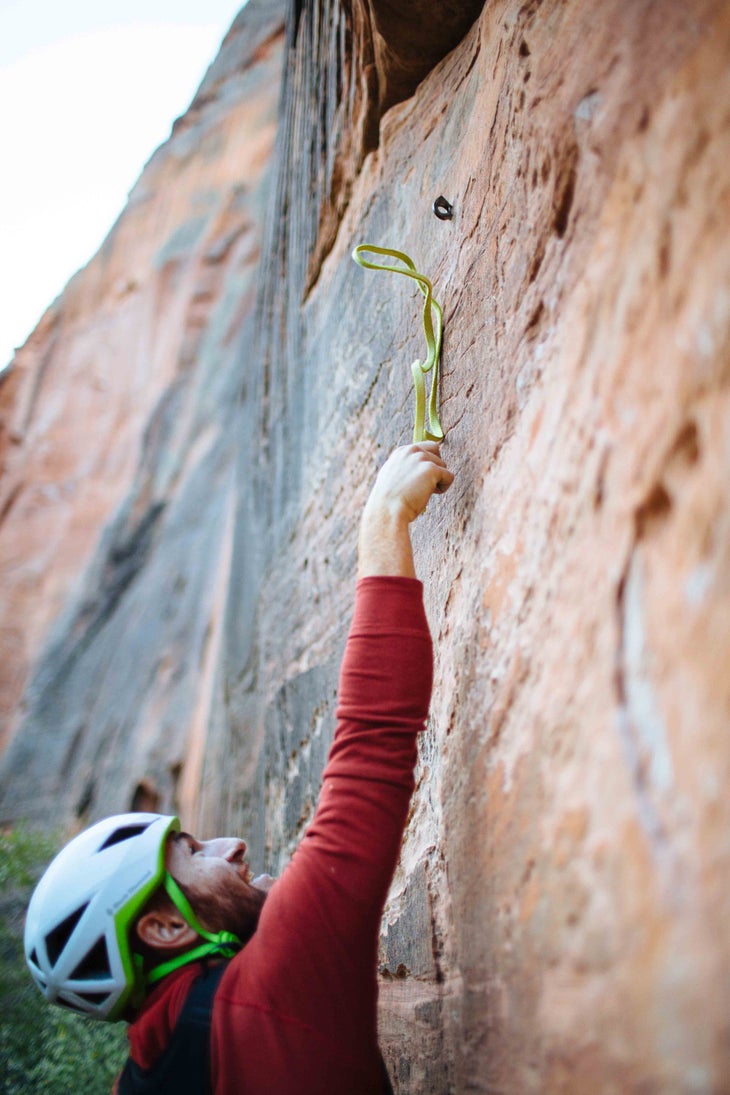 EN: Before this week, I had only intentionally bivied on a route one other time. On the fourth pitch of Lunar Ecstasy I got that creeping feeling when the light starts fading. My knuckles turned white, I clenched my jaw, and I looked around frantically at our escape options. Only when I looked down and saw the huge, yellow haulbag did I remember that we planned to camp. We can sleep wherever the hell we want!
Sleeping on a portaledge is like sharing the top bunk as a kid. You are intensely aware where the edge is at all times, and you can feel every little shift and every little fart of your partner. I slept uneasily, sliding in and out of consciousness like a malarial dream. Some time during one of the more wakeful periods I realized that the portaledge shifted, and was now tilted outward. I slid across the nylon into Brendan and knew that I probably was crushing him against the webbing. Apparently, neither of us were awake enough to actually adjust the ledge. Instead we submitted to the gravitational manspoon all night.
BL: At the top of the fourth pitch of Lunar Ecstasy, the exposure began to affect me in a strange way. I've had plenty of hanging belays and climbed my share of vertical rock, but hanging my ass out over the void there, staring up at 500 feet of steep desert varnish made it feel like someone was constantly pushing their hand into my chest. Every time I unclipped anything, I was hyper-conscious of dropping it, and every time I stared upward, I just wanted to be done with the whole thing. Usually when things scare me, I like to take the "rip off the Band-Aid" approach and just get it over with. But today, Ethan and I agreed that he'd lead the first three pitches of C2 and I'd take the last two pitches of C1, and all day the words of various topo authors and Mountain Project commenters rung in my head: "airy," "loose," "rotten rock," "missing bolt," and "felt as hard as any of the C2 on the route." I told myself that Mountain Project comments are the WebMD of the climbing world, seeing as if you read enough of them, you become convinced YER GONNA DIE!!!
I couldn't see the last two pitches from below, so I tried to convince myself that they must be a little laid-back, that the route would become slabbier after Ethan's three steep hero leads and I'd have an easy romp yarding on gear all the way to the top. It would be easy. Right?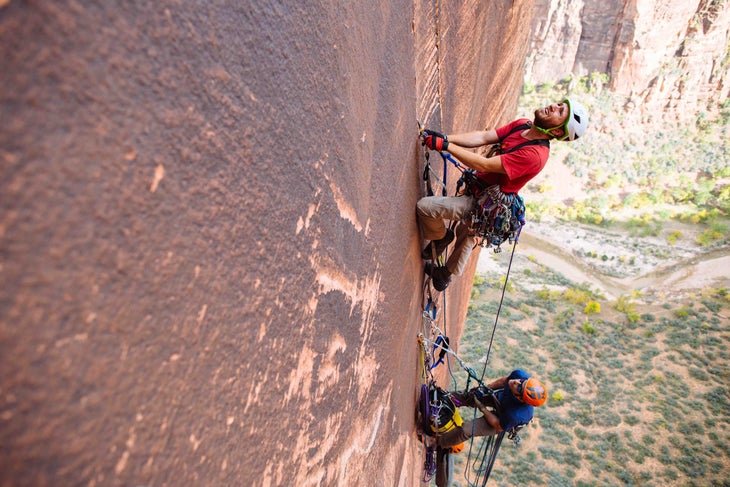 EN: The next day, I had the first couple leads. I was worried that we hadn't brought the right gear. Brendan's aversion to Tricams convinced me to leave them off the rack, but Mountain Project comments like "I found a red Tricam to be the key…without it I could not have done this pitch" caused angst. Still, the C2 pitches were fairly straightforward. Offset nuts and offset cams carried me up the route, until I hit the "Amoeba Pitch." Halfway up the pitch, a huge loose oval flake, with a fragile stack of blocks on top, sits in the corner blocking the crack. The first ascensionists were smart to bolt and hook around it, but I had to transition back into the crack at the top of the flake. I stood up on the bolt, climbing into my top step to reach back right into the crack. While leaning over I palmed the top of the flake. I heard the unmistakable grating sound of rock sliding against rock.
I immediately let go of the flake, and again heard that sound. I realized that the rocks stacked on top of the Amoeba were grinding against the wall and rebounding when I let go. If this thing went, it would sweep down the face like a guillotine, straight onto Brendan a hundred feet below. I immediately had two thoughts. First was: How the hell do I get past this? Second was: No need to tell Brendan. He'll freak if I do.
Calm down, I thought. Plenty of people have done this route and aided past it. Nobody's been able to knock it off yet. I exhaled slowly, through pursed lips. We'll be fine, I told myself. I reached over and placed an offset cam. I bounce-tested it by stomping on my aiders, careful not to even graze the Amoeba. I stepped into my aiders and palmed either side of the corner to keep my feet off the flake. Part free, part aid, all 'fraid. With my left hand palming the wall, my right shoulder smeared into the corner, and my feet kicking back out away from the Amoeba, I reached up and placed another offset. I stepped up carefully, making sure to keep the etrier loops off any corners of the blocks, and moved passed it. I couldn't unclench until I reached the belay.
BL: From famous Zion walls like Prodigal Sun, Lunar Ecstasy, and Moonlight Buttress, you watch shuttle buses snake their way up the canyon road, and the more interested drivers stop the bus on the road between the Big Bend stop and the Temple of Sinawava stop so passengers can look up and see climbers on the famous routes. You can see people standing at the Big Bend stop, staring up at the wall 1,000 feet above. You can also hear the exalted whoops and yells of hikers along the ridge of Zion's most famous hike, the exposed Angels Landing Trail, a rare American via ferrata of sorts that has a half-mile of knife-edge with chains for handholds. Zion is a big wall climbing destination, but most park visitors' biggest adventure in the park is Angels Landing—it has its own Yelp page with more than 50 reviews (it gets an almost unanimous five stars). With several sections of chain, totaling hundreds of feet of links strung between posts, it's kind of its own aid climb, Class 4 A0.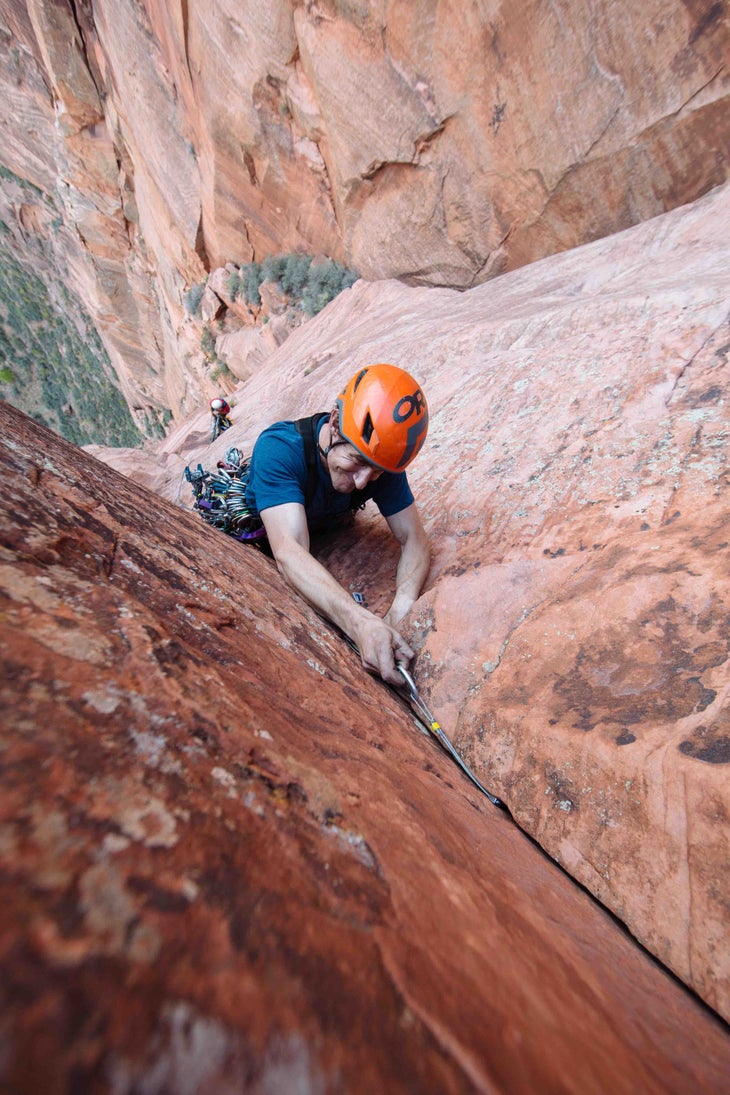 BL: I stared up at the last pitch of Lunar Ecstasy, the Jarret Finish, in the fading evening light, convinced if I hurried, I'd be able to get us to the top before dark. The crack snaked up an arête, and it was definitely overhanging. I worked my way up, going way too slowly, as Ethan listened to music at the belay. I hardly heard anything besides my own panting as I battled up the crack, unable to get my feet even close to my top step because of the overhang. I back-cleaned .75s and .5s, convinced I'd need them higher up in the crack. I pulled hard on my aiders, trying desperately to gain some semblance of uprightness, sure my biceps would explode before I could get my fifi hook into the next piece.
The last shuttle bus drove away back down the canyon, leaving Ethan and I alone in the dark at the top of the 1,200-foot climb. I clicked on my headlamp and kept working. When dusk changes to complete darkness, the anxiety disappears. There's no need to hurry and make the most of fading light anymore, so you just accept the darkness as your new reality.
Above the curving crack, the face mercifully became vertical again, but the crack started to disappear. I placed a nut, then an offset TCU, in gritty, less-than-inspiring rock, then lunged hard for a bolt that looked older than Ethan. I convinced myself it was bomber, maybe because that's what you do to make yourself move, or maybe because I had no other options. Someone had said something about one hook move on the last pitch. I heard voices at the belay. Was Ethan listening to a podcast down there?
I hung from the bolt and looked at the rock above, wondering where the hell I could place a hook in the last 10 feet between me and the anchor. I stepped high, patted the rock above me feeling for an edge, and used the arête for a handhold. I hooked a small indentation out to my left, clipped my aiders to it, and stepped into them. I placed another hook on a shallow patina lip above the first one, clipped, and stepped. I placed one more hook on a decent crimp above, and realized that I was in the most Hollywood climbing I'd ever done: using hooks to climb a cliff as tall as the Empire State Building. In the dark!
I stood up on the last hook, stretched high with my right hand, and clipped a quickdraw to the anchor bolts. Ethan whooped from below and I exhaled, still pouring sweat. I had finally gotten to see my favorite place from some of its most exciting viewpoints. I walked up to a tree, flipped a cordelette around it, and started hauling the bag up.
Brendan Leonard's new book, Sixty Meters to Anywhere, is available now at amazon.com, Barnes & Noble, other bookstores, and at semi-rad.com/books. Watch the trailer: