Northeast Ridge of the Pinnacle (III 5.7), Huntington Ravine, Mount Washington, New Hampshire
Heading out the door? Read this article on the new Outside+ app available now on iOS devices for members! Download the app.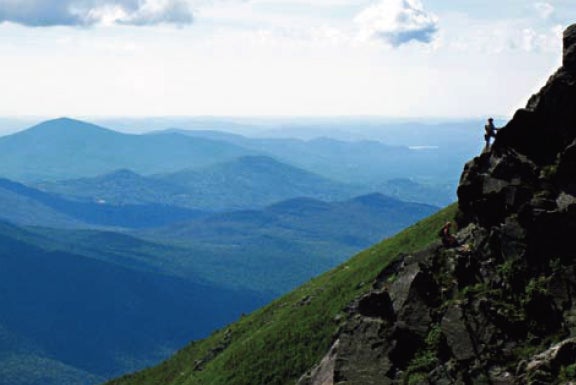 Storied ridge-running in alpine New England
While New Hampshire's rounded topography makes long ridge routes scarce, there are some gems, including the seven-pitch Northeast Ridge of Pinnacle Buttress (the Pinnacle), in Mount Washington's Huntington Ravine. The peak is infamous for extreme weather and record-breaking winds, but on a nice day in August 1910, George A. Flagg, Mayo Tollman, Paul Bradley, and "Mr. Dennis" made the FA of the Pinnacle via The Old Route (II 5.5) — the first documented roped ascent of technical terrain in the White Mountains. It was here that North American climbing, in the modern sense, came to be . . . even if the climbers used clothesline (or a horse rope) and knew no belay techniques.
In the following years, teams made partial ascents of the nearly 800-foot-long Northeast Ridge, on which The Old Route finishes, but it wasn't until October 14, 1928, that William Allis and Robert Underhill (on lead, with Dana Durand, Kenneth Henderson, and Jessie Whitehead following) completed the integral FA. At one point, Allis stood on Underhill's shoulders to surmount an "unclimbable chimney" — today's 5.7 crux, on pitch four.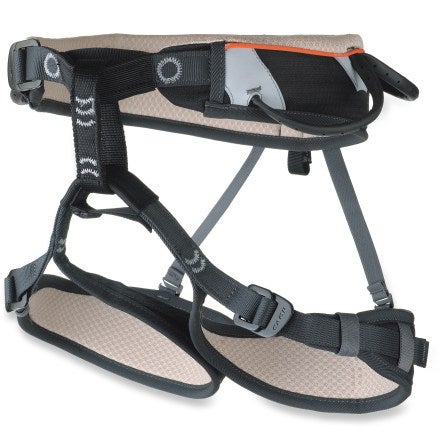 The Beta
Guidebook: Rock Climbs in the White Mountains of New Hampshire, Third Edition, by Ed Webster (Mountain Imagery, 1996)
Guide Services: Eastern Mountain Sports Climbing School — emsclimb.com; International Mountain Climbing School — ime-usa.com; Mahoney Alpine Adventures — newhampshireiceclimbing.com; Synnott Mountain Guides — synnottmountainguides.com
Equipment Shops: Eastern Mountain Sports — ems.com; International Mountain Equipment — ime-usa.com; Ragged Mountain Equipment — (603) 356-3042
Season: For a pure-rock experience, best is late May thru early October.
Rack: Cams from 1 to 3", small Tricams, nuts, extendable draws
Show us your classic photo of the NE Ridge of the Pinnacle and win a Quartz CR3 harness from C.A.M.P.! This lightweight harness offers route-ready innovations like the No Twist Belay Loop, which keeps your locker and device in line; a breathable, foldoverpadded waistbelt; and edgetape support.
Five more classics near The Northeast Ridge of The Pinnacle (III, 5.7)Mechanic's Route (III, 5.10b)Ed Webster first freed, via rope-solo, this popular three-pitch route in 1987 (previous aid ascents had likely occurred, but are undocumented). It follows three dihedrals linked by hands-to-tips cracks that scar the middle of the north face of Central Buttress, the large buttress to the climber's right of Pinnacle Buttress. Well protected and obvious, Webster calls this, "The best hard free route on Mt. Washington."Roof of the World (III, 5.11d)Also on Central Buttress, to the climber's right of Mechanic's Route, is this ultra-classic. It starts up a runout 5.10a face to a stellar left-facing corner. One more pitch leads to a two-tiered roof that must be climbed by first a finger crack, then hands, fists, and delicate underclinging. This also went unclimbed until Ed Webster opened the route in 1987. Bring wide gear; cams to four inches are essential to protect the crux.Cloud Walkers (II, 5.7)A moderate two-pitch route, this ascends the downhill aspect of Central Buttress. The first pitch is and aesthetic, 125-foot long finger crack that leads to some 5.4 scrambling on the Buttress' ridge. Bail from here, as your only other option is to battle the gnarled, sharp, pant leg-tearing alpine shrubbery. Bushwacking in Huntington is a rite of passage… one you should try to avoid.Henderson Ridge (III, 5.4)This ridge is pure fun. Ken Henderson first climbed it in 1927, the third technical route in Huntington. Four long pitches of 5.4 along a ridge that teeters over North Gully (III, WI3), the line eventually heads out over "the diving board," a plank of rock that hangs over the couloir. It's a great winter scramble, introduction to alpine rock climbing, or place to try out your new approach shoes.The Old Route (II, 5.5)This is where it all began: America's first alpine rock climb. What it lacks in beauty and directness it more than makes up for in historical importance. Climb the first two pitches of the Northeast Ridge, and then bail left and ramble up a few pitches of 5.5. Keep your eyes peeled; you'll see some old pins fit for a museum display.MORE CLASSIC CLIMBS: