Panther Gorge: The Remote Adirondack Moderate Mecca You've Never Heard Of
Panther Gorge is a hidden gem surrounded by New York's highest peaks.
Heading out the door? Read this article on the new Outside+ app available now on iOS devices for members! Download the app.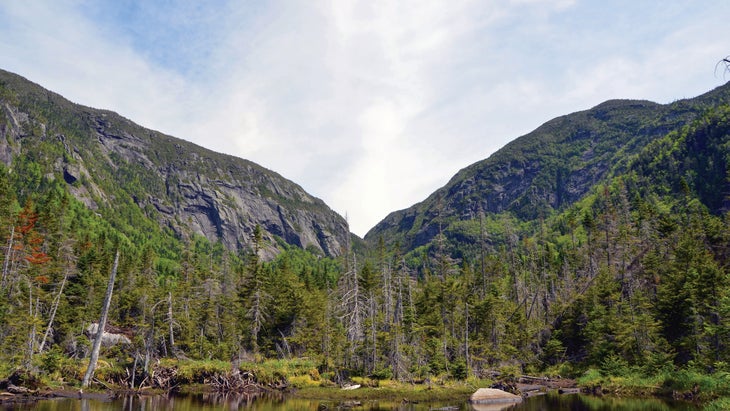 We start hiking at 4:30 a.m., and at 4:33 it starts to rain. Given our destination, this is concerning. We're on our way to Panther Gorge, deep in the Adirondacks. The gorge comprises two massive walls of discontinuous anorthosite, some of the world's oldest rock, 200 feet tall on one side, 400 feet on the other. It's currently home to 38 trad routes from 5.4 to 5.10a, with new routes being added regularly. While this is no Yosemite, there are enough cracks, chimneys, overhangs, slabs, arêtes, pillars, and faces to keep a dedicated climber busy for a long time. Not to mention ice—there's plenty of that too.
But here's the thing: The approach takes four hours. 
From a trailhead in Keene Valley, in the heart of the Adirondack High Peaks, you hike eight miles on trails, gaining 3,300 feet in elevation, and then bushwhack a quarter-mile to the closest route. Some of the farther climbs require an additional 30 to 60 minutes. Panther Gorge is one of the most remote cliffs in the Adirondacks, if not the East Coast.
Today, I'm with Kevin "MudRat" MacKenzie, who lives in the town of Upper Jay, 45 minutes from the trailhead. MudRat, 47, is a skinny 5'11". He's an associate registrar at St. Lawrence University, and a second-degree black belt in an obscure martial arts practice you've never heard of. Don't worry, though—he's also a very observant Christian, so he's quite harmless. Unless you try to hike with him: MudRat routinely puts in 17-hour days in the woods, with trips to Panther Gorge running as long as 22 hours. This despite a low-blood-sugar condition he keeps in check with energy blocks and gels, plus the occasional sandwich and slice of banana bread.
MudRat has been exploring the nooks and crannies of the High Peaks for more than a decade, doing long bushwhacks and scrambling up rockslides. In 2004, a tropical storm drenched the mountains, and Hurricane Charley was right behind. Itching to get a hike in between the two weather events, MacKenzie and a friend spent a long day churning through knee-deep muck to bag three remote peaks. At one point, MacKenzie fell face-first into a bog. He's been known as MudRat ever since. Around 2013, he discovered rock climbing, and for the past four years has focused on Panther Gorge.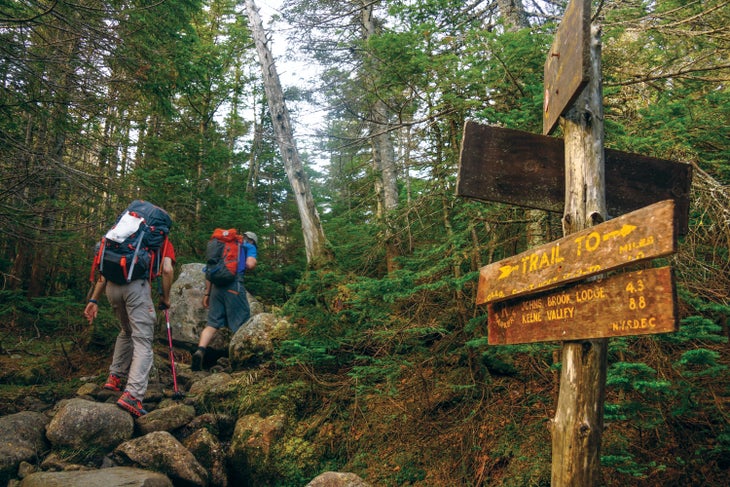 But back to our early-morning departure … and the intensifying rain. MudRat weighs our options. The rain is only forecasted to last an hour or so, but who knows what that means for these 5,000-foot mountains, New York's highest peaks. If the cliffs are wet—if this massive stone cirque is socked in with mist or glistening with runoff—we'll have gone on a very long hike for nothing.
We don our shells and soldier on, headlamps spotlighting a thousand glittery raindrops as we march optimistically toward sunrise.
Recent route development in Panther Gorge reflects the incredible growth of climbing in Adirondack Park over the past decade. There are two reasons for this: a new guidebook and new public lands.
The park has always been a difficult place to define for rock climbing. This six-million-acre preserve in New York State's North Country contains hundreds of separate climbing sites, ranging from one-pitch crags like Beer Walls and Spider's Web to giant faces like Wallface (600 feet) and Poke-O-Moonshine (300 feet).
In 1967, Trudy Healy's Climber's Guide to the Adirondacks came out. It documented 70-plus routes. The guide was one of a half-dozen guidebooks published by different authors over the next 30 years. These old-school guidebooks used worded route descriptions and limited photos.
More than a decade ago, Jim Lawyer and Jeremy Haas set out to modernize the Adirondack guidebook. After three years of work, in 2008 they published the 652-page Adirondack Rock. Filled with methodically researched descriptions and computer-drawn maps and topos, the book added significantly to the climbing community's route knowledge, while inspiring more climbers to visit (rock gyms in nearby communities like Glens Falls and Clifton Park didn't hurt either).
Around the same time, paper companies and other large landholders sold their vast holdings to the state, opening thousands of acres of formerly private land to the public. Virgin cliffs were suddenly accessible, such as Silver Lake and Potter Mountain. When the second edition of Adirondack Rock was released in 2014, it had almost doubled in size, offering more than 3,100 routes on 320 cliffs in its two volumes.
Meanwhile, Panther Gorge has always been open to climbers; it's just been ignored. From the summit of 5,344-foot Mount Marcy, the state's highest peak, or its neighbor, Haystack (4,961 feet), you can look down into the gorge. You'll see a swath of discontinuous, seemingly inaccessible cliff, surrounded by spruce-and-fir "cripplebush" so dense it can take an hour to crawl a quarter mile.
The gorge has long been regarded as a mystical place. Seneca Ray Stoddard, the photographer and writer, described it in an 1891 book as "one of the wildest places in the Adirondacks." In his 1869 book The Indian Pass, Alfred Billings Street wrote of ascending through the gorge to reach Marcy:
Gloomier scowled the ravine, and narrower it grew, while the rocks completely filled it. Yet above and through them I could see that the tortured mountains had at last locked themselves in a Titan struggle, falling upon their sides to do so. The gorge was at an end, a majestic cul de sac .… It seemed as if a mighty horror brooded over it; as if some demon made within it his black and scowling lair.

Before the recent climbing spurt, there were exactly two documented rock routes here: In 1936, mountain guide Jim Goodwin used a hemp rope to lead two 12-year-old boys up a climb. And in 1965, Craig Patterson and Ronald Dubay plucked a plumb line up a 100-foot crack at the Panther's Den—at 5.8+, a bold lead for the era.
Don Mellor, who published three Dacks guidebooks in the 1980s and '90s, dedicated only a paragraph to the place: "No one can agree whether the climbing here justifies the work," he wrote in his 1988 edition of Climbing in the Adirondacks. In 2003, that mystique lured in two local climbers: Bill Schneider, a hospital nurse in Saranac Lake, and Adam Crofoot, a property manager and carpenter in Keene Valley, just down the road from the trailhead. Schneider began to make inquiries around the local climbing scene. People had opinions—but no one he talked to had been to the gorge or knew anyone who had.
"It was like a big question mark," says Schneider. He and Crofoot made several visits, expecting dirt-filled cracks and choss. Instead, they found clean rock and stellar lines, and put up several first ascents over the next two years. Then they moved on, and didn't return—until MudRat came calling. Here was a newly minted climber with a zest for exploration. In fact, he actually had been through the gorge, several times, albeit while bushwhacking and scrambling. Now, MudRat wanted to return with ropes and pro. About four years ago, he convinced Schneider and Crofoot to join him. Again and again, as it turned out.
A new era at Panther Gorge had begun.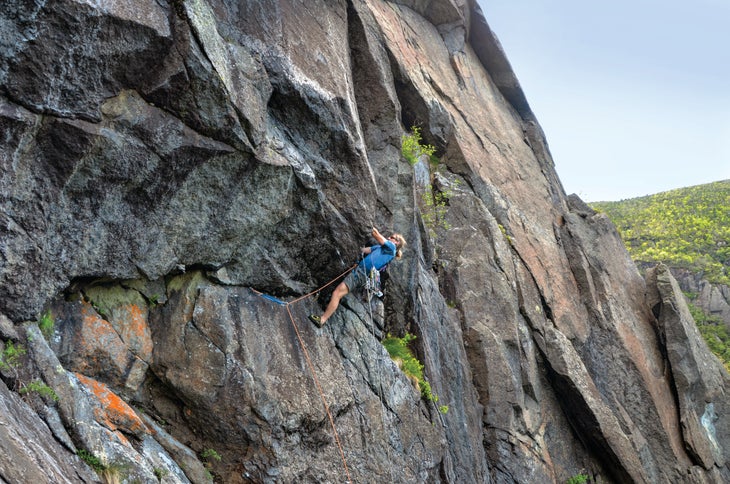 MudRat and I reach the gorge at 9 a.m. Emerging from the woods is breathtaking—the rock walls stretch out for hundreds of yards in both directions. Haystack's bare summit is high on the left horizon, and the foot of the gorge rolls down to the valley floor 2,000 feet below. There are dozens of smaller mountains visible, stretching south at least 50 miles. This is MudRat's twenty-seventh trip here.
Despite the early rain, the cliffs are dry and the sky is clearing. We shrug off our packs below an unclimbed line.
The gorge has a short climbing season—black flies make climbing miserable in June and early July, some stretches of rock don't dry out until August, and ice forms in the cracks as early as October. Winter has its own appeal, with the rock freezing over into dozens of mostly moderate ice routes up to five pitches.
Climbers enter the gorge near the top of Panther's Den, a 300-foot-long cliff of one-pitch routes, mostly in the 5.8 range. The base is a grassy ramp that leads down to an arête. From there, you pass the Feline Wall, a moderate slab with deep cracks. Traverse a wooded class 4 move and you emerge below the largest section of cliff, an area near the ice climb Agharta—the gorge's best-known route—and a large, overhanging section MudRat refers to as the "Huge Scoop."
Here, routes range from two to five pitches, with one climb reaching 600 feet. The rock is discontinuous, broken up by bushy ledges. Ratings go as high as 5.10a, while unfinished, overhanging projects mark places where even Adirondack hardmen have feared to tread. (When pushing wet, runout 5.11, it's hard to forget just how far away a rescue really is.)
The cliff continues, ending with the slabby East Face. And that's only on the Mt. Marcy side. Across the cirque is more crack-laced rock, including a detached pinnacle with a 40-foot 5.9 finger crack.
Some climbers question whether these remote routes will ever see a second ascent. "It's just really hard to get to, and there's other stuff that's closer and more convenient," says Jim Lawyer, the co-author of Adirondack Rock. "People can get that adventure-style climbing without having to do that much work." But MudRat says his online reports have already brought requests from masochistic strangers—several college students; one recent transplant—to join the madness.
Today, MudRat and I focus on a few unclimbed lines at Panther's Den. The start of our route is a 30-foot vertical gully, maybe 5.6ish, covered in wet green moss. I climb up 15 feet, place two cams in dripping cracks, and waver. "I don't know ," I call down to MudRat as I eye a hold overhead that may or may not be Teflon slick.
"I'll give it a try," MudRat says. "I'm used to stuff like this."
I downclimb and hand him the gear. He's wearing black trousers covered in abrasion-resistant patches—Bear Grylls–branded pants, purchased at some discount website. I, on the other hand, wear shorts.
I put MudRat on belay, and he makes his way up the mossy holds without any issue (a "greenpoint"?). At the anchor above, I take the lead. The corner flake system above looks enticing—not to mention moss-free—but first I must make a committing 5.8 move into the crack. I place a cam, find a nice fingerlock, and go for it.
The hand-swallowing flakes above are as expected: 5.7 laybacking and stemming along a super-positive edge. At the top, a horizontal crack disappears around the corner with a crotch-stretching traverse. A few more moves through well-protected overlaps, and I'm safe on slabs.
MudRat follows. "So what should we call it?" he asks on top.
I mull a few names aloud and then decide, thinking of a 1983 Cyndi Lauper tune: Climb After Slime.
When climbing first ascents here, getting down can be a major challenge. In this case, we decide to rap Panther's Fang, the aforementioned 1965 route. At the top is the only (known) piton in the gorge, along with some more recent tat backed up by two nuts. It takes us 15 minutes—yes, minutes—to traverse the 75 feet to the rap station. The trees are woven into a living mesh, while spiky dead branches threaten to spear an eyeball or pierce a spleen. Now I can see why MudRat wears long pants.
Back on the ground, there's time for one more climb. I consider Panther's Fang, but instead spy another crack farther up the wall. "Has this been climbed?" I ask.
"Not yet."
It's 100 feet high, ranging from fists to offwidth to chimney. Black moss carpets the route, but it is dry.
"I'll give it a try," I say.
The climbing is fine. What isn't so pleasant is the sharpness of the rock. Cracks here are not the smooth, splitter cracks of Western granite. Instead, they trend toward worn, dirty, and rough. Tape is essential for jams; long pants are useful in chimneys.
I have neither. The jamming isn't so bad, but the squeeze chimney is as sharp as coral. Just brushing my leg against the sides results in nasty scrapes. By the time I reach the top, I have so many scratches on my shins that they'll turn into one giant scab, large enough to inhibit walking for a time.
MudRat names the route You Moss Be Kidding Me.
By now it's 6 p.m.—time for the long walk out. As we prepare to leave, I turn around for one last look. The west-facing wall is aglow with low-angle light, the forest below bathed in a deepening shadow. I feel tired but elated. Sure, my muscles are achy, and the skin on my legs feels like it was worked over with a cheese grater. But it's worth it. Scabs fall off, tired bodies recover. First ascents last forever. 
Beta
Approach
From the Garden trailhead in Keene Valley, hike 3.5 miles to John's Brook Lodge (an interior bunkhouse) and continue past Bushnell Falls and Slant Rock. After about 4 hours, you'll pass a long, level stretch of mud bridged by rotting logs. Just after a trail sign for Haystack Mtn., look to your left (south) for small cliffs visible through the woods. That's the top of the gorge. Head into the woods on a faint herd path that follows up and right of the drainage, then angle right to the cliffs.
Where to stay
There's virtually no roadside camping in Keene Valley, although there are public and private campgrounds farther afield. The Keene Valley Hostel is nearby, but your bunkmates might not dig your 3:30 a.m. wake-up. Backpackers can camp at Slant Rock, about 7 miles in (tent or lean-to). Bear canisters are required in the High Peaks backcountry.
Gear
Full rack of cams and nuts, plus double ropes for most rappels (some routes may require leaving slings). Helmet mandatory.
Route Info
Recommended Routes
Promised Land (5.8 PG-13; 410 feet): A diverse route on the buttress right of the Feline Wall.
Wreck of the Lichen Fitzgerald (5.8+ PG-13; 470 feet): A stellar climb right of the Huge Scoop.
For Whom the Lichen Tolls (5.9 PG-13; 40 feet): A unique crack up a detached pinnacle.
The Pride (5.9- PG-13; 560 feet): A four-pitch gem, mostly in the 5.7 range.
Predatory Instincts (5.9 R; 450 feet): This challenging route climbs left of the Huge Scoop area, through a variety of slabs and cracks. 
Alan Wechsler is a freelance writer and photographer based in Albany, New York. His stories about travel and the outdoors have been published in a variety of magazines and newspapers. He has been a climber for 20 years and ascended crags and alpine routes around the United States.