San Juan Silver: Southwest Colorado's Treasure Trove of Waterfall Ice Climbs
Heading out the door? Read this article on the new Outside+ app available now on iOS devices for members! Download the app.
Waterfall ice in the San Juan Mountains of southwestern Colorado is almost as plentiful as the 48-ounce steaks served free in Texas … if you can eat the whole thing in one sitting, that is. And much like the allure of those free steaks, so too do the silver threads of San Juan ice come with their own hidden price tag: The climbing is at altitude, the temperatures can be bitterly cold, and the remote, snow-laden valleys are serious, avalanche prone, and intimidating.
Photo Essay: 5 Classic San Juan Single- and Multi-Pitch Ice Climbs
Danika Gilbert leading the first pitch of Whorehouse Hoses (WI4–5), Silverton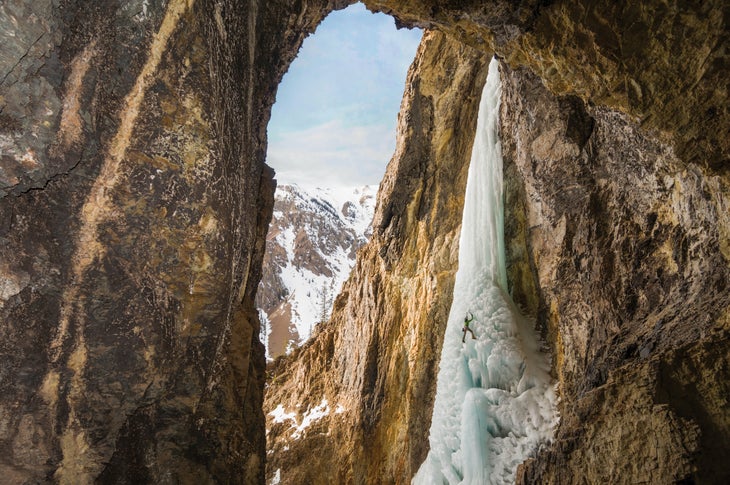 FA: Billy Roos and Sandy East, 1980s
Whorehouse Hoses lies 10 miles up a canyon that surely provides the lifeblood for old man winter. The road ends at a plowed lot in the old mining settlement of Eureka, and strong, venturi-like winds from high peaks up-valley cool the steep-sided valley's floor. As you might guess, ice forms early here. Only one-third of a mile from the car, the healthy, year-round stream flow on Whorehouse Hoses means the second pitch, just above Danika, is often eggshell thin in the middle. On my first visit, in 1997 with Charlie Fowler and Steph Davis, my picks cut right through and water sprayed me in the face so hard I abandoned any thought of protection. Instead, I frantically punched holes to the top, praying I did not drop inside the ice tube to drown and/or freeze to death—whichever came first. 
Danika Gilbert and Steve Su on pitch 2 of Ames Ice Hose (WI5), Uncompahgre National Forest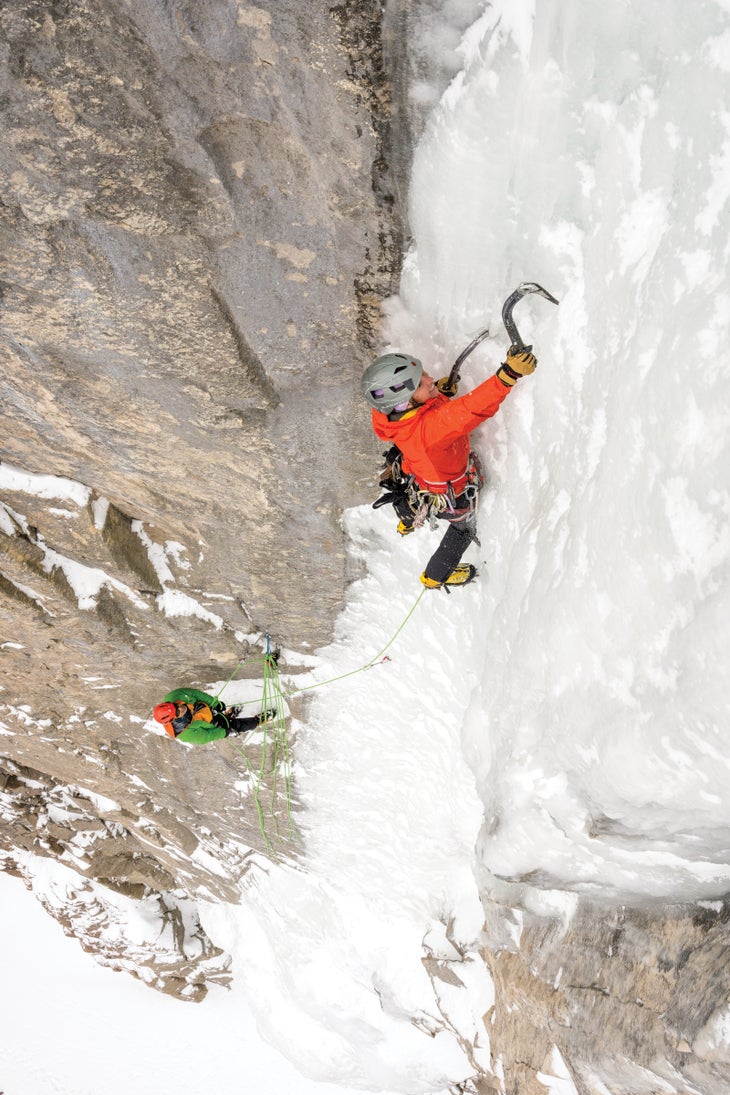 FA: Lou Dawson, Steve Shea, and Michael Kennedy, 1976
The parking for Ames Ice Hose is next to the Ames Power Station, built in 1891 and the first hydroelectric station to produce commercial AC power. If you're serious about Ames, get there in the dark, as climbing behind another party is a bad idea on this narrow chute. We were lucky enough in January 2017 to find no one. The ice was thick enough for screws on the first pitch, so we avoided the M6 start. The main entertainment occurred right after I took this image of Danika. Danika is self-effacing to a fault: You'd be hard-pressed to learn she's led most of the hard, classic ice routes in the San Juans and guided a group of Afghan girls up a remote 16,500-foot peak, which they named Lion Daughters' Peak, in a war-torn land that does not accept independent women. She is super solid. That day, I tried to jumar my icy static line. Ten feet up, 10 feet down. Eventually, I just anchored to a mid-pitch belay and waited for Steve and Danika to retrieve me on the way down. 
Josh Smith climbing Cascade Falls (WI4), Ouray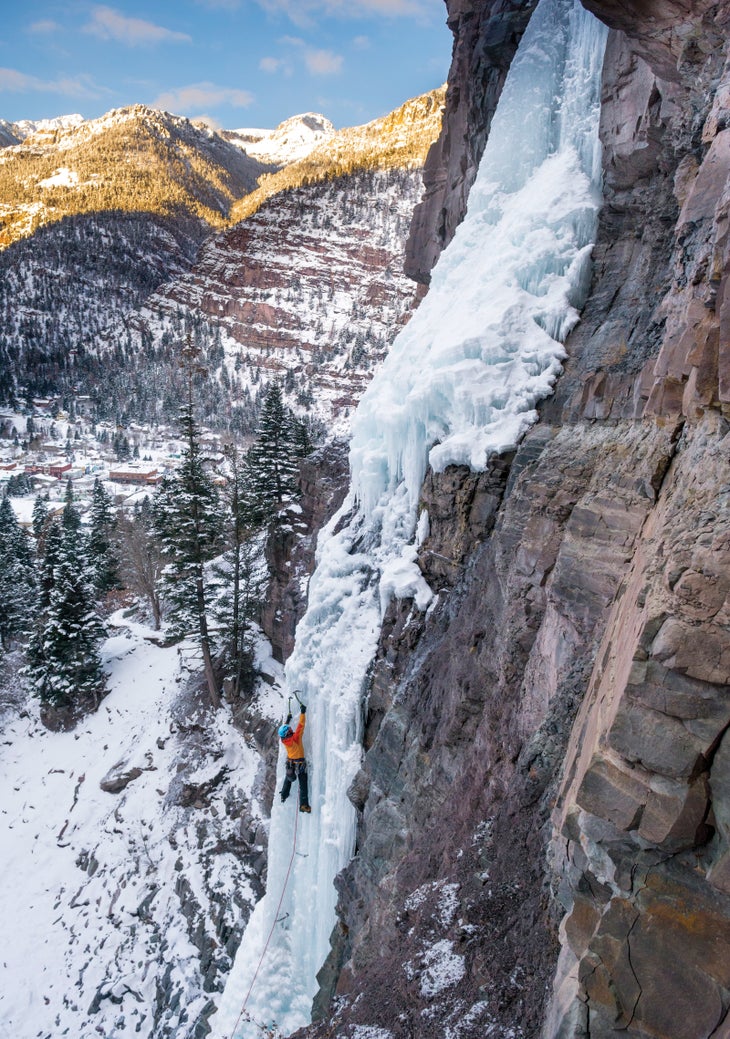 FA: Unknown
Josh and I met when we were just five years old, running through a cornfield playing hide-and-seek at a community potluck in our hometown of Celo, North Carolina. He now lives in Los Alamos, New Mexico, and we are still each other's first pick for adventures. He climbs ice like the Terminator, methodical and undeterrable. Facing south, Cascade Falls rarely forms—so start early. Fortunately, the scenic amphitheater that houses the climb is only minutes from town—a quick two pitches and back to reality! Josh's ascent was noteworthy for the several spicy patches of barely bonded, lower-angled ice that required him to place protection on the steep sections rather than at the more customary mellow stances. 
Bill Gamble climbing Dingle Dick (M6), Cascade Canyon, Durango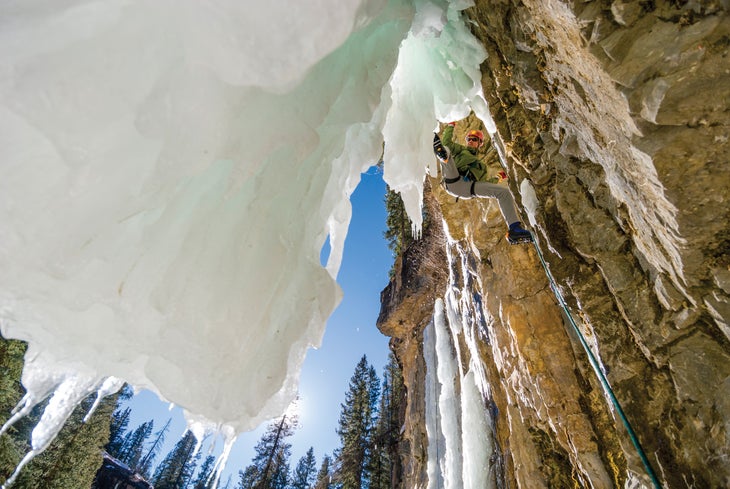 FA: Unknown, possibly solo by Gamble (bolts appeared much later, he says)
Thirty miles north of Durango, nestled invisibly just below a tight hairpin on Highway 550, Cascade Creek has historically been known for great swimming, damp limestone sport climbing, and frustratingly incomplete ice smears. By the 1990s, alpine climbers were pretty good at climbing steep ice in the mountains, but somewhat less skilled at scratching up the rocky bits between the ice. Bolt-protected mixed climbing evolved to address this deficiency, and Cascade Creek, with its 20 mixed routes, became one of the primary mixed destinations in Colorado for a brief period. Bill Gamble, a local Fort Lewis student on the 10-year graduation plan, quickly became a reliable partner after I moved to town. Having soloed most of the difficult pillars in the area, he was one of a few people I knew who considered grade V ice a warm-up. A Cascade regular, he still climbs the mixed routes without pause. We return together most years and reminisce about plastic boots and cutting-edge M8s.
Josh Smith climbing Haflin Pillar (WI4–5), Durango.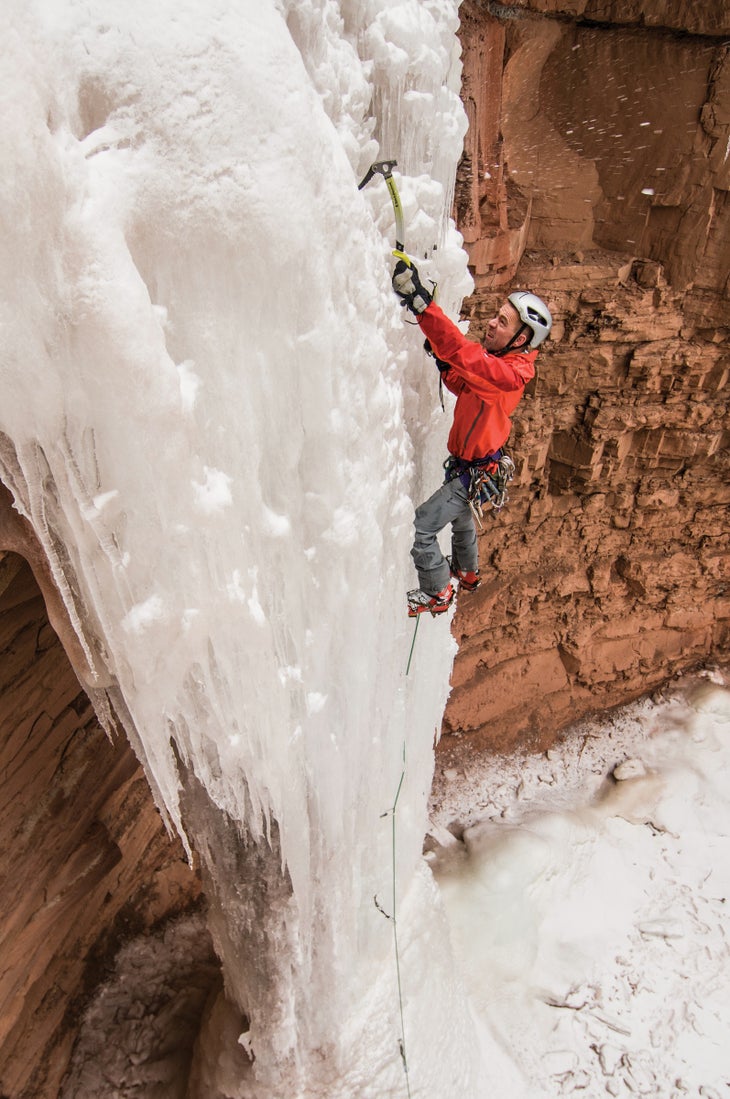 FA: Unknown
Haflin Pillar is an ephemeral hidden gem, hanging from a sandstone lip two miles up a slippery trail through a recently burned hillside. It forms and falls without warning, so I've learned to take a confirmation stroll the day before I intend to climb it. On this day, I recruited the then-17-year-old Tyler Gordon to introduce him to ice climbing and to belay while I photographed. Already a strong rock climber and a math whiz, he found the climbing enjoyable, but rather primitive. Smart kid! This was our last climb together, and I get misty-eyed recalling our fine day out: In 2015, Tyler died in a jumaring accident on the Nose of El Cap shortly after graduating from CU Boulder magna cum laude in applied math.
The San Juans combine the majesty of the Alps with the remote serenity of the Wild West and the boom-and-bust ethos of the hard-rock miners who came here in the 1800s. The peaceful and prosperous Ute Tribe roamed the area for centuries before gold was discovered close to Silverton in 1860 during an expedition led by Charles Baker, a miner previously involved in Colorado's first gold rush at Cherry Creek. However, the legal mining boom did not begin until 1873 when prospectors pressured the federal government to negotiate the Brunot Treaty with Chief Ouray, removing four million mountainous acres from the Ute Reservation. In the decade following, most of the quaint mining towns were incorporated.
The range is vast, a 12,000-square-mile area straddling the Continental Divide. Home to the headwaters of the mighty Rio Grande River, 14 summits over 14,000 feet, and 314 peaks over 13,000 feet, the San Juans comprise enough geologic diversity to inspire a generation of post-impressionistic Van Goghs—with orange and yellow volcanic permutations, glaciated red sandstone, dark, sweeping quartzite, and fossil-laden limestone.
The high elevation brings cold, snowy winters and a lifetime of ice and alpine objectives. The San Juans are first in line for southwestern weather flows laden with Pacific Ocean moisture. In the summer, this leads to regular monsoonal thunderstorms; in winter, through a process called orographic lift, the lofty peaks force inbound fronts upward, causing them to expand, cool, and condense into massive snowstorms. Wolf Creek Pass, on the southern end of the range, holds Colorado's single-season snowfall record of 837 inches.
Avalanche conditions in the San Juans are ever changing, and suitors must assess them daily. Highway 550, which bisects the range, is considered one of the most dangerous highways in the world and the most avalanche prone in the lower 48. There have been numerous fatalities, but thankfully with better forecasting, the construction of a snow shed, and frequent road closures, no plow drivers have died since 1992. And these are just the roadside risks! The San Juans are infamous for an unstable, faceted snow layer from early-season snowfalls—ask a local or check in with the Colorado Avalanche Information Center before heading into the backcountry.
There are six distinct named ice-climbing areas, including Durango, Silverton, Telluride, Ouray, Lake City, and Wolf Creek. Telluride is home to Bridal Veil Falls (WI5), at 365 feet Colorado's tallest free-falling waterfall. When Jeff Lowe and Mike Weiss claimed the first ascent in 1974, the route achieved instant, Everest-like status. The impact was as radical as Alex Honnold free soloing El Cap.
During this period, vertical ice was barely considered possible and climbers often rested on their tools to place the pound-in ice protection. But Lowe and Weiss climbed the overhanging Bridal Veil all free, onsight, using prototype ice pitons designed not to fracture the brittle medium. As Lowe recalls, "We were amazed at our success when we reached the top; we now knew we would never have to consider any ice climb in terms of aid." Accepting that the skills gained climbing smaller objectives in turn allow for greater alpine proficiency, speed, and stamina, this ascent altered the vision of alpinism throughout the world. Lowe and Weiss climbed the 3,500-foot Grand Central Couloir (5.9 A2 WI5) on Mount Kitchener in Canada the following year, and in 1976 Nick Colton and Alex MacIntyre climbed the 3,800-foot north face couloir on the Grandes Jorasses (M6 A3 WI6). Vertical ice on big alpine faces was no longer impossible.
Another ice pioneer from the 1970s, Michael Kennedy, describes his time in the San Juans thusly: "It was an exciting time to be ferreting out new routes: Most of the obvious lines hadn't yet been done, and vertical ice was still considered hard. Wool was the soft shell of the day; Gore-Tex hadn't been invented; ice tools and protection were primitive. And we were young, caught up in a feeling that our adventures were unprecedented." Kennedy completed the first ascent of the super-classic Ames Ice Hose (WI5) and Kennedy's Gully (WI4), among others.
As entrancing as ice climbing is, when you stop to think about it, it's also silly. Imagine a toddler having a tantrum, arms and legs kicking and hitting. Attach crampons, ice tools, and a helmet, and voilà—a complete skill set. It is also dangerous and unpredictable. As longtime Colorado climber Pete Takeda explains, "Ice provides an edge, a risk—like using live ammo in a war game." Given all this, I sometimes wonder if I shouldn't just hang up my alpenstock.
According to Mark Twain, "The alpenstock is (a tourist's) trophy; his name is burned upon it; and if he has climbed a hill, or jumped a brook, or traversed a brickyard with it, he has the names of those places burned upon it, too." My own would be inscribed with San Juan gems like Ames Ice Hose, The Seven Year Itch, Stairway to Heaven, and Treasure Falls. Each climb has been hard-won, conjuring memories of the metallic taste of fear after fighting through a pump, desperately over-gripping past a no-fall zone. Clipping the belay and leaning into the solitude, feeling small within the towering peaks like a sailor in the crow's nest. Embracing that fiery, nauseating rush of blood back into my fingers after taming a frozen monster.
Fortunately, however, not all of the San Juans' ice climbs are ferocious beasts. There are also plentiful and easily accessible single-pitch opportunities at Cascade Creek and the farmed Lake City Ice Park and Ouray Ice Park, the venue for the Ouray Ice Festival, again the brainchild of Jeff Lowe. Easily toproped and just seconds from the car, its only shortcoming is overcrowding.
Silverton hosts the popular 900-foot Stairway to Heaven (WI4), located in a side gully within a deep valley. There is potential avalanche hazard here, both on the approach slope from the high peaks above and as you cross wind-loaded slabs on the descent. Durango has the classic 100-foot Haflin Creek Pillar (WI4–5), hanging from vibrantly red sandstone, and the quaint Cascade Creek, which spawned mixed climbing in the mid-1990s. It was in this quiet box canyon that the then-unknown young climbers Bill Gamble, Travis Spitzer, and Jared Ogden trained and were then able to dominate early ice competitions like the X Games in Vail. In 2004, Ogden and Ryan Nelson established the cutting-edge Jedi Mind Tricks (M13) in a remote cave above Lake City. More recently, caves such as the Hall of Justice above Ouray provide dry tooling, or D-rated, routes with long overhangs, acrobatic figure-4 moves, and no ice at all.
Located in a cirque 4,000 feet below the surrounding mountainscape, the town of Silverton provided my introduction, in 1996, to this ice-climbing mecca. Driving in from the Utah desert on Highway 550 and crossing over Red Mountain Pass from the north to attend the second annual Thanksgiving Silverton Ice Fest, I felt swallowed by a whirlpool. San Juan County, which encompasses Silverton, has the highest average elevation in the United States at 11,240 feet. Only by viewing Google Earth from the side is one able to grasp the crazy verticality.
5 San Juan Ice-Climbing Must-Haves
Black Diamond Sabretooth Crampon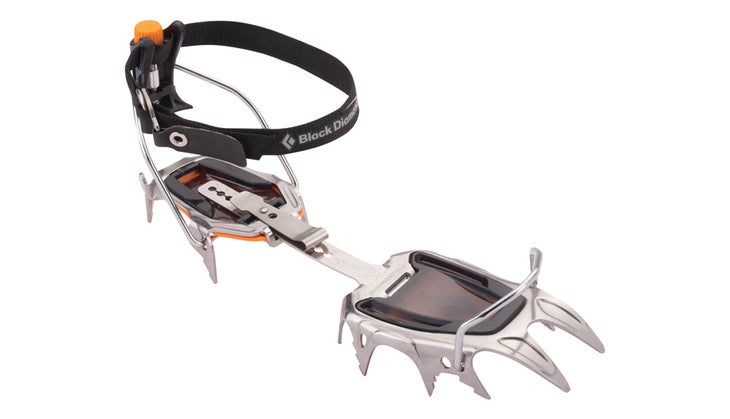 The stainless-steel Sabretooths are Harvey's favorite for ice and moderate mixed climbing in the range: "The wide frontpoints are very stable, and more importantly, they don't ball up with snow underfoot on the approach," he says.
$185, blackdiamondequipment.com 
Grivel Candela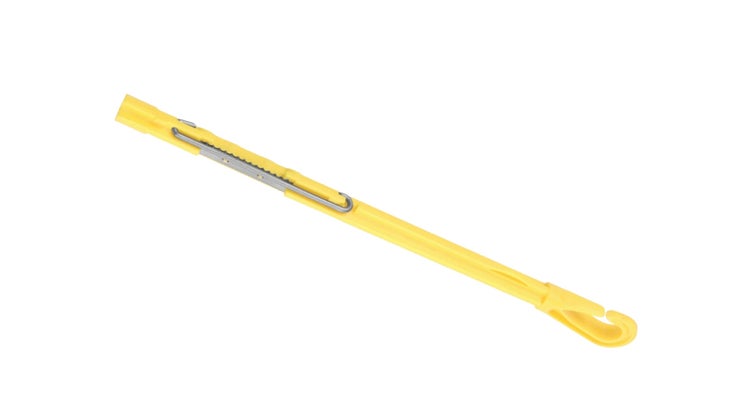 This life-saving multi-tool clears ice from inside screws, has a hook for setting up V-threads, and has a small blade for cutting webbing, rope, etc. Clips easily to your harness or stashes inside an ice screw.
$25, libertymountain.com
Patagonia Hyper Puff Hoody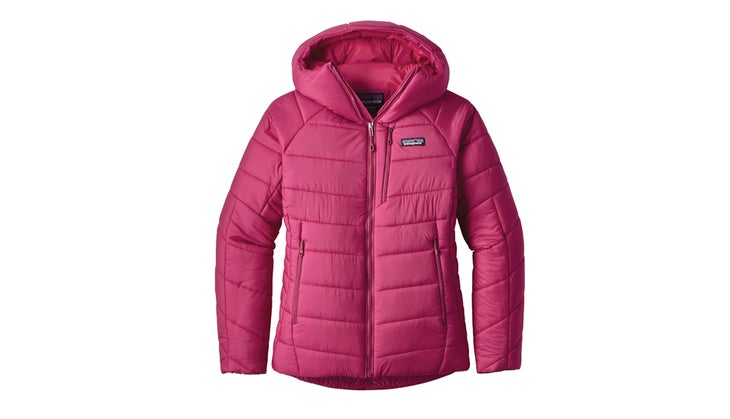 The San Juans are notoriously cold, snowy, and windy. A durable, synthetic belay jacket is critical in these harsh conditions. Stamp out a belay area below your route and sit on this lightweight hoody (18.5 oz) to put on your crampons. Save the suffering for leading!
$299, patagonia.com (men's, women's)
Black Diamond Express Ice Screw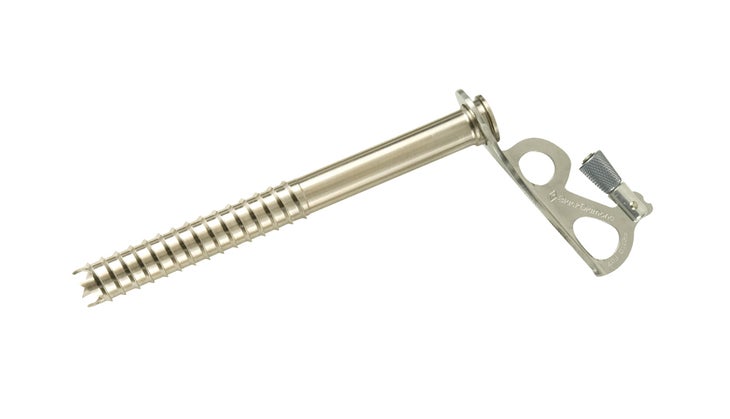 Says Harvey, "Coming from the pound-in Snarg era, I have been in love with these ice screws for more than 20 years." The 10–22 cm screws bite into ice quickly, include a fold-out handle for easy revolution, are durable, and are easy to clear of internal ice between pitches.
$60, blackdiamondequipment.com
HotHands Hand Warmers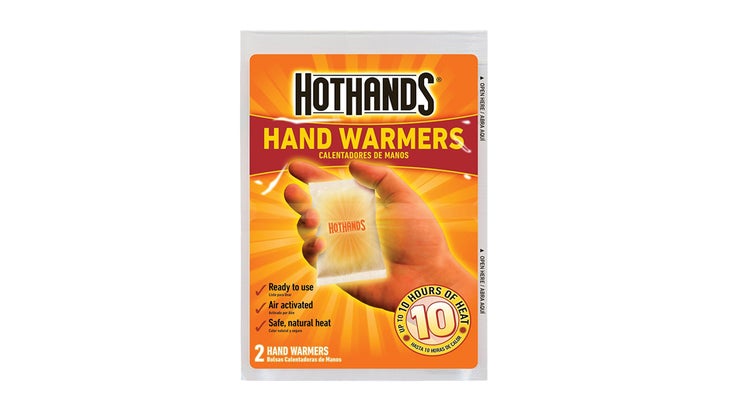 Harvey will slip a couple of these into his gloves during particularly long belay sessions or on frigid December days. "They are a subtle addition to following a hard pitch without having to hang to stop to warm up your hands," he says.
Prices vary, amazon.com
In the 1880s, Silverton was a booming mining town with 3,000 residents. It was the cultural center of the San Juans and remains largely unchanged to this day, with multicolored Victorian buildings, ornate wooden bars, and mainly unpaved streets. By the mid-1990s, after many mining cycles, the population was still only 500; houses were cheap, and tourism was the next great hope. Ken Sauls, big-wall climber and well-known videographer, sent out word that he had an indoor climbing wall, the ice was plentiful, and all should come visit. All the best suffer-for-fun locals of the era showed up: Mike Pennings, Charlie Fowler, Jim Surette, Doug Byerly, Lorne Glick, Chris Harmston, Jeff Hollenbaugh, Jon Allen, Cameron Tague, and Clay Wadman, to name a few. Many of us now call the San Juans home; I moved to Durango in 1998 and have lived here since.
Although time has moderated my youthful frenzy, the San Juans feel mainly unchanged. Tourism has replaced mining, but the roads are still winding and cliff-edged, and a local is more likely to wave at you from a passing car than to have his head down, texting and driving. The small-town main streets are quintessential Colorado, with mostly brick buildings erected during the eighteenth century. And "organic" is a more apt description for the smell emanating from the polypro-clad adventurers warming up in coffee shops than the fare on local menus.
Every new season in the San Juans, the ice forms like snowflakes, each flow unique. For more than 40 years, this range has maintained its Bridal Veil Falls–inspired, Everest-like mystique. The mountains are raw and the history rich with tales of miners, those frontiersmen swinging metal picks only to be followed a century later by ice climbers doing the same. We are not the first, but in these silent, remote valleys where the ice is as glittering and pristine as if it formed yesterday, we can at least pretend.
Adventure photographer Kennan Harvey lives off-the-grid with his family in a self-built solar-powered home in the foothills of the San Juans.