Tension Training Center: The Spartan 24-Hour Gym That's Churning Out Top Climbers
Heading out the door? Read this article on the new Outside+ app available now on iOS devices for members! Download the app.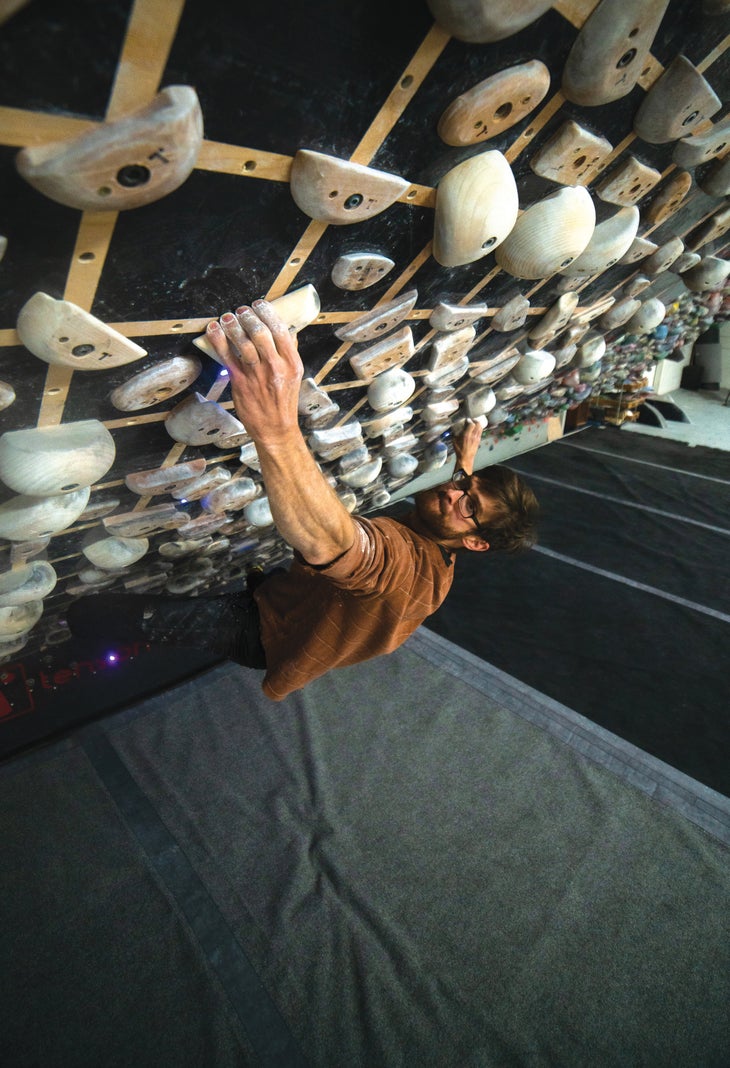 "It's a very particular type of person who is going to have fun here," says Will Anglin, co-owner of the hold company Tension Climbing and its one-year-old Tension Training Center, a bare-bones training room in the spirit of Sheffield's "School Room." Located in a Denver industrial park, the facility takes up 1,700 square feet at Tension, a wooden hold company that recently branched out into hangboards, campus boards, and its app-driven, illuminating Tension Board. While Anglin lovingly calls the training zone "the money pit" (membership only costs $25/month), it has helped climbers clip the chains on 5.15 and boulder V15.
The center evolved with one goal only: to help climbers get strong. Tired of paying ever-increasing gym dues when he was only using a 10-foot-wide spray board, Anglin knew he could create something more effective. The facility features "The Beast," a 13-foot-high by 16-foot-wide swell, swooping from a 55-degree angle to top out at 35 degrees. (The wall, littered with holds, is never reset.) There's also a slab that's periodically reset with World Cup–style parkour problems, plus a Tension Board. The only other tools are a campus board, hangboard with pulleys, and free weights.
The 45 members include Matty Hong and Jon Cardwell, both of whom dedicated serious time here before heading in 2018 to Spain where Cardwell sent La Rambla (5.15a) and Hong dispatched Fight or Flight (5.15b). And as one of its main users, Matt Fultz has repeated a number of V14s and, in 2018, established The Expanse, a V15 in Joe's Valley. Last year, after a year of campus boarding and training on The Beast, full-time software engineer Tristan Chen sent Jaws II (5.15a) at Rumney. Meanwhile, women crushers such as Nina Williams, Kerry Scott, and Margo Hayes have visited, and the German 5.15 climber Alex Megos stopped in as well.
Still, you don't need to be a pro to train here. "It's a space for normal people, but not your average climber," says Anglin. "You need to come in super self-motivated." Members rarely socialize—it's not out of place to see four or five people training without talking to one another, working power-endurance on The Beast, three- or four-move max-power problems on the Tension Board, and finally, hangboarding, weighted pull-ups, and core. These climbers are not here to see and be seen; they're here to get strong.
Related: