Tepui-Top Bouldering in Venezuela
When the pursuit of virgin rock led seven climbers to Venezuela, they found what they came for—first ascents and lifetimes of untouched boulders—but they also learned lessons they'll never forget.
Heading out the door? Read this article on the new Outside+ app available now on iOS devices for members! Download the app.
This story originally appeared in the November 2014 issue of our print edition.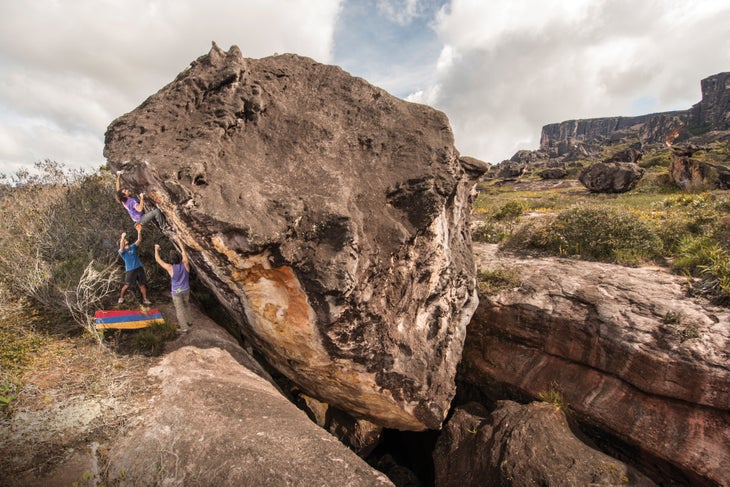 Full Circle
Gustavo Moser, 34 / Caracas, Venezuela and Boulder, Colorado
Climbing is a discipline, a sport, a martial art, and as far as I know, the best way to get in touch with your inner child. I always think back to that important day in 1997, the day that I grabbed rock for the first time in my hometown of Caracas, Venezuela. Climbing reaches people in many ways, and I'm grateful it came to me the way it did—no gyms, no videos, no names, no brands, no magazines, and no shoes. It was just a group of kids that wanted to play on some rocks. I fell in love with climbing that day, and I could already see that the life of a climber was romantic, full of emotion and adventure. Life did its thing, and I left Venezuela for many reasons. I was in love with a girl and ready for an adventure.
When I came to the States in 2001, I brought my love for climbing, and it's given me some amazing experiences: the people and energy of Hueco, the crispy days of Bishop, the endless possibilities of Utah, and the superb rock of the Southeast. All these years spent playing in the American landscape opened my eyes to the endless potential back home in Venezuela. Eventually, a dream was born, a selfish experiment: Let's go get lost at Auyantepui, one of the largest tepuis or mesas in the country. Let's go to what the native Pemon call the "House of the Devil," located in the Gran Sabana of southeast Venezuela.
I quickly realized that I couldn't go up there with just anyone to get the fun, peaceful, drama-free experience I craved. "So Gustavo, tell me about this expedition to Venezuela!" people inquired. I would reply, "Well, I don't know, man. Anything could happen on this trip, including nothing." I came to understand that "I don't know" is a great way to filter people. Comfort with "I don't know" requires commitment. This technique brought the right people together—those who were hoping to have the most beautiful experience of their lives putting up first ascents on virgin boulders, but who also knew that this was exploratory with very few guarantees. Eventually, I found seven people who fit the description.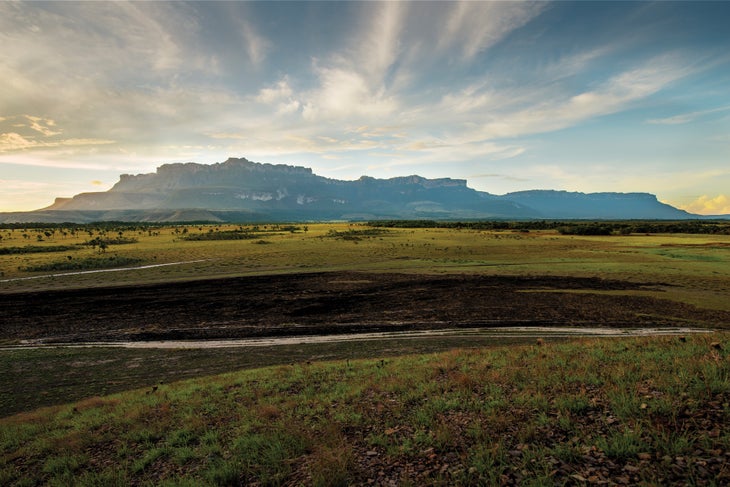 "Welcome to Kamarata," said the pilot while landing our Cessna on the gravel runway of a native settlement in the middle of La Gran Sabana, the great plains of a vastly diverse country. To picture this great savanna, imagine the Serengeti and then trade the giraffes and elephants for 1,000-foot sandstone and quartzite walls in every direction. Amazing rock for the hard and the strong, and a majestic place where climbing seems to lose its importance. A tepui is a mesa or rock plateau, a word created by the Pemon natives to describe these formations. Auyantepui stood right in front of us with a summit area the size of a small city, about 257 square miles, rising 3,700 feet from the savanna floor. We were there to find and climb boulders.
At some point during the three-day hike in, I began to feel like a kid again, with the freedom of thought, honesty, and go-with-the-flow attitude that children have, but also with an adult's ability to be aware of it, to enjoy it and appreciate it. The team made it to the top of Auyan on the sixth day after leaving Caracas. When we came up on the southwest side of the tepui, 13 miles from Angel Falls, the world's tallest waterfall, we encountered a valley of jungle and rocks. It was the perfect place to let our inner monkeys run free, with black, orange, and white rock faces of all sizes and angles littering the beautifully broken landscape.
We didn't even stop to comprehend the scope of climbing possibility, because we would have had to stop climbing to do so, which was a waste of time. Wake up, take a deep breath, open your mind, have some coffee, take another deep breath, and then let the child inside take you in whatever direction his feet want to walk. It was a formula that never failed. Find, clean, climb, and repeat as many times as you want. First ascents every day, from V0 to Vhard. The climbing was incredible, like all the areas I have ever visited placed on one big plateau. Slopers, pockets, and pinches on both flat and three-dimensional walls made of friction-rich sandstone and nicely featured quartzite. We started slow, gained momentum, and got bolder as the days went by. Our pads were more like old friends than objects by the end of the trip. I had never felt so far away from mankind and so close to Mother Earth.
In the beginning, confidence built slowly, and the learning curve was steep, but we kept at it. After three weeks, we had tallied 33 first ascents. For me, it culminated with the discovery of and work put into La Gran Maquina (V9)—The Great Machine—which features a split hexagon with three flat faces of horizontal roof climbing, a pocketed 45-degree section, and a highball finish over a bed of vegetation. It looked like a huge geometric engine with pink quartzite—one of the best V9s I've ever done.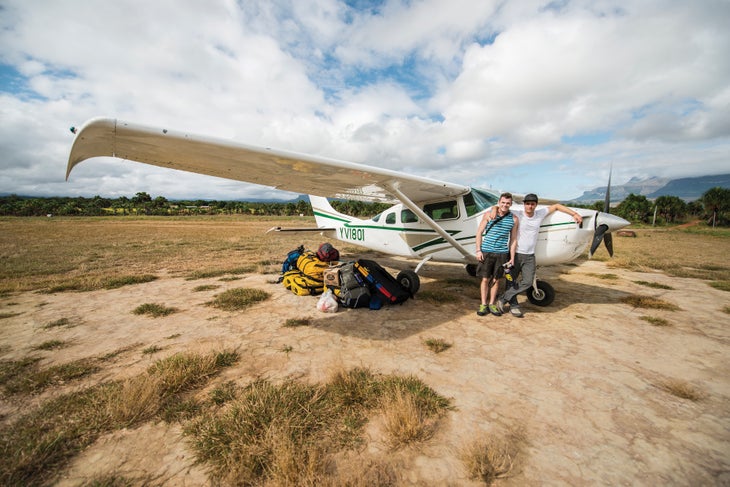 The trip's end was never part of the conversation; the present kept flowing. As our departure day approached, we wondered what was going on in the rest of the world. What we didn't know was that the other side of Venezuela was being set ablaze—literally. The rumors reached our ears as we descended. "Things are getting complicated in the city," said one of our Pemon friends. He meant Caracas, where we were headed. One of the opposition party leaders had publicly expressed his discontent with the current government's policies and was jailed for it. When he asked his followers for help, people rallied. Protests began a week prior to our return, and we landed in Puerto Ordaz to a country in a state of emergency. Caracas and all the major cities had full-blown rioting. The real world hit us swiftly, and our inner children went dormant once again.
Our friends and families worried about the situation. We struggled to find information about how to make the nine-hour drive to Caracas safely. There were military road blocks all the way. The situation was unsafe. In Puerto Ordaz, we sent the Americans, Gary and Jeremy, back to my home in Caracas right away to avoid tricky situations on the road. Fellow Venezuelan Eduardo Rojas and I drove into Caracas late that same day, and I have never seen my hometown in such a state. Rubble everywhere, fires burning, and national guard all over the city.
The protests continued the next morning, and we joined, once again becoming part of the masses, part of humanity and its problems. Only one night had passed since we left Kamarata, and already our days on the tepui seemed far away. Students, who were basically the front lines, were getting killed—about two a day—while others were taken to prison. In an effort to grab the people's attention, barricades were built all over the city to put an embargo on everyday life.
It's been several months since those days, and the momentum of the protests has slowed. But deep problems remain. Venezuela represents the dualities that govern the universe: Heaven and hell are right here in the same place, and it's up to us to choose where we fit.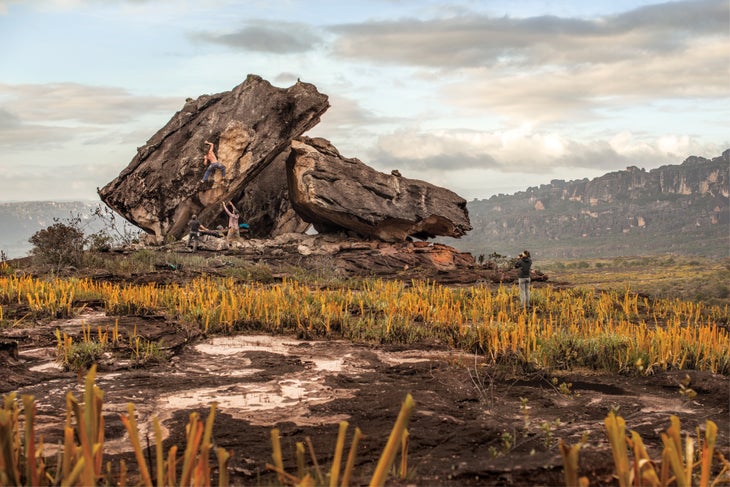 Like a Dream 
Gary Sorcher, 25 / Burlington, Vermont
"I have no idea why I climb," I said to the family from Bogota, Colombia, as we sat sipping ice-cold cervezas in a small hostel in Suesca. I was slowly making my way to Venezuela, spending a few days climbing in Suesca, a small crag north of Bogota with a strong local community. My partner and I were discussing the next day's climbing plans when the family walked in and started asking questions. Between my mediocre Spanish and their daughter's near-perfect English, we were able to communicate about various aspects: our gear, "Is it scary?", "Is it safe?", and other standard non-climber questions. Instead of being impressed by my lengthy climbing travels, they were just confused. Thinking something might be lost in translation, they kept asking, "But why do you rock climb? Why is this so important to you?" Despite a series of generic one-liners, they persisted. Finally, I just had to laugh, shake my head, and admit to them and to myself, "I really don't have any idea."
And with any specificity, I don't. I can't explain how it took over my life when I moved to Colorado from Connecticut at the age of 18. I don't know at what point I went from nonchalantly checking out my college's bouldering gym to spending weeks at a time sleeping in my car around the western U.S. and flying to South America—all for rock climbing. But if you're reading this right now, there's a good chance you know exactly what I mean.
One common thread for everyone on the Auyantepui expedition was that we all needed to remember, or even figure out in the first place, why trying to get to the top of a rock is such a huge part of our lives. Even on the biggest highball we found, the amount of actual climbing time was rarely longer than two minutes. If I'm being honest, none of us flew all the way to Caracas, drove eight hours, got in a bush plane, walked for three days through jungle, savanna, and forest, then spent 20 days in one of the most remote climbing areas in the world, just to have two minutes attached to a rock face, however beautiful and infinite those moments might have been.
So, fair warning, if you're looking for a trip report detailing The Great Venezuelan Adventure, mine isn't it. Of course, we did all the things you're supposed to do on an exploratory bouldering mission to a foreign country: We established new lines. We found projects way too hard for our own abilities. We discovered a few lifetimes' worth of unexplored, untouched, unseen boulders waiting to be climbed. But we also got ourselves mixed up in a dangerously volatile political situation. What it amounted to was one of the most profound and formative experiences of my life, shared with a team that shares an undying passion for rock climbing.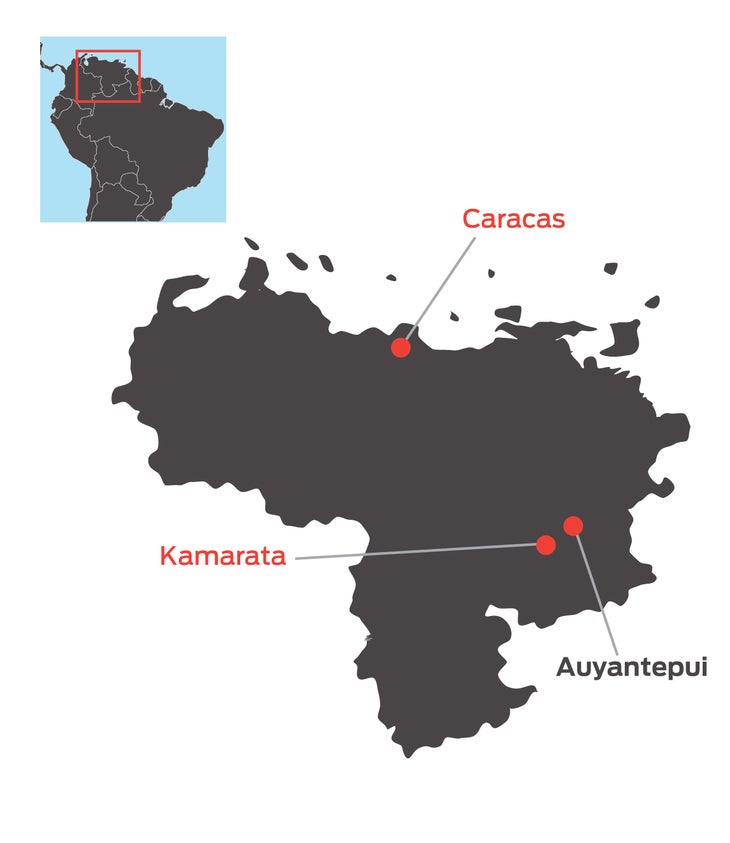 The first thing I was told about Venezuela, was that it was fairly likely that I would be kidnapped and held for ransom. I say this as lightly and openly as it was discussed with me when I got to Caracas. Gustavo and his brothers laid it out simply for me. They told me what to do in the event I should be taken, what not to do, and concluded with this advice: "Don't be a hero." It was a reality that one has to deal with, living in and visiting Venezuela, they said. And to dwell on it is unproductive. "Welcome to Caracastan," they said.
Days later, when I saw the full scope of the tepui for the first time, I was blown away. Being on top of Auyantepui is like being on another planet. House-size boulders rise out of the jungle floor, and cliff walls line the periphery with silver, orange, and black streaks. Canyons and deep splits dominate the topography. We discovered the Gandalf Boulder (named for a feature resembling his wizard hat) on one of our first days because it was close to our basecamp, which we called El Oso, named after a rock formation that looks like a gummy bear. We established a handful of lines on this rock, including my first-ever first ascent: Como Un Sueno (V2). Putting it up was one of the most incredible experiences I have ever had as a climber, and I truly believe it is one of the best problems of its grade in the world. Everything just clicked when Gustavo cleaned it, urged me to climb it, then Jeremy spotted and cheered me on as I climbed it first go. Move through pockets, jugs, pinches, crimps, and sidepulls on a slightly overhanging face with a high topout, and it just went, como un sueno—like a dream.
The Gandalf Boulder was the source of another dream-like experience when Leopoldo Moser spotted a line up the middle and called us all over to check it out. He pointed out the start holds, and I saw the whole thing instantly. We all took turns trying the problem that had pinches, jugs, big moves, small crimps, high feet, and a kneebar—all in the first half. We were exhausted, but our excitement kept us going; it was the perfect representation of why we were there. We were working hard, trying new beta, supporting each other, and using creativity to put together the movements on a beautiful rock face in an other-worldly setting. Gustavo liked to call this kind of moment, when everyone was smiling and working together, "jamming." Gustavo nabbed the first ascent the next day, calling it The Beautiful Now (V6).
Our life on top was simple. We took our cues from the tepui. If it rained, we rested. If it was damp, we explored and cleaned lines. If conditions were prime, we projected. When the moon was bright, we passed around warm rum and talked about the important stuff. When it was dark, we slept, and when the sky brightened for the day, we woke up. We discovered the rhythm of this place and jammed right along with it. And then just like that, we were done. We started our descent ready to re-immerse in the real world, but already nostalgic for the experience we knew could never quite be replicated. As we left camp, it already started to feel like it had just been a long dream.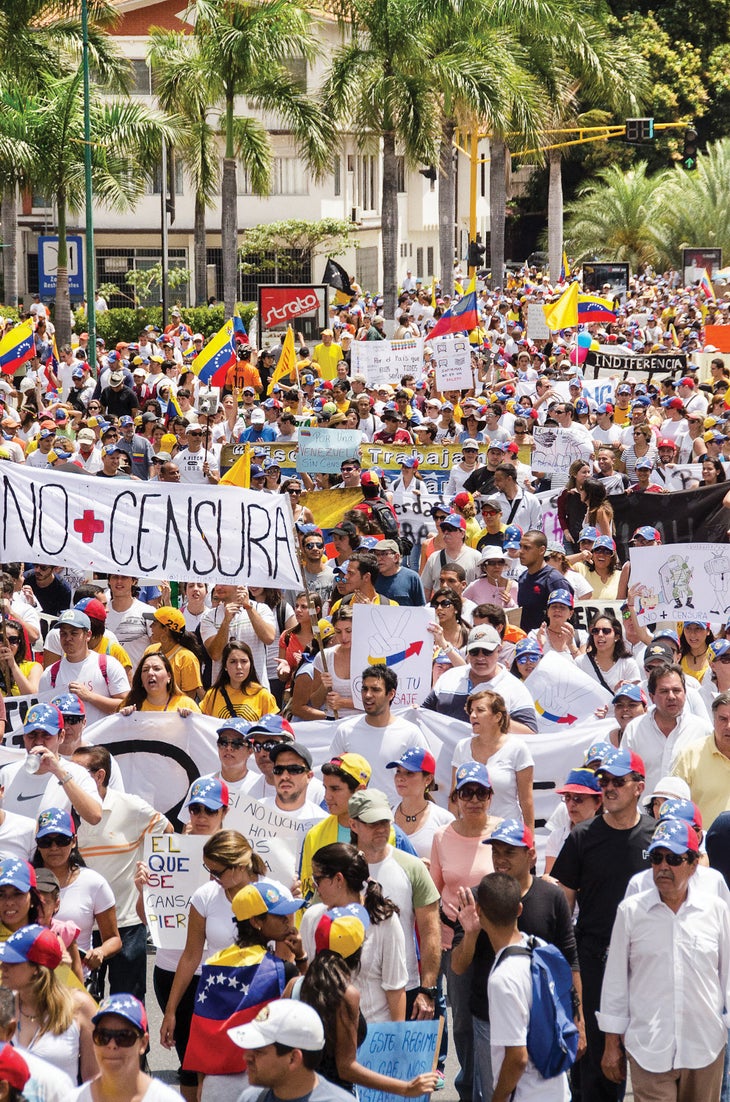 It was a quick and jarring transition from drinking Cachiri and feasting with the Pemon people to being thrown back into the streets of Caracas, revolt in full effect. We stayed at Gustavo's house in Caracas for two days, juggling all the uncertainties in our heads. Would flights still be coming in and out of Venezuela? Could we safely navigate the streets? If we got stopped at a barricade or road block, which way should we run? With some beta from people on the ground, Gustavo's family helped us determine the best route to get through the city. Jeremy and I left for the airport in the middle of the night to try to avoid protests, barricades, and the worst of the violence. It was eerily quiet at 4 a.m. on the highway that bisects the city. We looked out the windows of our cab and tried to reconcile the ethereal landscape of Auyantepui with the barricaded bridges and smoldering remains of a fire we were seeing now. We saw right in front of us the two contrasting sides to this country.
And after all of this, like waking up from a dream, do I know why all of this happened? Do I finally know why I climb? Still not with any real specificity, no. But I do know this: I saw the teenage girl from the Colombian family at the crag in Suesca the next day with a local guide. Something in the way I talked about climbing resonated with her, and she decided to find out for herself what climbing was all about. I'm quite sure I will never see them again, but I would like to think that Colombian teenager took her first step down a path that will lead her to some of the same amazing places I have seen, and introduce her to the same type of passionate people I have met.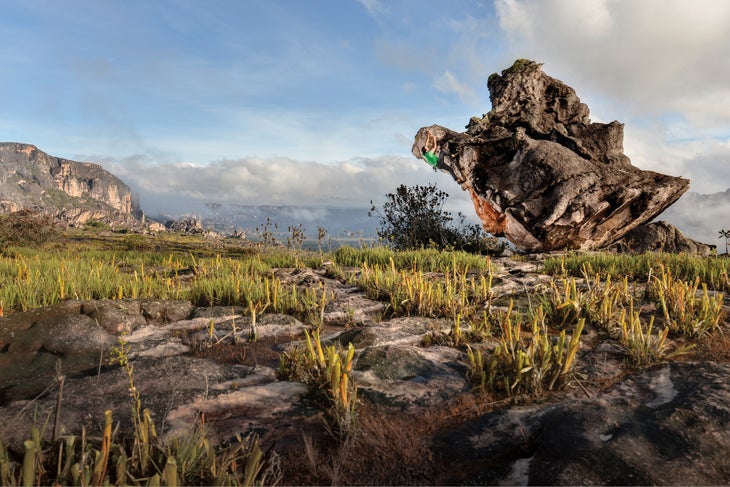 Breathless
Jeremy Thomley, 32 / Hattiesburg, Mississippi
Unlike most of my expedition companions, my preparations for this trip were unique, beginning almost a year before landing in Caracas. You see, I'm a 32-year-old climber and sculptor who also happens to have cystic fibrosis, a disease where the mucus inside my lungs is really thick and difficult to move. It can get infected and grow bacteria that causes inflammation and eventually blocks airways. My daily treatment regimen requires electricity, refrigeration, and extreme cleanliness, so I had to find an alternative since all three of those things would be hard to come by deep in the jungle of Venezuela—three days of walking and a bush plane ride from the nearest hospital.
When Gustavo mentioned this trip, I could not say no. We all have questionable futures—some more than others—so why not seize the present? One concern for everyone was: Are there actually rocks up there to climb? All I knew was that I was going on an amazing adventure with friends, so I didn't worry about the rocks. With so much uncertainty in life, you have to take your pick of what to worry about. I knew in the end it all came down to breathing for me, so I focused on that—only that.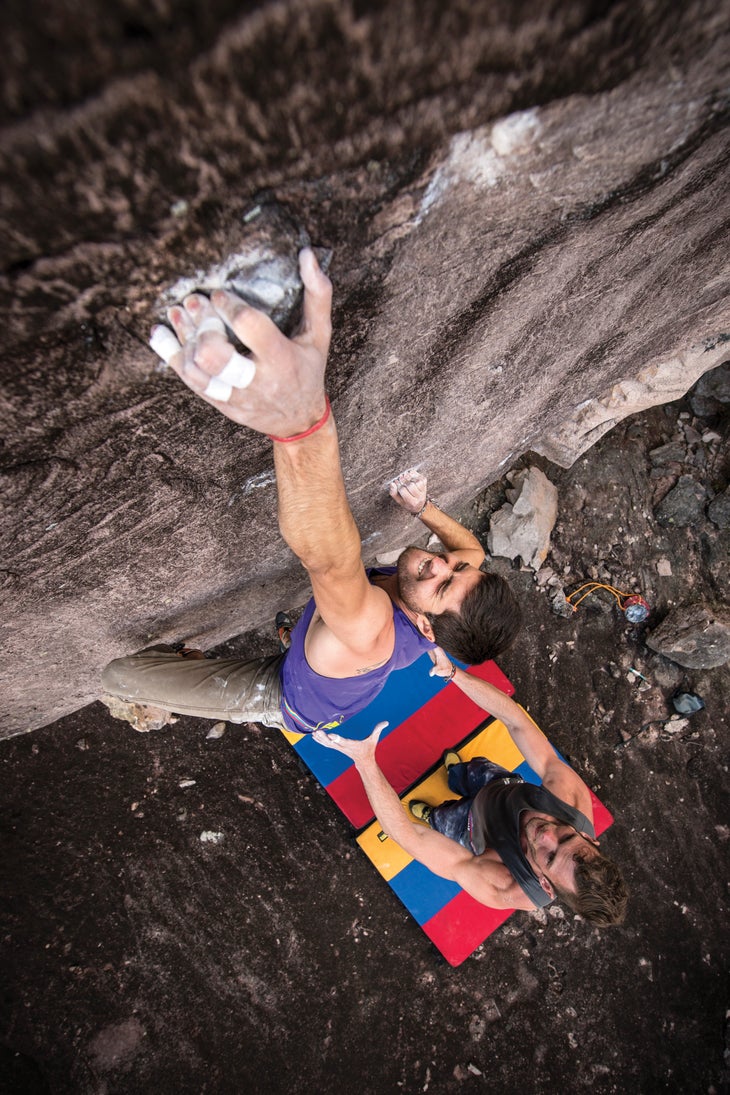 Several months after the trip, pressed flowers fall from the pages of my beat-up journal, and I fumble to make sense of the markings in it. Isolation is a funny beast. I have never been so directly tied to my stream of consciousness; our minds were open, and ideas and revelations floated on like a lucid dream. The spirit in this tepui was different. There was a hypnotic pull to the streaked rock, and our campsite was situated as a great stone amphitheater to watch the days unfold. We wanted to be worthy of this place, not just climb harder. In the local Pemon language, Auyantepui means the "House of the Devil," and it is mystical and sacred, but it wasn't pure evil. It was introspective.
The morning hours on top of the tepui were like experiencing the creation of a world. Until the sun burned off the clouds, I questioned if anything was out there at all. The lack of visibility only added to the feeling of isolation. Our emotions were magnified; we felt everything, and I think it helped us climb. We were in tune with the rhythm of this place. We looked for hard ways up beautiful boulders but not to conquer them. Imagination is what got us there, and imagination is how we climbed. It was childlike; it was honest.
My mornings were spent plugged into the sun doing breathing treatments and writing until it was time to eat. This was the first time in my life I didn't need a power outlet to run my nebulizer. I felt cleaner, more responsible somehow, having left no trace by pulling rays from the sun to support my breathing addiction. I suppose that feeling was freedom, and I've never felt it stronger. After a cachapa breakfast and some sugary coffee, we were off. Carrying our cameras, water, and bouldering essentials, we attempted to keep up with Gustavo, whose appetite for exploration was insatiable. Get to an area, drop gear, and go to work figuring out that day's finds. We established early on that if someone got hurt it would be a helicopter rescue. Spotting and pad placement were crucial; we prioritized protecting each another. Eat a simple lunch and get back to it. There were too many boulders to obsess over anything in particular, but each of us had a project.
The diversity of this place really surprised me; I thought tepuis were all mesas, like in Utah: vertical sides with a flat top. This was more like mountains on top of mountains next to crevasses falling hundreds of feet. Navigating the landscape was difficult, and trails were mere suggestions that could take you anywhere. Patches of thick vegetation sprang from eroded sandstone. Our goal when dealing with this impassable labyrinth of trees and vines was not to disturb it. There was so much rock out in the open that it was not necessary to cut any vegetation. It was unclear how lasting our impact would be, considering (as far as we knew) no group had spent as much time up here. We were told it was possible to find new species of plants and animals.
Our bodies were haggard from sleeping on the ground, and hunger was bothersome, but, my god, the climbing was incredible! Many boulders were so ethereal and untouched that we felt protective over them. In the end we decided that every rock had at least one side you could climb. While the other boys played on one side of the Gandalf Boulder and worked The Beautiful Now, I worked on a Horse Pens 40–style problem called StarStuff. The open-handed crimps and difficult topout were as sweet as any Southern sandstone. My favorite problem was called Cachapa. With an interesting sit start to big moves then a scary topout, nabbing the first ascent was the best moment of my trip.
There is nothing more amazing than finding a rock, cleaning a problem, and sending it. Auyantepui was without a doubt the most creative place I have ever been. In this place we wanted to climb harder not because of the grade, but because we wanted to be part of that rock's story. It was like every stone we had ever touched in our lives up to this point had prepared us to clean, climb, and name these boulders. There were 33 first ascents by the trip's end, and I have pages and pages of geeky beta with GPS coordinates in my journal. I have a few undone projects, but really I gave it my all—no regrets. Considering the stress, elevation, and heavy packs reducing my already-low 65 percent lung capacity, I was just happy to make it down the mountain without incident. Although the three-day death march up there was one of the hardest experiences of my life, I've decided I would go back.
The sky-blue tepui changed too quickly to a crimson Caracas. We returned to the city during political unrest and Gestapo-style retaliation. The people were hungry for change. I know I need to see Auyantepui again. We developed more than a world-class climbing area; there was a purification. The isolation and harsh environment meant no man lasted long as an island; we were required to care for each other. Bonds were forged among brothers, and once-strangers became like family. It made every feeling deeper—the hunger, despair, laughter, sorrow, and the victory. All of these were key to the recipe, crucial factors that made us find heaven in the house of the devil.
Beta
Get there
Clearly venturing through this area is not for the faint of heart, but if you are lured by the potential for first ascents and true adventure, the authors recommend hiring Eduardo "El Chino" Rojas with the guide agency Montañeando Expediciones. They also credit an El Pemon native Santos "El Epocan" Ugarte (ask for him in Kamarata) for helping with their journey. Eduardo will coordinate everything you need from the moment you arrive at the Caracas airport. For more beta, contact Gustavo Moser at gustavo@gas-photo.com).
Season
Target January and February. The rest of the year it just rains—a lot.