The Climbers' Republic of Liming, China
Heading out the door? Read this article on the new Outside+ app available now on iOS devices for members! Download the app.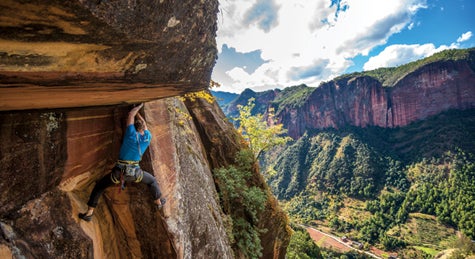 Matt Segal is a heck of a professional rock climber, but I reckon he also could have made a solid go of it in the world of used car sales. I've never met anyone with the same level of enthusiasm or such a persuasive smile. When pitching an idea for a trip, Matt's voice creeps up steadily in volume, and his gaze becomes more intense. Then, at the crescendo of the proposal, he'll explode with, "It'll be bitchin', Willy!" A born explorer, Matt has a sixth sense for sniffing out obscure, wild rock climbing areas. And since I'm easily suckered into most things, I readily agreed to join him in Liming, China, in late November 2011 to go sandstone rock climbing—we'd be some of the very first Americans to climb here. About 48 hours after leaving Yosemite Valley, I met up with Lauren Callaway, John Dickey, and Matt halfway around the world at a Liming hostel, desperately hoping that Matt hadn't sold me a lemon. Luckily, he hadn't. Far from it, in fact. Rubbing my eyes the next day, I saw a series of forested domes sliced in half, revealing gorgeous red sandstone. Take the endless cracks of Indian Creek and cross them with the walls in Zion National Park, and you have Liming. —Will Stanhope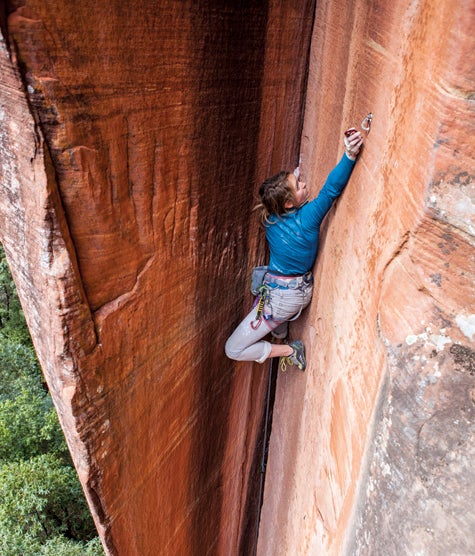 Lauren Callaway
Before we arrived in Liming (pronounced Lee-ming), Lauren's traditional climbing experience was next to nothing. Somehow I convinced her to join me for an adventure cragging trip to China. At first she was less than psyched— she was hoping for a sport climbing vacation in Yangshuo, one of China's premier limestone destinations.
Lauren was a solid 5.12 sport climber, but her lack of traditional skills made us all a bit nervous. John, Will, and I were a little hesitant to throw her on some random crack. The last thing anyone wanted was for sweet Lauren to get hurt. But she was gung-ho to get on as many lines as possible.
The Clam Digger (5.11-) seemed like a perfect start. It was an extremely physical slot/corner that took really good gear, with a bolt up high protecting a traverse to the belay ledge. After a long battle of climbing up and down, learning how to walk cams, and tearing the skin on her leg from knee-barring, she made it to the top. Exhausted, with gritty red sand in her teeth and dirt all over her face, she smiled broadly—you could tell it was part excitement and part relief. It was evident that she was already thinking about what route to get on next. She had tasted adventure, and she was certainly ready for more. —Matt Segal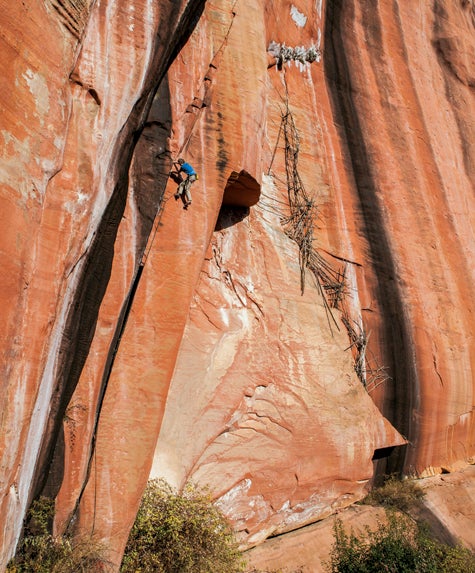 Will Stanhope
Nobody expected Will to be a ray of sunshine on this trip. After five weeks of grueling work on one of El Cap's most demanding routes, The Prophet, and then a three-day travel sequence. He showed up looking skinny, tired, sunburned, and desperately needing to shave the fluff that occasionally emerges from his chin. However, instead of collapsing immediately into the nearest bed, he rallied us all, opened a beer, and asked what time we were climbing in the morning. I'm pretty sure he was unable to open one of his eyes at the time.
Will continued to exhibit optimism and enthusiasm throughout the trip, whether it was befriending the local canine community, his tenacity in mastering chopsticks, or his sheer comfort and psych in adventure-questing up any choss that might eventually yield a good climb. At one point, he and I talked about the difficulties of adventure climbing in places with different cultures and languages. It isn't easy to travel off the beaten path; not only does it require the time and energy for route development (exploring, cleaning, figuring out moves, and sometimes getting shut down), it also involves more effort to survive in an area that isn't set up for tourism. Matt, John, and I were starting to get a little beaten down by the time Will showed up. He made the trip more fun by reminding us how rad it was that we were there in the first place, no matter how hungry, dirty, tired, or cold we were.
Near the end of the trip, Will wandered along one of the cliffs until he came to a rickety wooden ladder that had been built into the wall. The locals told us that it was used to collect swallows' nests from the cracks; these were used in a medicinal concoction. Thirty feet to the left of the ladder was a perfect crack that began in a flare and led to baggy fingers and technical footwork. Will climbed it later that day and said it was one of the more memorable routes he'd ever put up. He named it after one of the street dogs that frequented our guesthouse courtyard: "The Di Dong Crack." —Lauren Callaway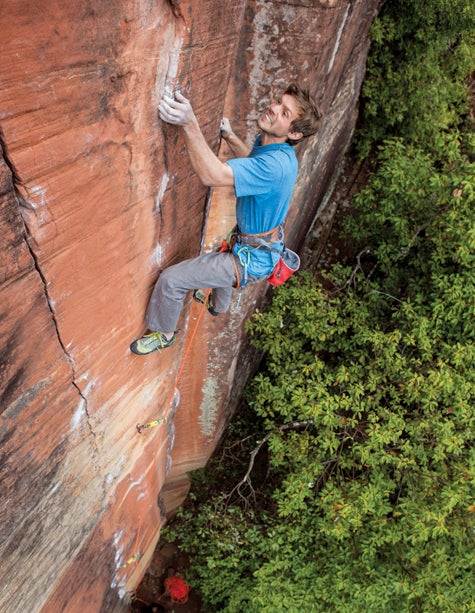 Matt Segal
Zombied from travel, I followed the team up a hillside to the project Matt started before I arrived: a hairline crack bordered by an arête. In signature Matt Segal style, he had a definite end goal in mind: perhaps the hardest trad route in China. And it was all there: heel-hooks, wild slapping maneuvers, and delicate foot hops. I ventured up the route behind him and peered into the crack, examining his near-perfect, nestled gear placements. Looks halfway decent, I thought.
A few days later, I plodded up the trail to watch Matt attempt to lead the pitch. Sitting at the base, looking up, I pondered the many times Matt and I had hiked up to each other's projects, gently giving our support for whatever the other had in mind. As a belayer, it's really all you can do: Place your trust in your partner, and be there for him. The ball is in the climber's court, but it helps to have a friend on the sidelines, giving encouragement if things go sour. With a few deep breaths, Matt started charging up the arête, road-runnering his feet up the slick sandstone, and pausing to stuff TCUs into the rock intermittently. Near the top, he wavered, began barn-dooring, and peeled off. I held my breath. The next thing I saw was a distinct puff from his last placement blowing, as if the sandstone was exhaling a cloud of tobacco smoke. In reality, the rock had exploded. Matt hurtled down the wall and came to stop just above the ground, about level with me, suspended by the rope and groaning a bit from the jarring impact.
I lowered him, and we sat down and smoked a cigarette. In Liming, there's no local orthopedic surgeon. Just bai jiu, the local liquor that tastes like lighter fluid. In other words, major ground falls are not an option. Over a few sips of said bai jiu, I convinced Matt to lay to rest his goal of establishing the hardest trad route in China. It hurt me to crush Matt's relentless optimism. But I felt it needed to be said. He went back up, placed a bolt, and sent Air China later in the trip, claiming it was soulless. —Will Stanhope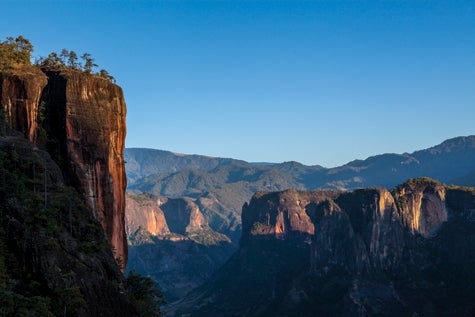 Liming
Liming is the epitome of adventurous rock climbing. The sandstone in many sections is riddled with scaly stone that the locals refer to as "turtle back." First ascents require bushwhacking along the base of walls and cleaning choss out of cracks. Before we arrived, Mike Dobie (an American who wrote the Liming guidebook) and Chinese climbers established many aesthetic lines, some of which awaited free ascents. In our short time we were able to dispatch lines from 5.10 to 5.13+ R. But we won't be the last to visit here. This is the greatest resource of sandstone walls I have ever set eyes on. For my part, I was overzealous. On my project, I slammed the anchors on a 100-foot, gently overhanging, offwidth-to-tips crack leading to a crimpy boulder problem. I thought that I would send, but I didn't, and you're welcome to it. —John Dickey
The best online source of beta for Liming is junshanclimber.com.