Heading out the door? Read this article on the new Outside+ app available now on iOS devices for members! Download the app.
For Yvon Chouinard, the urge to transform climbing came quickly. Within one year of roping up for the first time, the teenaged Chouinard was designing and making new climbing gear, hammering out pitons on a 138-pound anvil in his parents' backyard. "It's just in my nature," Chouinard says now, 55 years later. "I can't help myself. Whenever I look at a fork or anything, I think, Jeez, that could be made a lot better. Every time I was climbing I was thinking about the tools: How could I make this lighter, stronger, more versatile?"
Chouinard's many accomplishments— reinventing much of the gear we use, teaching ice climbing to a whole generation, promoting clean climbing, founding the companies that grew into industry giants Patagonia and Black Diamond—all stem back to those sweaty afternoons over a coal-fired forge, to the quest for the simplest, most elegant solution to any problem. "I think to understand Yvon, you have to see him as a blacksmith, which means you have to understand him as a craftsman," says longtime Patagonia ambassador Steve House.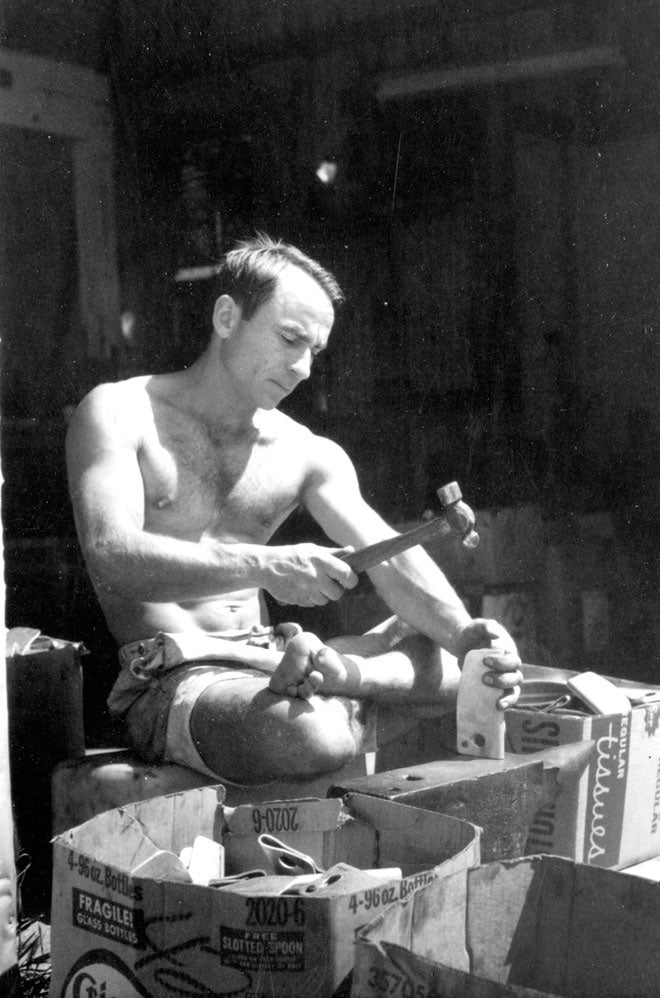 Chouinard struggled in school and worked as little as possible—his first catalog told customers not to expect speedy delivery from May through November, the months he went climbing—but he was nevertheless a diligent student of his craft. He studied John Salathé's steel pitons and reworked them to fill crucial gaps in climbers' arsenals, enabling difficult new routes in the 1950s and '60s. He traveled to Scotland and the French Alps to learn ice climbing techniques, thought over what he'd seen, and reshaped ice axes and crampons in ways that revolutionized the sport.
Restless curiosity led Chouinard to explore one form of climbing after another—he had little interest in simply being the best crack climber or a big wall specialist. Instead, he was inspired by Alpine north walls, which required every skill. "I've always said I'm kind of an 80 percenter," he says. "I like to push something fanatically to 80 percent of proficiency, and the last 20 percent I get bored, and I go off in another direction."
At age 74, Chouinard is still innovating—he spent the past summer "working out a whole other way of fly fishing." (Hint: It's inspired by Japanese techniques dating back to the 15th century. A book is underway.) When he looks at climbing today, he's inspired by lightweight alpine ascents, by solo climbs—by climbers who aspire do more with less. In his view, this is not just a stylistic judgment; it's also the secret to quickly climbing difficult routes that would be impossible or dangerous when weighed down by too much gear. In his book Climbing Ice, published in 1978, he exhorted, "Carry light packs, and leave most of the 10 essentials' and other impedimentia behind." Skill, he suggested, is always more important than gear. "As somebody said, 'The more you know, the less you need,'" Chouinard explains. "And that's the direction you should go in any sport."
Today's climbers can still draw many lessons from Chouinard's climbs. Here, we describe four of his most influential routes, each of a different style— alpine rock, a north face, a big wall, and alpine ice— along with some advice inspired by Chouinard's thinking and teaching. Climb these routes—or, better yet, many routes like these—in lightweight, efficient, elegant style, and you'll be well on your way to mastering the craft of climbing.
Alpine Rock Pack light to move swiftly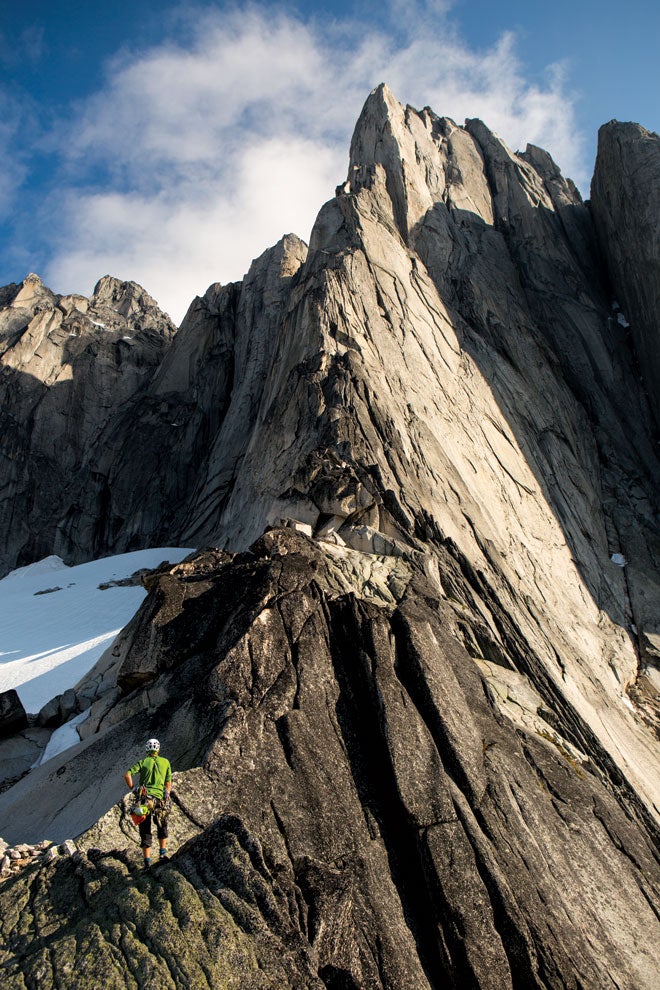 West Face (V 5.10), South Howser Tower, Purcell Mountains, British Columbia FA: Fred Beckey, Yvon Chouinard, 1961
Hidden on the back side of the triple-peaked Howser Towers, out of view of the most popular climbs in the Bugaboos, the enormous ramparts on Howser's western aspect stunned Fred Beckey and companions when they spotted them in 1959. "Our immediate reaction was: Patagonia," Beckey wrote in the American Alpine Journal. Two years later, Beckey returned with Chouinard for an all-out attempt. The two men had already done spectacular first ascents in the Canadian Rockies and Selkirks that summer, and now they planned to wield Chouinard's Yosemite experience and hard-steel pitons on South Howser's granite spine.
Climbers had sieged similar walls in the Bugaboos with extensive use of fixed ropes; these climbs sometimes required weeks of effort. But Chouinard believed Howser could be climbed in a continuous push, like an Alpine route. After reconnoitering the descent, he and Beckey decided to leave ice axes, crampons, and heavy boots behind, and they packed only two and a half days of food and water. On the first day, the two men climbed mostly free and finished 15 pitches, bivouacking on sandy ledges below the route's crux Great White Headwall. The next day, after several strenuous pitches of aid climbing, they were on top by midafternoon—one of North America's greatest alpine rock climbs had been completed in a mere day and a half.
The route that's now commonly called the Beckey-Chouinard was eventually free climbed at 5.10. Today's aspirants should adopt Chouinard's go-light, go-fast approach: simul-climb where possible, and plan to do the route's 19 or 20 pitches without a bivouac to avoid lugging heavy camping gear; instead, get a very early start from the Applebee Dome campsites or bivy the night before in East Creek Basin, below the west face. Depending on conditions, you may need a lightweight ice axe and crampons for the approach and descent (consider approach shoes and instep crampons instead of boots). A single 70-meter rope is sufficient for the new rappel route down South Howser; ask at Applebee for the latest descent beta.
North Face Put it all together on an alpine wall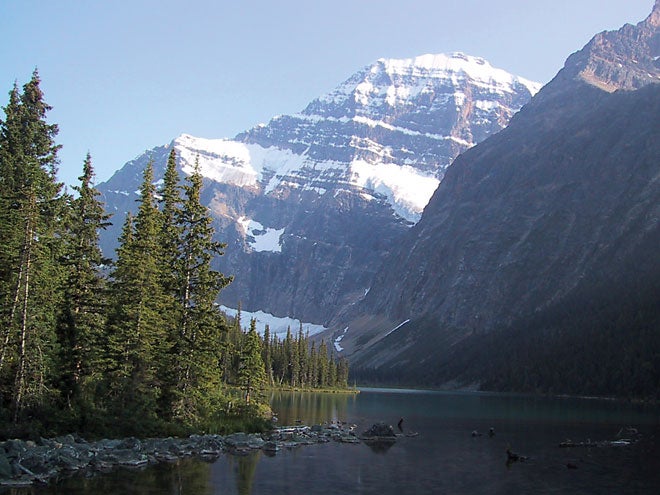 North Face (IV 5.7), Mt. Edith Cavell Jasper National Park, Alberta FA: Fred Beckey, Yvon Chouinard, Dan Doody, 1961
By the early 1960s, the Canadian Rockies had a rich mountaineering heritage dating back to the early 20th century, but most ascents had followed ridges, snow slopes, and sunnier faces. The great north walls, brooding over forested valleys like the nordwands of the Alps, remained mostly untouched. In 1961, with their bold ascent on Mt. Edith Cavell, Chouinard and his two partners launched a new era in Canadian climbing.
After a couple of weeks of poor weather, the skies suddenly cleared and Chouinard, Beckey, and Doody raced up Edith Cavell's lower slopes, climbing an arm of the Angel Glacier to reach the foot of the main wall. After some moderate ice climbing, Beckey led steep rock along the shallow rib that protruded from the center of the face, seeking protection from the steady rockfall that rained to either side. At midnight the team reached the first ledges large enough for all three men to sit down for a bivouac. In true northwall fashion, a storm arrived overnight, and Chouinard led through rain and hail to the final ice slope, where he had to chop steps for hours to reach a rockband just below the top. With no protection, Chouinard climbed loose, wet shale until he could dig his fingers into the dirt on the summit ridge, but his feet kept slipping and he couldn't pull onto the ridge. "I looked across 50 feet to the summit and then down 4,000 feet to the ground. Oh God, what a place to get [the chop]!" Chouinard wrote of the climb. Frantically, he slithered over to a bit of hard snow and kicked his way onto the top.
Chouinard valued this experience so highly that he returned six years later and climbed another long route up the north face, but his original route remains the favorite. Edith Cavell is like a final exam in alpine climbing, testing your abilities on all terrain, from snow and ice to vertical rock—the 5.7 grade doesn't come close to expressing all the difficulties you might encounter. It's best to do the upper wall in a long day, either all the way from the road or from a bivouac after the first section of the route, beside the Angel Glacier. This first passage is threatened by serac fall; scout it beforehand if you plan to do it in the dark, so you can move quickly. Descend by the easy west ridge or the 5.3 east ridge (a classic Rockies climb in its own right); either descent will add many hours to an already long day.
NOTE: Access to Edith Cavell was closed in late summer 2012 by serac fall and flooding that damaged a road and other facilities at the base. The road is expected to reopen for the 2013 season, but check first for updates: pc.gc.ca/eng/pn-np/ab/jasper/index.aspx.
Big WallClimb clean to preserve the rock—and the adventure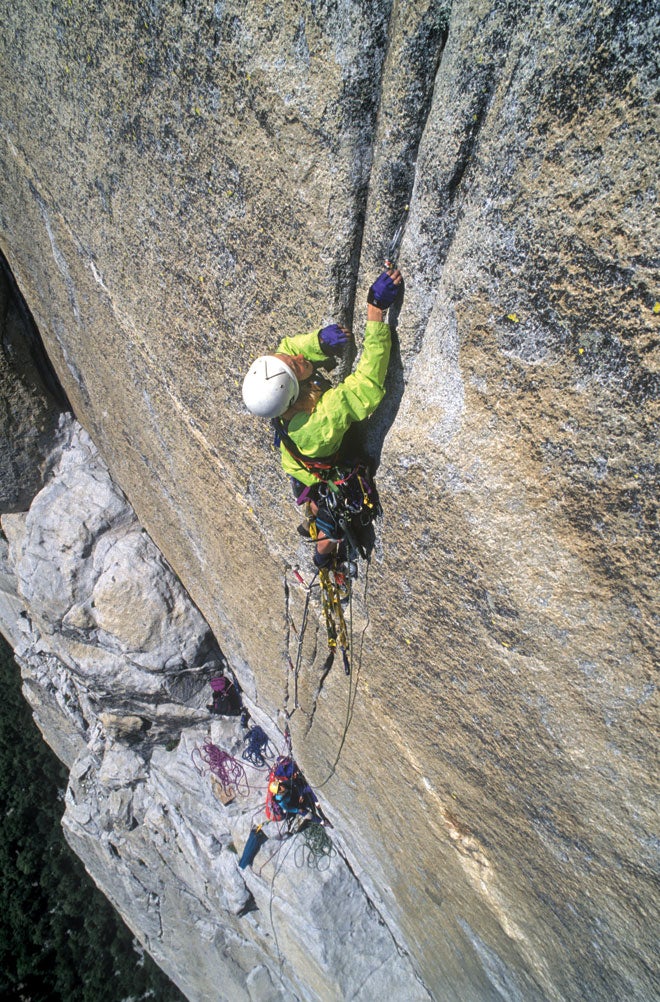 Muir Wall (VI 5.9 A2), El Capitan Yosemite National Park, California FA: Yvon Chouinard, TM Herbert, 1965
Though not as well known as El Cap trade routes like the Nose, Salathé Wall, or Zodiac, the Muir Wall was a history-making climb that gets rave reviews from those who've done it in recent years. It follows one of El Capitan's most natural lines, tracing a system of corners and cracks between the Nose and the huge heart formation in the center of the southwest face. Chouinard and Herbert's first ascent in 1965 broke important ground: Though five routes up El Cap had been climbed already, this was the first to be done by a two-man team without a long strand of fixed ropes at the start. Chouinard and Herbert simply loaded up two 50-pound haul bags and started climbing, committed to topping out.
By the fourth day, after a serious storm, the two men were thoroughly soaked and borderline hypothermic. Two days later, with 1,000 feet left to climb, they considered retreat but feared they might not make it down with the limited gear they had left. They finished in the dark of the eighth day of climbing, with no more food, water, or bolts. Three years later, after Royal Robbins soloed the Muir Wall (El Cap's first solo ascent), he called Chouinard and Herbert's climb the "most adventurous ascent on rock ever accomplished by Americans."
Modern gear and portaledges have tamed the route a lot, but it still requires respect. The 32-pitch climb goes at 5.9 A2, and most parties carry hammers and about 15 pitons of various sizes. For a Chouinard-style challenge, try climbing as much as you can without placing rock-damaging pitons. Two-thirds of the route goes hammerless without much difficulty; the clean-climbing cruxes will be found on the 23rd, 25th, and 29th pitches, so if you're swinging leads, give those pitches to the bolder aid climber. With strenuous hauling, many traverses and pendulums, wide cracks, and all kinds of aid, the Muir Wall is a great test of all-around big wall skills. And with serious run-off danger from storms, it's still got an element of risk. Go with a good forecast, and expect to spend at least four to five nights on the wall.
Alpine Ice Learn French technique for couloirs
Mendel Couloir Right (III 5.6 AI2/3 WI 3), Mt. Mendel Sierra Nevada, California FA: Felix Knauth, John Whitmer, 1958
For Chouinard, failure could be as inspiring as success. In 1965, he and Dennis Hennek attempted to climb the right-hand gully on 13,710-foot Mt. Mendel's north face in icy "off-season" conditions, after the winter snows had melted away, leaving a ribbon of iron-hard black ice. The lessons Chouinard drew from this experience and similar climbs in the mid-1960s were instrumental in the development of modern ice climbing.
The two men carried the typical tools of the day: a long ice axe in one hand and an ice piton in the other, stabbed into the ice like a dagger. At the steepest part of the route, Chouinard was barely in balance as he struggled to swing his axe into the ice, unwilling to trust the dagger in his other hand. "There was one point," he wrote later, "when you could have knocked me over with a straw."
The two men bailed to their high camp, and the next day, as they retreated over Lamarck Col through two feet of fresh snow, Chouinard recalled, "The thing that kept me going was thinking about how I was going to go back to the shop and forge a hammer with a long, thin pick with teeth on it for climbing ice. No more of this ice dagger bullshit for me." Chouinard soon created his Alpine Hammer and Piolet ice axe, tools that allowed climbers to stop cutting steps in ice and start quickly and securely ascending steep slopes.
By mid- to late summer, the Mendel Couloir is a sheet of glassy ice that ascends more than 1,000 feet above a glacier. The sustained 45- to 60-degree ice is the perfect place to practice French technique, the flat-footed cramponing style that Chouinard taught to American climbers; continuous front-pointing on this angle would be torture on your calves. Use a mountaineering axe on the glacier and lowangled slopes down low, and then, when the ice steepens, unholster the shorter tool Chouinard wished he had. Rest by keeping at least one foot flat on the ice wherever possible. Above the ice, loose mixed ground gains a notch on the west side of Mt. Mendel. Several variations (up to 5.6) reach the summit.