The Good Book: Revisiting The Fifty Classic Climbs
Heading out the door? Read this article on the new Outside+ app available now on iOS devices for members! Download the app.

The Fifty Classic Climbs of North America started as an idea hatched over a bottle of wine. It was the mid-1970s, and Steve Roper was eating lunch with Allen Steck; the two were reminiscing over epics in Yosemite from the early 1960s. Both were pioneers of the Valley, but each had considerable careers on peaks elsewhere, including Steck's first ascent of Mt. Logan's complete Hummingbird Ridge in Canada and Roper's first free ascent of the Kor-Ingalls Route in Castle Valley, Utah. In 1966, along with Dick Long, they completed the third ascent of the Salathé Wall on El Capitan. Well-oiled with wine, the pair turned to another topic. "Why are we sitting around swilling wine when we could be out climbing?" Roper mused.
"Where to, then?" Steck asked.
"Plenty of things out there are fabulous," Roper replied. "Let's make a list."
That impromptu list became the 1979 book climbers so covet that it currently sells for as much as $175 on amazon.com—though many now agree that some of its routes aren't that "classic," like the deadly and unrepeated Hummingbird Ridge. Still, the Fifty Classic Climbs of North America struck a major chord in the climbing community, and despite its flaws, there's no denying it has staying power. Part history text, part coffee-table book, part guide, it gave climbers something they hadn't quite had before—an expertly crafted tick list, wild in variety, staggering in scope. So staggering, in fact, that 34 years later, no single climber has completed them all—though that could soon change.
[Fifty Classics aspirants, climbers, and Allen Steck weigh in with their thoughts on updating the list. Here's what they came up with.]
Twin brothers Mark and Mike Anderson became enthralled with the mountains while gazing east from their Corvallis, Oregon, home at the Three Sisters peaks. "It started organically—we wanted to climb those mountains we could see," Mark says. In high school in the 1990s and hungry to learn more about climbing, they checked out one of the few climbing books in their local library. The brothers pored over the Fifty Classics, dreaming of the day they'd get the chance to climb one.
Their first shot came during a 1995 road trip to Moab, Utah. With the silhouette of Castleton Tower looming above, they decided to make a moonlit ascent of the Kor-Ingalls Route (5.9+). After getting lost on the steep approach, they bailed, terrified.
"Here was one of the easiest climbs in the book, and we couldn't even get to the base," Mike says. But the draw of the list compelled them to keep trying.
A year later, as college freshman, they met up in Yosemite Valley to climb the Royal Arches (5.10-), a meandering, 15-pitch route on its namesake feature. Although the brothers topped out without a hitch, they were slow and ended up hiking out in the dark.
"No matter how easy you think the climb is going to be, it can turn into an epic," Mike says.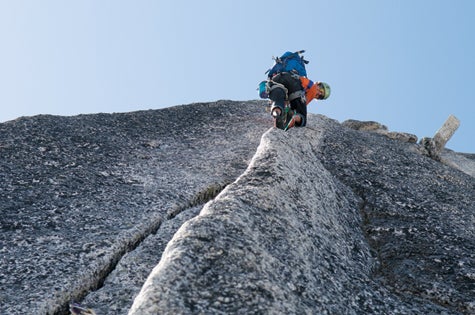 Tales of epics and miscalculations aren't uncommon for climbers attempting their first Classics. Colorado-based husband-and-wife team Mark and Janelle Smiley decided to take on the list after Mark returned from a trip to South America, euphoric after completing a first ascent on Peru's Huascarán Norte (21,834 feet) in 2009.
"Climbers in general have a longing to do something no one's done before," Mark says.
They knew the Diamond on Longs Peak, in Rocky Mountain National Park, was in the book, and it was only a few hours away. Without looking at the list, they rode their excitement up to the park in summer 2010, along with a videographer and a GoPro to create a film kicking off their Fifty Classics project. After experiencing beautiful weather and cruiser climbing—and getting decent footage—on the Casual Route (5.10a), the pair bought the book from an online retailer. Upon its arrival, they studied the tome in the living room— and quickly realized the actual Classic was D1, not the Casual Route. Oops.
Not all of the book's routes result in frustration. Part of the Fifty Classics' appeal is the accessibility of many of its lines. After the Smileys' mix-up on the Diamond, they still managed to complete 27 routes in that first summer, mostly in Colorado, California, Wyoming, and the Pacific Northwest. They have also built a considerable public following with their documentary-style website, "Committed" (smileysproject.com), which has blog posts and videos of all their ascents.
Like the Smileys, the Anderson twins started with several of the book's easier Classics and improved their climbing skills with each route. "[The book] was like having a coach or mentor," Mike says. "We would complete one, and that would give us the confidence to try the next." The twins progressed into a multi-year preparation for the Cassin Ridge on Alaska's Mt. McKinley (aka Denali), the best-known technical route in the Alaska Range—and one that can take up to a month to complete. They used the book's intermediate-level routes to prepare, like Liberty Ridge on Mt. Rainier, but reaching the summit of Denali from any route is still a serious undertaking.
The Cassin Ridge's main crux lies around 15,000 feet along a jutting bulwark called the "first rock band." After pushing through cryptic routefinding and a strenuous chimney, the brothers realized they could succeed. There were still 5,000 feet of vertical climbing to go, but they had conquered the worst of it.
"There was a sense of euphoria, that we knew we could do it," Mark says. The ascent took 19 days. Cassin Ridge is a benchmark route in the Fifty Classics—if you have success here, signs are good for the list's other grand climbs.
Around the time the Anderson brothers were holed up in the library, Canmore-based climber Doug Fulford got the 1997 paperback edition and approached his wife, Nancy Hansen, about ticking off the list. Nancy is one of Canada's leading alpinists, and Doug knew his wife loved lists.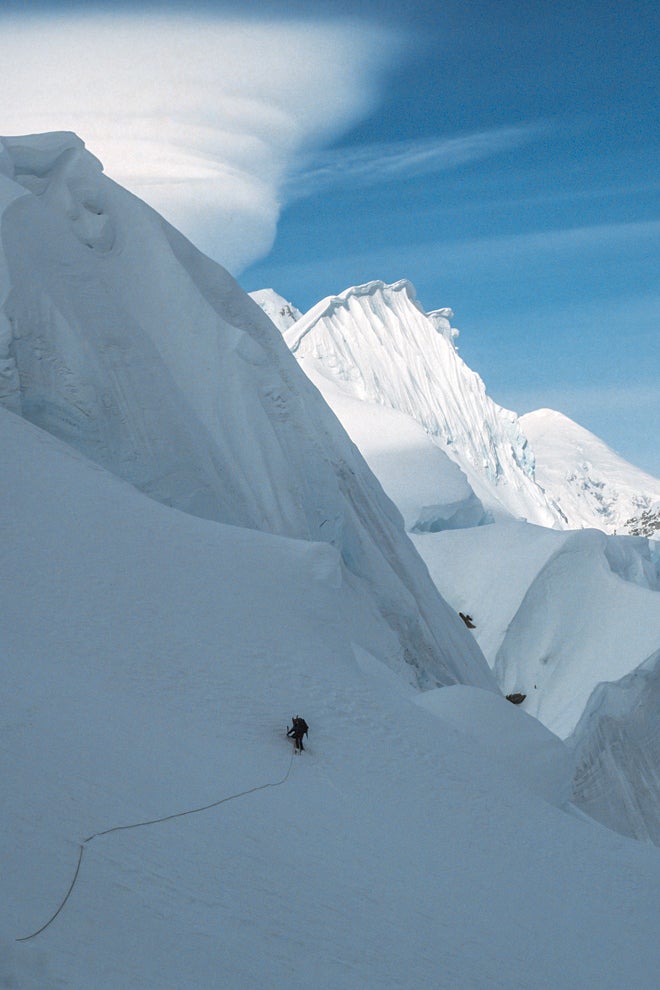 "Lists help keep me focused and give me something to look forward to," Nancy says. In 2003, she became the only female to climb all 54 of the Canadian Rockies' 11,000-foot peaks—a feat that took seven years to complete.
Until she finished the Cassin Ridge in 2010, Nancy says she wasn't sure she was capable of pulling off the project. This was her 34th Classic. "There are some big meanies left, but having that route under my belt allowed me to think positively about completing the list," she says. As of May 2013, she had completed 44.
Steck and Roper have only done about half the Classics between them. When the book's first edition went to press, Steck figures Fred Beckey had completed about 25—the most a single person had done at the time.
The hurdles to completion are many. The Smileys invested their entire savings into the project in their first year; in 2011, they turned to a Kickstarter campaign (raising more than $25,000) and corporate sponsorships to keep the project afl oat. Mark says finding sponsors consumes 90 percent of his time.
Another hurdle: finding a partner dedicated to the same goal. The climbs squander days or weeks, require time off work, and demand incredible stamina, both mental and physical. Then there's the sheer difficulty of some of the routes. While the book includes easily accessible routes in the Lower 48, Alaska and the Yukon pose considerable obstacles, some made deadly in a warming climate that alters ice and glacier coverage. Geological events have even erased entire faces, like the first pitches on Hallett Peak's Northcutt-Carter Route and the East Buttress on Middle Triple Peak. Plus, access issues have made some areas illegal (i.e., New Mexico's Shiprock).
In 2006, Nancy and Doug set off on a sunny weekend to climb Mt. Robson's Wishbone Arête in the Canadian Rockies. Cited by many climbers as one of the chossiest, least fun Classics after the Hummingbird Ridge, Mt. Robson is fiercely vertical, with a notoriously short season.
"I led one of the loosest, scariest, most runout pitches I've ever experienced. And remember, I climb regularly in the chossy Rockies!" Nancy says. At one point, Doug found himself at an exposed and uncomfortable belay
"We're going down, and I'm never coming back here again," Nancy recalls Doug saying. She begged, she pleaded, and she cried, but Doug was done. It was one of only three fights the couple had had in their 20 years together. "It wasn't so much terrifying as it was awful," Doug says. "It was not aesthetic or fun." After that—although their marriage remains strong, and Nancy cites Doug as her best and favorite climbing partner—the Fifty Classics became her solo pursuit. They had done 16 Classics together at that point.
The Smileys, with 40 Classics under their belt, also point to the Wishbone Arête on Mt. Robson as one of the hardest. They had climbed with Nancy a few times prior, and they'd heard about her epic on the route with Doug, which added to the trepidation.
On their first attempt, the rivers were too high from warm temps, and they turned away from "utter intimidation." Their project hit a low point. "We were scared," Mark says. The next year, too much snow and menacing rime ice foiled another attempt. After they tried and failed to find an alternate start, the Smileys wanted to scratch the project altogether. It was their third attempt, and the mountain just didn't make sense; even their relationship felt on the brink.
They brainstormed ways to continue and decided to recruit a friend, Reiner Thoni, for morale and motivation. It worked: The team summited on their fourth attempt in 2012 and experienced one of their project's major highs. "That whole contest of redlining on fear, and then pushing through and succeeding," Mark says, "that feeling is like drugs. That's good stuff. We had that on Robson."
Meanwhile, the Anderson twins had hit a hurdle they couldn't clear 600 miles northwest of Mt. Robson on the Devil's Thumb. Steck and Roper open the entry for the peak's East Ridge with a Fred Beckey quote: "It's the hardest climb I've ever done."
The brothers geared up for the route in summer 2002. "The peak is an enigma," Mike says. It's only 9,000 in elevation, but it attracts atrocious weather. Its low elevation means it's high on snow and low on ice. And often there's more lichen and moss than snow, especially in the warmer months. "The whole peak is a decaying blob of crappy rock," Mark says.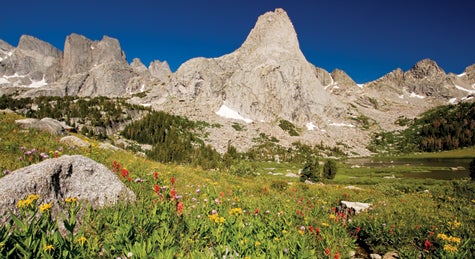 To keep up morale, the Andersons also brought company. "We're robotic and don't necessarily enjoy the little things," Mark says. The twins often became caught up with efficiency and speed, forgetting to relish the moments that make climbing fun. They wanted more personality on this alpine route to add some much-needed variety to the weeks of isolation, so they asked Marc Springer and Mike's fiancée Janelle Jakulewicz to join them. The Andersons admired Springer for his ability to "bring out the fun." Mike had proposed to Janelle, a Utah native, on Castleton Tower's Kor-Ingalls Route a few months prior.
Despite the Thumb's choss, moss, and snow, the party summited with little difficulty. They returned to camp; a chartered helicopter retrieved Janelle and Mark first, planning to return for Mike and Springer. Then the weather set in.
Around 9 p.m., as darkness fell and conditions deteriorated, Springer scrambled up a ridge to get a cell signal. It was the same ridge the party had hiked around the entire trip to collect water from a small stream. But this time, the rocks gave under Springer's weight. The ensuing slide killed him instantly. Mike remained stranded alone for three days before the weather cleared and a helicopter could retrieve him.
This caused Mike to reevaluate his mountaineering goals. The Devil's Thumb was his 39th Classic, and he never attempted another.
"It made me ask myself, would I be willing to trade one more hard climb for a lifetime of easier climbs that aren't as risky? The challenge with alpine climbing is that you can't separate difficulty from risk," says Mike.
"At the end of the day, it's an arbitrary list," Mark says. "It's silly to risk your life just trying to complete a checklist." Although Mark ticked a couple more Classics after that, the Devil's Thumb incident marked the end of his alpine climbing as well.
The climbing world has evolved significantly since the first edition of the Fifty Classics. Red Rock National Conservation Area, Nevada, and the Black Canyon of the Gunnison, Colorado, were largely unknown when Steck and Roper typed up their drafts. The East Coast was completely excluded; Steck says that they wanted big, impressive routes in the book, and the only climbs they knew in the East were single-pitch climbs. The first spring-loaded camming devices had just been introduced, and Gore-Tex and sticky rubber were not yet invented. And then there's that issue of climate change altering routes, as well as access issues. Another significant change has come with the Digital Age: The Internet instantly connects climbers to up-to-the-minute route beta, essential tick lists at every crag in the country, and photos and videos. While the Fifty Classics stands as the most iconic list, it seems prudent for the modern community to create a new list, defining its own era.
"It was the first book of its kind, so it has a mystique," Mike says. "I think it's up to every generation to decide what the classic peaks and climbs are."
The Andersons still climb as much as their family and work lives allow, but they have no ambitions of completing the remaining Classics. Now 35, Mike is in the Air Force, having served in Afghanistan; Janelle and their two children live at a base in Florida in an area he calls "climber prison." Mark lives with his family in Evergreen, Colorado, and he regularly pulls down on hard sport routes. In February 2013, he made the first free ascent of Shelf Road, Colorado's Flight of the Phoenix (5.14a).
Nancy and the Smileys are preparing for their remaining—and most difficult— routes during the short Alaska-Yukon season, which peaks in May and June. Nancy plans to return to Alaska's Middle Triple Peak with a bolt kit, with hopes of keeping the East Buttress at a similar grade as the original. The Smileys are working to raise funds to support the long trips ahead, and they hope to complete their project by the summer of 2014. In the 2013 season, they'll go straight to Alaska, where the bulk of their projects remain. They're also trying to get permission from the Navajo Nation to climb Shiprock. They're saving D1, the route on Longs Peak that eluded them at the onset, for last.
While the Smileys deny feeling any sort of competition with Nancy to finish the Fifty Classics first, Nancy admits their very public project honed her focus. "Their dedication to the project ramped up my motivation," she says. "Who knows what the future might bring. Maybe the Smileys and I will team up on the last few."
Mark adds, half-jokingly, "Joining up will be the natural evolution of things, as it will probably be hard to find partners for the Hummingbird Ridge."
It would be a fitting end. After all, somewhere down a long road of shared experiences and auspicious company is where the Fifty Classics began.
The Right's StuffIn the Fifty Classics, the West Coast reigns Supreme. Here, 5 worthy routes in the East
Sorry, East. We know you always get shafted on North American best-of lists like these. As comprehensive as Steck and Roper were, they ignored your wonderful backwoods domes and seaside walls. Climbers have been exploring the cliffs in New Hampshire since the 1920s; the Shawangunks since the mid-1930s; and West Virginia's Seneca Rocks since 1939. Two decades later, North Carolina began to see activity (though much of it was kept under lock-and-key until the '80s). We're not rewriting the book (click here for a glimpse of what it'd look like if we did), but we're going to right this wrong. Here's our short list of the most classic climbs east of the Mississippi.
High Exposure (5.6), Shawangunks, New YorkFA: Hans Kraus, Fritz Wiessner, 1941
One of the most popular climbs in the East, High Exposure offers exactly what the name suggests. You'll feel a little sandbagged (and exhilarated) when you pull on jugs to get over the roof on pitch two. Wiessner was one of the original climbers to explore the Gunks; in 1935, he established the area's first documented route. Five years later, he met the Austrian Kraus—the first climber Wiessner encountered who pushed the limits as hard as he did. A year later, they put up their finest route with High E, carrying only a manila rope and three softiron pitons.
Black Dike (WI4 M3), Cannon Cliff, New HampshireFA: John Bouchard, 1971
Yvon Chouinard called attention to this route in 1971, declaring it one of the Northeast's last "unclimbed plums," although he also described it as a "black, filthy, horrendous icicle." Still, the community waited anxiously for a brave soul to attempt the gully. In a Herculean effort, Bouchard made the first ascent solo: He dropped his rope and a mitten, his axe broke, and he finished in near darkness. Today, the Black Dike is a benchmark for aspiring ice climbers; it's not the most technically difficult route around, but its length and harsh conditions (Franconia Notch can unleash some wicked weather) yield a full-value experience.
Pinnacle Gully (WI3), Mt. Washington, New HampshireFA: Samuel Scoville, Julian Whittlesey, 1930
Pinnacle Gully had a significant impact on the New England community. After its first ascent in 1930, it was likely the hardest ice climb in the U.S. Four decades later, Chouinard brought his revolutionary techniques and gear to the area. Ice considered too steep became approachable, and his rigid, front-pointing crampons allowed climbers to ascend without cutting steps. In 1970, Pinnacle Gully became the first route done here in that manner. This icy ravine is considered the most aesthetic climb in the White Mountains, and its moderate grade beckons to climbers of all levels.
Soler (5.7), South Peak, Seneca Rocks, West VirginiaFA: Tony Soler, 1951
Tony Soler, one of Seneca's most prolific climbers in the 1950s, established this as the first aid climb on the South Peak. Eight years later, a visiting Coloradan named Layton Kor made the FFA. The summit, at 2,240 feet, is one of the highest technical peaks in the East, and the climbing is exciting and exposed: A wide corner/flake on the first pitch (bring large cams or run it out) leads to an overhanging crack on the second. Climbers were pushing the grades and quality of routes at Seneca in the 1950s, and Soler was considered one of the boldest leads of its time.
The Nose (5.8), Looking Glass, North CarolinaFA: Steve Longenecker, Bob Watts, Bob Gillespie, 1966
While intrepid climbers were on the cusp of 5.11 in the Northeast, North Carolina's crags remained sequestered, to the locals' contentment. But today, Looking Glass attracts climbers from all over, with soaring routes up to 500 feet, from intimidating free climbs to grade-five aid climbs, with fun moderates in between. The Nose was established before the bustle of first-ascent activity and hard route development of the next decade, but it still has high-quality granite, daunting exposure, and quirky horizontal cracks known as "eyebrows." Small wonder this is the most popular route at Looking Glass.