Tropical Adventure Climbing in French Polynesia
When four bold climbers got lichen, poison ivy, and rain instead of the bountiful new-routing, beaches, and fresh fish they envisioned on the islands of French Polynesia, they didn't let that put a stop to their tropical climbing adventure.
Heading out the door? Read this article on the new Outside+ app available now on iOS devices for members! Download the app.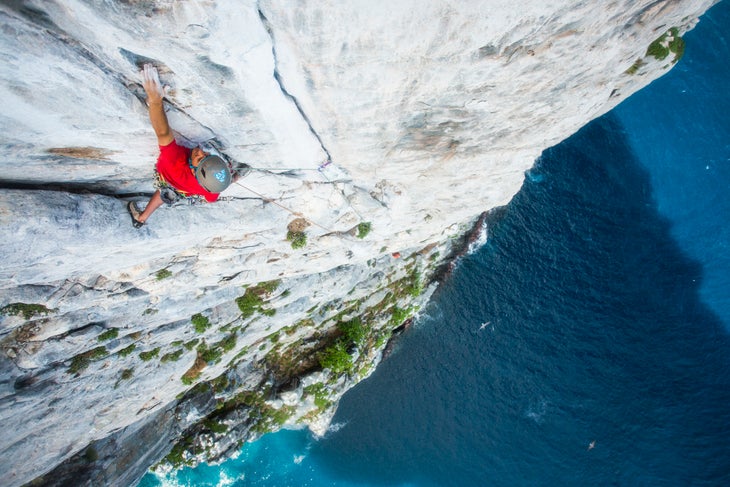 Late morning snowflakes fall from the gray New England sky. It's calm but bitterly cold outside. The giant old sugar maple stands like a leafless skeleton by my window, new snow covering its towering branches. Climbing warm rock in the sun is a distant memory as I sit close to the wood stove and search the Internet for inspiration, scrolling through endless pages. It's holiday season, and the two fingers of Scotch next to my computer seem strangely appropriate this early in the day. Every potential climbing spot in the South Pacific I've found so far gives me hope for a few fleeting seconds until one more click reveals that it's mostly a heaping pile of choss. In one last vague attempt, I type "French Polynesia cliffs" into Google image search. Time freezes when I spot a photo of incredible rock spires towering above a jungle island. Be still, my beating heart…
Four months later, my A-Team (see below) and I are among throngs of retirees and honeymooners boarding an Airbus A340 to Tahiti, where we'll hop another flight to Nuku Hiva. From Nuku Hiva we'll catch a boat ride to Ua Pou [pronounced wah-poe], which is located in the Marquesas Islands, a remote archipelago about 800 miles northeast of Tahiti. Ua Pou is six miles wide, with several giant basalt pillars rising out of the dense jungle. I imagine putting up first ascents on pristine virgin rock with nights spent in bungalows built on top of the water and feasting on fresh-out-of-the-ocean sushi.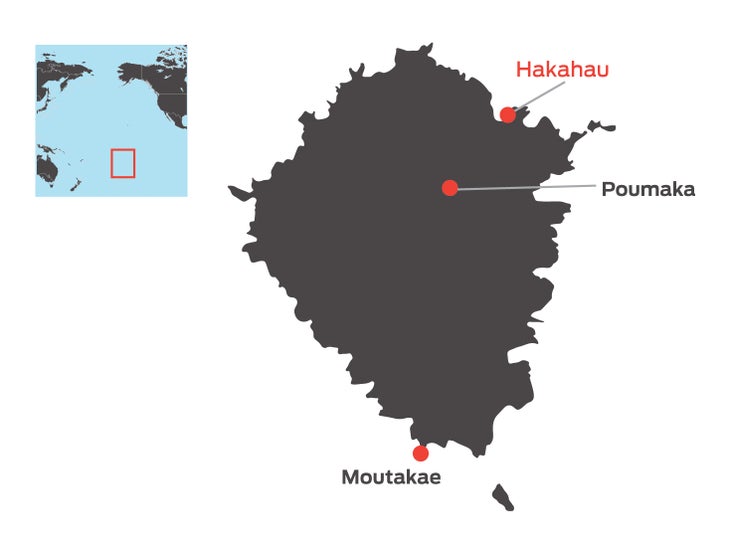 "Woohoo! I'm Captain Cook!" I scream into the wind. Stoke is high as we speed across the final 30 miles of open water toward Ua Pou. Packed onto a small fishing boat, we can't see much of the island due to dense fog, but we can definitely see an enormous dark tower rising up above the clouds—Poumaka, the great warrior. Upon our arrival, I explain to a few friendly locals that we were here to climb the rock spires. We are directed to a guy named Manfred, who lives with his wife at an off-the-grid jungle compound he built at the foot of the spires. Manfred, at 70 years old, is a German expat who has been living in French Polynesia for more than 30 years. He couldn't speak French when he first arrived, so he became a helicopter mechanic and eventually a pilot. Now retired, he walks around his jungle operation wearing a camouflage one-piece suit, producing hydroelectric power, banana moonshine, coffee, cacao, and avocados—the essentials.
Manfred shows us to the start of the steep approach to our objective, Poumaka. We thank him for his hospitality and start heading up. The forest is filled with rich aromas, and ripening fruit is just littered across the ground. "Oh neat! Wild cashews!" I say as I pick one up off the ground and begin prying off the sticky green shell. It's clearly not ready to be eaten, so I discard it. Looking at my now-oily hands, I remember that cashews are actually part of the same plant family as poison ivy: anacardiaceae. Damn it. I wipe my hands off on my shorts and try to forget about it.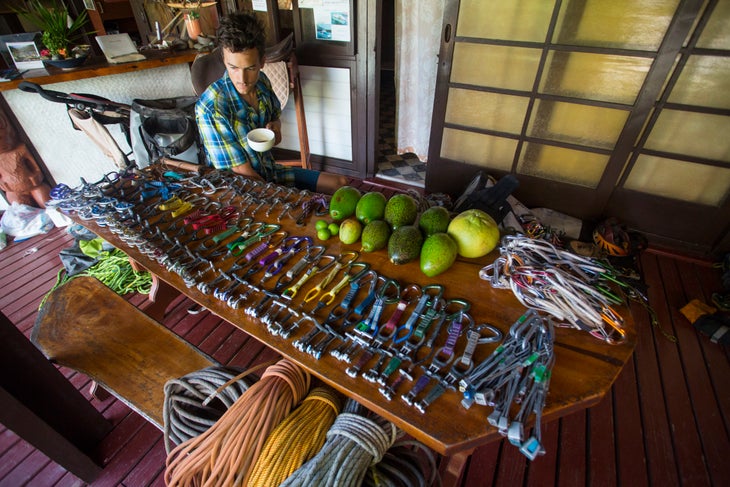 Three rainy and moss-covered days later, George and I have only managed to climb two horrendous, runout, and over-vegetated pitches of our chosen line on the 1,000-foot Poumaka. Seventy-five percent of the rock is encased in lichen, and even worse, I awoke one morning to find severely itchy, cashew-induced dermatitis covering 75 percent of my body. This was not the vacation I had envisioned. Our camp at the base of Poumaka had turned completely to mud, and my tent was filled with woodchips because George spent hours carving a wooden spoon. I mostly just itched. My heart was sinking, and although we shared a hearty laugh at my new predicament, stoke quickly evaporated. Rain continued to fall, and we made the call to bail on our inland objective in favor of trying to climb something on the sunny, dry coast. (See Mud, Sweat, and Expletives for a video of Mike Libecki and Angie Payne's ascent of Poumaka.) We heard rumors of a giant spire rising directly out of the sea on the southern tip of the island.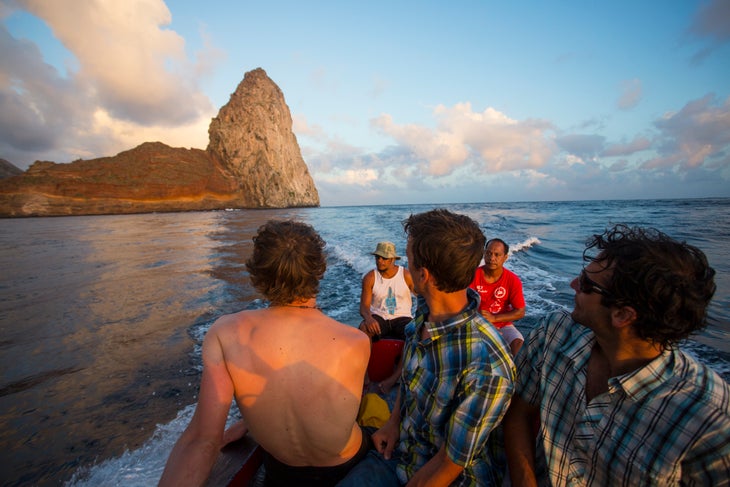 Back on the fishing boat, our friendly skipper Cyril takes us south along the western coast of Ua Pou. We spend a few hours exploring some deep water soloing, and the magical, warm turquoise water quickly heals our spirits. Cyril catches a fish and expertly knifes up some sashimi. I feel like Captain Cook again.
We continue south, and a mighty tooth of rock appears. Known by locals as Motutakae, this 800-foot tower of ivory-white basalt was first climbed by a group of visiting Germans with one of the locals from the nearby village. They climbed a line up the fourth class north shoulder, but the west face is a sheer wall. We spy a line right through the middle of the steepest headwall, and Cyril pulls the boat up to a spit of rock. In between the rise and fall of the massive swells, we leap to a ledge and pass bags across with white knuckles, fearful that one slip will send crucial gear to a watery grave. However, with some precision and a bit of luck, we keep all our gear out of the abyss. We set up basecamp in the yard of a friendly family in the village of Hakatao. By some coincidence, our host is actually the local dude who accompanied the Germans on the first ascent of Motutakae some 20 years ago.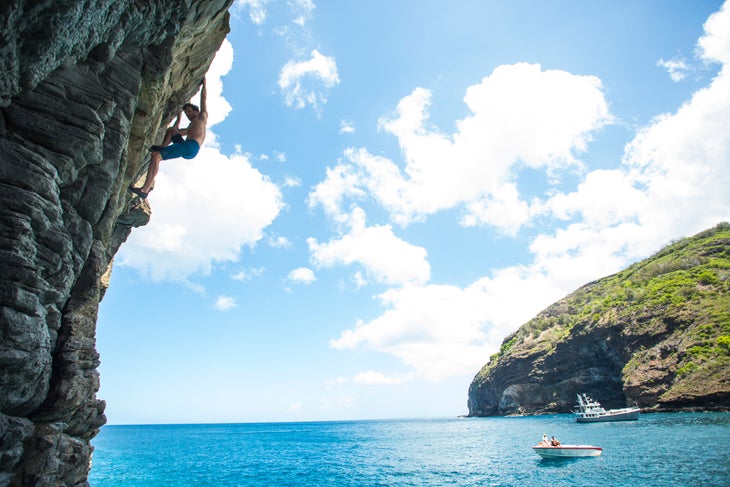 We catch a ride each day to Motutakae in a small plywood motorboat and spend three days establishing our new route. The climbing is actually pretty damn good, with the clean, white rock providing mostly natural protection. The route follows intermittent cracks, and when those fizzle out, we face climb, placing cams in pockets. Caves in the cliff face offer incredible sheltered belays. Marine life swims below us in full force—hundreds of tuna, manta rays, sharks, and even a sea turtle. While following one of my leads, George grabs a chalked-up jug I had just been using to shake out, when it promptly cleaves off a microwave-size block that lands directly on his chest, narrowly missing Bronson at the belay. The headwall culminates with a 40-meter overhanging hand crack with jugs on either side—hero climbing at its very best. Like gentleman mountaineers, we shake hands on the summit and sign the register left by the Germans. A quarter-mile to the north is the island of Ua Pou. To the south lies 4,000 miles of uninterrupted ocean and then Antarctica. Relaxing on the peak, we see what seems like 1,000 birds circling overhead.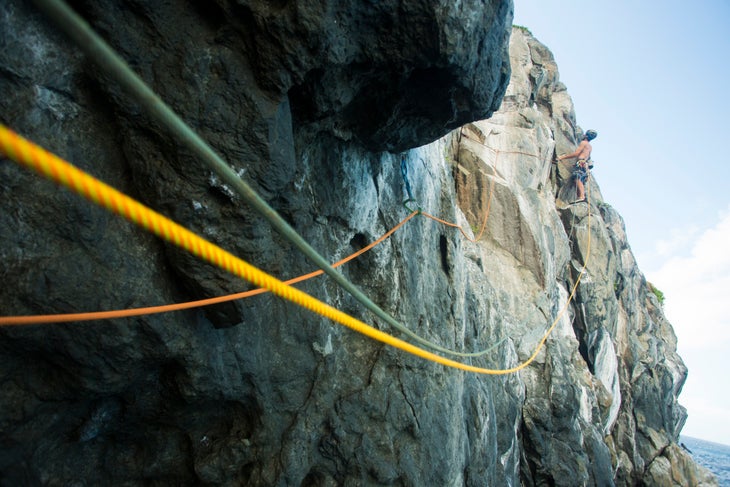 As we wait to check in to our flight back to Los Angeles, my brain spins from antibiotics quelling a malignant infection in my hand, and I look around at the retirees and honeymooners and realize we look a lot worse for the wear. I imagine our French Polynesian experience was vastly different from that of the other folks in line. People come here for black pearls and ahi tuna, not to fester in the jungle. But in essence, I realize we all came here for a somewhat similar reason—to find our own personal adventure. My team certainly found it, and the smiling faces around us let me know that at least a few others had probably found it in some form as well. A friendly old lady asked what we had been doing, and I told her we went rock climbing in the Marquesas. "Oh, that's great! The Marquesas are beautiful!" she exclaimed. She leaned in close to me, out of earshot from her husband, and whispered, "We went on a NUDE cruise…"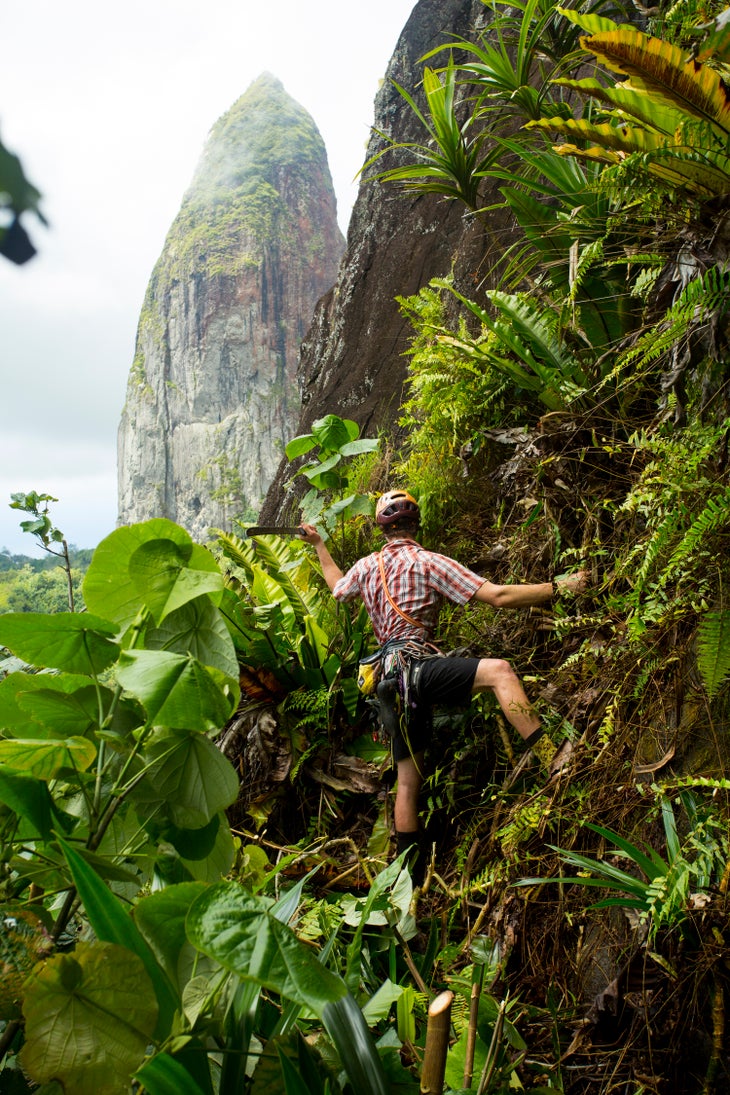 The A-Team
It takes a special breed to sign up for a jungle sufferfest
George Ullrich is a modern-day explorer and adventure climber from northern England, born and bred on the runout cliffs of the Lake District. When gear placements and holds cease to appear and it starts to drizzle, his cool head and bomber crimps make him a vital asset.
Bronson Hovnanian has been surfing his whole life, and it just so happens that he's also a master of big wall climbing. If we were headed to an island, we needed a waterman on our team who could also crush some stone.
Andrew Burr seems to have an insatiable appetite for taking pictures of people climbing dirty choss, so naturally his invite was a no-brainer.
Mason Earle is a first ascent pioneer of questionable rock, blue-collar crack climbing, and everything vertical, with a penchant for pain and suffering.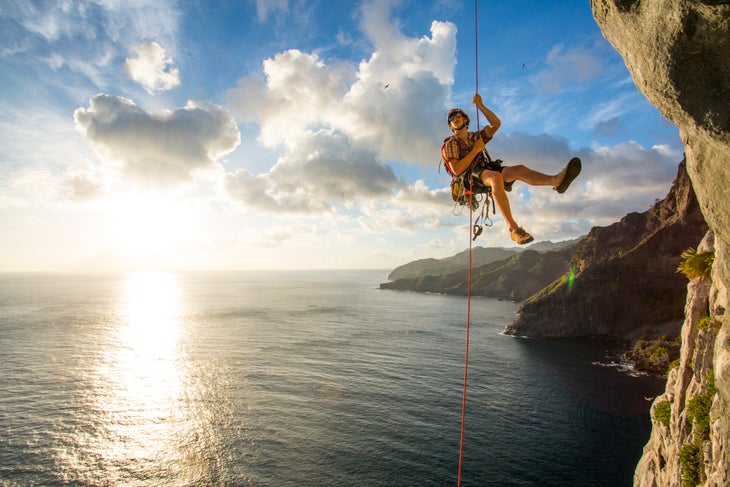 French Polynesia Beta
Get there
Sailing there is possible from the closest landmass of Baja, but it's a few thousand miles away. Fly via Tahiti to Nuku Hiva, the largest island in the archipelago, on Air Tahiti, which is the only airline that flies to Marquesas. From Nuku Hiva airport, take a cab up and over the island to Taiohae, the main town and port, where you can catch a ride on a fishing boat over to Ua Pou. Before leaving Taiohae, make sure to grab lunch at Henri's. When you get to the main village of Hakahau, find Pension Pukuee (689 925 083), a bed and breakfast that's operated by Jerome, our go-to guide for the area. This village is the jumping-off point for various climbing around the island, and Jerome can give you boat captain Cyril's number, as well as introduce you to people you can stay with all over the island.
Cost
Be prepared to spend a lot of money, especially for a dirtbag. Plane tickets just to get to Tahiti start at about $2,000, and then from there, you'll spend several hundred to get to Marquesas. Cash is best for paying for random boat rides and tipping cabbies, and there are ATMs on the island to get the local currency, the CFP Franc, but also plan on bringing stuff to trade: Approach shoes, rain jackets, ropes, and random expedition gear are all things that are really hard to find for the locals of Ua Pou.
Food/Culture
The folks on Ua Pou were unbelievably friendly and hospitable. They were very excited to have climbers come visit their small island. We definitely saved some money because we never had to pay for fresh fruit, which we ate in large quantities everyday, especially at Manfredville (what Manfred calls his compound). Even though we brought loads of food to the island, everyone we stayed with insisted on cooking for us, which seems to be the local custom, and we ate incredible meals. There is enough fruit growing on the island to support many times the population, and the avocados are the size of footballs. Imagine fresh salad with perfect red cubes of sashimi tuna, tossed in coconut milk with some octopus or goat on the side. Plus, you can more or less binge-drink coconut water—great for fighting off dehydration after sweating all day. As for the culture: Think early 1990s island vibe with overtones of native Marquesan pride.