Zoo View (5.7+) Moore's Wall, North Carolina
Heading out the door? Read this article on the new Outside+ app available now on iOS devices for members! Download the app.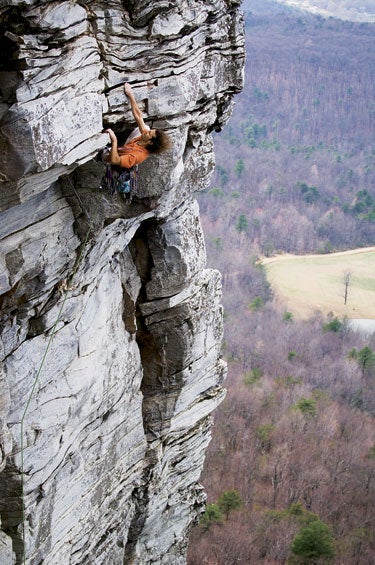 "The routes at Moore's Wall are better than hitting a grand slam in the bottom of the ninth with two out and a full count," writes the well-traveled author Tim Toula in his Rock 'N' Road.
The 300-foot quartzite cliff band, situated within North Carolina's Hanging Rock State Park (a mere 30 miles from Winston-Salem), stands as one of the state's finest crags. The wall, first climbed in 1959, is known throughout the Southeast for its bold, traditional lines, put up in the old-school, ground-up style. But it also offers modern testpieces like Zeus (5.13b), for those who favor the sport flavor. Still, Zoo View — though only 5.7 — is no bolt ladder. In fact, this exposed 1976 Tom Howard and Bruce Meneghin trade route involves traditional- protection trickery, adventurous route-finding, and sustained difficulty. To call it anything other than classic would be uncivilized.
To begin Zoo View, the climber must have: five shoulder-length slings, a few draws, small to medium nuts, small to medium TCUs, and cams through the hand sizes. Offset nuts are useful, and double ropes are recommended. As this cliff largely faces north, it offers comfortable summer shelter from the bleaching Southern sun, though spring and fall are best.
On the first pitch (5.5), you'll navigate a gear-gobbling crack (up to 3-inch) up diamond-hard quartzite, veering slightly right into low-angle jugs, eventually leading to the spacious Crow's Nest. Now begins the wall's most revered climbing. On pitch two, expect a brief ledge traverse, a solitary bolt, and the beginning of the "adventure" — one the average 5.7 climber won't soon forget. Here, Zoo View asks one question: choose the more secure variation at 5.8 or dive headfirst into sphincter-tightening exposure at a more tempered difficulty? The choice is yours. Either way, you'll end up at the looming crux roof (some folks belay here to avoid rope drag), sinking a 1-inch cam, clipping it with a long runner, and then continuing out right on mammoth handlebars, with cam-sucking horizontals leading to the summit. From up top, the empyrean Piedmont, laden with tobacco plots and luscious rolling hills, unfolds toward the hazy horizon.
Photo by Andrew Kornylak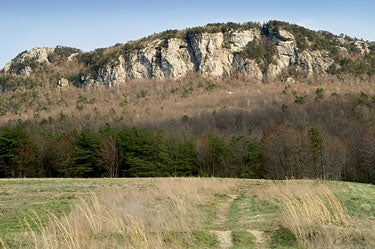 The BetaGuidebooks:Selected Climbs in North Carolina (2002), by Yon Lambert and Harrison Shull; The Climber's Guide to North Carolina (3rd Edition, 1995), by Thomas Kelley
Guide Services:Fox Mountain Guides and Climbing School: (888) 284-8433, foxmountainguides.com; Rock Dimensions: (888) 595-6009, rockdimensions.com
Equipment Shop:Blue Ridge Mountain Sports: (336) 852-9196, brmsstore.com; Great Outdoor Provision Co.: (336) 851-1331, greatoutdoorprovision.comSeasons: Spring and fall
Five other must do routes near Zoo View, at Moore's Wall
By Pat Goodman
Golden Earring (aka Almost Seven), one pitch (5.7): This long pitch has great exposure and some wild traverse moves. Great rock coupled with good gear make this a logical warm up for Zoo View. Bring a standard rack and long slings.
Air Show, two pitches (5.8+): Steep climbing on huge holds with multiple cruxes and copious amounts of protection. Standard rack, long slings, and some extra medium-sized cams.
Nutsweat, two pitches (5.9+): Two sustained pitches (low crux .75 Camalot), with a final finish on gigantic holds. Small- to medium-sized cams and loads of stoppers, two ropes for the rappel.
Bimbo's Bulge, two pitches (5.10c): Thin face climbing capped by a wildly overhanging roof sequence. Wicked-large holds await you after the crux. Standard rack and long slings.
Wild Kingdom, two pitches (5.11+): One of North Carolina's best! Two varied, hard pitches with thin gear and the occasional stack of fixed pins. Although both cruxes are well protected, this route is action packed. Bring small wires and some small/medium tcu's, double ropes are helpful — adult undergarments optional, but recommended.